March is slowly approaching, and with it comes a new set of free printable playmats. This month's theme was an easy pick, St. Patrick's Day!
These fun St. Patrick's Day Play Dough Mats will stimulate your children's creativity.
And not only that! They will also help your toddlers and preschoolers work on their fine motor skills, practice color recognition, and improve their counting ability.
All you have to do is download the file at the end of the post and print it out.
Then, laminate your playdough mats or put them inside a sheet cover so that they can be reused.
Keep in mind that these printables are sized US Letter (8.5x11in), but you can print them on A4-sized paper as well, just make sure to select fit page from your printer options.
Finally, it is time to play!
To take full advantage of these mats, you will need playdough and time to direct your kids' learning activities.
You can buy some play-doh or make your own; it doesn't really matter as long as you have the 7 colors of the rainbow.
Ready to get started?
Let's squash and smash!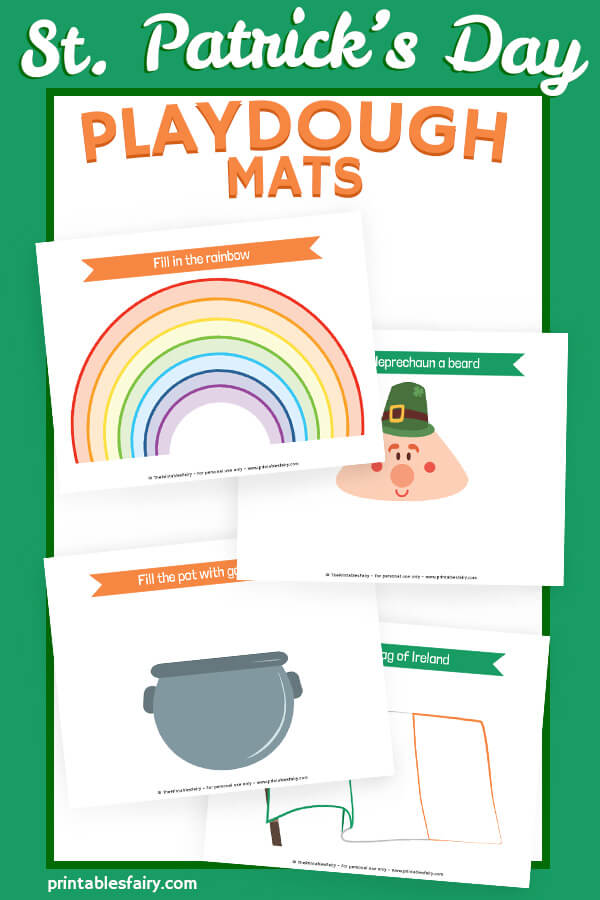 Free St. Patrick's Day Playdough Mats
This free printable St. Patrick's Day Set includes 4 different playdough mats.
We used them as a learning tool; here is how:
Leprechaun Playdough Mat
The Leprechaun playdough mat lets your kids get as creative as they want.
I prompted the little ones to create different styles of beards for our cute friend.
Let them get as imaginative as they want, try making a rainbow beard in the process!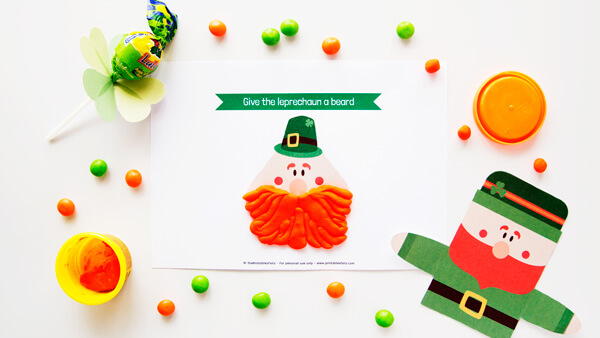 Rainbow Playdough Mat
Use the Rainbow playdough mat to practice color recognition with your kids. You will need red, orange, yellow, green, blue, indigo, and violet playdough.
Indigo is not a common color, and it can be challenging for kids to understand it. You can make it easier by helping them mix blue and purple and seeing the results.
If they are curious, they can also mix the other colors to see what happens.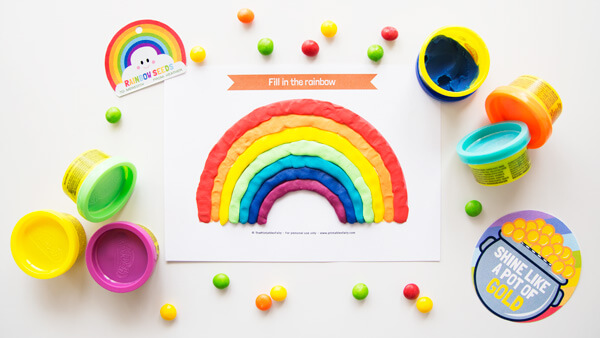 Irish flag Playdough Mat
With the Irish flag, your kids can identify colors while working their hand muscles to fill in the outline.
Use this opportunity to talk about how every country has its own holidays and traditions and why it is important to learn and respect them.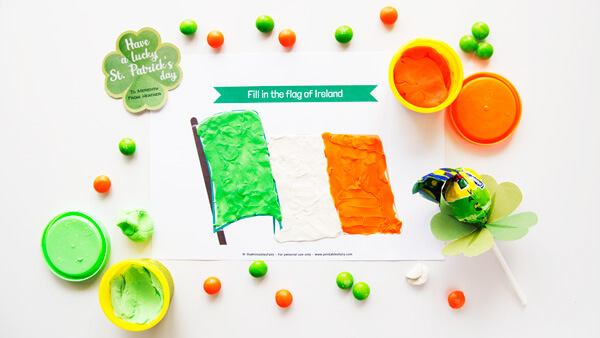 Pot of Gold Playdough Mat
We used the Pot of Gold playdough mat to practice counting.
I started by telling them a number; they made the number with playdough, put it on top of the pot, and filled it with that number of playdough coins.
You can make it more challenging by incorporating colors into the activity.
Say: "My pot of gold has 3 yellow coins, 2 orange coins, and 5 green coins." Then, turn it into an adding activity by asking: "What is the total number of coins?" and make them write that number with a washable marker.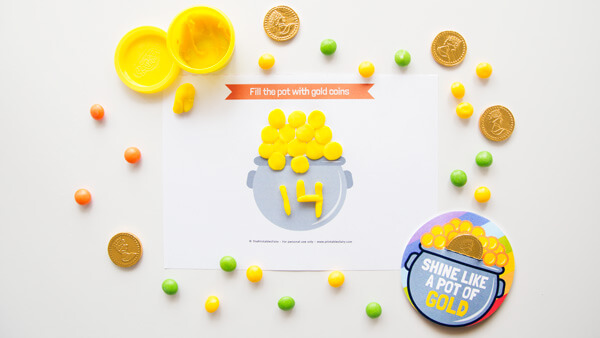 Ready to start learning while playing with these fun St. Patrick's Day printables? Click the link below to download them.
Free St. Patrick's Day Playdough Mats
*Please remember that these printable playdough mats are for personal use only. You may not sell, share, or link directly to the files.
More St. Paddy's Printables: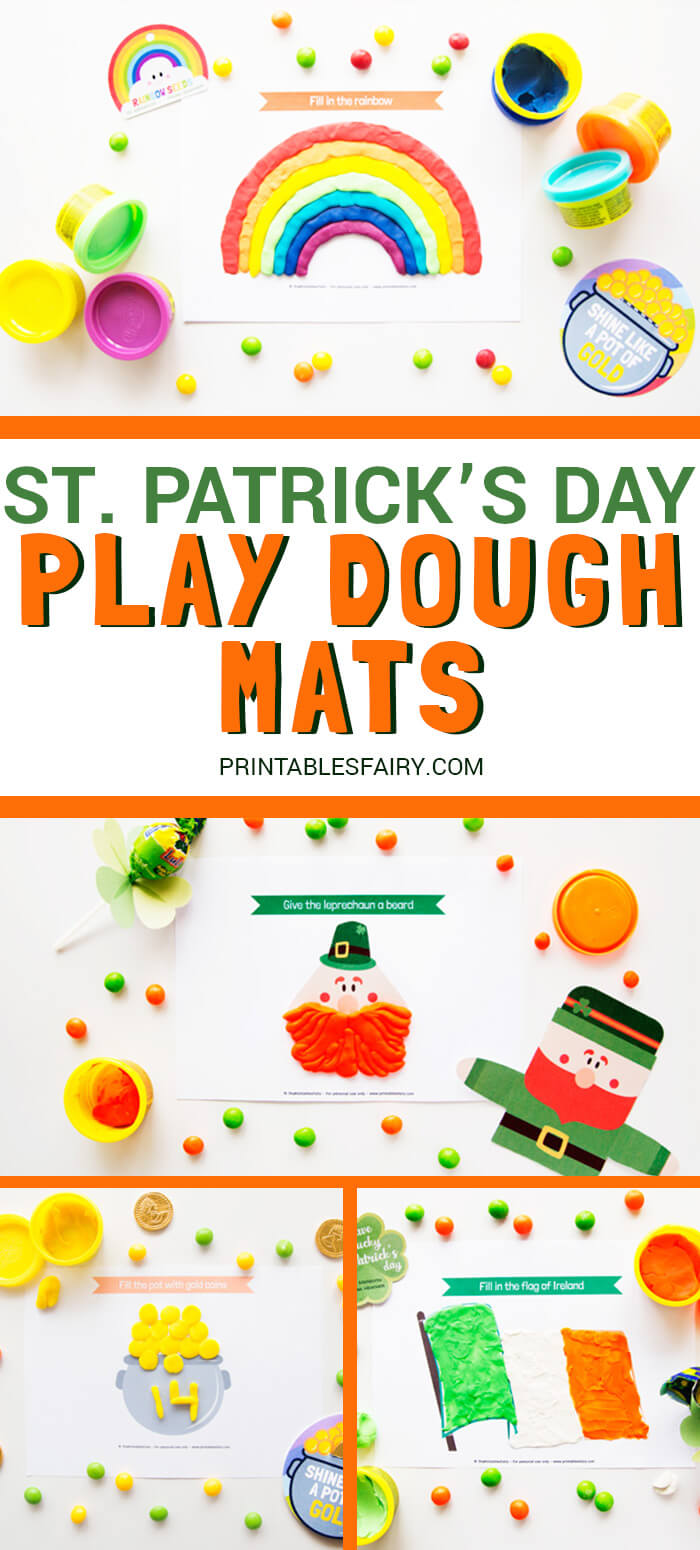 Free Printable St. Patrick's Day Play Dough Mats