Goal Setting for Children
Fresh starts, like the beginning of the year; the decade; or a new school year, let us reflect on what we have achieved so far and what we want to do in the future.
It's an exciting time to gather with your family and think about all the dreams that everyone wants to make come true. Take this time to create a list with those aspirations and help your kids consider what is within their reach.
Now, if you don't want that list to be forgotten within a week, it is time to encourage your children to turn those dreams into goals.
Setting goals is not as complicated as it seems, especially with the system outlined throughout this post.
Once you put it into practice, your kids will be able to set their own realistic goals and plan how to achieve them.
At the end end of this post, you will find goal setting printables that can make the process even easier!
No matter how old your kids are, you can help them set their own goals. And if you do this often from a young age, it will become a habit that will help them grow and improve themselves.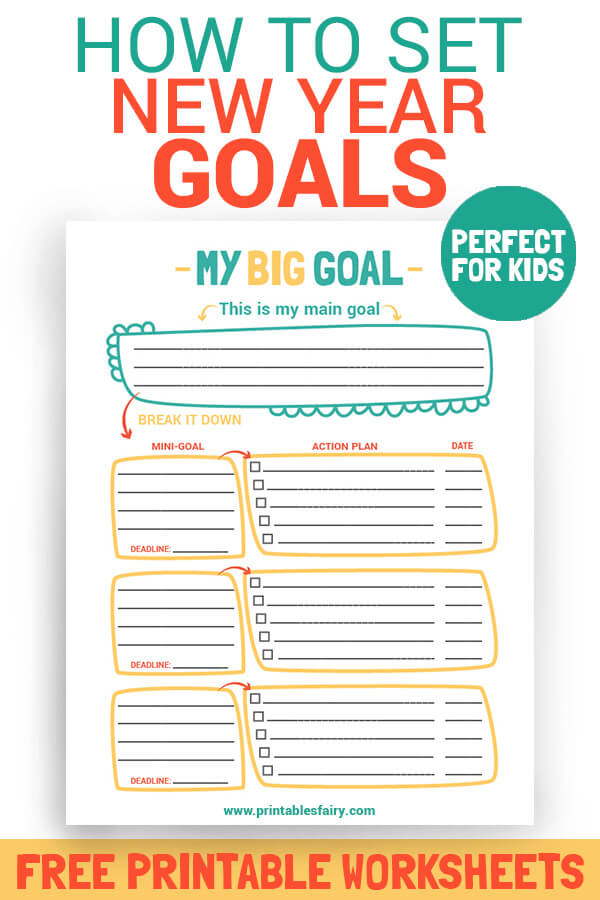 Why your child should learn goal-setting?
Teaching your kids to set goals has multiple benefits such as:
Improving their self-esteem and confidence
Improving their decision-making abilities
Improving their problem-solving techniques
Developing critical thinking skills
Teaching them how to organize their time and resources
Developing focus and self-accountability
Improving their motivation and self-management
Teaching dedication and determination
How to help your children set goals?
Sometimes setting goals is easier said than done.
If your kids choose unrealistic goals, such as "I want to be the best footballer in the world", they will be setting themselves up for failure.
To avoid that, they can turn their dreams into SMART goals.
Maybe you've heard that term before, but to be precise, SMART goals are:
S – Specific
M – Measurable
A – Achievable
R – Rewarding
T – Time-bound
If you are like me, you might not be sure where to start with all those terms. But, don't worry!
We figured out a simple 5-step method that you and your kids can follow to make sure that all your goals meet the SMART criteria and are set up for success.
And that's not all! If your kids follow every step outlined below, they will end up with an action plan to know exactly how they can accomplish their goals.
Ready to become your children's goal-buddy and help them turn their dreams into goals?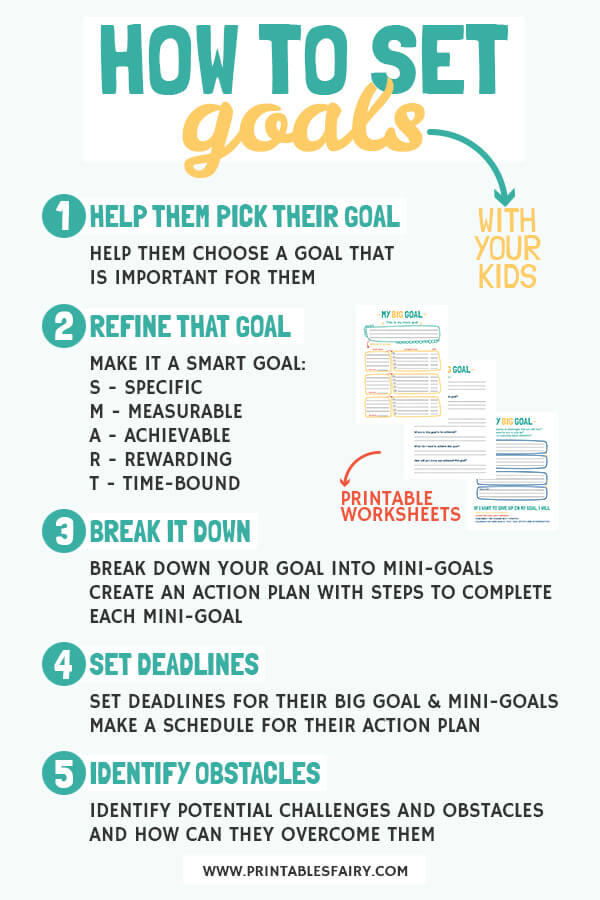 Step 1: Help them choose their goal
First of all, don't look or talk about setting goals as a task because that can actually drive your children away.
Instead, talk about it as a tool to help them make their dreams come to life.
The key to setting a goal that your kids can successfully accomplish is to let them choose it on their own.
I know it can be tempting to decide what you want them to achieve, but you'll have to hold yourself and let them identify what they actually want to do.
To help them discover their main goal, you can ask questions like:
What is one thing you want to get better at?
What is something you want to try?
How do you think you can make your talents grow?
What other talents would you like to develop?
What challenges seem to arise again and again?
TIP: Stick to only one major goal for the year to avoid putting too much pressure on your kids and to prevent them from giving up.
Before taking a final word on which goal your kids will pursue, it is important to make sure that it is personally rewarding.
Your children must be able to answer why do they want to achieve that particular goal.
The answer to this crucial question will let them realize if they will be able to commit to achieving that goal.
If they think their answer is not enough, they can look for another topic/goal that is more relevant to their interests and will keep them motivated in the long term.
For example, goals with purpose can be:
I want to learn to code to become a videogame programmer when I grow up, or,
I want to collect money for the dog shelter because I want more stray animals to be rescued and find a home.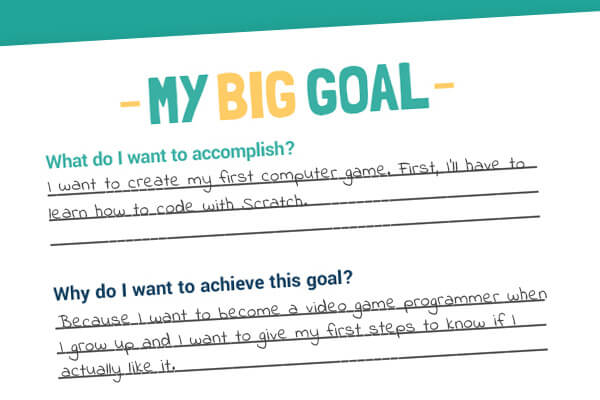 Step 2: Refine that Big Goal
Once your kids have identified one main goal they want to achieve this year, it's time to fine-tune it and make sure it's specific and measurable.
To make a goal specific and measurable, you must answer 5 questions:
Who is involved?
What do I want to accomplish?
Where is it going to be achieved?
When do I want to achieve it?
How will you know you achieved it?
By answering these questions, your kids can focus exactly on their objective and start developing an action plan (we'll talk about it in the next steps).
At this point, your kids should also verify if their goal is realistic. If not, they may be able to scale it down to their possibilities and resources.
This is your chance to guide them and avoid goals based on luck, other people's decisions, or simply out of reach, such as becoming a millionaire in one month.
Examples of specific, measurable, and realistic goals are:
I will program my own video game using Scratch by December of next year, or,
I will collect $1000 for the local dog shelter within 6 months.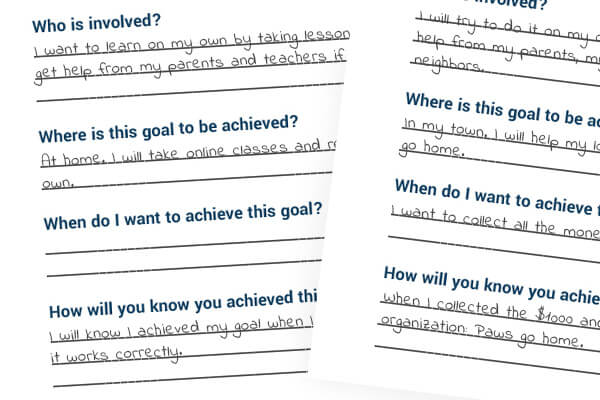 Step 3: Break the main goal into small steps
Now that your children have defined exactly what they want to accomplish and made sure it is achievable, it's time to focus on the process to reach there.
It's important to help your children understand that they may not reach their goal right away and that what matters the most is all the new things they learn and experience on their road to completing their main goal.
To make this long-term goal more manageable, help your kids break it down into mini-goals that will lead them to get their objective.
Using our goals above, the mini-goals can be:
MAIN GOAL: I will program my own video game using Scratch by December of next year.
MINI-GOAL 1: Complete all the free tutorials available at the Scratch website to learn the basics of programming.
MINI-GOAL 2: Take the Invent with Scratch online class and complete all 3 projects.
MINI-GOAL 3: Read and complete one project every week from the Scratch Programming Playground book.
MINI-GOAL 4: Research other games programmed on Scratch and sketch my own project.
MINI-GOAL 5: Code and complete my own game.
And with our other example, it can look like this:
MAIN GOAL: I will collect $1000 for the local dog shelter within 6 months.
MINI-GOAL 1: Sell cookies door-to-door around the neighborhood and collect $150.
MINI-GOAL 2: Set up a car wash with your friends and collect $300.
MINI-GOAL 3: Host a charity banquet and collect $300. Ask for volunteers around your neighborhood to help out by bringing dishes.
MINI-GOAL 4: Organize a scavenger hunt and charge a registration fee. Offer extra hints in exchange for additional donations. Collect $250.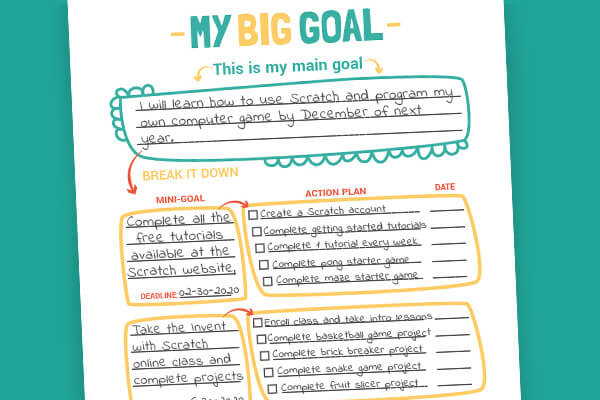 Keep in mind that your children should also set up a measurable metric for each of their goals.
It can be how much money they collect, how many projects they complete, what grades they get, or if they can do something successfully, such as riding a bike without training wheels.
Then, help your children break down each mini-goal into a detailed step-by-step plan they will take to complete them.
For example, if your mini-goal is selling cookies door-to-door, your steps may be:
Calculate how many cookies I need to sell to reach my goal.
Figure out what kind of cookies are more profitable to make and buy all the necessary ingredients.
Bake the cookies with my parents and pack them into small containers.
Offer cookies door-to-door.
Calculate profit.
Step 4: Set revising dates
Once you have your mini-goals set up and your action plan organized, it's time to let your kids decide by when they want to complete them.
Start by giving the main goal a deadline, proceed by setting up finishing dates for the mini-goals, and finalize by briefing a calendar for each action step.
When goals are time-bound, there will be a sense of urgency and motivation to complete them.
Also, you won't be able to track them if they are not timely, which makes them unachievable.
For example, building on the goal above:
By January 30th, I want to collect $100 by selling cookies to my neighbors.
On January 1rst, I will calculate how many cookies I have to sell to reach my goal.
I will take two weeks to decide what cookies to make, buy the ingredients, and bake them.
On January 18th, I will sell the cookies and calculate the profits the next day.
If I didn't reach my mini-goal yet, I'll bake another set of cookies the following weekend and sell them on January 25th.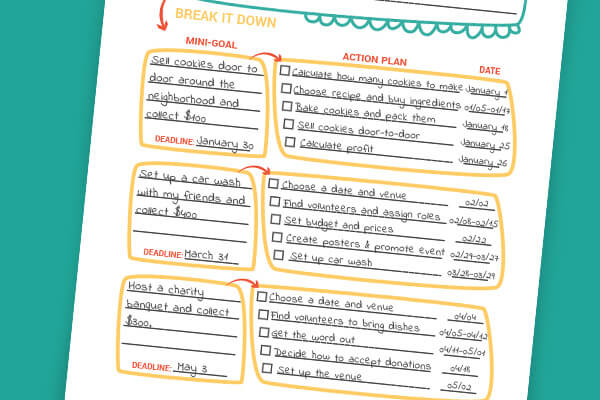 By scheduling these deadlines, you can celebrate your kids' accomplishments and all the effort they took to reach there.
Revisiting dates can also let your kids fine-tune their goals depending on how things go.
Maybe they sell more cookies than expected and now want to raise their main goal.
Or, maybe they want to lengthen their deadlines because they have too much schoolwork.
Remember, any change is good as long as your children are making some progress and stay happy and motivated to complete their goals.
Step 5: Identify potential challenges and obstacles
Even though we have a positive perspective, obstacles can come our way.
To prepare our kids for their unforeseen adversities, it's crucial to understand what can potentially go wrong and how to overcome it.
Clearly, we can't know what's going to happen in the future, but this exercise can help kids get less discouraged when the time comes.
Planning for future obstacles can mentally prepare your kids to believe in their own capabilities and not give up without trying to find a solution.
This is a great moment to talk about what they can do if they feel like giving up.
I recommend telling them that they can:
Ask for help from mom and dad.
Focus on how they can improve.
Remember the reason why they started.
Celebrate their achievements even if they are small.
Using one of our examples:
GOAL: I will program my own video game using Scratch by December of next year.
OBSTACLE 1: Struggling and feeling demotivated.
SOLUTION: Maybe you're pushing yourself too much. Set up smaller steps to complete your mini-goals. If you are struggling with a particular concept, research more about it and join community forums to find answers and solutions.
OBSTACLE 2: I don't have time to complete my projects in one week due to too much homework.
SOLUTION: Re-schedule your deadlines and complete one project every two weeks.
OBSTACLE 3: Technical Issues
SOLUTION: Have your internet provider and technical assistant numbers handy. Locate Learning Resources Centers where you can work until your computer gets fixed.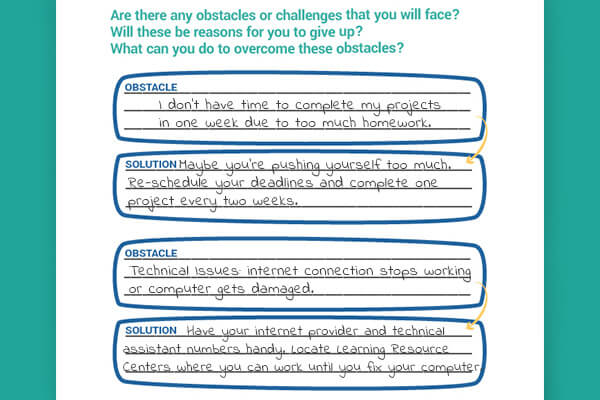 Free Goal Setting Worksheets
According to studies, writing down your goals is strongly associated with goal success. That's why I created these goal-setting worksheets you can download for free!
These goal-setting printables include questions that put into practice our simple 5-step method to set up your goals and turn them into an actionable plan.
This method also works with adults, so print a copy of these worksheets for you too.
I'm sure your children will enjoy being your accountable buddies and revising goals with you. Plus going through wins and losses together will create uncomparable bonds.
Don't let anything stop you, start setting goals with your kids now!
DOWNLOAD YOUR FREE GOAL SETTING PRINTABLES HERE
*Please remember that these printables are for personal use only. You may not sell or distribute the files. If you want to share them, please link to this post and not directly to the PDF files.
More Parenting Resources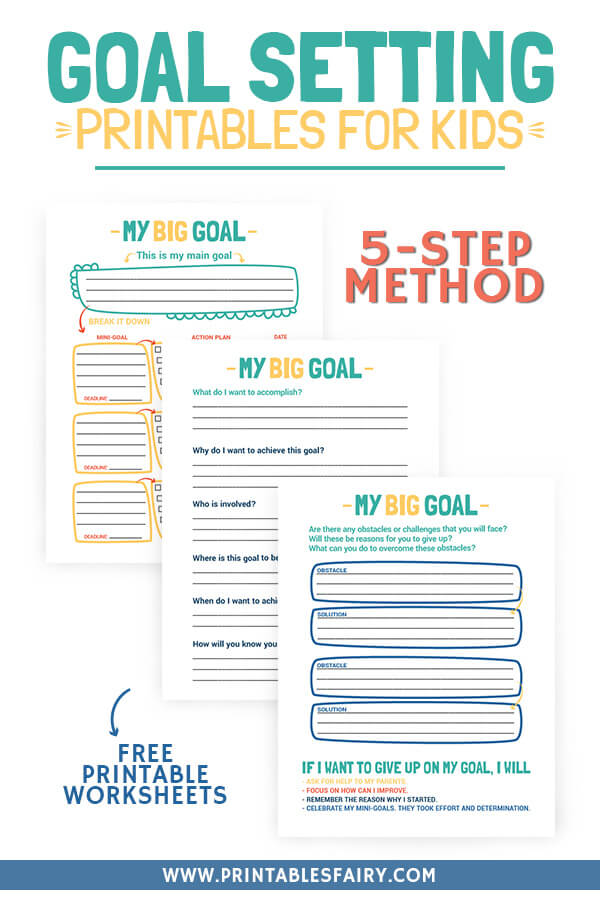 Free New Year's Goals Printables for Kids