Tips and Activities for Raising Grateful Children
Raising a grateful child can be a challenge in a world of selfishness and entitlement, but you can teach your kids how to appreciate what and who they have, with these simple tips and activities.
In this post, you will find:
* You can click on each topic to jump right there!
---
Is it hard to hear your children complain about not getting exactly what they want?
Rest assured that it isn't an unusual demeanor on children. In fact, young kids tend to show self-centered behaviors, especially before the age of 6, when they still struggle to understand other people's feelings and emotions.
But this doesn't mean that there is nothing you can do about it. Raising a grateful child is an ongoing process.
Now, you may be asking: How do I teach my kids to be grateful? And you might not be thrilled to hear that there is not a specific way to do it.
Gratefulness can be learned in daily moments, talking about it with your kids, and, most importantly, being a good role model.
Instilling a sense of gratitude will also bring great benefits to everyone in your family. These benefits include:
Stronger immune system & lower blood pressure
Better sleep
Increased happiness, joy and optimism
Increased generosity, acceptance and helpfulness
Increased forgiveness and compassion
Decreased anxiety and loneliness
Below you will find simple ways that will help you teach your kids how to be grateful.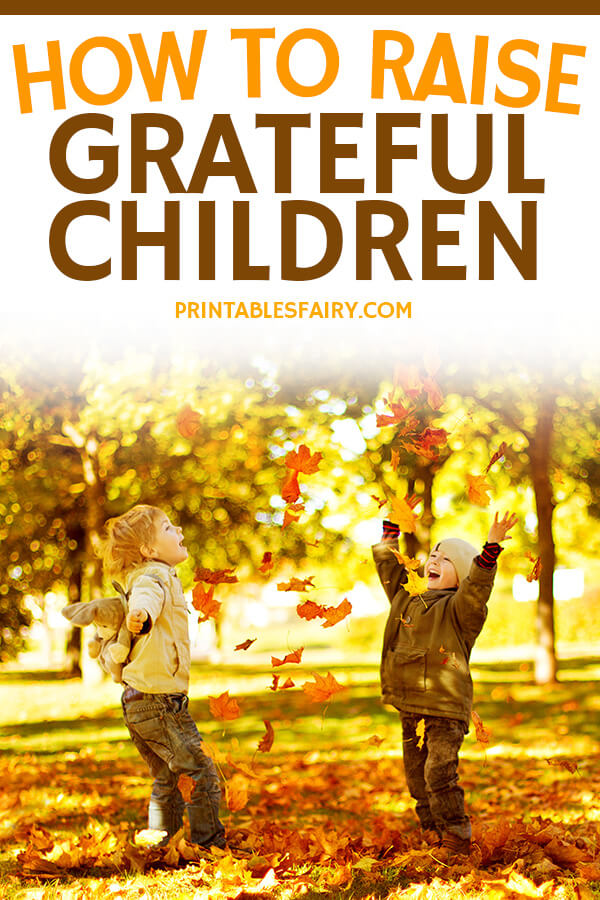 5 Tips for Raising Grateful Kids
First of all, you have to ask yourself a couple of questions and make sure you are not contributing to your children's entitlement.
Are you spoiling your kids?
Are you treating your kids like they're better than others?
Are you acting entitled yourself?
Be honest with your answers (we're not here to judge!) and decide if you should take action and change some aspects of your lives.
Here are some things that you can do to raise grateful kids:
1. Give your children only what they need to be happy and successful.
Do it even if they want other unnecessary things (and you could still provide them). It won't hurt them to be denied of some of these things, since in life we don't always get what we want.
Another thing you can do is provide them with opportunities to earn what they wanted, but always keep rewards reasonable.
2. Treat everyone equally and pay special attention to what you say about others.
Remember that your kids are listening and observing what you do all the time.
Treat others with respect, always refer to them in a kind way, and don't forget to say please and thank you.
3. Teach them how to give back.
Talk about people who may be struggling and how you could help them.
Sometimes the best way to help is through community service activities like donating supplies to a family in need or serving food at a local shelter. That will help your children feel more empathy for those you are helping.
Rants From Mommyland has put up a list of volunteering ideas by age, check it out too if you are looking for some.
4. Introduce a fun gratitude activity into your routine.
Over time, these activities will become a habit and your kids will be practicing gratitude without realizing it.
Keep reading to discover 10 gratitude activities for kids.
5. Be a role model
Remember, gratitude can be learned with little actions, teach your children by being an example. Be thankful to people that help you and help others whenever you can.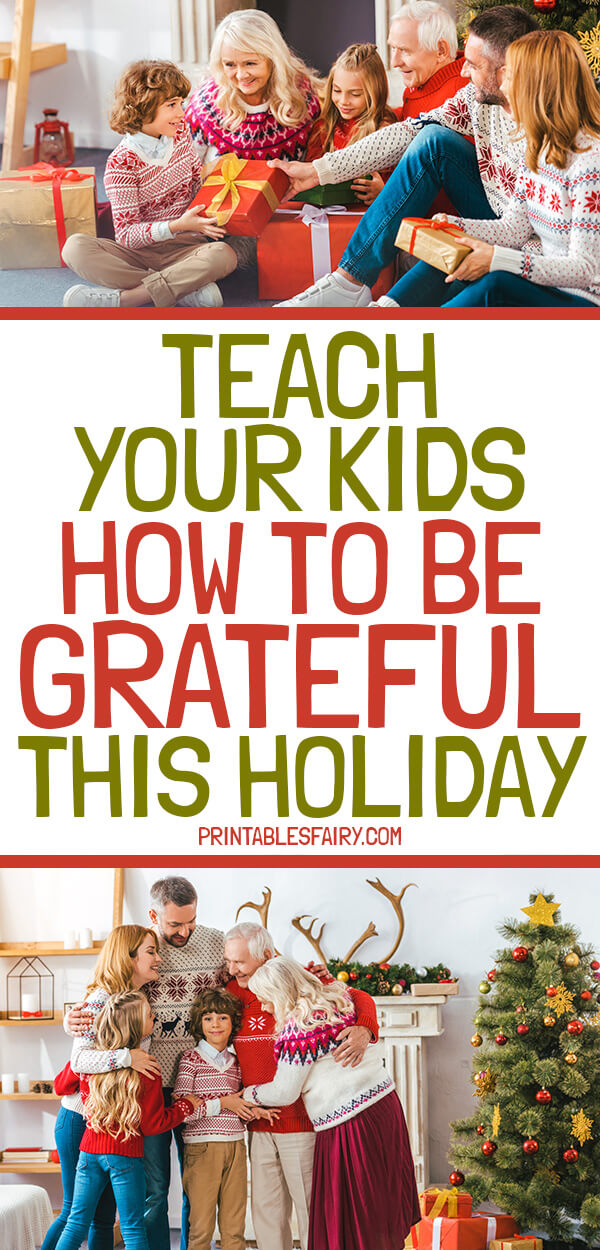 5 Tips to teach gratitude during the Holidays
The Holiday season can be a challenge when it comes to teaching your kids to be grateful. The more we get, the less we take the time to appreciate it.
Here are some tips to help children be grateful for their holiday gifts and blessings:
1. Talk about giving and receiving gifts with anticipation.
Explain to your children that even if they don't like one of the gifts, they should keep in mind that whoever gave them that present did it with love, and they should be thankful for it.
2. Slow down the gift exchange.
It's a good idea to hand out one gift at a time and encourage kids to read any note attached to it.
Take the time to truly appreciate each gift and thank the giver. You can even take a moment to write thank you notes with your kids!
3. Don't go overboard with the gifts.
Small children can actually get overwhelmed by an excessive amount of gifts, keep it simple so that they really appreciate what they get.
4. Don't focus on the gifts. Instead, focus on giving.
This is a great opportunity to put into practice one of the tips above and help those in need. Think about serving meals at a church or donating toys.
5. Talk about what you are grateful for.
Focus on how you all feel after giving and helping others.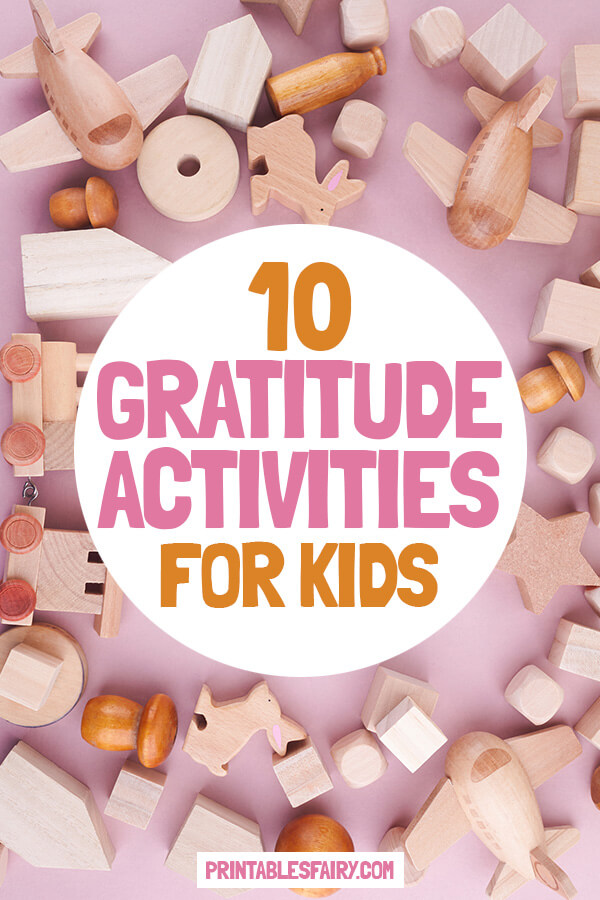 10 Gratitude Activities for Children
I've included 10 activities to practice gratitude with your kids. Choose the one you like the most and include it in your daily life.
1. Gratitude Journal
This is an excellent option to take note of all the good times you have experienced and for which you are grateful.
Here you'll find a printable gratitude journal for kids. You can use it daily for a month, but we think it's better to write and draw when we feel like doing so.
If you are struggling to find things you are thankful for, remember any bad times you have gone through and how you got over it.
This exercise will help you realize how many things you have overcome and will give you many reasons to be grateful.
2. Gratitude Jar
Gratitude Jars are super popular around Thanksgiving, but there is no reason not to show how thankful we are for what we have throughout the year.
In fact, our favorite time of the year to practice this activity is at the end of it. It's great to start the new year with enthusiasm and good wishes.
3. Gratitude Tree
Sometimes we take things for granted and forget that many of the things we have are blessings.
With this Gratitude Tree, you'll be able to reflect on all the beautiful things we should be thankful for.
4. Write a Thank You Letter
This printable Gratitude Letter is a fun way to encourage kids to express their feelings and emotions.
Kids can either write or draw what they think, as long as they take the opportunity to thank the people they love and show them how much they appreciate them.
5. Read Books About Gratitude
Reading books can inspire children to be as thankful as the characters in their stories.
Nell from Rhythms of play shared, not only a mini list of parent resources to raise grateful children but also a big list of 25 books about gratitude for kids.
6. Gratitude Scavenger Hunt
The main obstacles to gratefulness are forgetfulness and a lack of awareness. How do we defeat that?
With visual reminders!
This Gratitude Scavenger Hunt is the perfect visual activity and you can even make it a challenge by completing one task every day.
7. Random Acts of Kindness
These are small gestures of kindness with the unique purpose of making someone, especially those you don't know, happy, without any specific reason.
This fantastic experience will let you teach and learn the joy of giving.
You can try these anonymous actions at the summer or winter break. If you'd like to try it, here are 101 Random Acts of Kindness Ideas.
8. Gratitude Conversations Starters
If you are struggling with how to bring up gratitude on your daily routine, this conversation starters can help.
You can ask your kids one of these questions every day or use them on family night. Just remember to keep the conversation going and help your children reflect on their answers.
9. Gratitude Stones
These gratitude stones are super easy to make, and Melissa shows us multiple ways to use them.
Our favorite is number 5 with a little twist. Every time we feel thankful for something or someone, we'd leave a little heart stone (it'll for sure bring a smile to whoever sees it!).
10. 30 Days of Gratitude Challenge
This is a great game to teach your kids gratitude every day of the month. Here you can find a fun printable checklist that you can stick to your fridge and mark as you complete the tasks.
You can also make your own challenge by making a list of all the people you'd like to thank and show your appreciation.
Final Thoughts on Teaching Gratitude
No matter what time of the year it is, you can always give your kids the gift of gratitude.
Be patient and apply these tips and activities one at a time until they become a habit.
Thankfulness Activities for Kids: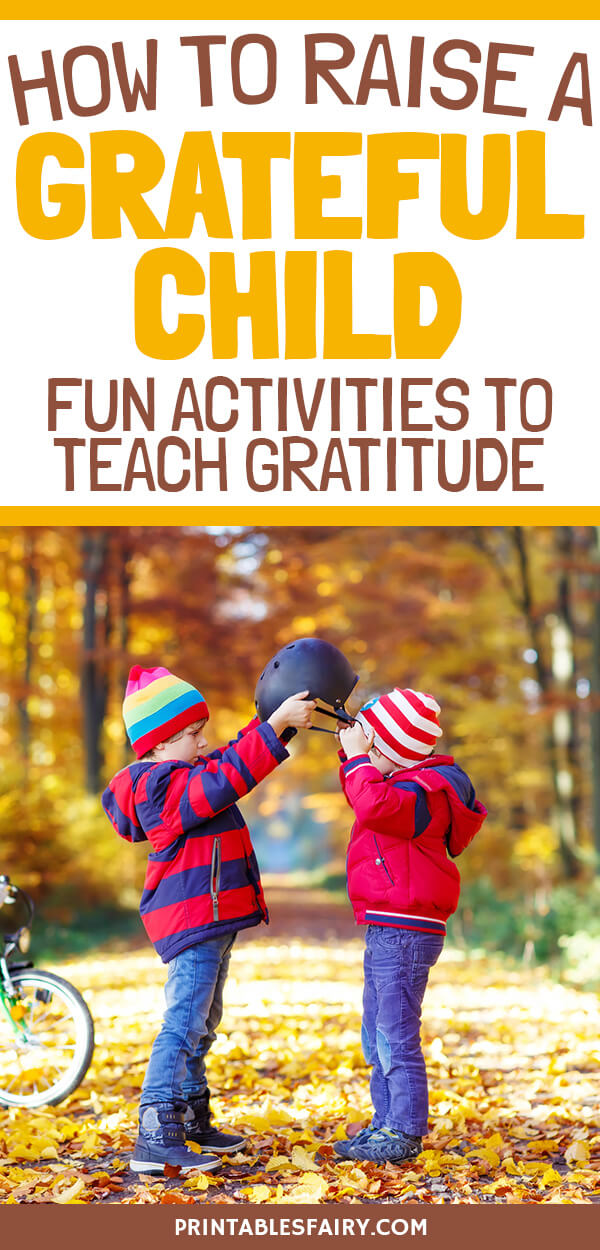 How to Raise Grateful Children