10 Things You Can Do to Raise a Reader
Trying to get your children to read on their holiday break? Or looking for ways to inspire your kids to read more?
These 10 tips to raise a reader will help you teach your children that reading is not just a homework assignment, but a fun experience that involves choosing the perfect book; setting the right environment at home; and squeezing other creative activities into the mix.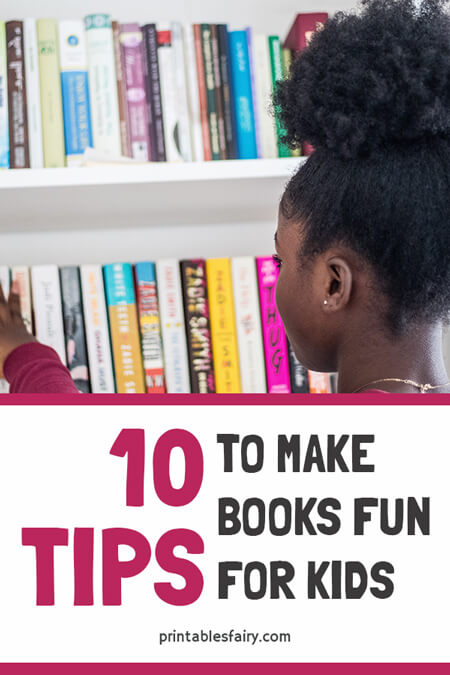 Reading is an essential skill that kids need to communicate with others, develop their creative abilities, boost critical thinking and problem-solving skills, improve their memory and concentration, and get in touch with their own emotions.
There are many tips you can use to motivate your kids to read, but first, it's key to identify why they might not want to.
Maybe it's because they see it as a chore, think it's boring, or have some difficulty reading. Once you know the reason, you can find the perfect strategy to address the issue and make books fun again.
At home, we came up with the L.O.V.E.T.O.R.E.A.D. strategy that includes 10 ideas to make kids love books:
Let your kids pick books they like
Organize a reading challenge
Visit the library
Establish a gift-giving tradition
Try to be an example
Offer help if needed
Read with your child every day
Encourage your kids to read everywhere
Always have a variety of books to choose from
Do the voices
Stay tuned to read about them into detail and discover which ones you can apply in your own home.
Let Your Kids Pick Books They Like
Did you know that kids are more likely to finish reading a book that they have chosen on their own? In fact, the more interested they are in a subject, the more they will be excited to read. Don't be afraid to explore unusual genres, topics, and formats!
You can help them make a choice by providing options that fit their reading levels.
If you are not sure if a book is too difficult for your children, use the five finger rule. Simply, let your kids read the second page of that book and raise a finger every time they find an unknown word. If they lift more than 5 fingers, this book might be too complicated.
Picking a book that is appropriate for your children's abilities will build enthusiasm for reading and prevent frustrations.
TIP: If your kids want to pick the same book for the 100th time, encourage them to do so! Re-reading will help them read with greater fluency and accuracy in the future.
Organize a Reading Challenge
Start a Reading Challenge with your kids and encourage them to invite a friend or two to join. Having a group will motivate them to read more and encourage them to start expressing their opinions and ideas to an audience.
Last Summer we started our own challenge and it was so successful that we tried it again on the winter holidays.
On both occasions, the little ones selected different topics to include on our list instead of selecting particular books because it lets us explore new books that we wouldn't have chosen otherwise.
On our second try, we decided to have a weekly rotating leader that selected the theme from our list and started the discussion by talking about a book while encouraging others to talk as well. Through this process, children can practice their leadership and communication skills.
We also tried an activity based on our topic and placed it on our Reading Binder. This, to show that reading can lead us to other projects.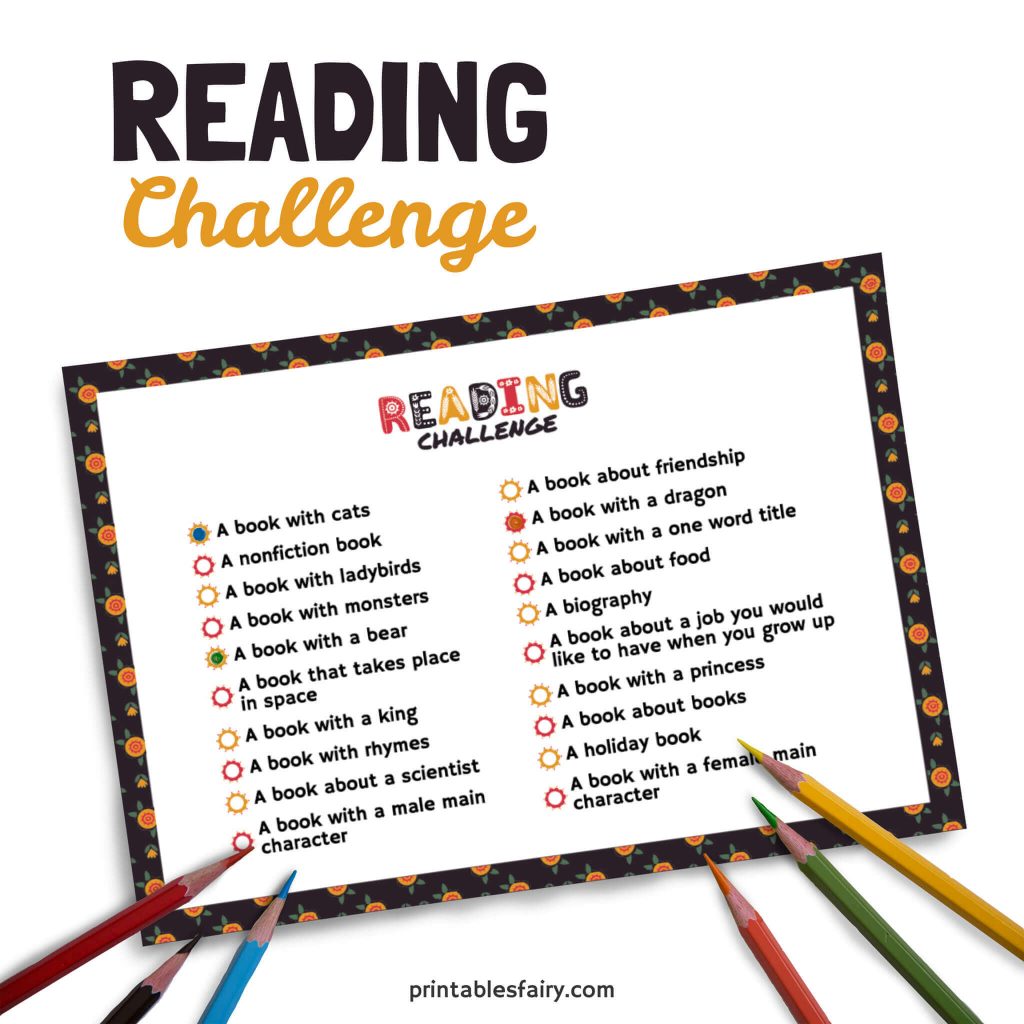 Start your own Reading Challenge with these free printables and start discovering new books, strengthening friendships, and having fun with books!
Visit The Library
Going to the library will not only allow you to take advantage of a large selection of books and awesome recommendations about authors and illustrators.
It will also let you enjoy story time programs which make up the perfect setting to perform group reading activities that will help your children learn to pay attention in large groups, take turns, share, and acquire social skills.
These group reading activities may include crafting, playing games, singing, dancing, and of course, reading and discovering new stories. Basically, showing your kids how fun reading can be!
Establish a Gift-Giving Tradition
Make reading something special by giving your children books to celebrate milestones, accomplishments, birthdays, and holidays.
Put these books in a special place at home to show their importance.
Turning books into gifts and expressing enthusiasm when we get them, shows the great value they have and how much we appreciate them.
Check these book lists for some ideas on what books to gift out next:
Try to be an Example
Let your kids see you reading every day and invite them to join you with their own books.
Remember that your children learn by imitating you. You are their role model; if they see that you are enjoying your own book, they'll be quick to do the same.
Offer Help If Needed
Parents are usually the first ones to identify if their kids have any difficulty reading.
Try to recognize what are they struggling with and talk with their teachers to help you find a solution before the issue leads to unnecessary frustration.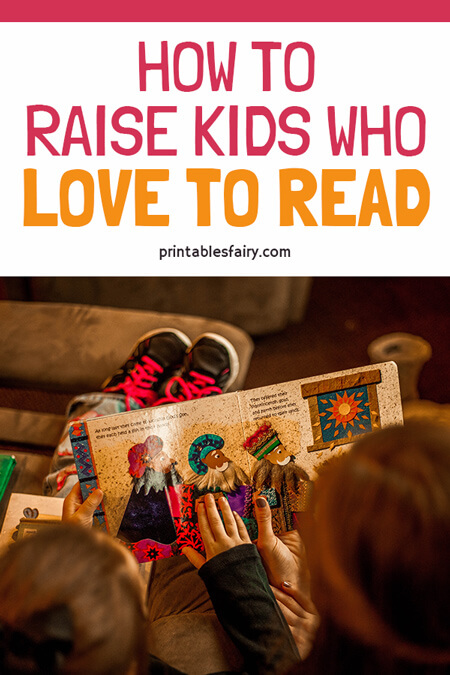 Read With Your Child Every Day
Start a reading routine as early as possible. Research shows that reading to newborns help them have a larger vocabulary knowledge and eventually be better prepared to start reading on their own.
Reading with your children every day will teach them that it is something to be enjoyed and not just a school chore.
Creating a routine helps develop a reading habit over time. You can read every night before bedtime and enjoy this relaxing time with your kids. Or, if they are on a holiday break, it might be a better idea to read in the mornings before they are tired of playing all day.
You should also take this time to ask questions and encourage your kids to tell you their ideas and opinions. This way you get to know your children a little better while building their language skills.

Encourage Your Kids To Read Everywhere
You should motivate your children to read everything they see, wherever they go.
You can practice reading road signs, grocery lists, cereal boxes, menus, recipes, instructions, etc. This will show them how we use reading in our everyday lives and how important it is.
Your children will also connect what they read to their daily lives, and it can make them more interested in reading.
Always Have A Variety Of Books To Choose From
Having a variety of books at home will promote frequent and diverse reading experiences.
Give your children easy access to books of different genres such as fantasy, biography, science fiction or mystery; formats like hardcovers, pop-ups, e-books or audiobooks; and subjects that address your kids' interests.
Creating a home library doesn't need to take much space, a corner in your kid's room would work just right.
Make sure this area has good lighting, is comfy, inviting, and filled with books. You can get them from your own collection, the library, a book-swap system with other parents, or let your kids create their own books.
Don't forget to rotate your display to inspire them to try new stories!
Do The Voices
Who doesn't love to cuddle up and read aloud to their kids?
Most children love to be read their favorite stories and it's even better if you use different voices for every character in the books. This is a fantastic bonding experience and the first step to develop a lifetime love for reading.
Reading aloud have other benefits as well. It builds connections between spoken and written words, expands vocabulary, increases the attention span, and shows how fun reading can be.
You can also invite your kid to read to you. It will help you identify any difficulties they may be having and help them get over them. Plus let's not ignore that kids love to be in charge!
Use these 10 easy tips to encourage your child to read and raise an avid reader. Remember, always make it fun and enjoyable.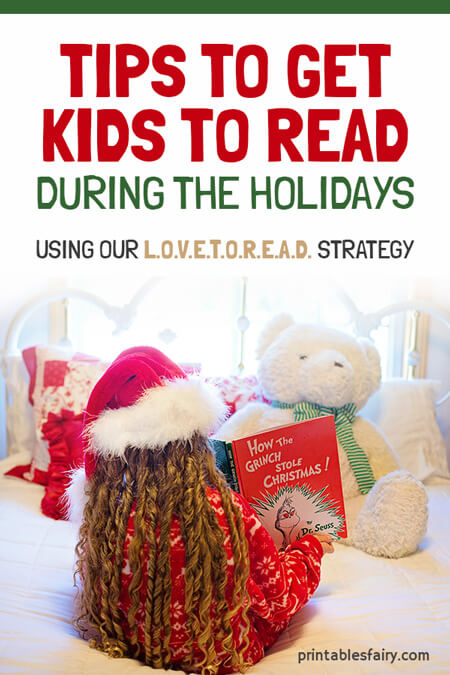 More Reading With Kids Posts:
Simple Tips to Make Books Fun for Kids