5 Ideas for a healthier Easter basket
Easter is coming, and it's time to start thinking of treats to put on those baskets.
Usually, the first thing that comes to mind is candies, but I have a better option: healthy homemade treats.
What better way to fill those Easter baskets than with healthy goodies made with fruits and cereals.
It's super easy – I picked and tried all these recipes myself to make sure.
And I also included some printables you can get to make them look extra cute!
Why don't you try something different this upcoming Easter?
Let me show you all these delicious ideas.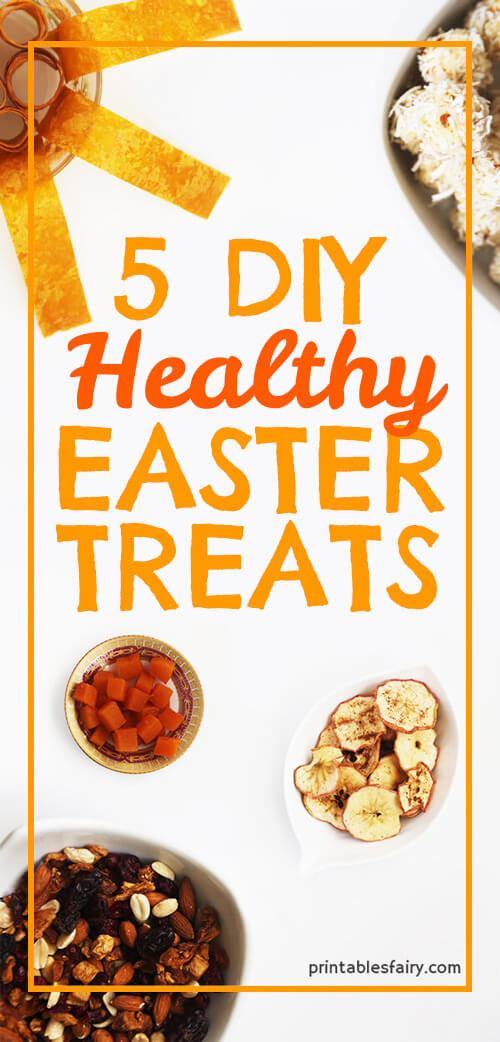 I'm a big fan of healthy snacks and also a big fan of DIYs.
So guess what, the following recipes combine the best of both worlds!
If you are looking for something healthy and tasty that can replace all those candies your kids want to have on the holidays, then you are in the right place.
These treats can make beautiful Easter gifts, basket fillers, or you can cook them with your kids as an Easter activity.
They are all made with fruits, cereals, and without all those ingredients that we can't even pronounce.
And most importantly, your kids will love them because they are actually delicious!
Some of these treats are my childhood all-time favorites, and others are treats I found on Pinterest and tried myself to see if they actually work and taste as they say (links included).
Some took quite a lot of time, while others were super quick. You can choose what you prefer, but I can assure you that they are all worth it!
Since Easter is coming, I also decided to make some printable Treat bag toppers and tags to go along with these sweets. You can click on the links to grab them.
Now let's get into the recipes!
Mango Fruit Leather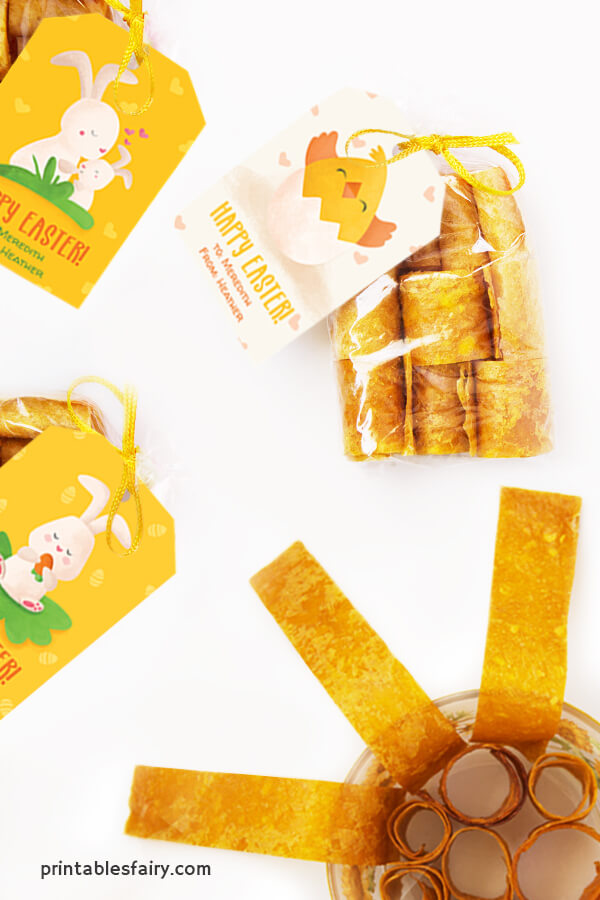 First off, I want to start with my favorite treat: Fruit Leather!
It is something that I always used to make with my grandma when I was a child, and I have loved it until now.
It is super easy to make, and it only requires 2 ingredients.
Its only downfall is that it takes quite some time to prepare.
I recently made it with the little ones, and they really loved the process, even though it took a lot of time and patience.
Do I think it is worth all the time?
ABSOLUTELY!
Check the recipe to make your own Mango Fruit Leather.
Click here to get the Happy Easter Gift Tags.
Healthy Bunny Bait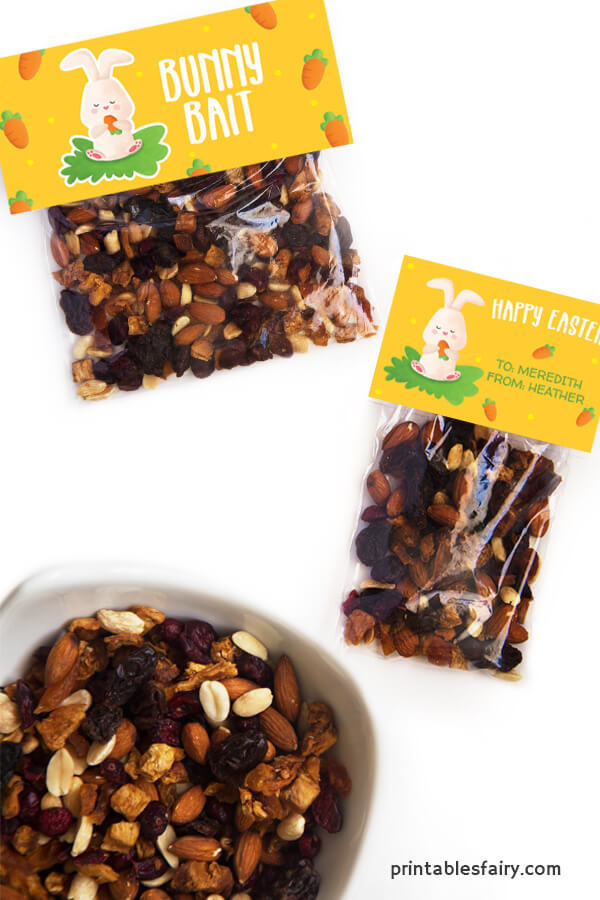 This can be an excellent dupe for the classical Bunny Bait given away on Easter.
And it is the quickest and easiest idea of all the ones featured in this post.
You can even pack it as an Easter surprise in your kids' lunchbox. They will love it!
This is a "healthy version," but feel free to include other goodies that you might want, such as M&Ms, marshmallows, or jelly beans.
Check this Bunny Bait mix.
Click here to get the Bunny Bait Bag Toppers.
Coconut Balls
I love these for Easter because they look like little fluffy bunny tails ❤.
I found them on Pinterest and decided to give them a try.
They only contain Good Fats, which will make you feel filled up a little quicker.
A great option to satisfy a sweet craving!
Here you can find the recipe to make these coconut balls.
Click here to get the Bunny Tails Bag Toppers
Fruit Gummies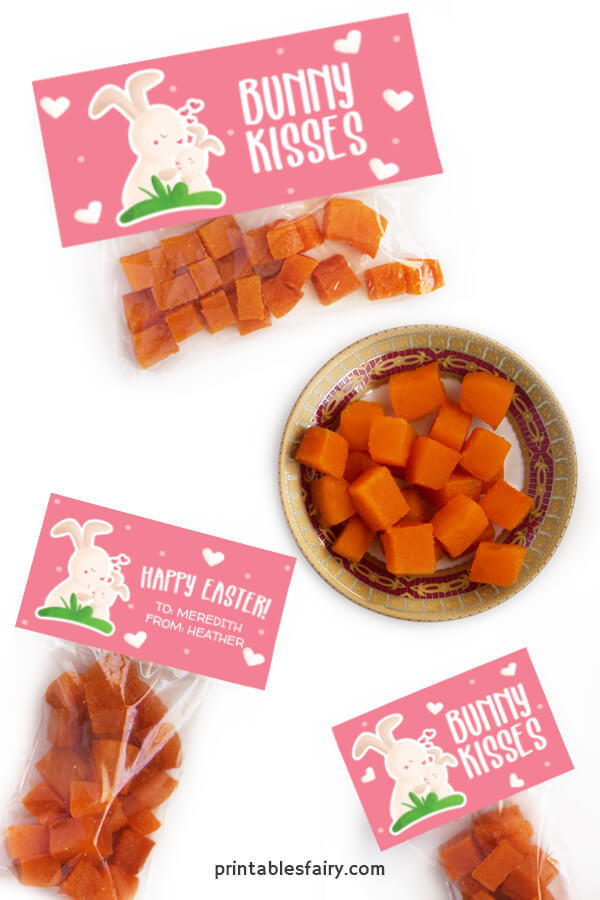 Who doesn't love gummies?
But, have you tried gummies made with fruits and veggies?
I found an Orange & Carrot gummies recipe and couldn't say no.
I replaced the Stevia with honey (added a little more) and used a cubes mold instead of bears.
It was very easy, and mine just took one and a half hours on the fridge (maybe less, but I didn't check earlier).
I also made a strawberry version of this recipe, but the orange one was definitely my favorite!
Check the Orange Gummies recipe.
Click here to get the Bunny Kisses Gift Tags
Apple Chips
All I can say is that these are delicious!
I made them with the kids, and they actually devoured them in 1/4 of the time we took to make them!
Our apples were very sweet, so I only added 1 teaspoon of brown sugar and another one of cinnamon before putting them in the oven.
After two and a half hours, I took them out of the oven even though they were still soft; once I let them cool, most of them got hard and crunchy.
I put the ones that didn't, back in the oven for another 10-20 mins. At this point, you gotta be careful because they can burn in a second (that happened to a couple).
I'm sure your kids will love them, so don't hesitate to try them out if you have the time!
You can find the Apple Chips here.
Click here to get the Happy Easter Tags.
Are you ready to try any of these ideas?
Fill those Easter baskets with all these healthy treats!
And don't forget to get those cute printables to make them look extra sweet.
Here are some quick links to get them on my Etsy Shop:
Make your healthy treats, use some printables and celebrate Easter!
*Please remember that these printables are for personal use only. You may not sell, share, or distribute the files.
More Easter fun for you: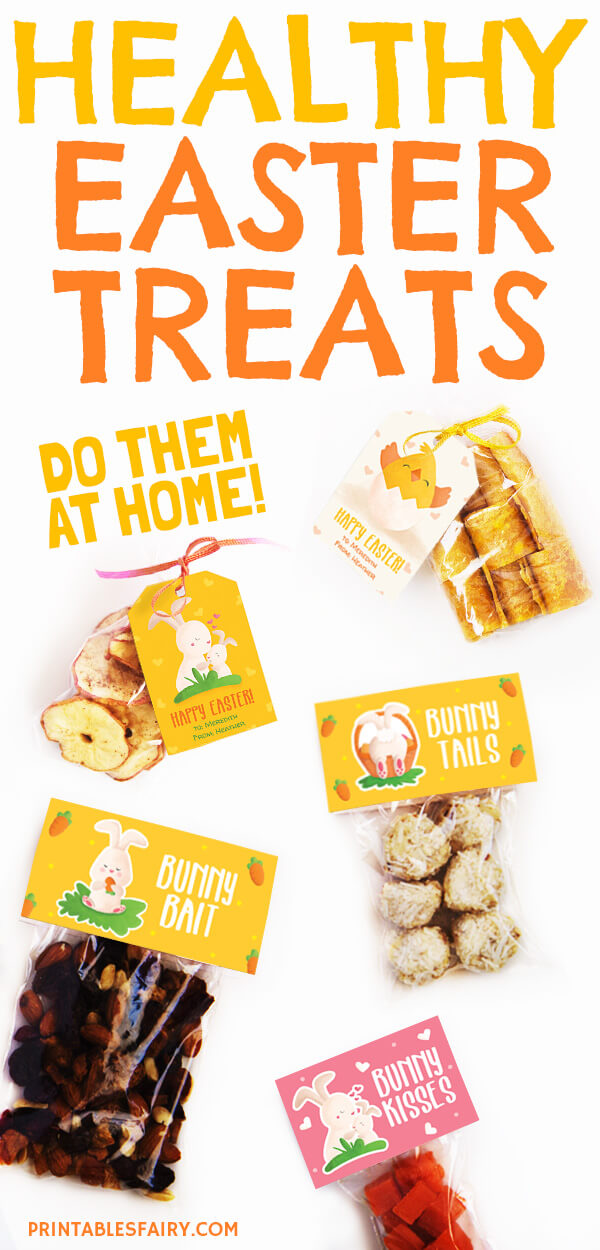 DIY Healthy Easter Basket Ideas