Easter Picture Books
Looking for Easter basket ideas that are not candies?
Books are a great option and a wonderful motivation to instill a love of reading in your kids.
We all love a good chocolate bunny, especially the little ones!
But it might not be a good idea to fill their baskets just with sugar-high treats and flimsy toys that will be forgotten once the Easter Hunt is over.
What you can do instead is include a couple of sweets and stock your Easter baskets with one or two books and some nice printable activities!
Here I bring you 21 Easter books that I'm sure your kids will love to read all year long.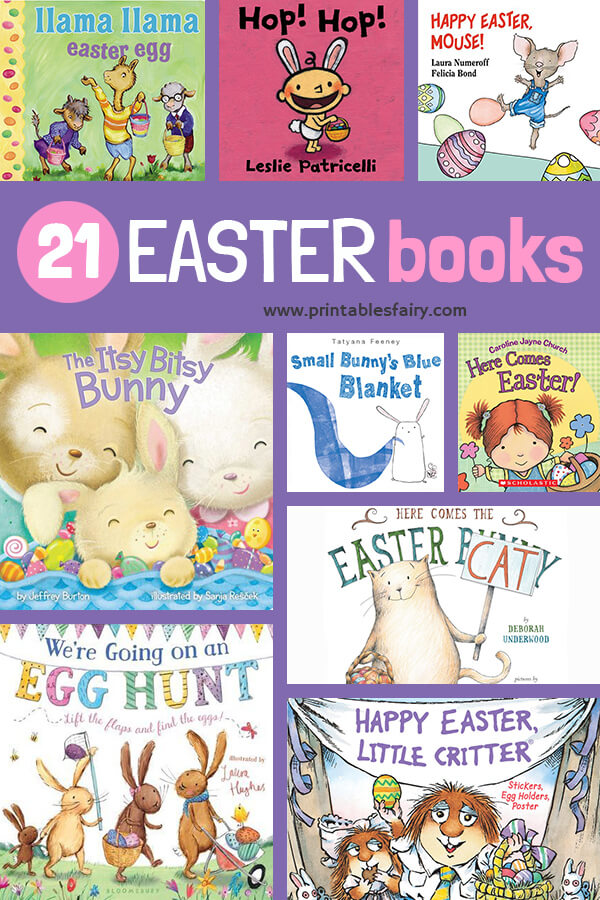 1. Llama Llama Easter Egg by Anna Dewdney. Ages: 0-3
The little ones love the Llama Llama books. This one, in particular, has a very unexpected ending that made them be careful while Egg Hunting last year.
It is easy enough for kids to memorize and begin word recognition.
2. Hop! Hop! By Leslie Patricelli. Ages: 0-3
A short story that teaches non-religious Easter traditions to toddlers.
3. Happy Easter, Mouse! by Laura Numeroff. Illustrated by Felicia Bond Ages: 0-4
This is a short story that can be read all year-round and is a great option to teach both: colors and numbers.
4. The Itsy Bitsy Bunny by Jeffrey Burton. Illustrated by Sanja Rešček. Ages: 2-4
This colorful Easter book for preschoolers is a cute twist on The Itsy Bitsy Spider.
5. Small Bunny's Blue Blanket by Tatyana Feeney. Ages: 2-5
This is an adorable book with simple illustrations about a little bunny and his blankie.
Many preschoolers can relate to how he feels and understand that sometimes you have to get separated from something you are attached to and want to be with all the time.
6. Here Comes Easter! by Caroline Jayne Church. Ages: 3-5
Nice "touch and feel" book, perfect for early readers.
It follows a little girl going on an Easter egg hunt and encourages children to look for the eggs throughout the book.
7. We Are Going On An Egg Hunt by Laura Hughes. Ages: 3-5
We loved the beautiful illustrations in this book, which are perfect for the youngest at home for its repetitive text.
We are also big fans of interactive books, and this one lets the kids go looking around for Easter eggs with the bunnies. A big hit!
8. Here Comes The Easter Cat by Deborah Underwood. Illustrated by Claudia Rueda. Ages: 3-5
This story is about Cat, who wants to be the Easter Bunny until he finds out there's no time for naps!
We loved this story as it made us laugh so much. I also included it on our list of books about cats.
9. Happy Easter, Little Critter by Mercer Mayer. Ages: 3-7
It's a very simple book that narrates how a "typical" Easter day goes through from a kid's perspective.
Very detailed and colorful pictures that catch the kids' attention very easily.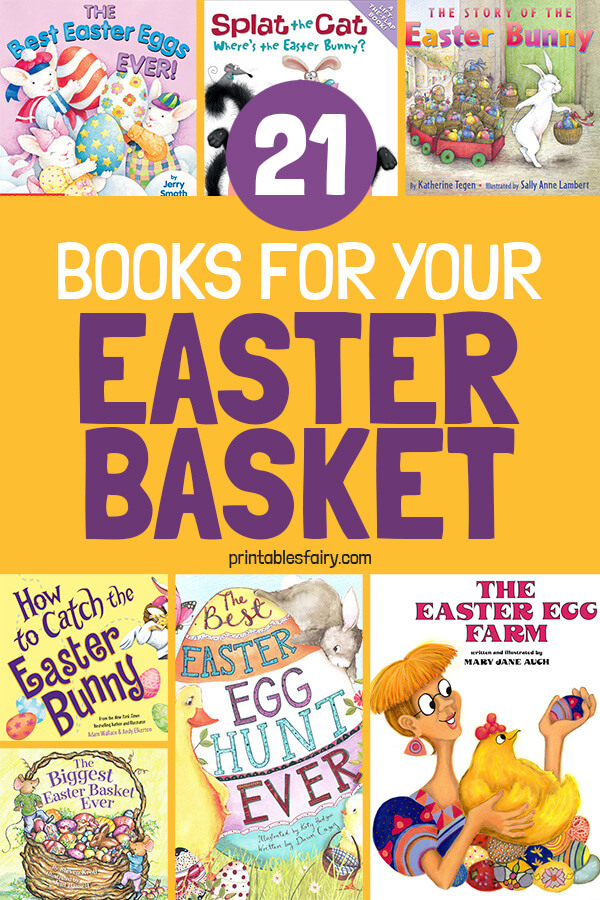 10. The Best Easter Eggs Ever by Jerry Smath. Ages: 4-5
The story of how the Easter bunny found new designs for his eggs with the help of three little rabbits.
11. Splat The Cat Where's The Easter Bunny? by Rob Scotton. Ages: 4-8
This is our absolute favorite Easter book from one of our favorite characters: Splat The Cat.
The little ones enjoyed answering questions and discovering who is behind all the flaps as this is an interactive story—very recommended!
12. The Story Of The Easter Bunny by Katherine Tegen. Illustrated by Sally Anne Lambert. Ages: 4-8
This is a book that we have never read before. It tells the story of how the Easter bunny came to be.
It also inspired the little ones to start random acts of kindness.
13. How To Catch The Easter Bunny by Adam Wallace. Illustrated by Andy Elkerton. Ages: 4-8
Kids really enjoyed this rhyming tale about all the different traps that children use to make to catch the Easter bunny.
We read it as part of our Reading Challenge: a book about a Holiday.
14. The Best Easter Egg Hunt Ever by Dawn Casey. Illustrated by Katy Hudson. Ages: 5-6
This book is similar to the Llama Llama one but curated for older kids.
It's a cute story about helping others and how it's not always the things you're hoping for that will give you the most happiness.
15. The Biggest Easter Basket Ever by Steven Kroll. Ages: 5-8
This is a cute tale about two mice that want to win the biggest Easter basket award.
They start working on their own until they realize that working together is so much better than working alone this time.
This book comes in handy when teaching kids about teamwork.
16. The Easter Egg Farm by Mary Jane Auch. Ages: 5-8
This book is about a hen who makes colorful eggs, unlike the other hens at the farm.
She is made fun of in the beginning, but later on, she gets to be confident and proud of her creative eggs.
It teaches kids that it's ok to be different.
Christ-Centered Easter Books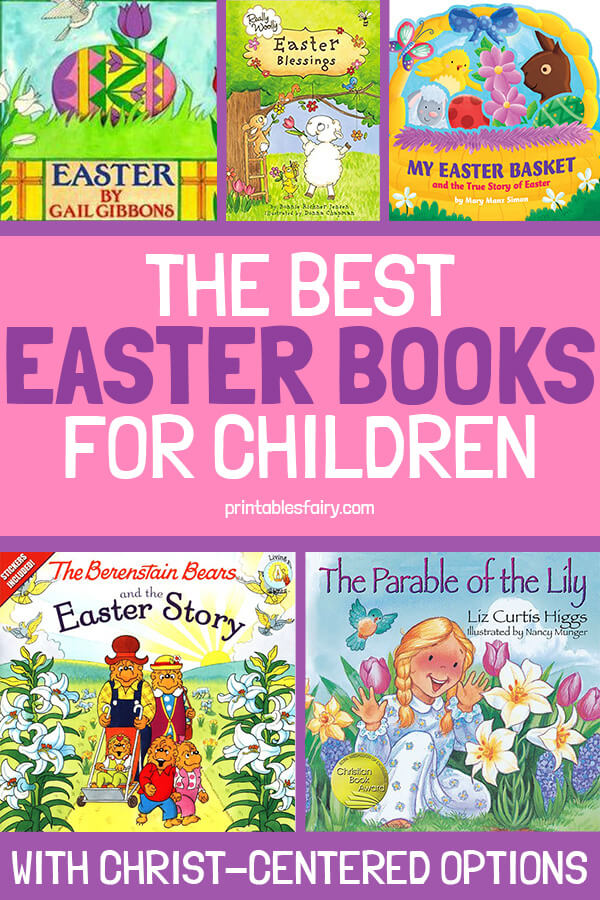 17. My Easter Basket: And the True Story of Easter by Mary Manz Simon.Ages: 2-4
This book uses the colors of objects inside an Easter basket to help readers understand Easter and the story of Jesus.
18. Really Woolly Easter Blessings by Bonnie Rickner Jensen. Illustrated by Donna Chapman. Ages: 2-5
Each page of this book contains a Bible verse, a rhyme based on that verse, and a short prayer thanking God for that topic. Topics include Easter and Spring.
19. The Berenstain Bears and The Easter Story by Jan and Mike Berenstain. Ages: 4-7
It is a great book for explaining the Jesus story of Easter to kids while the bears re-enact it at the school theatre.
Easy for the kids to understand that Easter is more than bunnies and candy.
20. The Parable of the Lily by Liz Curtis Higgs. Ages: 4-9
This is the story of Maggie, who gets an ugly gift that turns out to be the very best gift of all right on Easter time.
There are Bible verses at the bottom of the pages to help you tell the story of the death and resurrection of Christ as you read the story.
21. Easter by Gail Gibbons. Ages: 5-9
This book suits older kids better.
It explains in detail the story of Jesus, where the word Easter comes from, what religious and non-religious traditions are celebrated nowadays, and where the idea of the Easter bunny comes from.
I hope this post inspired you to add a book to your Easter list!
Now it's your turn to choose one of these Easter books and include it in your basket.
Or maybe you have another recommendation? Let us know in the comments.
MORE EASTER FUN!
Books for the Easter Basket