Learn how to start a nature journal with your kids using the help of this guide.
It includes ideas on how to start nature journaling, what to include in your nature journal, and free printable prompts to get you and your family started.
Creating a journal is the perfect excuse to get outdoors with your kids a few times a week and enjoy nature's health benefits. All this while helping your children develop their science, writing, and art skills.
Let's get outside!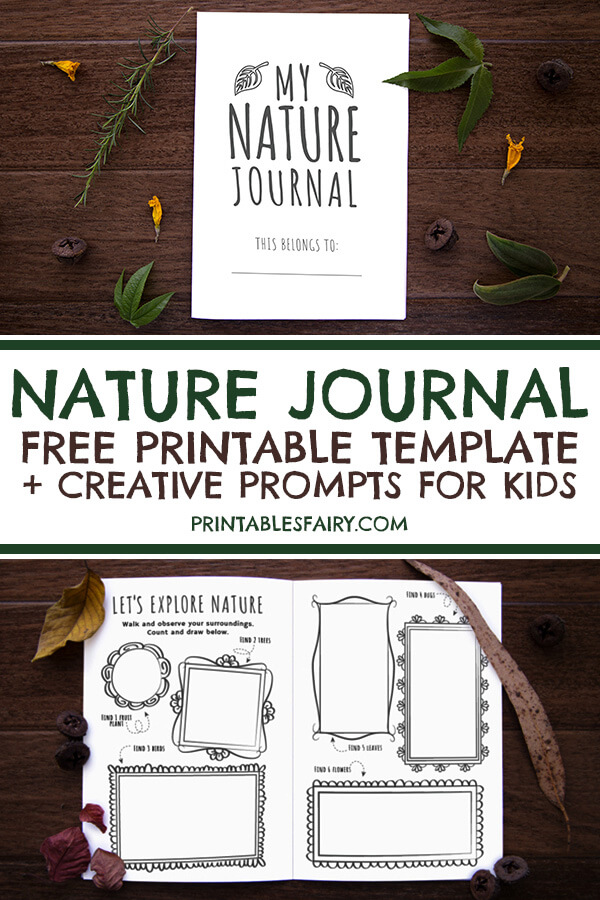 What is Nature Journaling
Nature Journaling is a creative way to explore nature and record all the wonderful things you discover.
It can be a fun family activity to develop strong bonds with your children. It is ideal for them because they already have a natural curiosity and a desire to figure things out.
A nature journal is also a place to write, draw, or paint your ideas, feelings, and experiences. It can be a great place to store findings and pictures as well!
So, you might be wondering where do we start?
It's pretty simple. Like Gary Snyder once said:
"Nature is not a place to visit. It is home."
You don't need to go camping or visit the jungle to start a journal.
All you have to do is take a look at your own backyard, go for a walk around your town, visit a local park, or simply read a book.
What matters is that you enjoy the natural world and pay close attention to all its amazing details.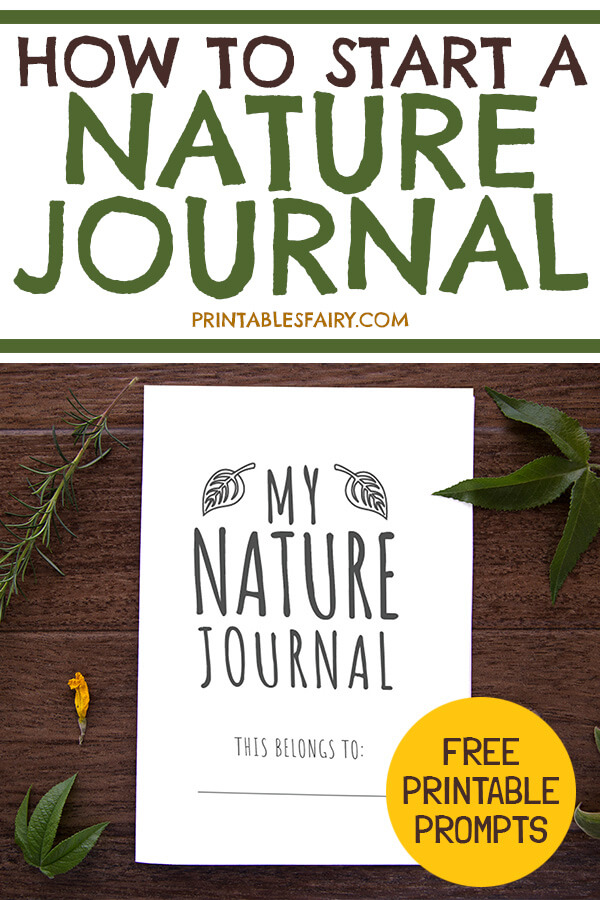 Why Keeping a Nature Journal With Children
Parents and teachers can use a nature journal to help kids develop deeper relationships with nature, appreciate the wildlife, and grow their conservationist mindset.
Also, as a family activity, journaling can help you grow closer with your children and create memories that you'll treasure for years to come.
But that's not all!
Letting your children keep a nature journal has cognitive and emotional benefits. Here is a short list to name a few:
Nature Journals Reinforce Observational Skills
Keeping a nature journal requires taking a deeper look at our surroundings.
Writing about a particular plant or drawing an unusual animal demands noticing all the little details that we might not have distinguished otherwise.
It also encourages us to use all our five senses to identify particular characteristics.
Nature Journals Help Develop Creativity
Starting a nature journal is the perfect excuse to draw or paint on a regular basis. And since there are no limitations, kids can freely develop their own artistic styles.
Nature Journaling Is A Multi-Disciplinary Activity
Besides exploring visual arts, nature journals allow kids to develop their science, math, and literacy skills.
When they find something unknown on a nature walk, they may want to learn what it is exactly.
You can help them by asking questions to reinforce their descriptive and scientific language.
These questions don't need to be elaborate; they should just give them an idea of what to start looking for.
How does it look like? How does it smell like? Is it a living thing? are great questions to begin with.
Encourage them to write their answers down, make a drawing, or both.
Then, you can count how many of that object can you find, or how many legs/spots/eyes does it have.
You can also talk about its shape, size, and symmetry. You will be reinforcing their mathematical understanding without them knowing.
Finally, if your kids are really interested in a topic and want to know more about it, you can go home and do some research on books and websites. This way, you are encouraging research-based learning while improving their vocabulary and spelling.
Nature Journals Encourage Physical Activity
Let's not forget that journaling gets you in the habit of going outside, which will bring great benefits to your family's health.
Nature Journals Teach Us To Be Thankful
Last, but not least, nature journaling helps us be grateful for all the things in our surroundings.
From a little ant to a giant tree, you will learn to appreciate everything on our diverse planet.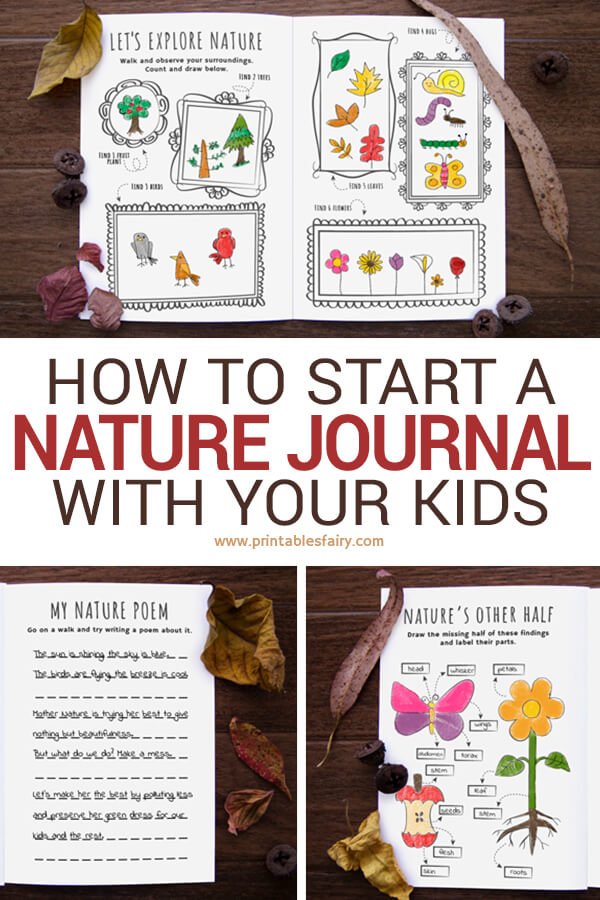 How to Start a Nature Journal With Your Kids
The best part of starting a nature journal is that there are no rules!
Your kids can simply pick an empty notebook and start filling it with all their findings and ideas.
If they like writing, they can register how they feel in nature, record the weather conditions, describe the settings, compose a song, or even write a novel.
If they prefer exploring their creativity, they can draw sketches, make collages, paint, or collect items.
The most important part is that you focus on the process rather than the end results.
Talk about what they have learned about the plants, animals, and landscapes they have been researching.
And don't forget to provide your children with all the materials needed to start journaling. Some pencils, colors, crayons, erasers, sharpeners, binoculars, and a camera can come in handy.
Printable Nature Journal for Kids
If you are still not sure how to help your kids start their nature journal, download this free printable template that includes creative prompts and activities for them to complete.
Print the pages double-sided onto three white cardstocks and fold them in half.
If you are going to fill the journal while going on a hike, bring a sturdy surface like a clipboard.
CLICK HERE TO DOWNLOAD THE NATURE JOURNAL
*Please remember that these printables are for personal use only. You may not sell or distribute the files. If you want to share them, please link to this post and not directly to the PDF files.
Let's take a look at what activities are included in this printable journal!
The first page is Nature and Me.
Here, kids are prompted to write or draw the answers to some questions such as:
What is your favorite place to visit in nature? Why?
What do you like to bring when exploring nature?
Go on a walk. What do you see? What can you hear?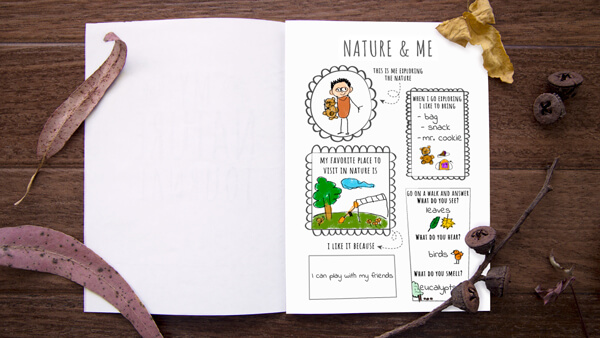 Then, we have The ABCs of Nature.
In this activity, kids have to choose a letter and find items in nature that begin with it.
They can draw one or multiple items, write them down, or make lists. Let them do what they are most comfortable with.
They can find the items by just thinking of them or by going on a walk with you.
Some letters, like U, X, and Y, are more difficult than others. You can help your children find the items by searching online or reading books.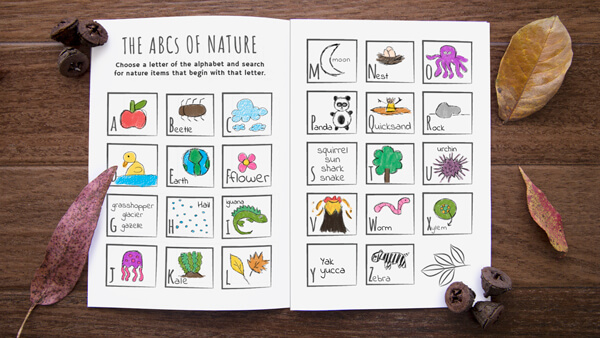 Next, we have a Let's Explore Nature prompt that encourages kids to get outdoors, find, count, and draw different plants and animals.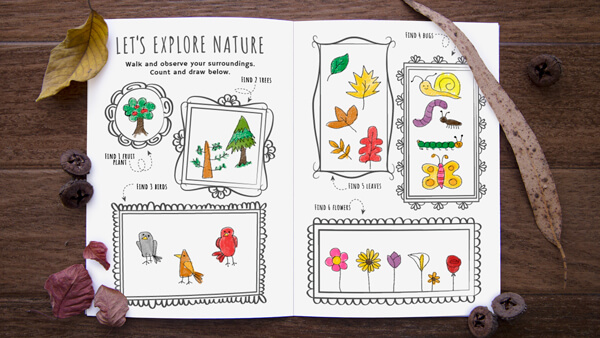 After that, you can find Nature's Other Half, an activity that promotes research-based learning.
It combines both art and science by requiring your kids to draw the missing parts of an apple, a flower, and a butterfly; and then label their parts.
On the next page, I also included a writing prompt where kids have to create a Nature Poem.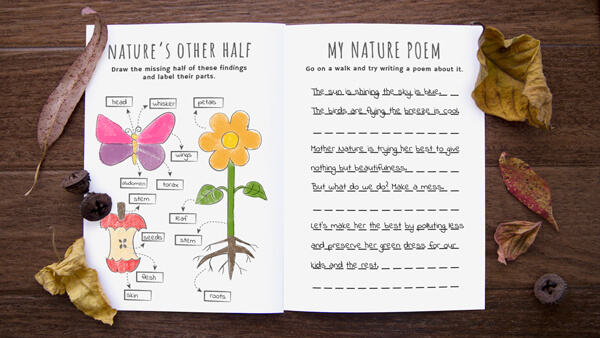 Finally, your children will have to make their own Nature Stamps.
For this, they will have to get outside and collect leaves, flowers, and seeds. Then, they have to cover their findings with watercolors, acrylics, or tempera paint and press them into their journal.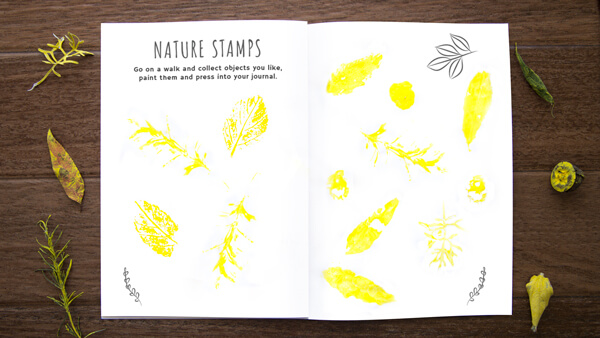 Nature Journal Prompts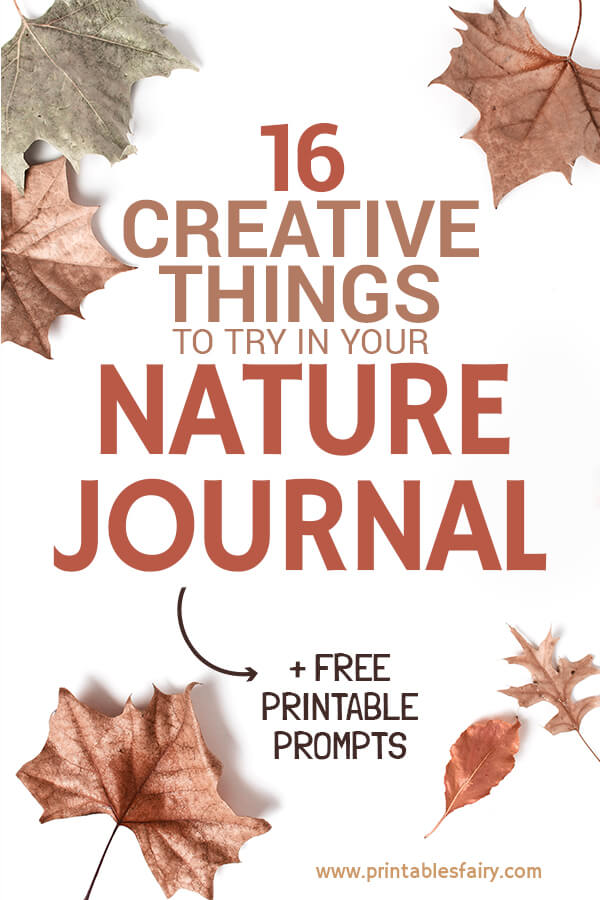 So, what's next?
If your children enjoyed our Printable Nature Journal, now they can start a brand new one from scratch.
Remember that they can fill it however they want, either repeat activities from the previous journal or try new ideas.
Here are a few Creative Prompts they can include in the journals:
Pencil drawings
Watercolor paintings
Notes on colors, sizes, patterns, and shapes
Photographs of plants and animals
Pressed flowers and leaves
Poems they have written.
Quotes they have read.
Little bags with seeds they have discovered.
Lists of flowers, birds, or insects they have found
Lists of books they want to read
Comparison charts
Cuttings from magazines
You can also encourage your kids to write more in their journal with these Nature Writing Prompts:
What is your favorite time of the year?
Imagine you are a falling leave. Where would you travel?
Write a story about life with no nature.
What part of nature are you most grateful for?
Why is taking care of the Earth important?
Imagine plants could be able to talk. What would you ask them?
Write a story about an animal rescue from the perspective of the animal.
Download the Printable Nature Journal Template!
Ready to get started journaling?
If you haven't already, click the link below to download the free printable Nature Journal and start this new adventure with your kids.
Don't leave without this free printable!
GET THE PRINTABLE NATURE JOURNAL FOR KIDS
*Please remember that these printables are for personal use only. You may not sell or distribute the files. If you want to share them, please link to this post and not directly to the PDF files.
More Activities to Explore the Nature with your Kids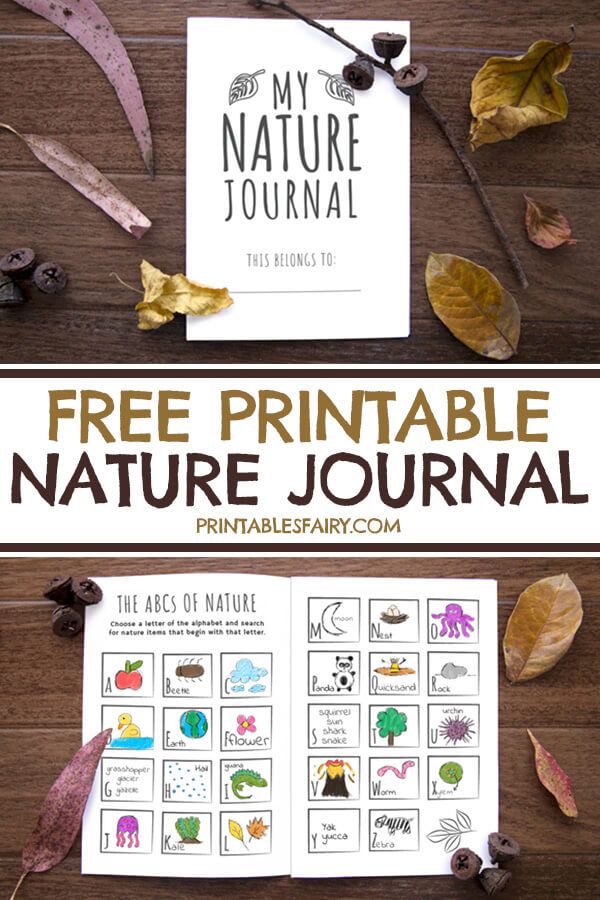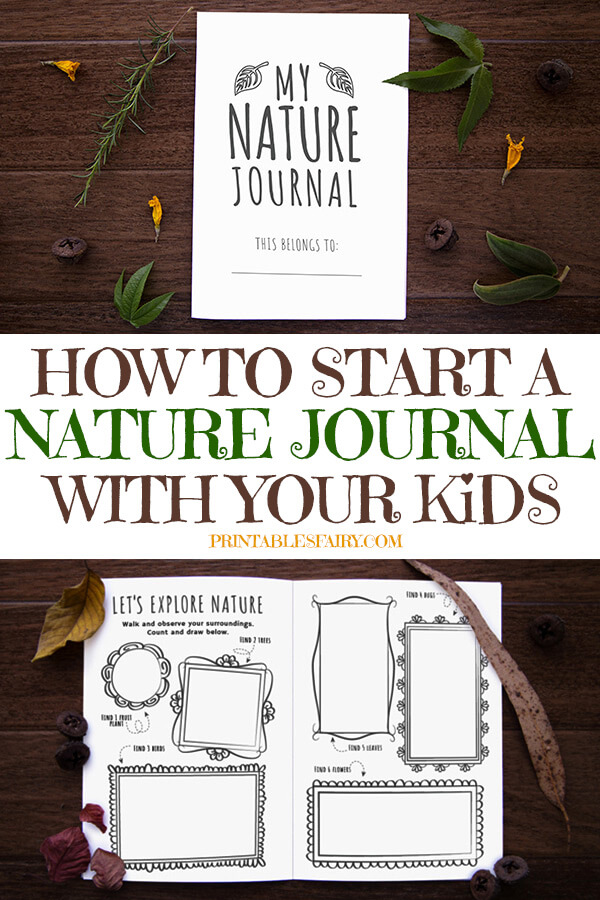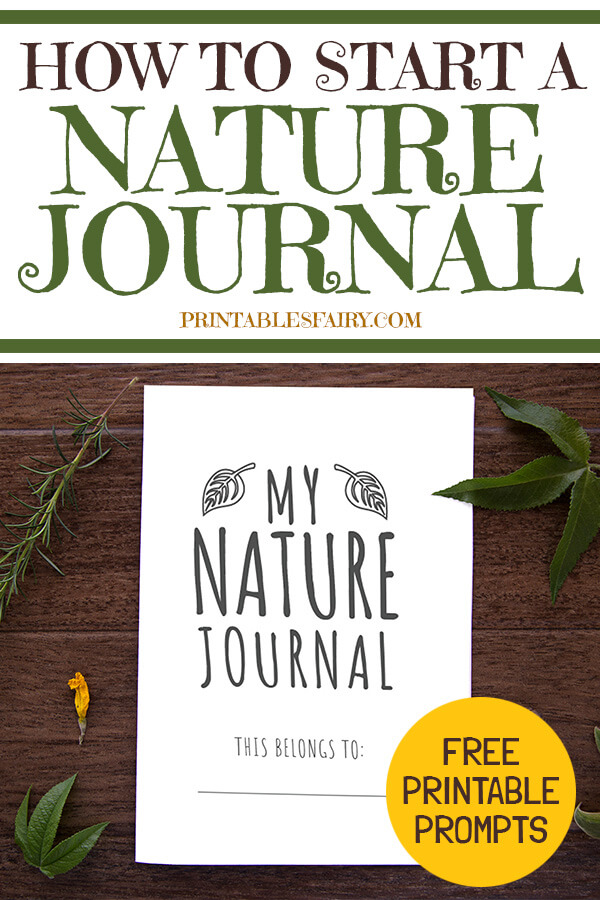 DIY Nature Journal for Kids