This year went by so fast!
I can't believe we are celebrating another New Year in just a couple of weeks.
So, to cheer up the spirit, I designed these cute little New Year's Eve Party Hats.
They come in 3 different designs: yellow, green, and black & white.
The green and yellow versions can be decorated or used on their own.
And the black and white version is perfect for keeping your kids coloring while they wait for midnight. (adults love them too 😉)
And if your family has people from all over the world, don't worry!
These New Year's hats also come in 6 different languages, including English, Spanish, Italian, German, French, and Portuguese.
Please let me know in the comments if you would like to see another language added to this set and come back next year to find it!
Whether you want an easy activity to keep your kids busy on New Year's Eve, or you want a DIY party favor for all your guests, these cone hats will be the star of your party.
In this post, I'll show you how easy it is to assemble them. And you can download the templates at the end.
Let's get started!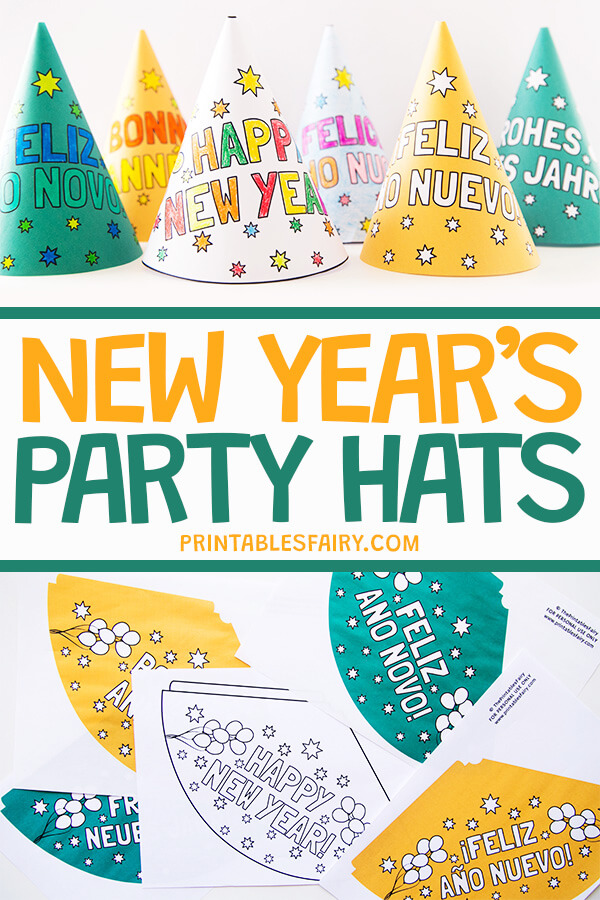 How to Make a New Year's Eve Party Hat
Making these Party Hats is super simple. Watch the tutorial below to see exactly how I made one of them.
But if videos are not your thing, I have also listed all the materials and step-by-step instructions right under it.
There are also pictures to guide you through the process!
Materials
To make these cute party hats, you will need a couple of things:
The Printable New Year Party Hats (get yours at the end of this post)
White paper
Printer
Coloring pencils or markers
Scissors
Glue stick
Elastic or ribbon
Instructions
Start by downloading and printing your templates on white paper.
I have also tried using cardstock but found it easier for kids to assemble these hats on lightweight paper.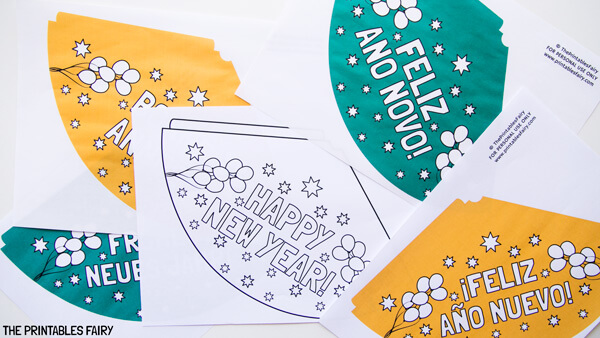 Decorate your hats with coloring pencils or markers.
You can use the black and white version to create a unique hat design or use our full-color version and decorate the balloons, stars, and letters.
If you are using the full-color version, you can also omit this step and go straight into the next one.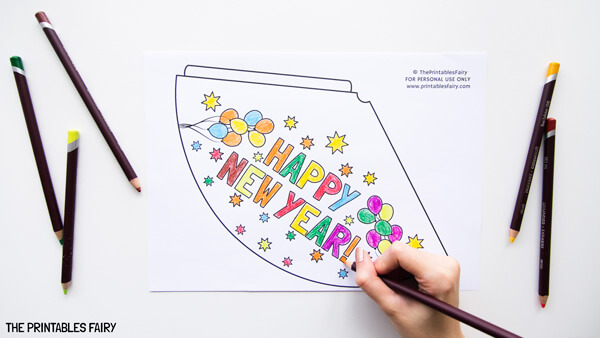 Cut out your hat.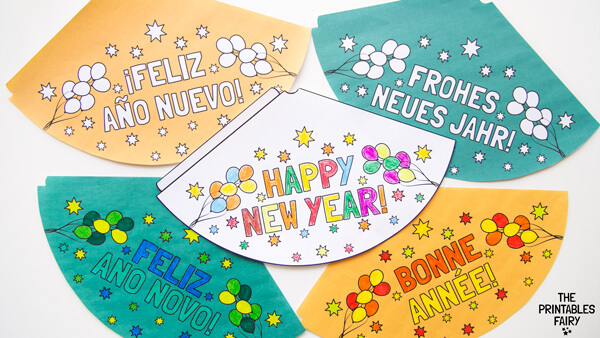 Add glue to the little flap on the side.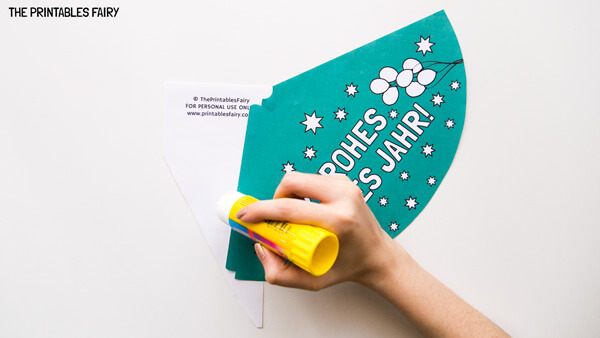 Twist the cone and secure it at the other side.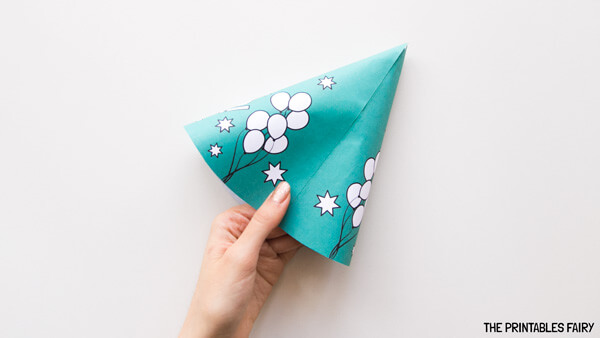 You can use these hats as decorations. But if your kids also want to wear them, just punch some holes at the sides and attach some ribbon or elastic to make your hat fully functional.
Your New Year's Eve party hats are ready to wear!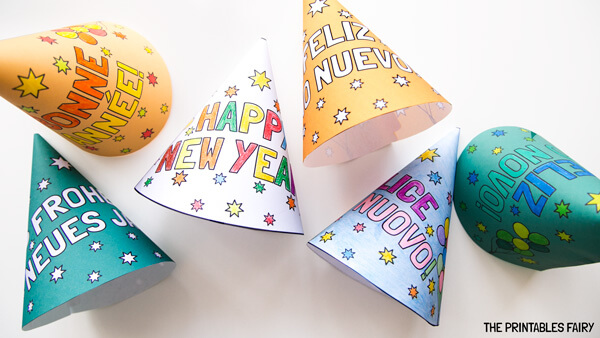 I hope you and your little ones enjoyed this craft. If you did, take a look at these other New Year Activities you can try on this special night.
And don't forget to get your templates right below.
Printable New Year's Party Hat Templates
Ready to make your own hats?
Click the link below to download and print them.
Keep in mind that the printing size is A4 (2010 x 297 mm)
If you want to print on different paper sizes, please select Fit Page on your printer settings.
And of course, you can show us your hats by tagging @theprintablesfairy on Instagram. We love to see your pictures. 💛
Have a wonderful 2022!
GET THE PRINTABLE NEW YEAR'S EVE HATS
*Please remember that these printables are for personal use only. You may not sell or distribute the files. If you want to share them, please link to this post and not directly to the PDF files.
More New Year's Eve Activities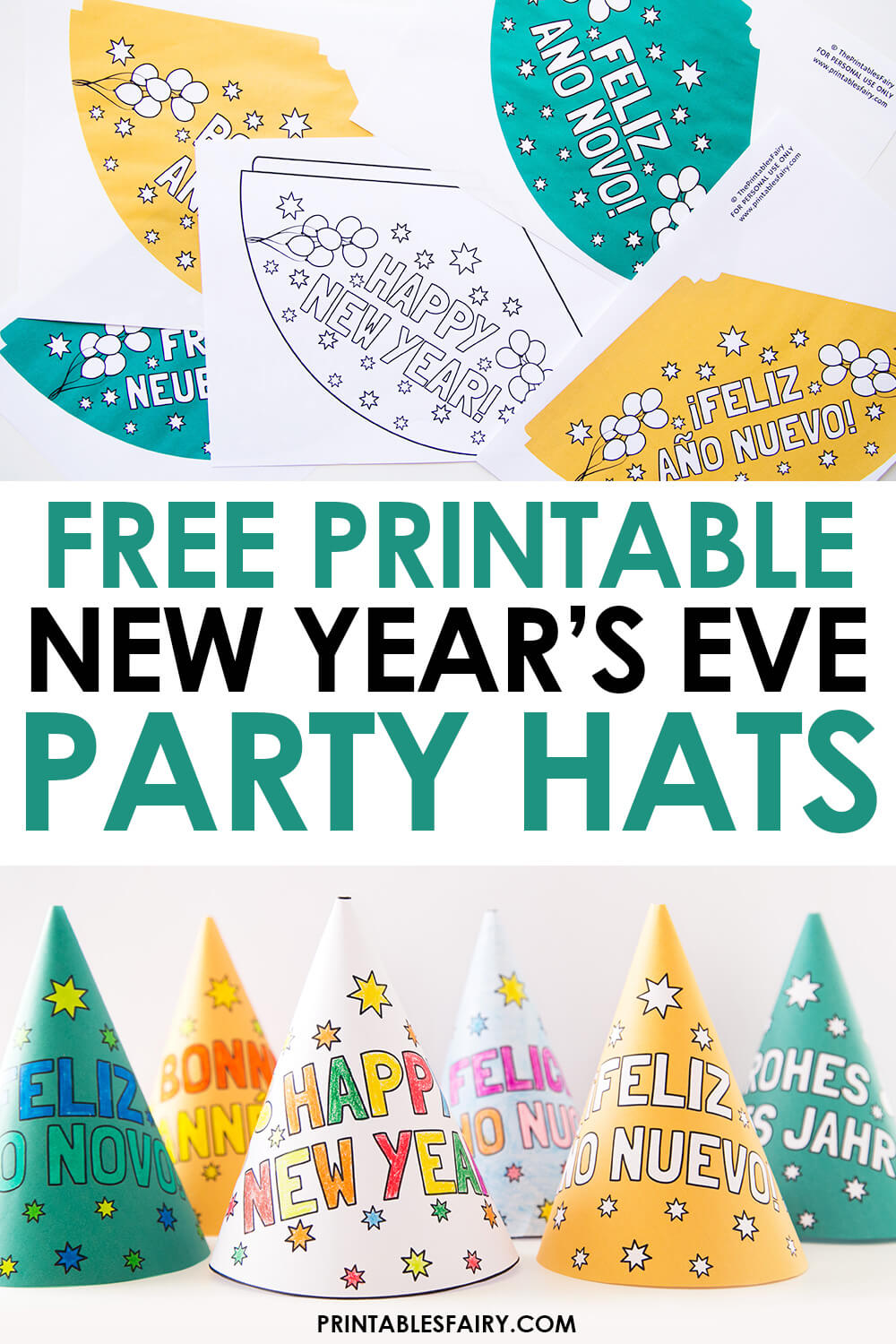 New Year's Eve Party Hat Craft