Looking for an easy game to entertain your kids on New Year's Eve? I've got you covered with this fun New Year's word search!
All you have to do is print and play. It couldn't be easier!
This year we had to change our plans.
We couldn't have a big family gathering like we usually do on New Year's Eve. It's been hard, but it doesn't mean that we can't still have fun and make it an exciting night for the little ones at home.
We were looking for an easy activity that would keep the kids busy for a while because they can get really impatient.
First, I made this New Year's Coloring Countdown, and then I created this word search.
There are 20 celebratory words hidden in this game.
Most of them can be found vertically and horizontally, but some are hidden diagonally to make it a little trickier.
This word search is perfect for elementary-school-aged kids and older. You can also let the youngest ones participate by making them find letters.
And thinking of the little ones, I've drawn some balloons and stars so that they can use this printable as a coloring page as well.
As you can tell, this printable New Year word search is not only perfect for your family game night but also class parties, playgroups, church groups, and of course, New Year's Eve parties!
You can also use it at your virtual parties if you have to celebrate with your family over a video call. To make it more animated, turn it into a little competition to see who can find all the words the quickest.
Sounds like an exciting activity to try, right?
Just send everyone a link to this post and tell them to download the printable game at the bottom of the page.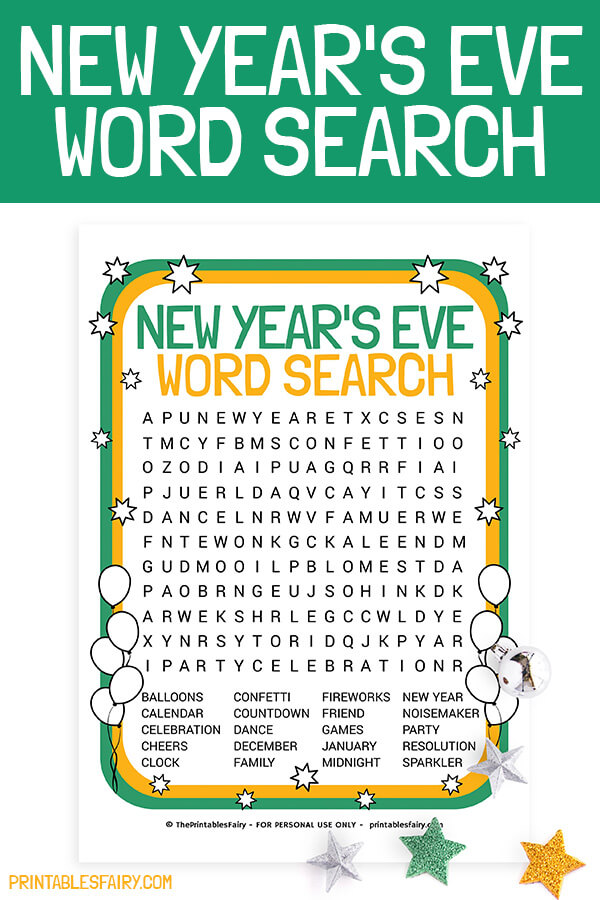 Printable New Year's Word Search
As you might already know, word searches help your kids practice spelling, vocabulary, and concentration. A complete brain workout, if you ask me!
To join in the fun, download this printable at the end of this post.
Then, print as many copies as you need for your kids and have some coloring pencils and highlighters ready.
When the time comes, just hand one sheet to each player and let them color and hunt for words.
The 20 hidden words in this New Year's Eve word search puzzle are:
Balloons
Calendar
Celebration
Confetti
Cheers
Clock
Countdown
Dance
December
Family
Fireworks
Friend
Games
January
Midnight
New year
Noisemaker
Party
Resolution
Sparkler
Very festive and cheerful words!
Use them to talk with your kids about this day and all the traditions around it.
And if you struggle to find a word, remember that you can take a peek at the answer key from your phone.
Ready to get this printable? Just click the link below.
Happy New Year!
DOWNLOAD THE NEW YEAR'S WORD SEARCH
*Please remember that these printables are for personal use only. You may not sell or distribute the files. If you want to share them, please link to this post and not directly to the PDF files.
More New Year's Printables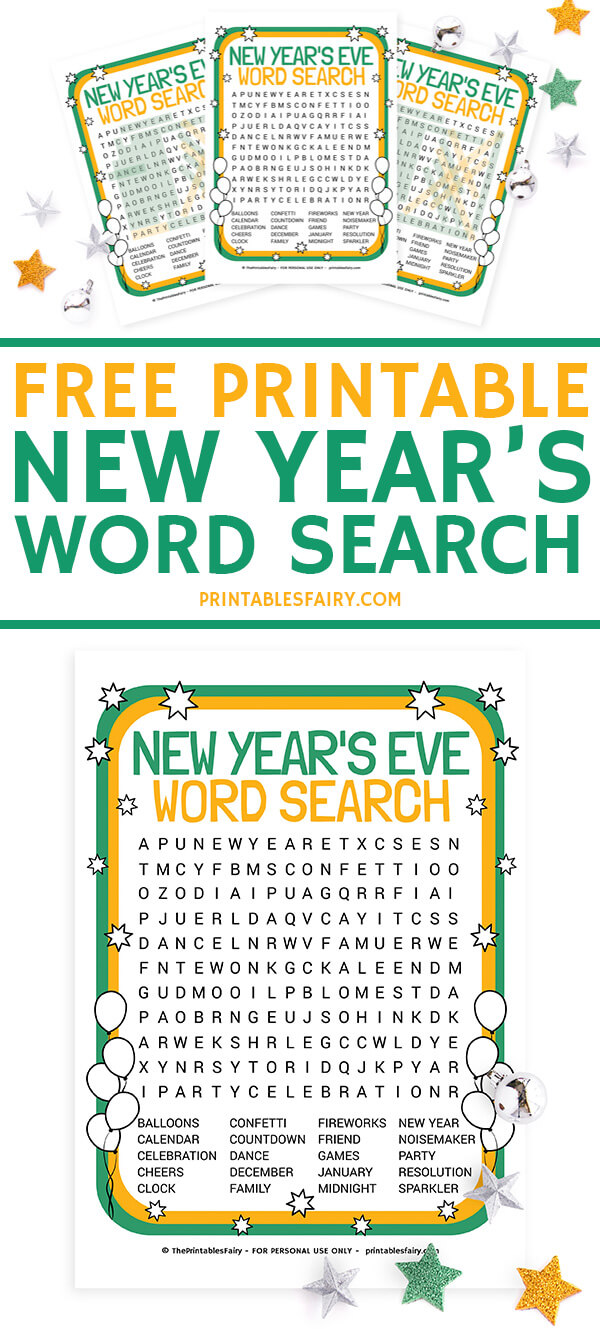 New Year's Eve Word Search