Budget-Friendly Christmas Traditions Your Family Will Love
Does your favorite season have to break the bank?
Absolutely not!
You can create unforgettable family memories with these Christmas traditions on a small budget.
If all you want to do this December is keep the magic of the season alive but are struggling to save some coins, know that you are not alone.
This year has been particularly hard for many families out there, but Christmas reminds us that hope should never be lost. So, don't worry about the money, you can still have a holiday full of traditions!
Yup! You read it right. You can have a frugal Christmas that will get your kids excited and your family even more united, no matter how big or small your budget is.
In this post, I'm sharing the best free and almost-free Christmas tradition ideas that your family will want to repeat year after year. Because it is not a real tradition if you don't do it annually, right?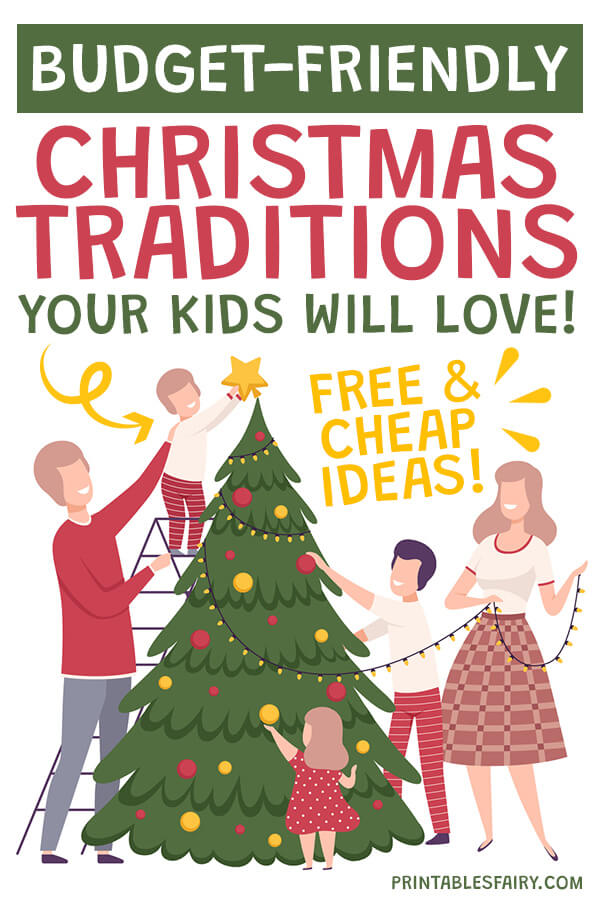 Christmas Traditions to Enjoy on a Tight Budget!
Take a look at these 27 inexpensive family Christmas traditions that can create the best memories for the least amount of money.
I hope you find some that you like. And if you come up with more ideas, please share them in the comments at the end of this post.
1. Countdown The Days Until Christmas
Are your kids repeatedly asking you how many more days until Christmas? Well, I don't blame them because I love counting down the days too!
Now you can turn their excitement into a very easy Christmas tradition that will cost you almost nothing!
All you have to do is get this free printable Christmas Countdown and every night color an ornament to know how many days are left.
You can also glue pom poms, stickers, or even pasta. Just use the materials you have at home and let the holiday magic do the rest!
2. Perform 12 Acts of Kindness
Sometimes we can get too absorbed into the materialistic side of Christmas that we forget what it is really about.
Reminding ourselves and the little ones that this time of the year is not all about getting gifts, but being kind to others, will help them understand the true spirit of Christmas.
Involve your kids in 12 acts of kindness that can be as simple as:
Helping your neighbor with the groceries
Saying something nice to a stranger
Picking up the trash without being asked
Writing a nice letter to a friend
Holding the door for someone
Letting a sibling go first
Leaving a thank you note for your community worker
Sticking a cheerful note in a library book
Visiting a nursing home
Playing with someone new
Walking a neighbor's dog
Sharing a snack
Helping others and giving back to our communities can feel even better than getting fancy gifts, so why not try it with your family this year!
3. Write a Letter to Santa
There is nothing kids enjoy more than writing a letter to Santa right before Christmas.
And guess what? Now you can use the "official" North Pole stationery!
Download our free printable Letter to Santa and make this tradition extra special. Plus, learn how to get Santa to write back or what to do if it's too late for that (hint: it is super simple and budget-friendly 😉).
4. Give Your Home a Holiday Makeover
Time to give your house a new look!
Bring out all your holiday decorations from past years, and get your kids decorating as soon as December hits the door.
This is the easiest way to bring Christmas into your home and will instantly make everyone feel festive.
5. Gift Your Kids Some Christmas Coupons
If you are on a very tight budget this year and can only afford one gift for your kids, why not give them some fun coupons?
Get these free printable Christmas coupons and fill them in with fun activities like having a dance party, or enjoying a family game night. I share more simple ideas in that post as well, so check it!
You can also have your children make gift coupons for everyone in the family for an unforgettable gift exchange.
I can guarantee that they will love this!
6. Make a Christmas Playlist
Start a dance party with your favorite holiday tunes.
Let everyone in your family pick their favorite Christmas songs and create a playlist that you can listen to every year, even when you are far away.
You can also make a special playlist with your favorite carols and sing along on a Christmas Lights car ride.
7. Start a Gratitude Journal
Remembering the things we are grateful for can help us understand the real gifts of the holidays: life, love, family, faith, and togetherness.
Writing about gratitude every day of December helped us get perspective on what really matters in life and also improved our communication skills in the process.
But hey! Writing doesn't come naturally for everyone.
That's why, if your children struggle with writing, you can use this free printable Gratitude Journal. It includes writing prompts designed to make gratitude a fun practice for your kids, and if you do it as a family, it will help you connect and grow together.
It is also nice to make one every year and look back at how your answers have changed. The perfect family tradition if you ask me. 😉
8. Read Some Christmas Books
Reading is the best gift you can give to your children.
We have seen many people try Book Advent Calendars, where you wrap 24 books and open one every night before Christmas.
We think it is a fantastic idea, but find the wrapping a little bit unnecessary.
Instead, we go to the library and pick books that we haven't seen before. Stories that can teach us about different traditions and make us travel to new places.
Here is a list of Multicultural Christmas books that show how people celebrate the holidays around the world.
9. Play Christmas I Spy
All you need to do is set up your Christmas tree. Then, take turns to describe an ornament and have the rest of the family guess which one is it.
If you don't have a huge variety of baubles, don't worry!
You can play with our free printable Christmas I Spy. Just print a copy for each one of your kids and have them color and count the ornaments.
10. Have a Family Game Night
Talking about games, why not host a family game night?
I'm pretty sure that what you remember the most about Christmas as a child are the activities you did with your family.
Well, that's why you might be looking for Christmas traditions after all!
And a game night is just a simple and frugal way to build holiday memories with your kids.
If you are not sure where to get started, take a look at these fun family games and these minute-to-win games that will make your game night a success!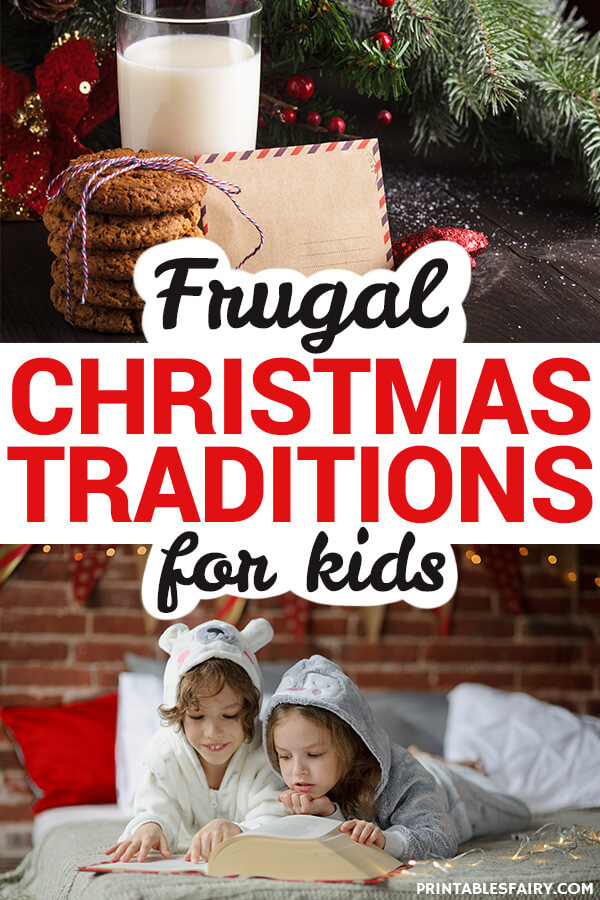 11. Take a Christmas Family Photo
If you give new matching pajamas to your whole family every year, this Christmas tradition will fit like a glove.
No need for fancy clothes or color-coordinated attires; just set your camera and pose with a warm cup of cocoa.
I'm sure you'll have lots of fun taking these impromptu pictures, and they will be heartwarming to look back on!
12. Have a Christmas Tree Picnic
With the weather too cold to go outside, why not bring a picnic to your living room?
Enjoy a night-time picnic on the floor around your Christmas lights, prepare some sweet holiday treats, a warm cup of hot chocolate, and tell the Christmas story to your kids.
And if you have a chimney, why not enjoy some toasted marshmallows too!
13. Visit Santa Claus
Another classic Christmas tradition is visiting Santa at the mall.
I know! Those photo sessions can be way too expensive, but sitting on Santa's lap is free.
Kids enjoy just telling Santa what is on their wishlist, so I wouldn't worry too much about the overpriced photo, and just take it yourself.
Sometimes you can also find Santa at the Christmas tree farm, which is very convenient to kill two birds with one stone.
14. Watch a Tree Lighting
Most towns and cities host an annual Christmas tree lighting ceremony.
It can be really exciting for your kids, and most of the time, you can also find holiday games and activities that the whole family can enjoy.
15. Build a Snowman
If the weather permits, go outside and build a snowman with your kids.
Don't forget to bring some old scarves, hats, mittens, rocks, and even a carrot to make a unique and fun snowman. (Put your kids in charge for extra creative results!)
If you don't get snow where you live, just like us, you can still build a snowman!
I created this printable Roll a Snowman Game that lets you build snowmen indoors. Check it out!
16. Make Your Own Gift-Wrap
Creating your own wrapping paper with your kids is the perfect way to add your personal touch to any gifts you are giving this year.
It is also a fantastic way to save money and help the environment by recycling and reusing.
Take a look at these DIY wrapping paper ideas that you can try this year.
17. Send Christmas Cards
Nowadays, Christmas is the only time of the year when we get real cards, and it actually feels very special.
And what is better than receiving? You guessed it…Giving!
Send a DIY card, a photo card, or a postcard to your loved ones, and don't forget to keep a copy for yourself.
Why? You may ask. Well, it makes a fantastic keepsake!
You can make an album with all the cards that you have sent over the years and see how your kids have grown, their handwriting improved, and their occurrences make you laugh. A tearjerker!
18. Organize a Candy Cane Hunt
If your kids are all in for a treasure hunt, then they will love this holiday version of it.
All you have to do is hide candy canes around your house and give your little ones some clues. Easy and fun!
Whoever finds the most wins, so be prepared with a small prize. Maybe they could keep the candy canes, or you can get them a dollar store item like stickers, bubbles, or playdough.
19. Have a Family Sleepover
Wanna take that Christmas picnic to the next level? Make it a slumber party!
You can let your kids build a fort next to the Christmas tree, wear their Christmas PJs, and stay up late watching a holiday movie, reading books, or talking about the things that happened throughout the year.
You can include other Christmas traditions into this one to make the night even more exciting. Our favorite add ons are the Christmas game night, the gratitude journal, and the dance party.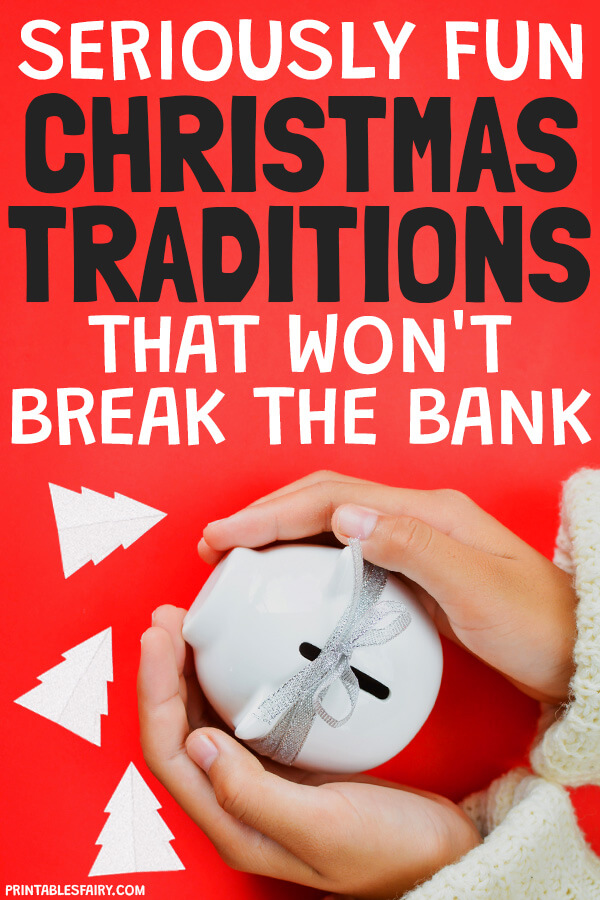 20. Find the Christmas Pickle
What in the world is a Christmas pickle?
If you are like me, you probably have never heard about it in your life.
I found out about this tradition recently and it is amazing. All you have to do is hide a pickle ornament in your Christmas tree right after the kids get in bed the night before Christmas.
Then, in the morning, the first child that finds it can get a surprise that can be a new box of crayons or something similar.
The best part is that you don't actually need a pickle; you can literally hide anything you want. We go for a special green ornament because it blends with our tree, which makes it more challenging.
21. Volunteer For The Less Fortunate
As we have mentioned before, giving back is the best way to keep the Christmas spirit alive.
And this time of the year comes with tons of opportunities to get your family involved with helping others.
You can volunteer at your local shelter or food bank, help fill Christmas food baskets, help deliver toys, or serve at your soup kitchen. Find a cause that your family supports and give the best gift: your time, and love.
22. Write a Letter To Your Kids
Every year, on Christmas Eve, write a letter to your kids right after they go to bed.
Tell them about their year, what they like, how they have changed, and how much you love them.
Store these letters in a box or put them into fillable ornament balls and give them to your children when they turn 18.
23. Visit The Local Lights
Check out the light displays in your neighborhood.
To make this tradition extra fun, you can turn it into a friendly competition with our free printable Christmas Lights Scavenger Hunt. It will make you take a closer look at all the beautifully decorated homes while having a fun night as a family.
24. Host a Sibling Gift Exchange
Let your kids get crafty and make DIY gifts for each other.
They will have tons of fun trying to keep the secret and will be so proud to watch their siblings open their gift.
Alternatively, you can take each child on a trip to the dollar store to get a present for their sibling. 
25. Create a Family Newsletter
Put your children in charge of your annual family newsletter.
They can write down the family's highlights of the year, the funniest moments, the cutest quotes, the greatest accomplishments, the challenges you have overcome, and your goals for the next year.
Keep all your newsletters in a box and pass them from generation to generation.
26. Write Thank You Notes
Sometimes we forget to say thank you to all the wonderful people in our lives, and this is the perfect season to show our gratitude.
Whether you are thankful for a nice gift you got, a wonderful dinner you enjoyed, the help of your community servers, or someone's friendship, it is never too late to show your gratitude.
You can also take this moment to write thank you notes for all the members of the family and put them in their stockings for a heart-warming Christmas morning.
27. Have a Christmas Breakfast
Christmas morning is not like every other morning, so why not celebrate with a Christmas-themed breakfast.
Take a look at all these breakfast ideas that I'm sure your kids will love.
Have a Fun Frugal Christmas!
As you can see, a frugal Christmas can still be fun.
The only thing that really matters is sharing these moments with your family and appreciating every second of it.
Being together is the best part of the holidays!
Just remember, no matter if your budget is big or small, memory-making traditions mean the most. Start your own this Christmas!
More Christmas Traditions You Can Try
Family Holiday Traditions On A Small Budget