Bingo games have become a tradition in our family; that's why I created this Easter Bingo to play at home.
It's perfect for family game nights, an Easter party, a Spring party, or to play in school.
The best part is that kids love playing it over and over again without getting bored (especially if there are prizes), and you only need a printer, paper, and scissors.
Who doesn't love a simple activity, right?
Another advantage of this game is that it will help your kids develop their listening and memory skills, concentration, self-regulation, visual discrimination, number identification, and, let's not forget about, social skills.
It's more than just a fun activity, so why not play it with your kids!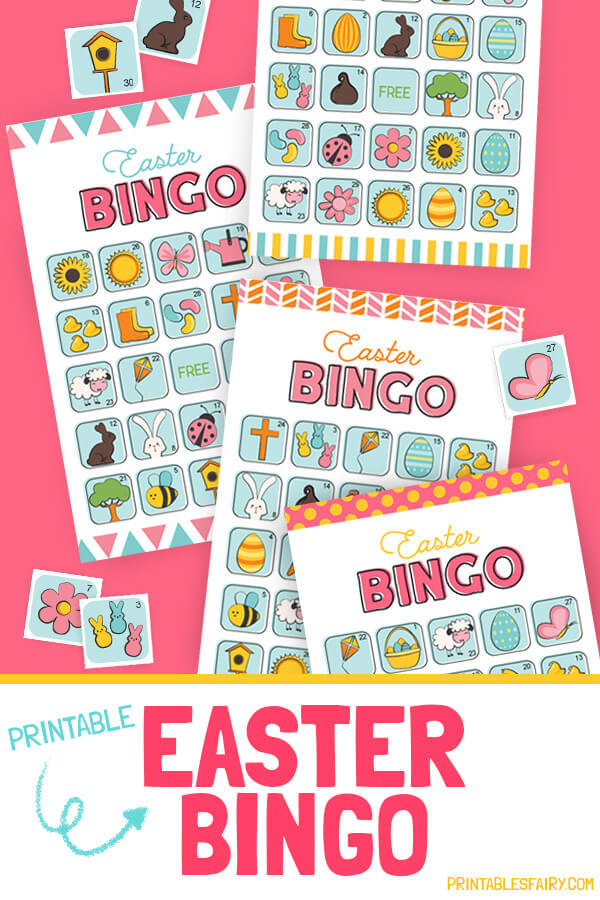 How to Play Easter Bingo
Start by getting the game at the end of the post and print it.
Cut out each Calling Card and the Bingo cards. If your kids are old enough to cut, then they can help you with this step.
Once you have everything ready, it's time to start playing.
Let each player pick a bingo card randomly and provide them with something to mark their boards. Chocolate eggs, almonds, jelly beans, M&M's, skittles, seeds, or small Easter erasers will do the job!
Name a Caller who will be in charge of tossing all the calling cards in a bag, picking one each round, and announcing it aloud. Kids can take turns playing this role.
The rest of the players must listen to the caller and search for the item.
If the player has the called item on their board, they should cover it with a marker.
Once someone has covered all the items on their card, they should shout Bingo and win the game.
You can also play by making your kids fill only five in a row, vertically, horizontally, or even diagonally.
These bingo cards have cute pictures along with numbers so that kids of all ages can play. It's also easier to call out the items this way.
One last tip is to make sure the younger kids understand how the game works before playing to avoid unnecessary tantrums.
Make some practice rounds to make sure everything is clear.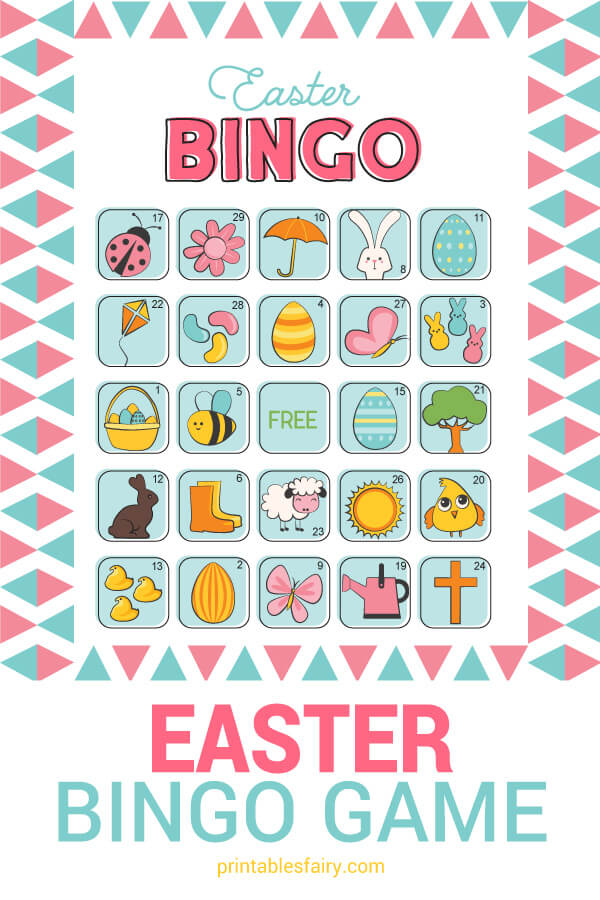 Printable Easter Bingo
This fun bingo game includes 30 different calling cards that feature cute bunnies, lambs, chicks, flowers, insects, and more. All Easter and Spring-themed!
It also includes 24 unique bingo game boards that can be printed 2 per page on US Letter (8.5×11 in) paper or cardstock.
You can laminate your bingo game to make it more durable and lengthen its life.
Play it in small groups and big ones as well.
If your group is bigger than 24, you can print out more copies and have multiple winners (don't forget to have more prizes too!)
And when your kids get tired, transform it into a Memory matching game. Cut out the squares and make sure you have 2 of each. Then place them face down and take turns turning them over to make pairs.
Ready to start having fun?
Download this eggs-tra fun bingo game by clicking the link below:
*Please remember that these printables are for personal use only. You may not sell, share, or distribute the files.
More Easter Printable Activities
Easter Bingo Game