Looking for an easy fall game to play with your toddlers and preschoolers?
Then, this free printable fall matching game is an activity you must try!
It is super easy to set up. All you need to do is print the cards, cut them out, and start having fun with your kids.
This fall matching cards set includes the classic cards to match the images and a version with the images and words. The first one is perfect for the youngest at home or to just put up a quick game for your kids, and the second set is ideal for early readers to practice some fall words.
You can also mix and match the cards and play with them face-up or face-down, depending on your children's age.
However you decide to play, your kids will be developing their critical thinking, visual discrimination, and fine motor skills, improving their concentration, learning new vocabulary, and practicing some pre-match skills such as patterning and sorting.
And since it is tiny and easy to carry, you can keep it in your purse to entertain your kids at any time, take it with you on a long car ride, or add it to your child's busy bag.
Ready to fall for this game?
Materials
Free Printable Fall Matching Cards (Scroll to the end of this post to get them)
Printer
Heavyweight paper or cardstock (I recommend cardstock, so the cards are not see-through)
Scissors
Laminator and laminated pouches (optional)
Instructions
To set up this game, you have to start by downloading the free printable fall matching cards at the end of this post and printing them.
As I told you above, there are 2 versions of these cards included. Select your favorite or print them both.
Remember that you must print 2 copies of your preferred page to have pairs, or print one copy of each page and use them together.
Then, cut out each card along the brown lines to start playing.
You can also laminate your cards for durability.
How to Play Fall Memory Matching Game
For the most common way you can use these cards, you will need two players or more. Here is how to play:
Mix up your cards and lay them on a flat surface face down.
Take turns flipping over two cards and trying to find a match.
If the cards match, the player keeps them. But if they don't match, the player has to turn them back over.
Pay attention to every move and remember where each card was placed.
Continue playing until all the cards have been matched. The player that collects the most matches, wins.
If you have a lot of players, you can print more than two matching sheets to make the game last longer.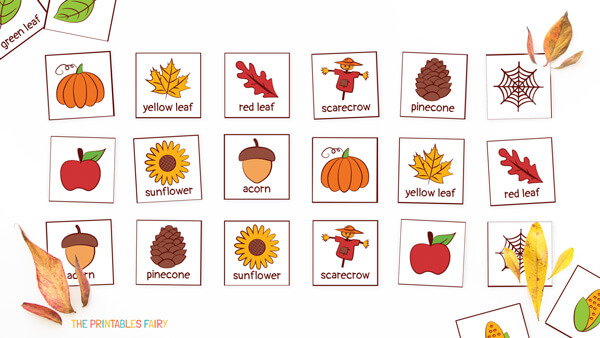 This memory matching game can also be played as a single-player game by following the same steps above. And you can make it even more challenging by timing your child.
If you have younger children, you can play this game with only 3 pairs at a time and add in more as they want.
And if your kids are younger than 3, you can also play with the cards face-up. You can choose to match the cards with the exact images or match them with the cards that have the names on them and practice some vocabulary.
Free Printable Fall Matching Game
This Autumn Memory Matching Game has two pages of fall-themed cards, one with words and one just with pictures. Making a total of 12 different matching cards.
You can print as many as you need to play at home or in the classroom. Just remember that they are for personal and single classroom use only. If you know someone that might enjoy them, please share a link to this post and not directly to the pdf files.
Ready to fall in love with this printable fall game?
Click the link below to download it!
More Fall Activities For Toddlers and Preschoolers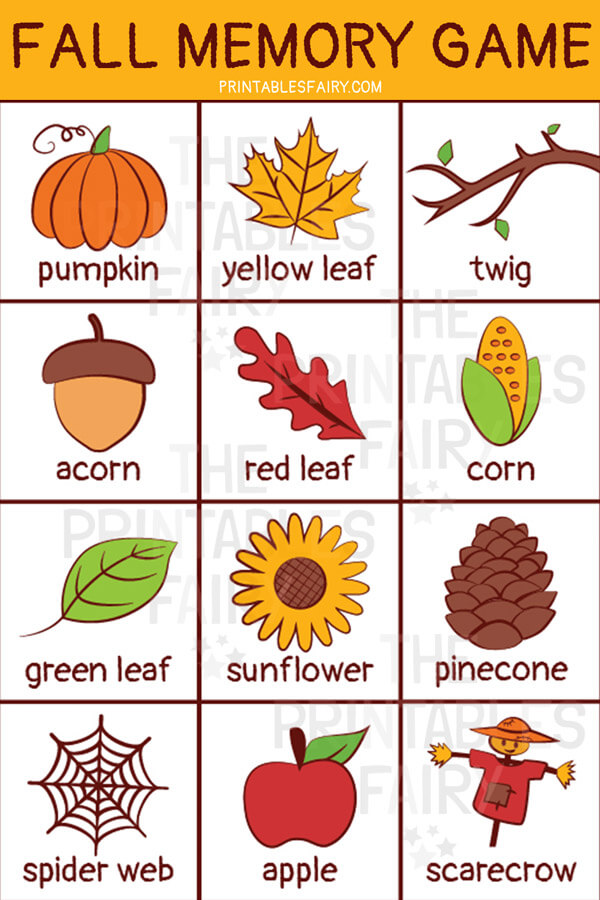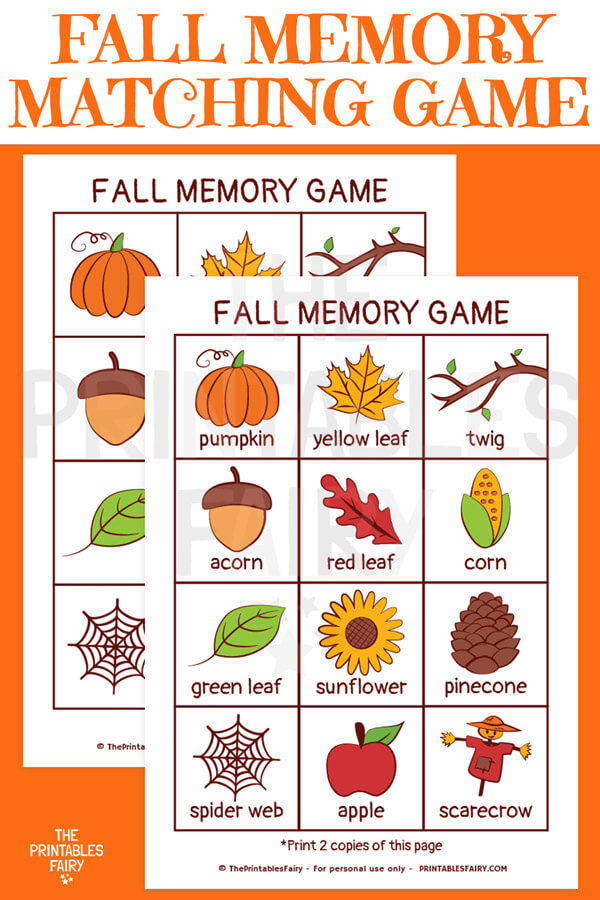 Printable Autumn Memory Game for Kids