New Year's Eve can be all about making resolutions and setting goals.
While this is motivating, sometimes it cat get a bit overwhelming for kids. That's why, this year, we came out with a different activity that can be fun for the entire family!
This free printable family interview is the perfect way to record your family's memories and stories while strengthening bonds and getting to know each other a lot better in the process.
With this fun printable, your kids will be able to ask interesting questions to their older family members and get the conversation started.
If you have never had a family interview before, don't worry! It is basically one family member asking another family member questions.
Typically, kids interview an older family member, but it can also be the other way around, as long as everyone gets involved and have a good time.
It is a wonderful way to create lasting memories with your kids and pass down stories and lessons to future generations.
Are you excited to get started? Let me show you how!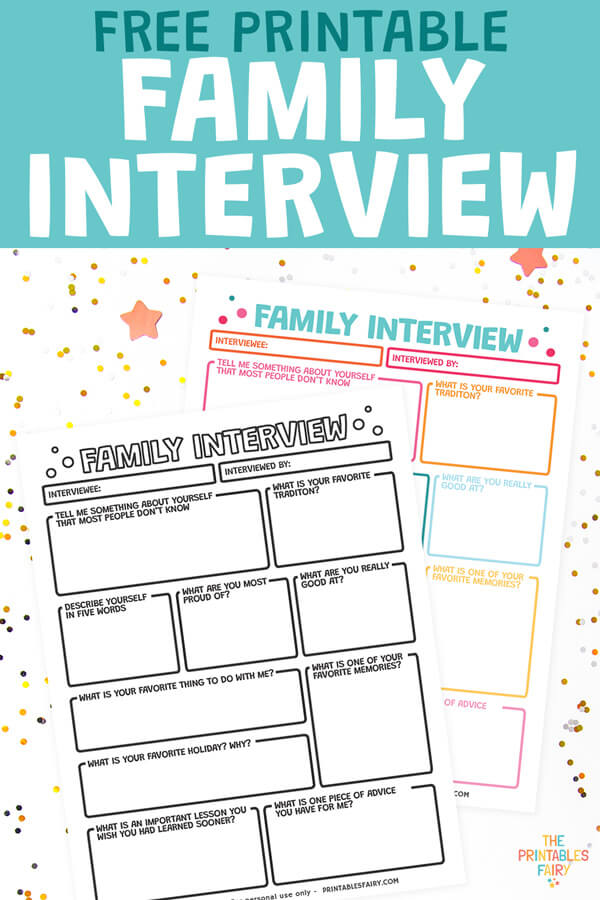 How To Do a Family Interview
To start your family interview, all you have to do is print the questions available at the end of this post and set up a time for the activity.
You can do it at your New Year's Eve party, like us. Or during another special occasion, while visiting your family in person, or via video call. Just make sure to print a copy for every person.
Then, pair your family members up to interview each other, or assign the interviewer job to one person (your kids will love it) and make everyone answer the questions in front of everybody.
Make the interviewer record the answers on each printable and at the end, collect all the pages to store them together.
You can put them in a binder or laminate them and put them into book sleeves to create a family book.
Or, put them in a folder and straight into your time capsule if you are making one (it's such a fun idea for families too).
Printable Family Interview Questions
Our family interview includes ten fun and easy questions that will let you see life through each other's eyes.
Here they are:
Tell me something about yourself that most people don't know.
Describe yourself in five words.
What are you most proud of?
What are you really good at?
What is your favorite tradition?
What is your favorite holiday and why?
What is your favorite thing to do with me?
What is one of your favorite memories?
What is an important lesson you wish you had learned sooner?
What is one piece of advice you have for me?
Remember that if your kids want to ask more things, they can always add the questions to the back of the sheet.
Printable Family Interview Pack
If you are ready to get started with this special family activity, click the link below to download your free printable.
There are 2 versions included: a full-color interview that is ready to be used and a black-and-white version that can be decorated as your kids want.
Pick the one your kids like the most, print as many copies as you need for our entire family, and start the interview!
GET THE FAMILY INTERVIEW PRINTABLE
*Please remember that these printables are for personal use only. You may not sell or distribute the files. If you want to share them, please link to this post and not directly to the PDF files.
More New Year's Eve Activities To Try With Your Family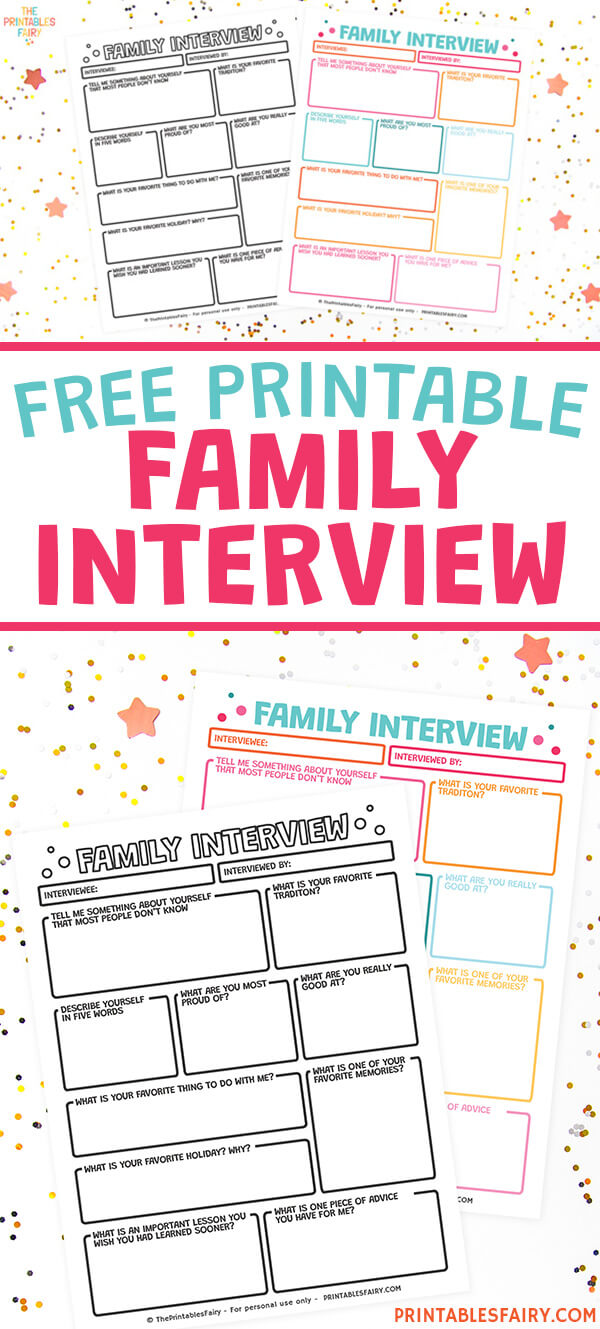 Family Interview Template For Kids