Snowflake crafts are always fun to make during Winter.
We particularly love cutting out paper snowflakes, but they can be a bit challenging for preschoolers, so we needed to find an easier craft that you can make with your younger kids.
That's how this easy Torn Paper Snowflake Craft came to life!
It is perfect for toddlers, preschoolers, and kindergarteners, and it requires very few materials that you might already have at home.
Besides that, it is a fantastic way to keep your children happy, busy, and learning. In fact, this winter process art project will help them:
Develop hand-eye coordination
Work on their fine motor skills
Improve their problem sorting skills
Better their concentration
Boost their creativity
It is also an excellent activity for some quiet time where kids can work on their own as an independent activity.
Or, you can use this opportunity to talk about winter and snowflakes.
Ready to make a torn paper snowflake collage with your kids?
Let's get started!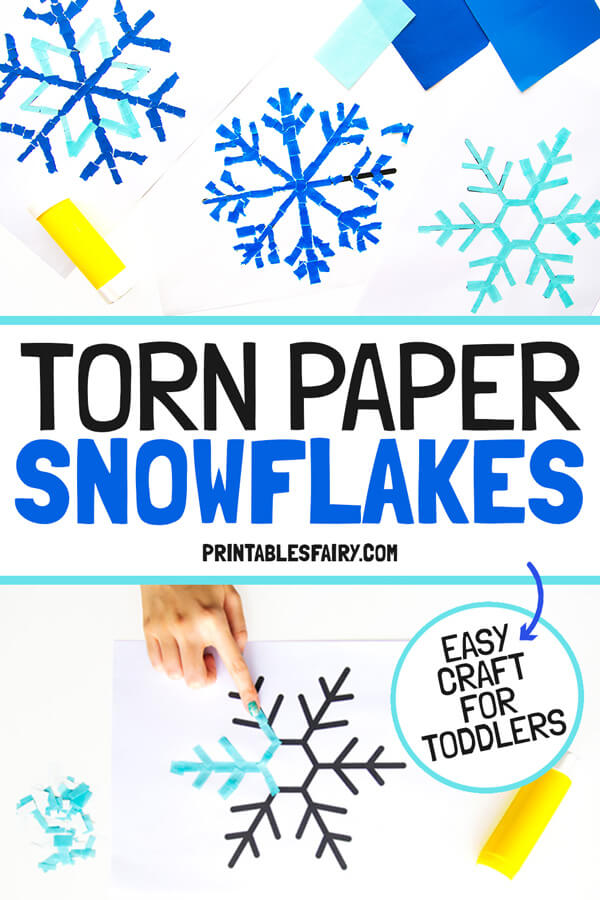 How To Make Torn Paper Snowflakes
As I told you above, this snowflakes art project doesn't require many supplies, making it very inexpensive. You can see the complete list of materials you need below.
You can also find the instructions we followed and download the template.
Don't hesitate to make them at home or in your classroom. They look so cute hanging from the ceiling!
Materials
To make your snowflakes, you'll only need:
Snowflake Templates available at the end of this post
White paper and printer
Glue
Scissors (optional – more details in the instructions below)
Scrap paper, cardstock, construction paper, or origami paper. You can let your kids use any color they like, but we recommend sticking to blue, purple, and pink to get a winter vibe.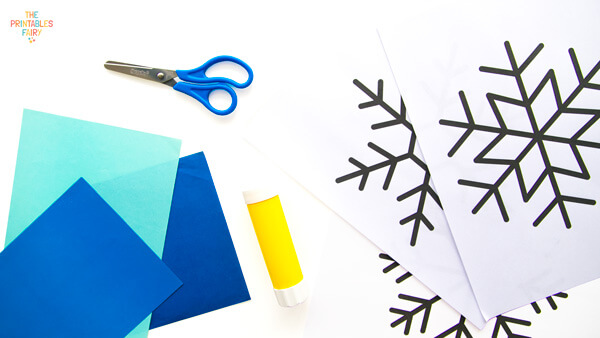 Instructions
Download and print the snowflake templates on regular white paper.
Get your kids to tear off small pieces of your colored paper or cardstock and set them aside.
Tearing paper is an excellent activity to strengthen the hand muscles and work on fine motor skills.
Alternatively, you can let your kids cut small pieces of paper with scissors to help develop cutting skills.
As you can see, we tried this craft both ways and you can do the same!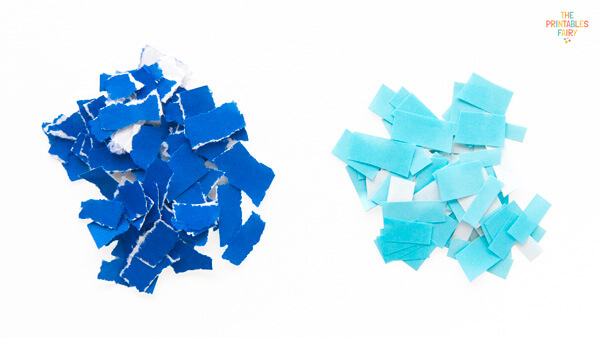 Help your child apply glue to the snowflake outline. You must do it in small areas as glue sticks dry fast.
You can also use regular white glue and let your kids apply it with their fingers or a brush.
Add the paper scraps on top of your snowflakes. Make sure the entire outline is covered, and no black spaces can be seen.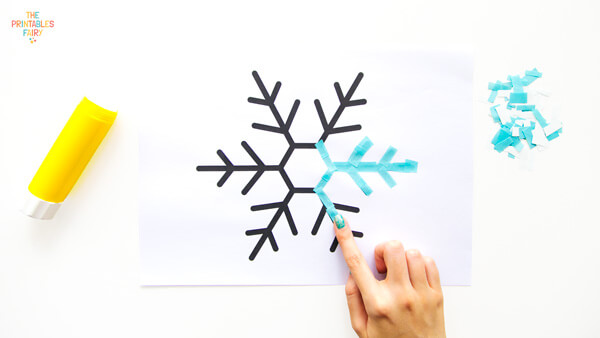 * You can also teach your kids how to apply glue on each paper scrap and glue them one by one, instead of following steps 3 & 4.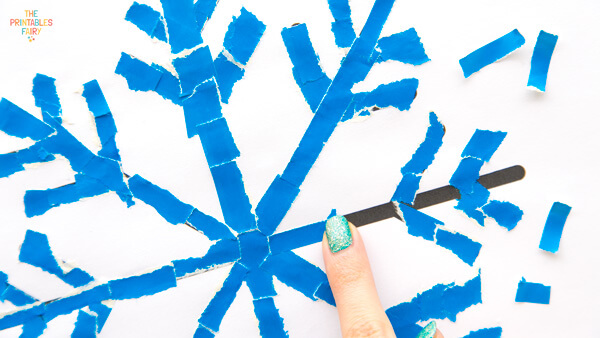 This is how our 3 snowflakes ended up looking like.
Aren't they super cute?
Now you can make your own with your little kids!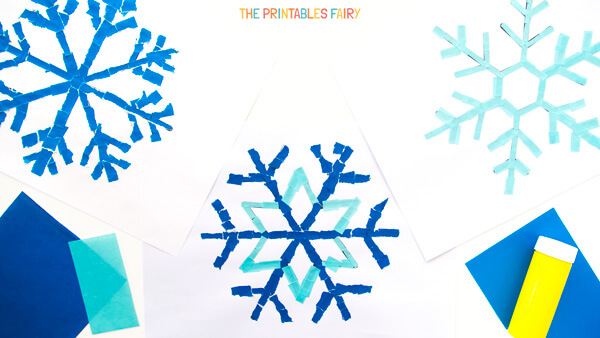 Snowflake Templates
As you can see, it's super easy and fun to make these torn paper snowflakes.
I have included 3 different templates so your kids can pick their favorite or make them all.
Just click the link below to download and print them on US Letter sized paper. (You can also print on different sizes, like A4, by selecting Fit Page on your printer settings.
Oh! And don't forget to share your creations with us by tagging @theprintablesfairy on Instagram!
DOWNLOAD THE SNOWFLAKE TEMPLATES!
*Please remember that these printables are for personal use only. You may not sell or distribute the files. If you want to share them, please link to this post and not directly to the PDF files.
Other Snowflake Crafts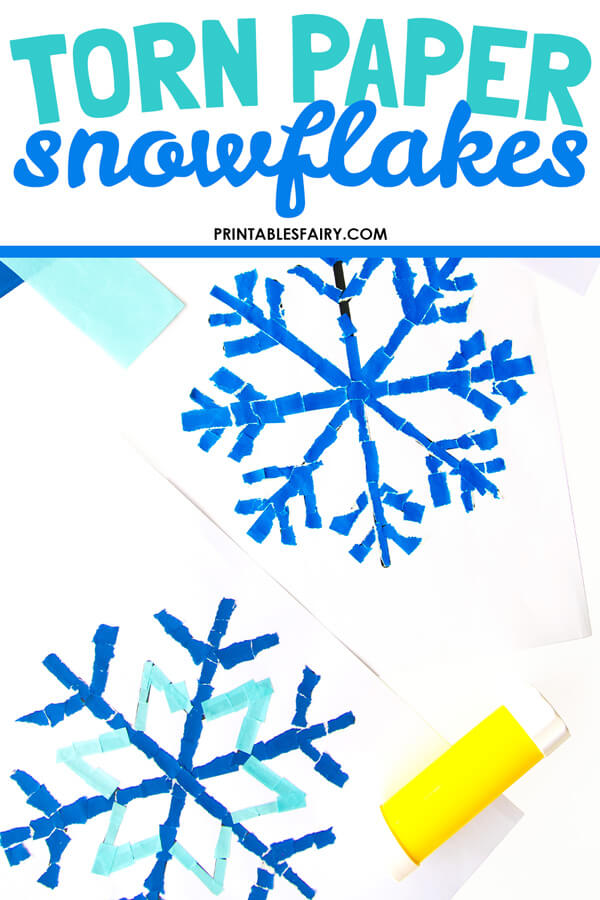 Torn Paper Snowflake Collage