Last year we surprised dad with an awesome breakfast in bed.
And this year, we wanted to give him something equally special; that's why I created these Father's Day Coupons!
It only takes cutting and stapling to put them all together. And the best part is that they can be printed from your own home, making it a very easy gift for dad!
These Dad Coupons include 17 pre-written messages, including coupons good for:
One hour of quiet time
One week of doing all the dishes
One week of taking out the trash
Finishing a project of dad's choice
Cleaning any room of dad's choice
A whole house vacuum
One car wash
One lawn mowing
A relaxing shoulder massage
A big hug
Breakfast in bed
Watching a sporting event with dad
A new refrigerator artwork
A free wish
An undisturbed nap
A morning to sleep in
A day with no arguing
I've also included 6 blank coupons that you can edit on any computer using Adobe Reader.
Fill them with your own ideas or take a look at the ones I listed below.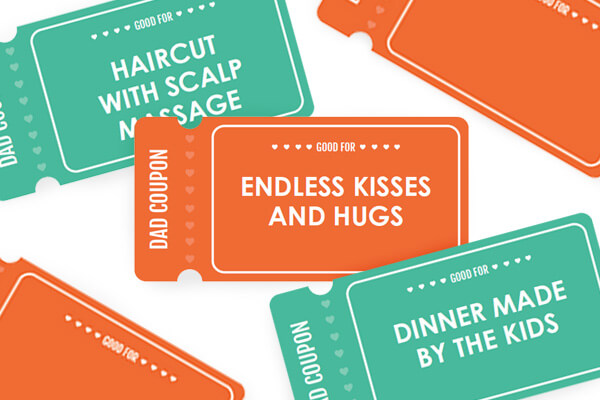 Father's Day Coupon Ideas
If your kids have a hard time coming up with ideas for their coupons, don't worry, I got you covered!
Here, I included a list of 17 ideas that they can add to their coupon book:
Full control of the remote for a day
No whining for 24 hours
A camping night
Quiet kids during soccer
Weeding the garden
One hour of uninterrupted video game time
Movie date with mom
Dinner made by the kids
One day off of diaper duty
A trip to the pool
Three hours of free time
A treat of your choice
Watching a movie of your choice
Emptying the dishwasher
Feeding the pets
Walking the dog
Spending the day together
How to Make these Father's Day Coupons
Team up with your kids to make this one-of-a-kind gift.
Get the coupons at the end of the post, print them, and make your children cut and assemble the coupon book.
They can also come up with ideas for the empty coupons. I guarantee this task will be fascinating for them!
Keep reading to see how easy it is to put up this gift and get a copy of these printable coupons.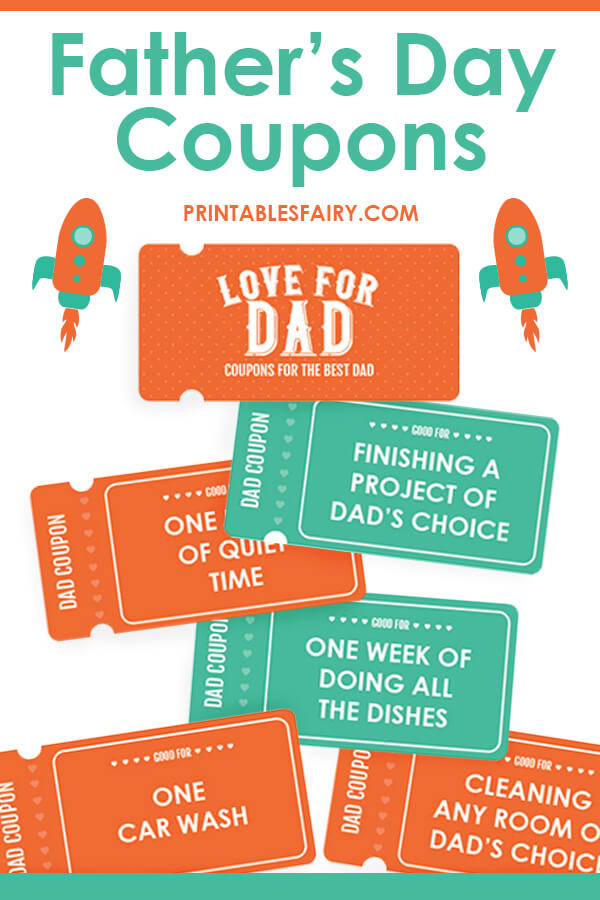 Materials
Printable Coupons for Dad
Computer with Adobe Reader to customize the editable coupons
Printer
White cardstock
Scissors
Stapler
Instructions
Get the printable Dad coupons at the end of this post. You'll find 2 files, one with the pre-filled coupons and the other with empty ones.
Edit your blank coupons on a computer with Adobe Reader. You can also delete the text to print them empty and let your kids fill them by hand.
Print the coupons on white cardstock or paper. We prefer cardstock because it's sturdy.
Cut out the coupons along the black lines. You can also cut along the borders of each coupon if you prefer. That can keep your kids busy for a while.
Line up the coupons with the cover on top and staple them to the left.
Your coupon book is ready!
It's a really thoughtful gift that I'm sure dads will love <3
Printable Coupons for Dad
These dad coupons are such a fun and useful gift. Also, they will last more than a day, which will make every dad happy to receive them!
Give dad this unique gift for Father's Day by clicking the link below.
*Please remember that these printables are for personal use only. You may not sell, share, or distribute the files.
MORE PRINTABLES FOR DAD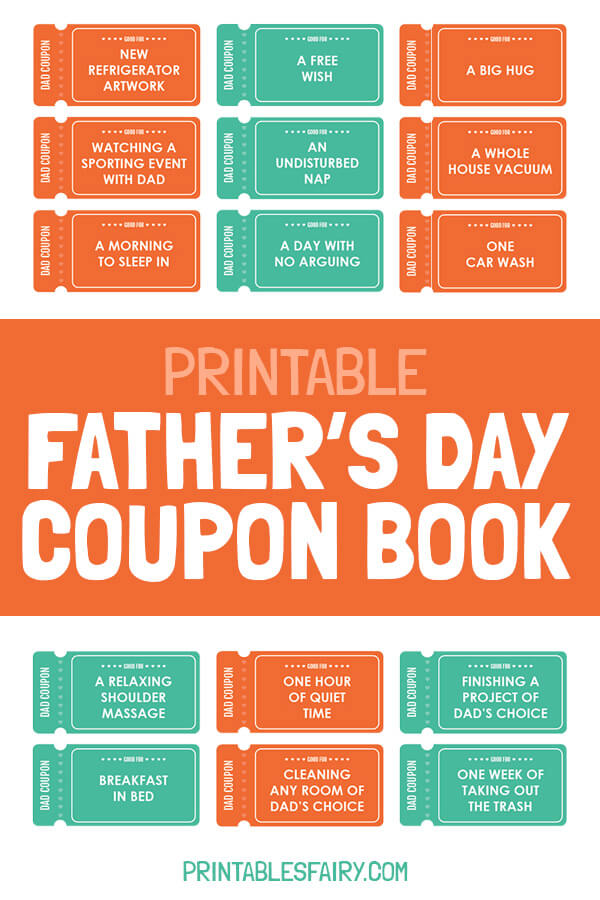 Father's Day Coupon Book