What do moms really want for Mother's Day?
After talking with a bunch of moms, it was clear that the thing they wanted the most was a day free of duty, a day where they can do whatever they wanted without having to worry about the kids, the house chores, and their jobs.
They want to spend time with their families without having to plan it all, to get pampered, and be acknowledged for all they do.
They also want some potty privacy, which is quite understandable. 😂
To sum it all up, moms just want to feel appreciated, spend quality time with their loved ones, and make things a little easier at home.
And now you can give all that to your wife & mom with these cute Printable Mother's Day Coupons.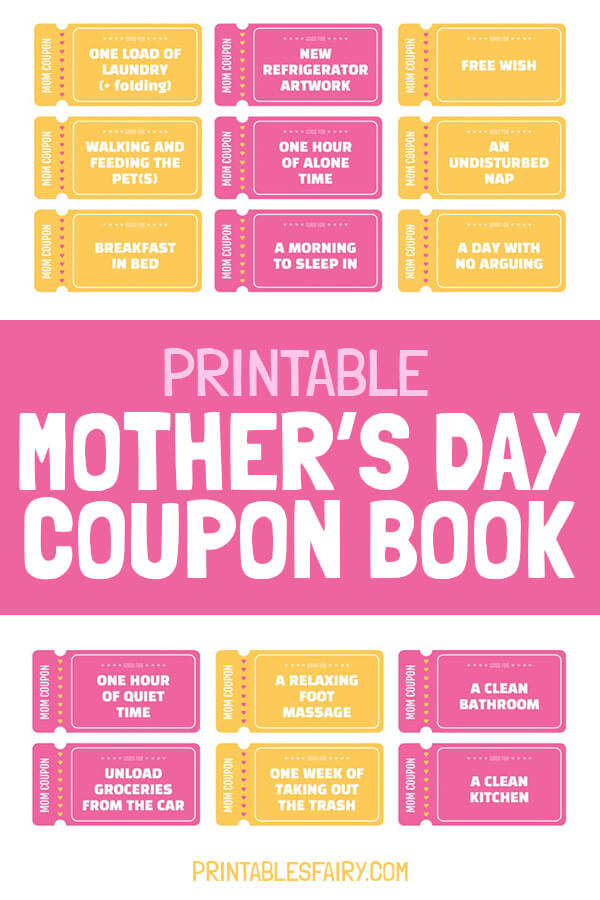 These Mom Coupons include 17 pre-filled messages, including coupons good for:
One hour of quiet time
Unloading groceries from the car
One week of doing all the dishes
A relaxing foot massage
One week of taking out the trash
A clean bedroom
A clean bathroom
A clean kitchen
One load of laundry (+ folding)
Walking and feeding the pet(s)
Breakfast in bed
New refrigerator artwork
One hour of alone time
A morning to sleep in
Free wish
An undisturbed nap
A day with no arguing
And 6 blank coupons that you can fill with your own ideas.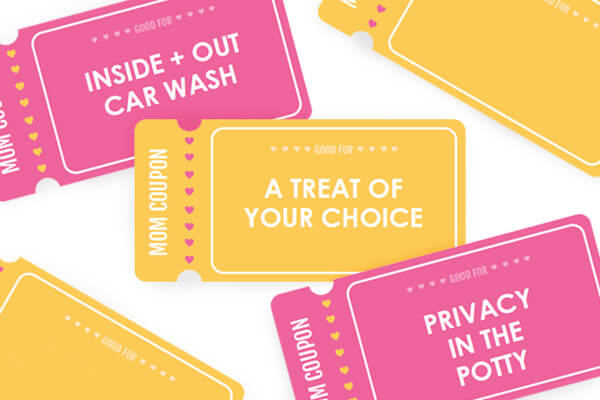 By the way, the blank coupons use a different font so you can edit them on any computer just using Adobe Reader.
If you are a mom reading this, do yourself a favor and send this to your husband.
And, if by any chance you are a kid, ask your dad or an adult for help first.
How to Make these Mother's Day Coupons
Materials
Printable Coupons for Mom (get them at the end of this post)
Printer
Cardstock
Scissors or cutter
Stapler
Instructions
Get the printable Mom Coupons. You'll receive one file with pre-filled coupons and another one with the editable coupons.
Use Adobe Reader to fill in your editable coupons, or delete the whole text and let your kids fill them by hand.
Print all your coupons on white cardstock for durability. You can buy cardstock at any office supply store.
Cut out the coupons along the black lines with scissors or a cutter.
Line up the coupons and make sure to put the cover on top. Staple them to the left, or poke a hole and tie a thread through it.
Your coupon book is ready to be gifted to mom!
P.S. You might also like this free printable All about my mom. Put it together with these coupons to create the perfect gift for mom.
Printable Coupons for Mom
As you can see, these DIY gift is easy to assemble and will last all year long. What a better gift!
Give mom just what she needs for Mother's Day with these cute Mom Coupons. Click the link below to get them.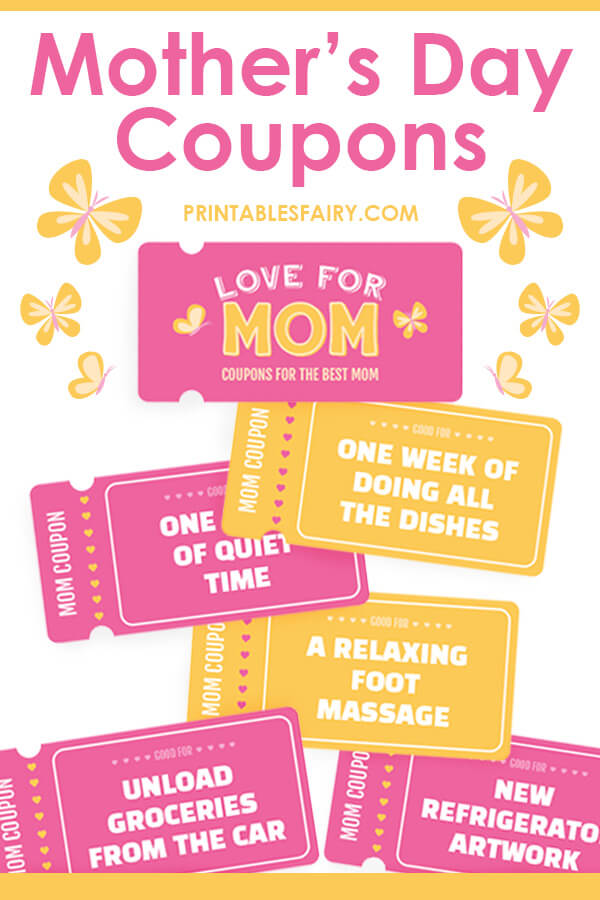 More DIY gifts for mom
Mother's Day Fingerprint Cards
Mother's Day Coupon Book