Summer is right around the corner and with that comes feeling amazing for not rushing in the mornings, wearing pajamas for half the day, and opening the doors of your backyard for your kids to have fun all day; but the truth is that after a couple of days, you may start losing your sanity.
Children fear the unknown and that can turn summer into a stressful time for them. This will generate bad behavior, more whining, arguing, and even over-tiredness.
Creating a summer schedule may seem like extra work for you but will make the following months more manageable.
It's really important to set up a routine because it will bring security, consistency, establish expectations, develop healthy habits, and help kids make a better transition back to school when the holidays are over.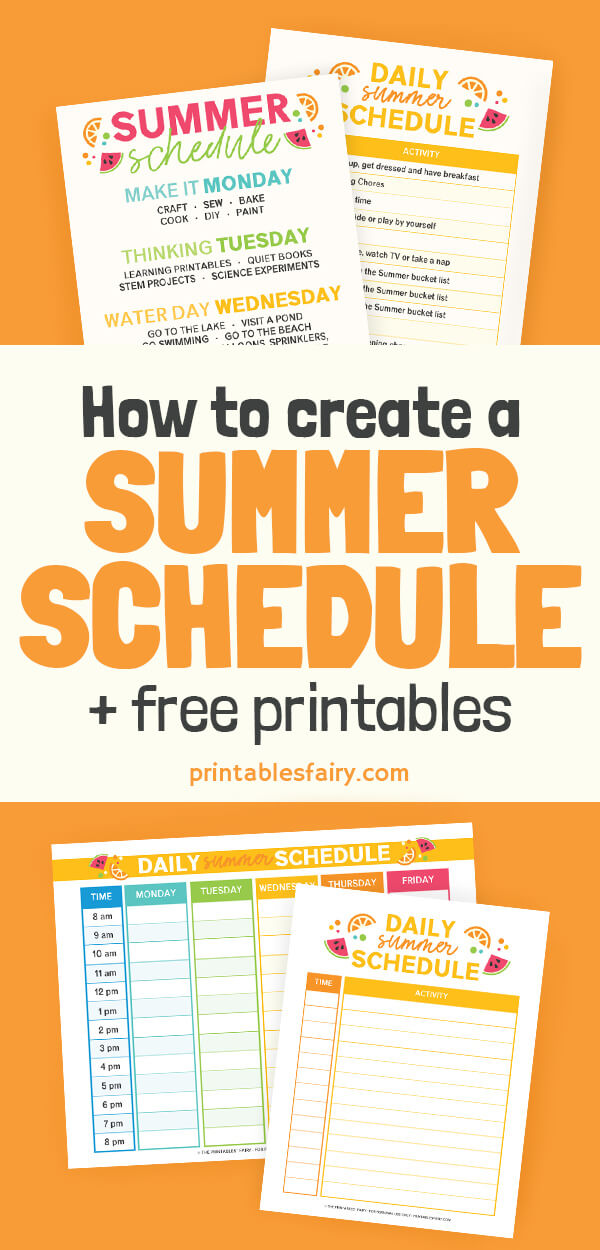 During the summer, the little ones stay with me when they are not camping or visiting their grandparents. We created a structured-enough weekly schedule and a daily schedule to make our days go smoothly.
Keep reading to learn how we did it and to make your own schedule with the free printables that I also included at the end of this post!
Creating a Summer Schedule for Kids
To start, we made a summer bucket list with activity ideas from all the little ones and classified them into 7 groups, one for every day of the week.
Choosing days of the week to do certain things will help set a rhythm to your week while including a wide variety of activities to make everyone happy.
This is our weekly schedule: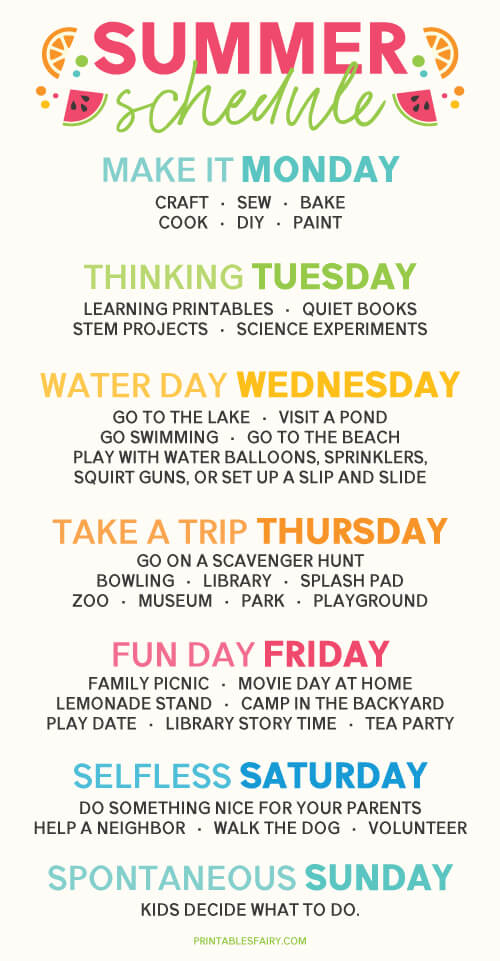 Make it Monday is our day to make new things. We'll work on interesting arts and crafts projects, try preparing fun recipes, and create easy DIYs.
Thinking Tuesday is our day to prevent the summer slump and make sure everything the kids learned this year is not forgotten. We'll have fun with learning printables, educational games, various experiments, and quiet books.
Water Day Wednesday is our day to get wet. We'll try to get out of the house and go to the pool, a water park, a lake or a pond. And at home, we'll try to play with bubbles, water balloons, sprinklers, squirt guns, and sponges.
Take a Trip Thursday is our day to officially head out of the house. If we go out on Wednesday, we'll try something simple like going on a walk around the town on a scavenger hunt, visiting a park, or going to a nearby playground. But if we stay at home the day before, we'll go to places like the library, the zoo, a museum, a cinema, or a bowling center.
Fun Day Friday is our day to try all the things that didn't fit our other categories. Also, these activities require a little extra help from an adult. Some ideas on our list are a lemonade stand, camping in the backyard, a tea party, a movie day at home, and a family picnic.
Selfless Saturday is our day to do something nice for someone else. Kids can help a neighbor, walk the dog, or volunteer. A good idea is to make your kids help clean the house and choose belongings that can be donated.
Spontaneous Sunday is our day to let the kids decide what to do. Most of the time, this day is dedicated to playdates or playing videogames as we barely use electronics throughout the weekdays.
Sample Summer Daily Schedule
After creating our weekly schedule, we decided to make a daily schedule that we can hang at our kitchen so that the kids know what's coming up for the day.
Here is a look at our summer schedule: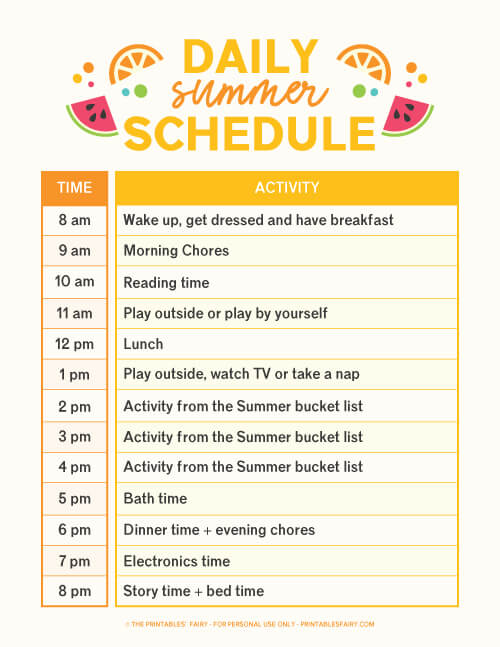 At 8 am or sometimes a little earlier, kids would wake up and start their morning routine that includes having breakfast, getting dressed, combing their hair and brushing their teeth.
At 9 am they will do their morning chores that include making their beds, cleaning the breakfast dishes, and taking out the trash.
At 10 am it is Reading time! We decided to read every day to avoid the summer slide and to improve this skill. To make it fun, we are using the Summer Reading Challenge, which the kids enjoy and actually look forward to every morning.
At 11 am, it is time for Independent Play. Kids are allowed to play at home by themselves or to play outdoors with chalk, ride bikes, etc.
At 12 pm we have lunch. Sometimes the youngest ones take a nap right after, while the oldest kids help pick up the table and have independent playtime.
At 2 pm, we try an activity from our bucket list based on our Weekly Summer Schedule above. Usually, there is enough time to try just one activity, but if we finish early, the kids have some quiet time playing by themselves.
At 5 or 5:30 pm, right after we are done with our summer activity or quiet time, it is bath time.
At 6 pm, we have dinner together while talking about our day. Then, kids will help clear the plates.
At 7 pm, it is the only time the kids are allowed to play with electronics.
At 8 pm it is storytime! Sometimes I read a story to everyone, and other times one of the kids takes the lead. Right after, it's time for bed.
Summer Schedule Templates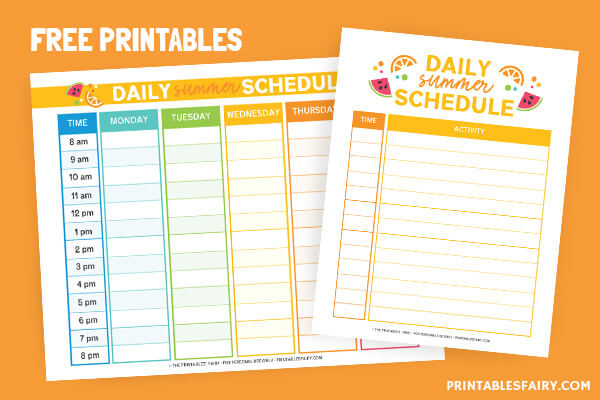 Today, I'm sharing these free printable schedules with you! Hopefully, they will make your summer easier.
I included a fill-in version of the daily schedule and a fill-in weekly schedule in case you need to plan every day of the week in a different way.
You can also frame them and use a dry-erase marker to change your program every time you need.
Include activities that match your own children's interest, but don't forget to always make time for some reading and educational ideas.
Remember that these schedules are just a guide and are not set in stone. You can change your activities according to how the day goes on and how your kids adjust to the new routines.
It's all about enjoying the summer and making good memories!
Download the Summer Printable Schedule by clicking the link below and start making your own plans.
DOWNLOAD THE PRINTABLE DAILY SUMMER SCHEDULE
DOWNLOAD THE PRINTABLE WEEKLY SUMMER SCHEDULE
More Summer Fun for Kids:
Summertime Routine for Kids