I love any celebration where the family gets together to eat and enjoy each other's company.
Thanksgiving is no exception!
While you are busy preparing a big meal and having some grown-up conversations, it's always a good idea to set up a kids' table.
It'll make the little ones feel special while keeping them entertained.
To help you with the entertainment, I created this Thanksgiving activity set, so you don't have to struggle to find the right activities for your kids.
Get it here or at the end of this post, print as many copies as you need, and put them on the table for your kids to have fun!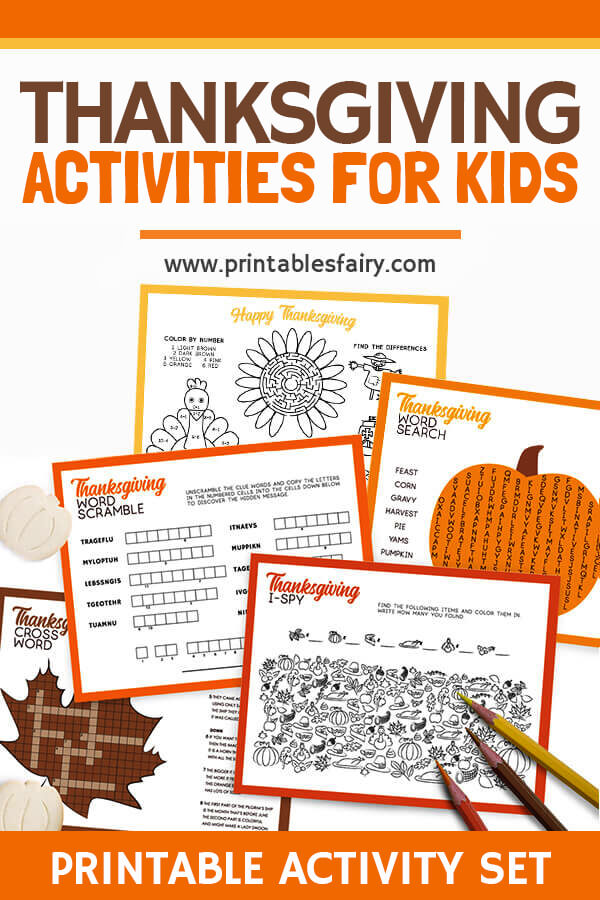 There are seven activity pages for everyone!
The littlest ones can enjoy some coloring, counting, and drawing, while the oldest kids can enjoy some word-related games.
Everybody will love this printable set (and it can be used at school too!)
Take a peek at what is included:
Thanksgiving Word Search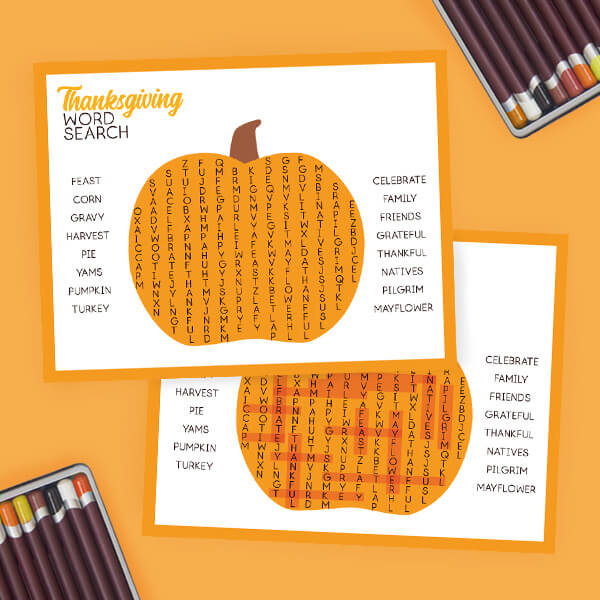 This pumpkin word search contains 16 hidden words related to Thanksgiving.
I assure you that this game is entertaining enough to keep your school-aged kids busy for some good minutes.
And if they can't find a word, an answer sheet is also provided to help.
Thanksgiving Crossword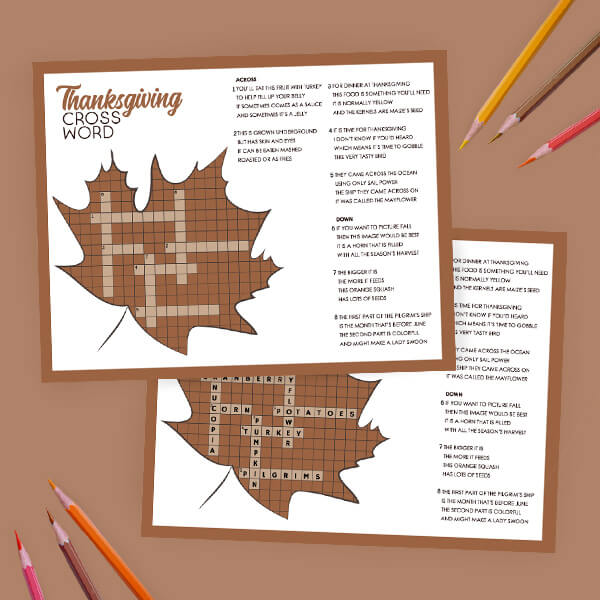 If your kids are into fun riddles, then they will find this crossword amusing.
It includes 8 Thanksgiving questions to have them thinking and giggling until dinner is ready.
It also includes the answers if you are struggling to guess one (but I'm sure you won't need it).
Thanksgiving Word Scramble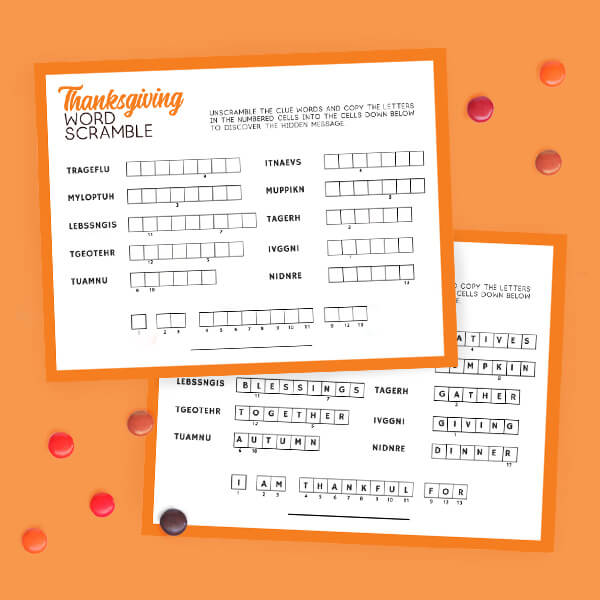 This word scramble game is also a simple cryptogram.
All your kids have to do is find out the clue words and copy the letters in the numbered cells into the cells at the bottom of the page to discover the secret phrase.
This actually took the kids quite some time as it can be a little confusing, but I included the answers.
I recommend not printing the Answer key and just taking a look from a phone, computer, or tablet if your kid asks for help.
Thanksgiving I Spy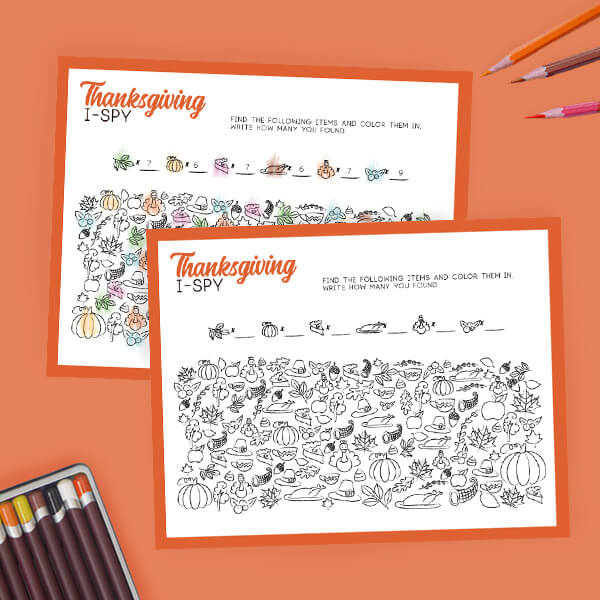 This Thanksgiving I Spy is perfect for kids of any age.
I decided not to make a traditional I Spy and to create a Color & Count version instead.
This will keep your kids busy for a little longer and also allow them to keep counting and coloring other items on the page, even if they are not asked to do so.
Thanksgiving Printable Placemats
This printable set also includes 3 Thanksgiving placemats:
A placemat for preschoolers (ages 3 to 6).
A placemat for school-age children (ages 6 and up).
A universal placemat that can be used at any age.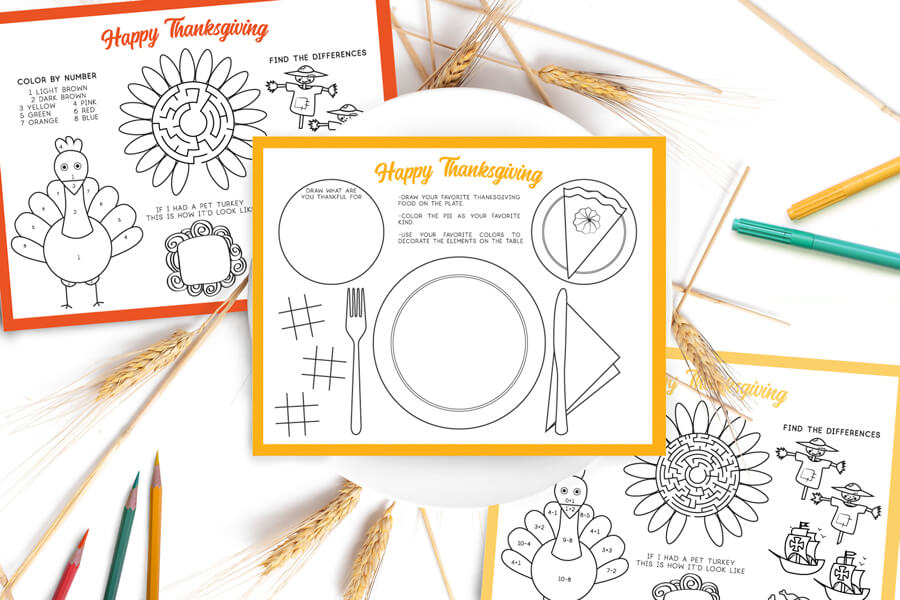 Preschool & School-Age Placemats
The preschool and school-age versions may look alike but the second one has a higher level of complexity.
This is perfect if your young kids are at an age when they want to do the exact same as their older siblings.
Both placemats include:
Color by Number
Maze
Find The Difference
Drawing and coloring prompt
Universal Placemat
The universal placemat is perfect for groups with kids (and adults -why not!) of all ages.
You can also print it and save it to have a backup activity.
It includes:
Four drawing and coloring activities
"I am thankful for" prompt
Tic-tac-toe
Download The Thanksgiving Games!
Whether you just have one kid or a group of children coming over, this set includes Thanksgiving activities for every taste.
Please remember that you have to print these games on US Letter sized paper (8.5 x 11 in).
Go get your Thanksgiving Activity Set now!
CLICK TO DOWNLOAD THE THANKSGIVING ACTIVITY SET!
*Please remember that these printables are for personal use only. You may not sell, share, or distribute the files.
Other Thanksgiving Activities:
Thanksgiving Printable Activities for Kids