Are you looking for an excuse to bring your kids outdoors and connect with nature even if it's cold outside?
Here you have the perfect activity, a Winter Scavenger Hunt!
Last year, we tried a Fall Scavenger Hunt, and it was such a big hit that there was no way we wouldn't try it again.
The best part is that you can do this scavenger hunt almost anywhere. Find these items in your neighborhood, your local park, the woods, a walking trail, or even your backyard!
And if you can't find some of the things, remember that you can always read some winter picture books and try to find them.
You can also use that technique if it is too cold to get outside. It is a fantastic way to see how nature changes when it is snowing. And your kids will actually be very excited 😉
I designed this scavenger hunt for children of all ages. It has words and pictures to help the youngest ones. So there is no reason your whole family can't participate in this activity together!
I know, usually, winter keeps families inside but leaving the electronics aside to breathe some fresh air was a priority for us. Especially after 2020!
So, what is stopping you? Maybe your kids think winter is dull and there is nothing to see?
Don't worry; they will be surprised after going on this special family walk.
There are so many things that we sometimes overlook, so why not get out and explore!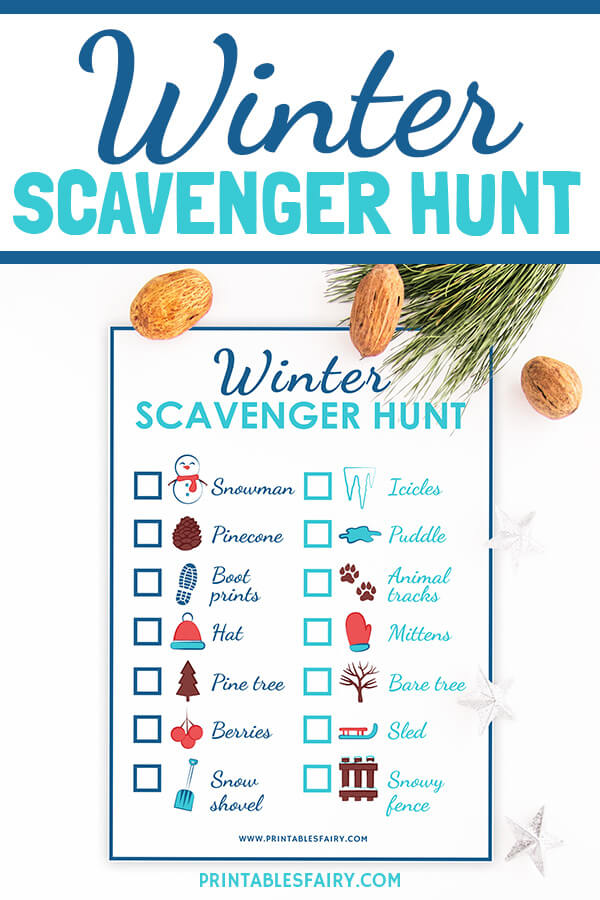 How To Use The Winter Scavenger Hunt
Start by downloading the printable winter scavenger hunt at the bottom of this post.
Then, print it on white paper or cardstock. Remember to select Fit Page on your printer settings to get the best results.
Now, you can trim your page along the blue lines or use it on its own.
Once you have it ready, slide it into a sheet protector or laminate it. This will protect your printable from the water and snow. Plus, next year you'll be able to reuse it without any problems.
The final step is putting your list on a clipboard and tying a washable marker to make it easier for your kids.
If you have more than one child, you can give everyone their own scavenger hunt, or you can give each kid a different colored marker to know who checked off each item.
And to make it more fun, you can let your kids take a picture of the things they find during the hunt.
Super simple, right?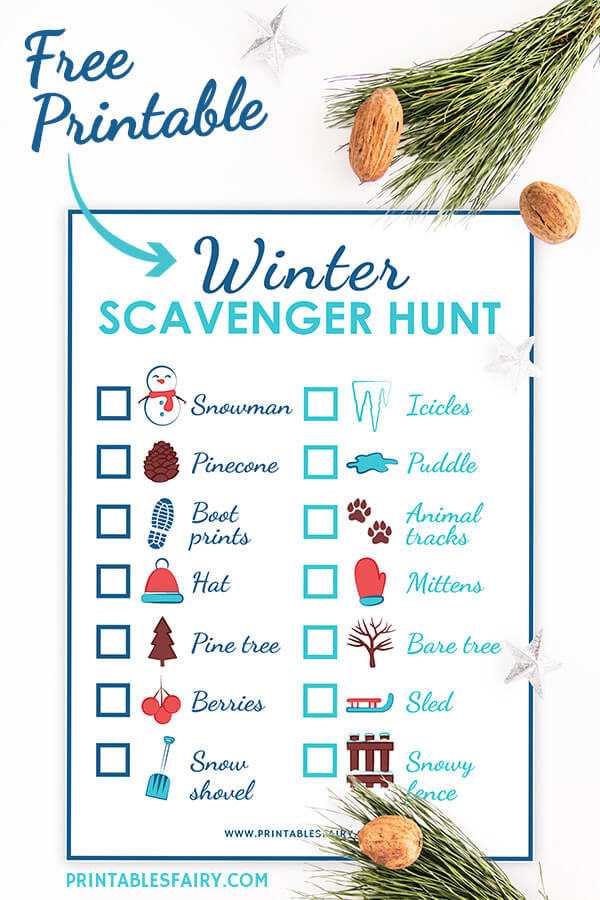 What Will You Find?
You will start by wearing very warm clothes. Take this moment to talk about how everyone dresses for the weather and check off the first items on your list.
Once you get outside, you will be able to identify the signs of winter: snowy fences, icicles, puddles, and bare trees.
Make your kids questions about how things look, feel, and smell. And talk about how this is different from other seasons.
Take a look at your neighbors' patios and search for snow shovels and sleds. Take this chance to talk about how you can use these items this time of the year.
Every once in a while, you'll be able to find some pinecones hiding in the snow and some berries hiding in the bushes. Talk about how we might have different fruits depending on the season.
Try to find a snowman or make your own if you are lucky enough to have snow. If not, you can try to find snowman decorations around your town.
If you have snow, you will also be able to find boot prints and animal tracks. Try to identify who these prints belong to and talk about the animals that live around the area.
You can also look for footprints on muddy areas or sand.
As you can see, this can be a fantastic learning experience for your kids.
The most important part is that you ask lots of questions to expand their curiosity, vocabulary, and critical thinking.
Printable Winter Scavenger Hunt
Ready to go on your own hunt?
Get this free printable winter scavenger hunt by clicking the link below and start exploring the outdoors!
P.S. If you love this printable, don't forget to share your adventures on Instagram by tagging @theprintablesfairy. We love to see you having fun!
*Please remember that these printables are for personal use only. You may not sell or distribute the files. If you want to share them, please link to this post and not directly to the PDF files.
More Winter Activities for Kids
Free Winter Scavenger Hunt