Use these free printable lunchbox notes to cheer up your kids on their first days back to school!
The start of a new school year brings a lot of changes to your kids' life, and that can lead to anxious feelings, irritability, and fear.
Some kids feel anxious about the thought of school, but once their first day goes by, they feel more relaxed. Others get anxious while at school.
Thankfully, there are multiple strategies that you can use to deal with the back-to-school worries before the big day arrives.
But, if your kids belong to that second group, a little extra love during school time may help them a lot.
Let your children know you are thinking of them and encourage them to go through the day with these free printable lunchbox notes.
Simply sneak them into their lunchboxes or backpacks so they can find them when they least expect them.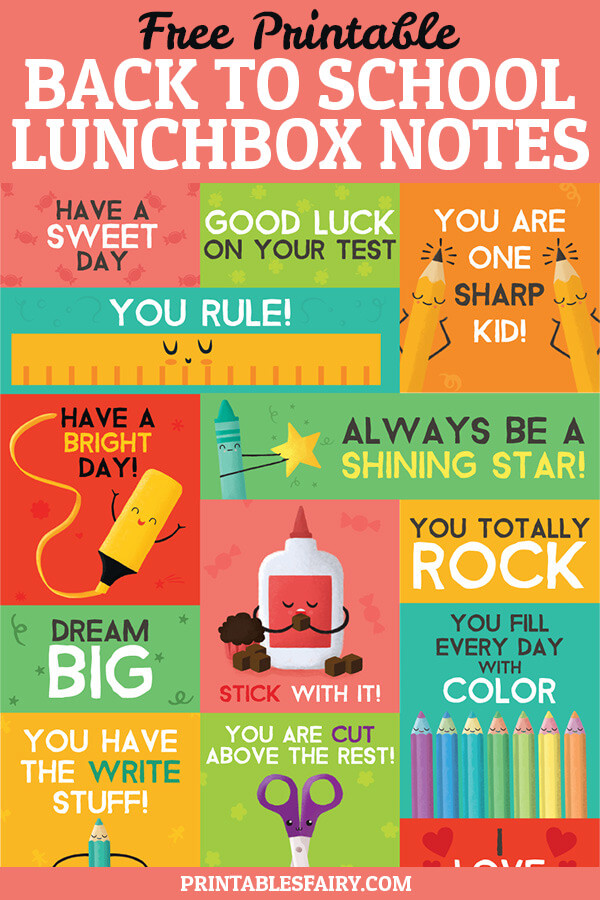 Back to School Notes
I made this set of 13 notes featuring school supply characters who have mostly punny motivational messages for your children.
The little notes say:
You rule!
You are one sharp kid!
Have a bright day!
Always be a shining star!
Stick with it!
You have the write stuff!
You are cut above the rest!
You fill every day with color
Have a sweet day
Dream Big
You totally rock
Good luck on your test
I love you
Hope they can help you help your kids on their first day of school, put a big smile on their faces, and encourage them in their first weeks of this new journey.
Download the Lunchbox Notes
Just fill click the link below and download your free printable lunchbox notes.
And don't forget to share pictures of you using them on Instagram by tagging @theprintablesfairy. We'd love to see it!
DOWNLOAD THE BACK-TO-SCHOOL LUNCH BOX NOTES
*Please remember that these printables are for personal use only. You may not sell or distribute the files. If you want to share them, please link to this post and not directly to the PDF files.
Check other Back to School Printables: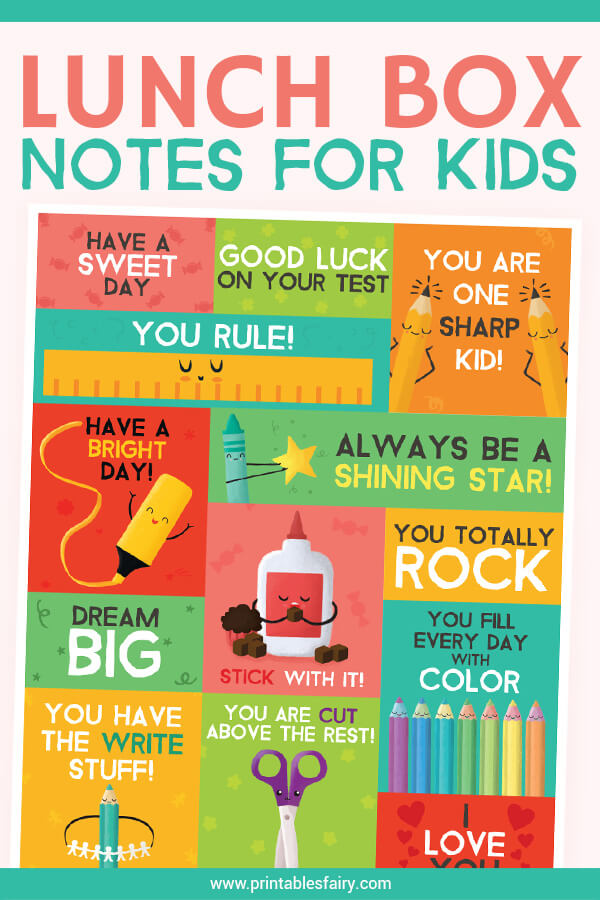 Encouraging Lunch Box Notes for Kids