With the sun shining outside, we decided to go on a nature scavenger hunt. After seeing all the little insects outside, we got inspired to make these bugs suncatchers to decorate our windows.
They are super simple to create; the only materials we used were black glue, sharpies, and some plastic recyclables.
If you are in search of a fun spring craft, look no further. This is the perfect activity for kids who love coloring and making their own hanging suncatcher decorations.
Watch the video below to learn how we made these cute crafts.
Read on for step-by-step instructions and to download our suncatcher templates.
Materials Required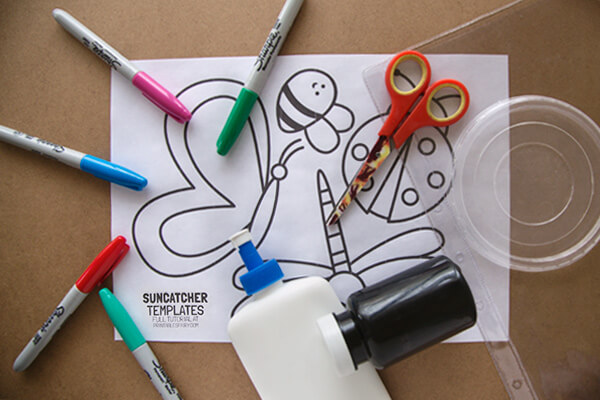 Regular white glue like Elmer's glue
Black acrylic paint
Container with a nozzle
Piece of clear plastic
Sharpies
Scissors
How To Make Black Glue
We decided to use black glue on this project because it dries into slightly raised lines and that makes it easier to color inside. It will also make our suncatcher look like stained glass, how cool!
Nowadays you can buy black glue in the craft store, but if you decide to make your own, it's very simple. All you need to do is mix equal parts of black acrylic paint and white glue into a container with some sort of nozzle.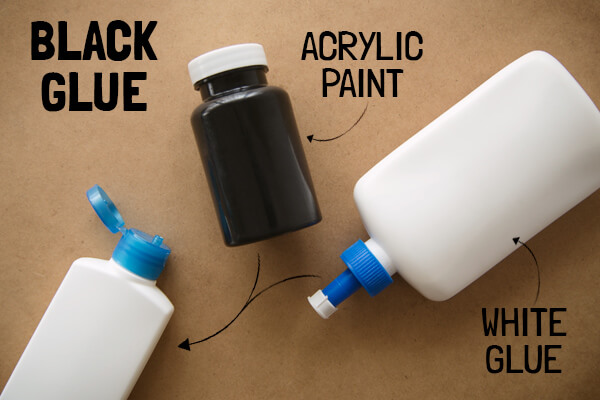 We used an empty bottle of lotion, but you can use the bottle that the glue comes in. Just pour the excess glue into an empty glass container and store it for another project.
Shake your bottle very well or stir it up with a skewer until it's completely mixed. To make sure it's integrated, try it onto a piece of paper.
Voila, you just made black glue!
And just to clarify, this glue will forever be black, only make the amount you are planning to use 🙂
How To Make Suncatchers With Black Glue
To make the suncatchers, draw your design on a sheet of paper or download and print the bugs templates. I included the outlines of a bee, a butterfly, a ladybug, and a dragonfly.
You can get them at the end of this post.
Place a piece of transparent plastic on top of your silhouettes. We used old sheet protectors, but you can use plastic lids, laminating pouches, plastic folders or plastic containers.
Secure the paper and the plastic together with tape to keep them in place.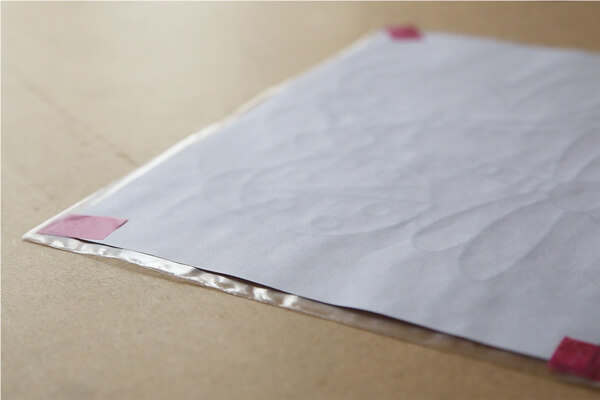 Then, draw the outlines with black glue and let them dry overnight on a flat surface.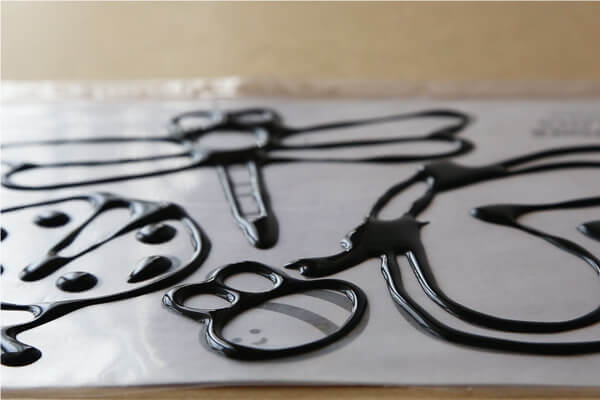 Once dried, it is time for the easiest part, coloring your designs with Sharpies. Let your kids use as many colors as they want.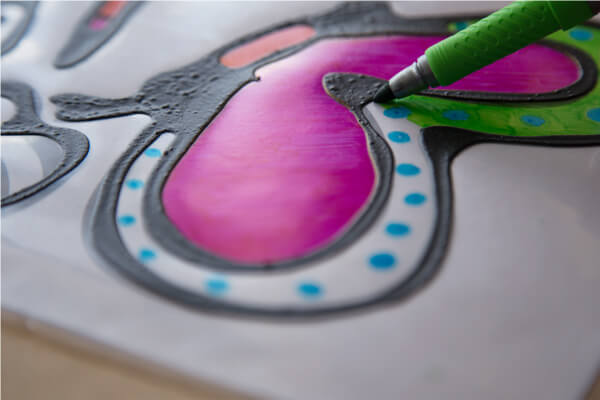 After that, cut your suncatchers out, making sure you leave some plastic around the borders to prevent the glue from lifting from the plastic.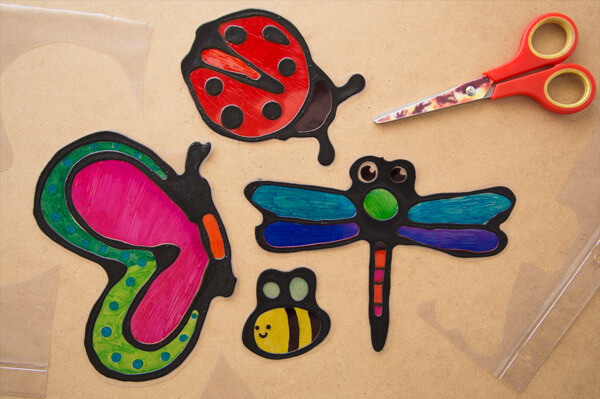 To make them look like real stained glass, flip them over and paint them again. This will make the colors more intense.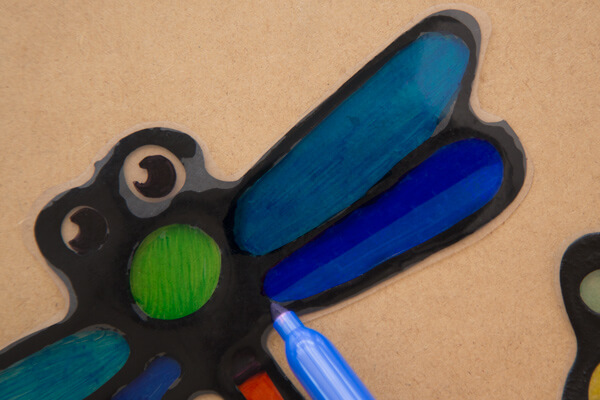 Finally, it's time to show off your creations!
Hang them on your window with a small suction cup with a hook, or use double-sided tape to stick them to your crystal.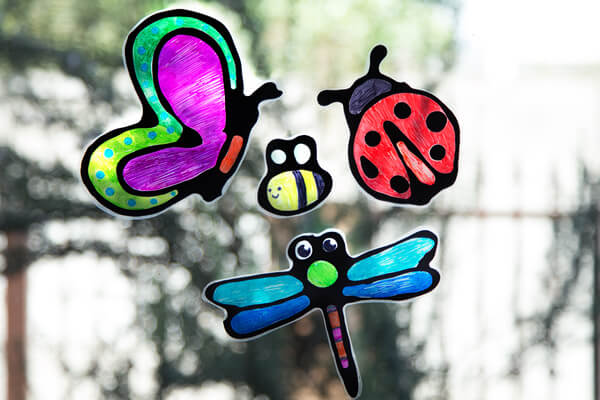 Tips to Make These Bugs Suncatchers
Use the templates as a guide, not as a rule. Try to make your kids follow the outlines, but don't pressure them to do so. It's ok to make "mistakes" because you'll end up with a unique suncatcher.
Feel free to add additional swirls, polka dots, and patterns with your black glue. Let your creative side come out!
If you have younger children, help them with the black glue part. Just leave the Sharpie decorations up to them.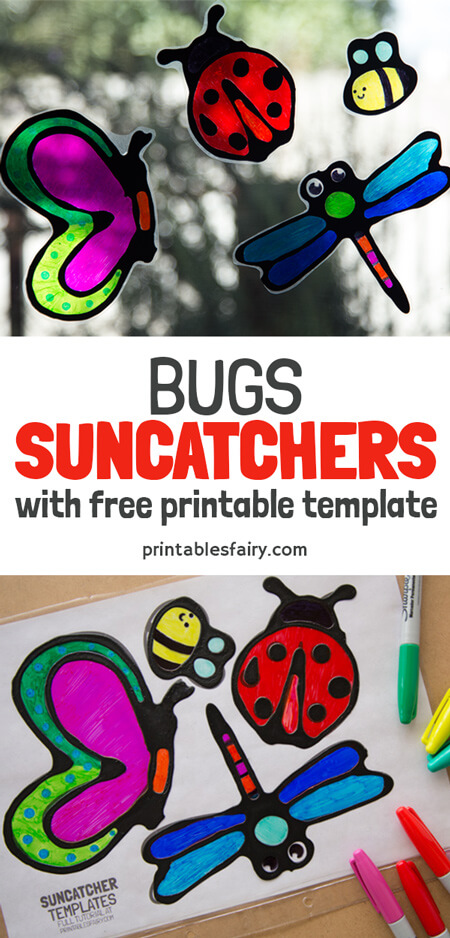 Remember that this craft is all about having fun. The most important part is that you will end up with some one-of-a-kind & made-with-love suncatchers to display on your windows!
You can download the bugs templates by clicking the link below.
GET THE BUG SUNCATCHER TEMPLATES
Stained Glass Insect Craft