Your kids are growing up and beginning to understand abstract concepts, which also means that they have more complex fears.
Your 4- to 5-year-olds are not only scared of things they can see, such as darkness; but also scared of things in their imagination, such as monsters.
The combination of both, reality and fantasy, can make bedtime turn into a battle. These night-time fears can be really terrifying for young children, so don't dismiss them!
Instead, comfort your kids and try explaining that monsters are not real and only exist in movies and storybooks. Emphasize that those monsters are usually very friendly.
You can also make a Monster Spray if you need it.
We made this list of monster book recommendations to help you show your own kids how nice these imaginary creatures can be.
Not So Scary Monster Books for Kids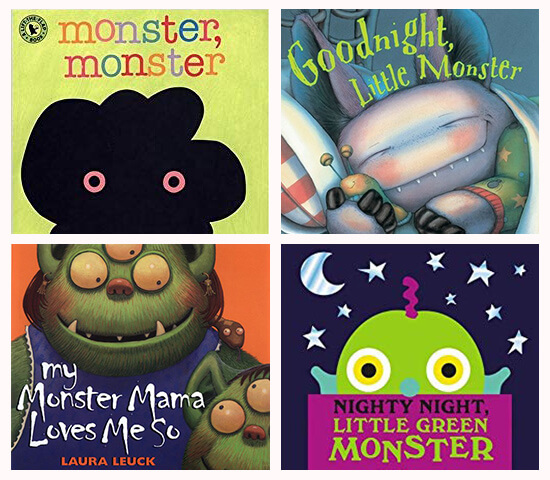 This book is perfect if your kid has a fear of bedtime. It seemed a little scary at the beginning because it's filled with monster shadows, but once you reveal what the shadows really are, it shows that they are not really monsters.
This book has a lot of flaps and a very engaging text that will get your kids hooked and totally involved with the story. And it's great to teach kids that sometimes we get scared of things that are actually not so scary.
A cute book for bedtime that can be useful to show your children there's nothing to fear under their bed because the little monster is in his own bed. You can use it to reinforce nighttime routines too.
This is the perfect book to show kids that monsters are not scary. It has beautiful rhymes and detailed illustrations that show kids how moms express love through different actions and words.
In the beginning, the little ones thought it was going to be a scary book, but it ended up being a very calming one and a great bedtime story.
This interactive book introduces concepts such as body parts and colors.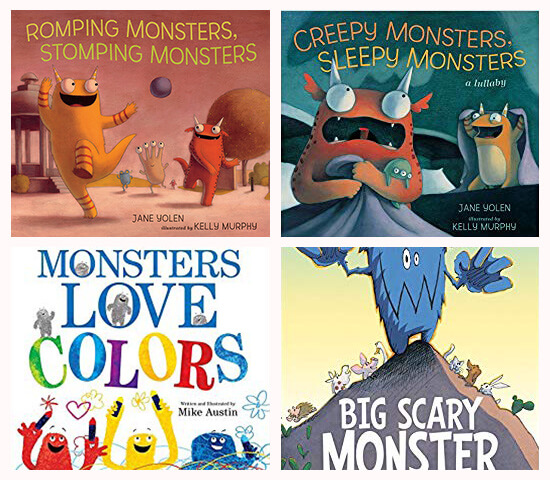 The best part of this book is the illustrations that take you to a unique monster world. Kids loved stopping at every page to explore all the details.
You can also use this book to make your children imitate the monsters and take that extra energy off.
Just as his "brother" above, this book was a big hit for its fun rhymes and rich illustrations.
This story follows two little monsters on their daily routines until it is time to go to bed.
The fun creatures in this book love to mix colors and create new ones. There are many books on this topic, but I think this might be one of the best ones. You can also create a good amount of monster voices when reading it aloud.
This is the story of a Big Monster that scares all the creatures around him until he starts feeling very lonely. Then, he learns to be friendlier and starts making friends to play with.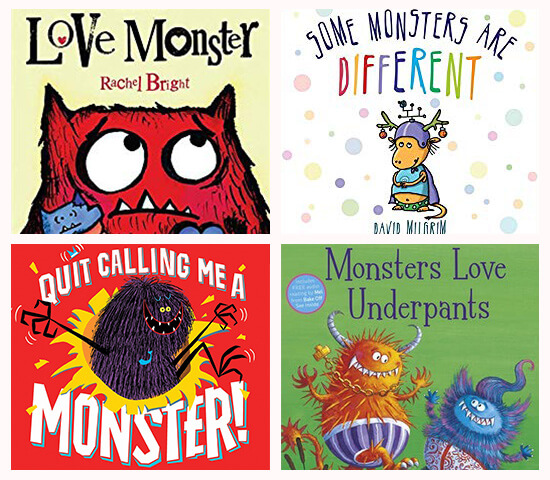 The kids loved this book. The message they took away from it was that being different is ok. It has some bold and cute illustrations that were very appealing, and you can also find some free printable activities on its site.
On the other hand, I have mixed feelings about this book. I like the underlying message of finding love when you least expect it, but I found it a little harsh and sad when the "cute" creatures didn't want to be friends with the monster just because he looked different.
Unlike the book above, this cute story shows how we are all different and unique, but can still be friends. It can also be used when teaching opposites.
This book is still a little scary for me, but the kids loved it.
It glimpses how a monster feels when everyone screams at him and calls him like that. It's a great conversation starter on stereotyping.
I can guarantee that this book will make your kids laugh with its rhymes, but I'd recommend it for older kids as its text is a little longer.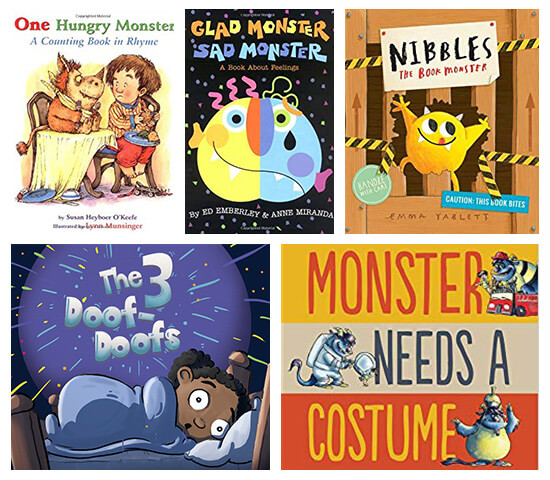 A very fun book for early readers that are learning how to count to ten. It follows a little boy that tries to feed the hungry monsters and confronts them when they start causing chaos in his house.
This book teaches about emotions and the things that can trigger them. On each page, you can find a monster that is glad; sad; loved; worried; silly; mad; and scared.
It also includes a mask of every emotion that you can tear out and use while reading.
We have and recommend the hardcover version of this interactive book. It seems like it has multiple books on the inside and that helps with the storytelling.
Your kids will fall in love with Nibbles, a monster that eats his way through books, changing the stories told in popular fairy tales.
This is a free eBook about some funny little monsters called Doof-Doofs who inhabit a scaredy-cat girl's house.
You can read this book on Halloween if your kids are too spooked out with all the decorations and tv commercials. It talks mostly about the costumes worn at this celebration.
It is a story about a monster that keeps changing his mind over what costume to wear on Halloween. In the end, he chooses something totally unique.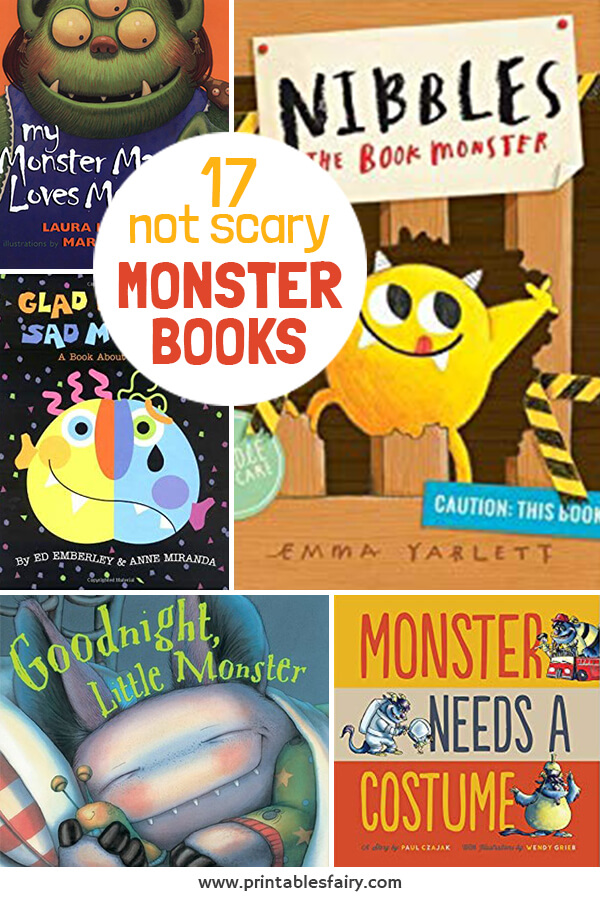 Remember to be patient and understanding of your child's feelings.
If reading books and talking about how monsters are fictional doesn't work, then you can try other solutions like a Monster Spray.
I hope you like our Monster Booklist but if you have another favorite monster book and don't see it on the list, please leave your recommendation in the comments below.
You can also check our Reading Challenge for more ideas on what books to read next.
Monster Activities for Kids: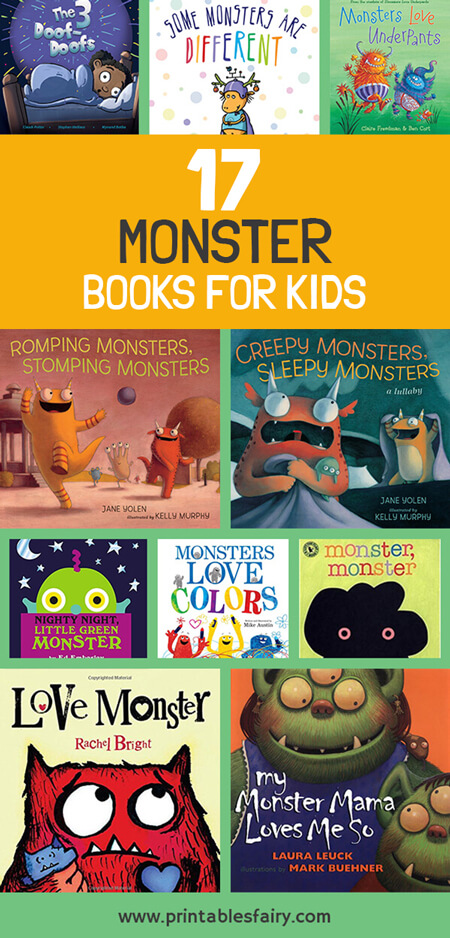 Books About Monsters for Kids