Summer brings a lot of parenting challenges.
One of them is your kids transitioning from their school daily schedules to their "I'm bored" summer schedules.
To help create a new routine and shift to summer easily, I created this printable Summer Schedule that includes time for fun activities, so you never get to hear those dreaded words.
And if you have no idea what fun activities to try, here is our summer bucket list for kids that includes more than 140 activities so that you can choose the ones that fit your family better.
You can also find a printable to make your own bucket list at the bottom of this post.
100+ Ideas for a Kids' Summer Bucket List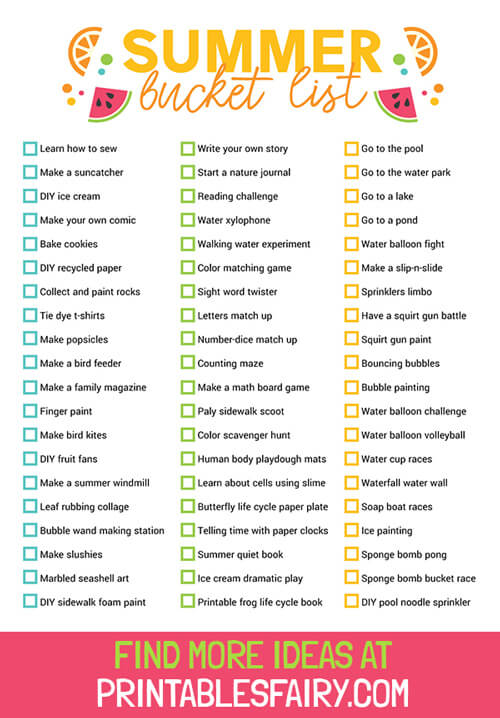 For Make it – Monday, we included some arts and crafts ideas, along with some easy recipes to prepare:
Learn how to sew
DIY ice cream in a bag
Make your own comic
Bake cookies
DIY recycled paper
Collect and paint rocks
Tie-dye t-shirts
Make popsicles
Make a bird feeder
Make a family magazine
Finger paint
Make bird kites
Make fruit fans
DIY sidewalk foam paint and play with it afterward
Make a leaf rubbing collage
Set up a bubble wand making station
Make slushies
Make marbled seashell art
Kids might be off school, but with these fun learning activities, they won't even notice they are doing schoolwork:
Write your own story
Make a water xylophone
Try the walking water experiment
Play a color matching game
Play sight word twister
Play Upper and lowercase letter matchup
Play number-dice matchup
Make a counting maze outdoors
Make a math board game
Play sidewalk scoot
Start a color scavenger hunt
Use the human body playdough mats
Make a butterfly life cycle paper plate craft
Practice telling time with paper clocks
Play with a summer quiet book
Set up an ice cream dramatic play area
Print the frog life cycle book
The best part of summer is playing outdoors with water, here are some fun ideas: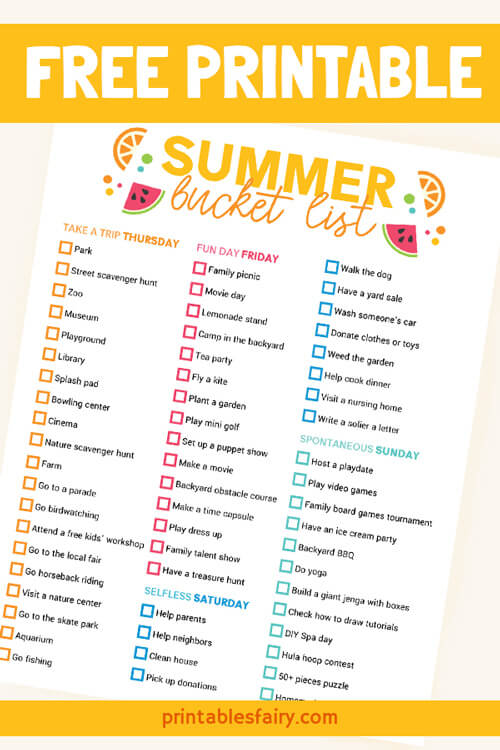 Summer is also a great time to take a trip. Here are some simple yet fun destinations:
Go to the park
Visit a zoo
Visit a museum
Go to the playground
Go to the library
Go to a splash pad
Go to a bowling center
Watch a movie at the cinema
Visit a nearby farm
Go to a parade
Go birdwatching
Attend a free kids' workshop
Go to the local fair
Go horseback riding
Visit a nature center
Go to the skate park
Visit an aquarium
Go fishing
Go around town on a scavenger hunt
This time of the year is a big opportunity to teach kids to be grateful and do something nice for others. You can start with these activities:
Help parents
Help a neighbor
Help clean the house
Pick up donations
Walk the dog
Have a yard sale
Wash someone's car
Donate clothes or toys
Volunteer somewhere
Weed the garden
Help cook dinner
Visit a nursing home
Write a soldier a letter
Bake cookies for your friends
We also love to try new activities every summer, here are some ideas that may take some more time but will make unforgettable memories:
Have a family picnic
Have a movie day
Set up a lemonade stand
Camp in the backyard
Have a tea party
Fly a kite
Plant a garden
Play mini golf
Set up a puppet show
Make a movie
Make a backyard obstacle course
Make a time capsule
Play dress up
Have a family talent show
Have a treasure hunt
Host a playdate
Play video games
Have a family board games tournament
Have an ice cream party
Host a backyard BBQ
Do yoga
Build a giant Jenga with boxes
Check how to draw tutorials
DIY spa day
Start a hula hoop contest
Put together a 50+ pieces puzzle
Have a homemade pizza party
How to Make Your Own Summer Bucket List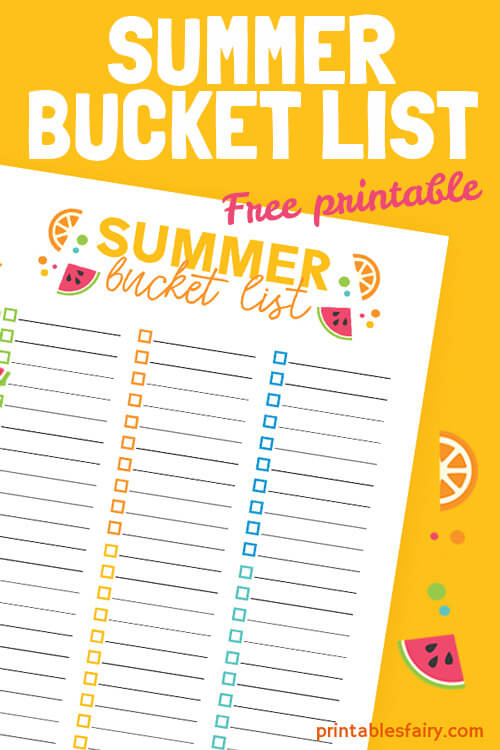 Print our ready-made summer bucket list for kids.
Or, go through these ideas with your kids and make your very own bucket list for this summer!
Just click the link below and get the free printables.
Hope you found some activities to try this season and if you have other ideas, share them with us in the comments below.
*Please remember that these printables are for personal use only. You may not sell or distribute the files. If you want to share them, please link to this post and not directly to the PDF files.
More Summer Fun:
100+ Fun Things To Do This Summer