One of our favorite Christmas Eve traditions is to bring everyone together and enjoy a nice family dinner.
It is probably the only time of the year where we can all be at the same place, and we absolutely love it.
But it comes with a catch: little kids desperately counting the minutes to Christmas.
It doesn't matter how many activities you have pre-planned, they always manage to complete them in a jiffy.
That's why this year, I designed a mini Christmas Activity Book to keep them busy, at least for a little longer.
These fun holiday printables include 9 different mini activity pages that you can put together into a cute little booklet.
Inside this printable book, you'll find:
A mini-book cover to color and get your creative mode on.
A Christmas Word Search filled with seasonal words.
Some easy Connect the Dots worksheets for the youngest at home.
A fun Christmas Carol Quiz to test your knowledge.
A special message written in secret Christmas code.
Some challenging holiday mazes.
Cute coloring prompts to test your decorating skills.
I'll show you each page in detail below. And if it looks like something your kids will love, get your own free printable Christmas Activity Book at the end of this post.
If you are still not convinced of getting these fun printables, just remember that you don't necessarily have to use them on Christmas Eve. They can make a perfect stocking stuffer too! (And it's free 😉)
You can also use these worksheets with your students at your Christmas classroom party, use them with your kids as a Christmas Countdown. Or just complete them on Christmas Day while sipping some hot cocoa.
Basically, you can use them any time you need a holiday boredom buster; just have your coloring pencils ready!
Let's take a closer look at these pages and get them at the end of the post.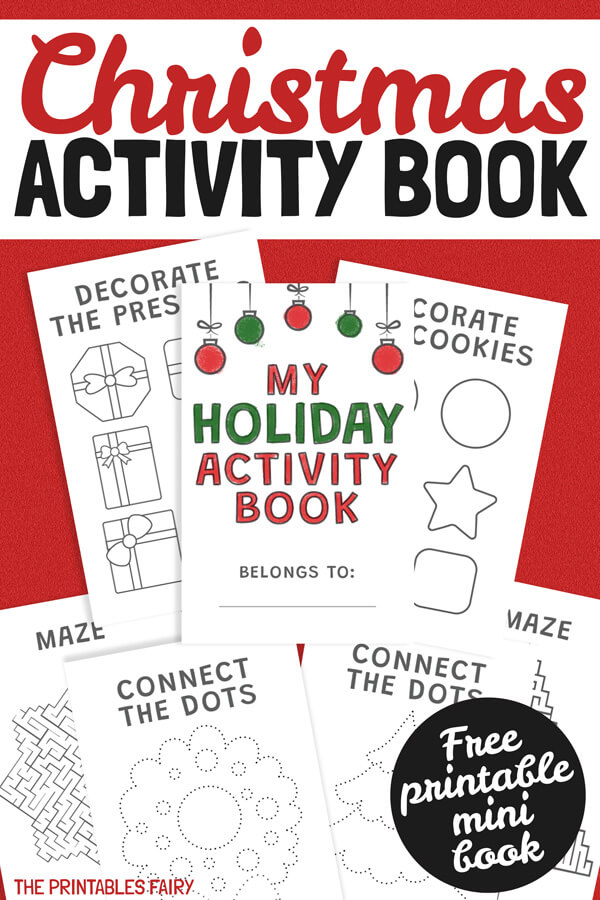 Christmas Coloring Pages
There are 2 coloring pages included in this mini-book.
The first one prompts your kids to decorate some cookies. Here they can color them in and draw some fun "icing" shapes.
The second one invites your kids to decorate some presents. – Here your kids can design unique wrapping papers and bows.
Connect the Dots
Then, we have 2 connect the dots activities.
These simple pages are easy and fun, especially for preschoolers. And the best part is that you can use them as coloring pages too.
Make your children draw creative ornaments for the tree, and design colorful baubles for the wreath.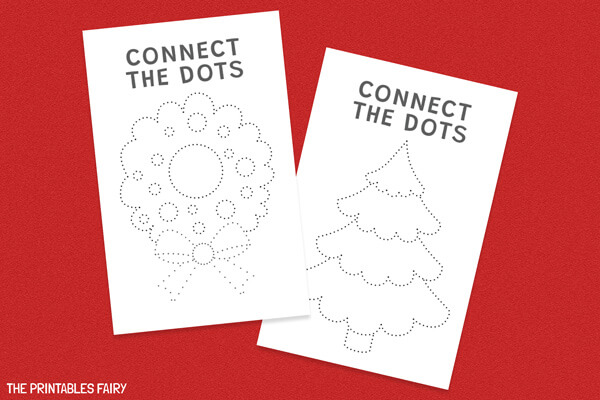 Christmas Mazes
This activity book also includes 2 Christmas mazes.
Start with the Christmas tree maze that is a little more simple. And finish with the star maze that is a bit more complex.
Christmas Games
There are 3 more games included in this Christmas booklet. They are all engaging enough for older kids but still simple for those who are just learning how to read and write.
First, we have a Christmas Carol Quiz featuring 5 popular holiday anthems. Here your kids have to match the names of the songs to the lyrics.
Then, we have a Christmas Secret Message. To discover the secret message, your kids have to solve a holiday cryptogram.
Last but not least, we have a Christmas Word Search. There are 12 festive words hidden horizontally, vertically, and diagonally. I'm sure your kids will find them all!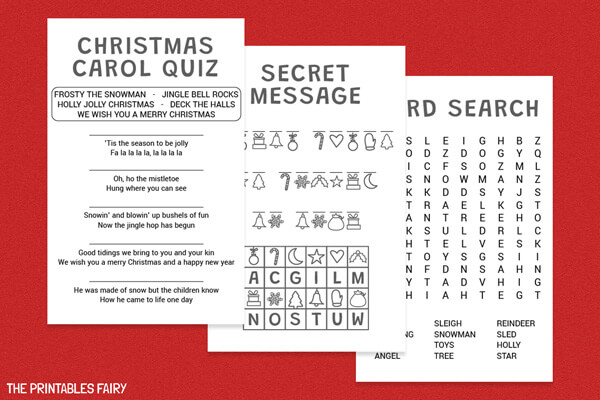 NOTE: If your kids enjoy word searches, take a look at our free printable Christmas Word Search!
Make your Christmas Mini Activity Book
Ready to print these 9 mini-pages full of fun?
Click the link below to download your printable Christmas activity book.
Pint it on A4 regular white paper and cut the pages through the dotted lines.
You can also print it on different paper sizes, but check your printer setting to make sure everything fits.
Then, assemble it. You can staple the activities on top or punch a hole and thread some ribbon to keep the book together.
That's it! Your book is ready to entertain your little elves.
Now, get your printables by clicking the link below.
DOWNLOAD YOUR CHRISTMAS ACTIVITY BOOK
*Please remember that these printables are for personal use only. You may not sell or distribute the files. If you want to share them, please link to this post and not directly to the PDF files.
Other Fun Christmas Games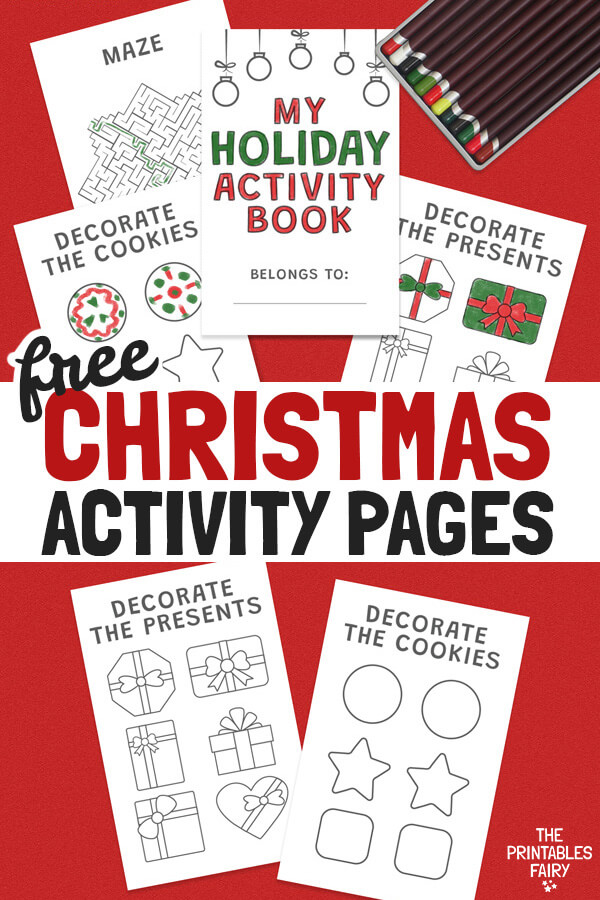 Printable Christmas Activity Pack