These free printable Christmas Coupons are perfect if you are looking to simplify your gift-giving this year. Or if you just want to start a new holiday tradition!
Who says Christmas gifts have to be expensive?
If you want to save money this Christmas and still build memories, this homemade gift will come in handy.
It is not only creative but also meaningful and easy.
With these coloring coupons, you'll be giving your kids experiences and creating lasting memories.
Way better than cluttering your house with more toys, right?
You can add free passes to get out of chores, some extra privileges at home, and fun outings to places you'd go anyway.
Kids just love redeeming their coupons no matter what the prize is. Trust me 😉
And if you are planning on getting some big gifts, these coupons also make fantastic stocking stuffers.
I'm sure that if you are on a tight budget, you wouldn't want to spend your money on flimsy little toys or cheap fillers.
Why not offer your child these memory-making coupons filled with fun and special treats that have little or no cost to you!
But wait, there is more.
You can also use these coupons to start a new Christmas family tradition!
It's a great idea for kids to give to you or their siblings.
It's not only fun but also gives you the opportunity to spend more quality time with your children and get to know them better.
Ready to make your own Christmas Coupon Book?
Keep reading to learn how and to download the free printable templates!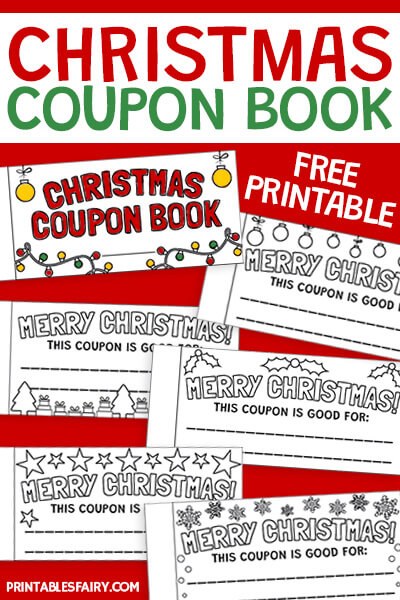 Materials
The Printable Christmas Coupons (Scroll to the end of this post to get them!)
Printer
White paper or cardstock
Scissors
Coloring pencils and pens or markers
Hole punch and ribbon, or a stapler
Printable Christmas Coupons
To make your Christmas coupon book, start by downloading the free printable template at the end of this post.
Print it on white paper or cardstock. I prefer to use regular paper for these particular coupons. In the end, you don't need them to be super sturdy.
Cut out each coupon with scissors or a paper trimmer.
Decorate them with coloring pencils and fill in the blanks with your "gifts". You can give simple things like a long hug, Christmas cookies, or breakfast in bed.
But if you are running short on ideas, scroll down to find some easy options for kids and parents.
Once you completed all your coupons, arrange them with the cover on top, and staple them on the left side.
If you don't want to use staples, you can hole punch and tie with a cute ribbon or twine.
And that's it!
Your Holiday Coupons will be ready to be gifted!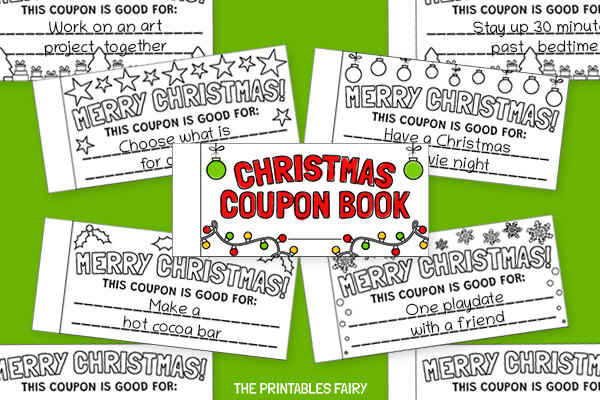 Coupon Ideas for Kids
Here are some ideas on things you can write on your coupons for kids:
Baking cookies
A trip to the zoo
Picnic at the park
Extra screen time
Have a dance party
Family game night
Backyard camp-out
Go for an ice cream
A day with no chores
Building a blanket fort
A trip to the dollar store
One extra bedtime story
Choose what is for dinner
One playdate with a friend
An outing with mom or dad
Work on an art project together
Stay up 30 minutes past bedtime
A candy bar from the grocery store
Coupon Ideas for Parents
Back rub
Car wash
Quiet time
A cute drawing
Breakfast in bed
Help with dinner
Spa day at home
Clean any room
Clean bathrooms
Two loads of laundry
An uninterrupted nap
Walk and feed the dog
No fighting with siblings
Do the dishes for one week
Do an extra chore each day of the week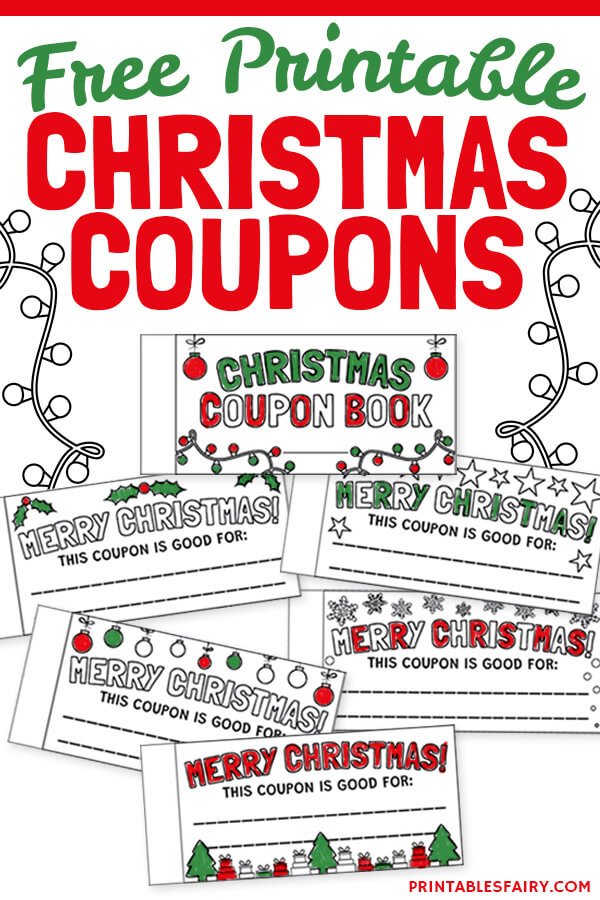 Get your Christmas Coupons
If this year you are all about being frugal, these coupons are a fantastic way to save some coins while giving your kids a special treat. 
The printable Holiday Coupon Book includes 2 pages of printable coloring coupons that are perfectly designed for Christmas time. I mean, look at those cute ornaments!
And you can print multiple copies to make an extra chunky book.
As you could tell above, it will take you less than 10 minutes to assemble it + the time you want to take to decorate it.
Kids love that part in particular. So, if you are giving it to them, leave the coupons blank and let your children color them when they redeem them.
Ready to start this simple Christmas tradition?
Click the link below to get your free Christmas coloring coupons!
GET THE PRINTABLE CHRISTMAS COUPONS
*Please remember that these printables are for personal use only. You may not sell or distribute the files. If you want to share them, please link to this post and not directly to the PDF files.
More Christmas Printables for Kids
Free Printable Christmas Coupon Book