Holly jolly, hello! I'm bringing you crafts from the North Pole!
Well…not really. 😁
But there is something about Christmas time that just makes me want to craft cute Santas, elves, and more!
That's why this time, I created some easy Printable Christmas Puppets that you can get at the end of this post!
There are 5 different designs included: a snowman, a penguin, a reindeer, an elf, and Santa.
All of them come in 2 different versions: full-color and black & white.
The full-color version is perfect to set up your own Christmas puppet show or to use as decorations.
We personally love using them as props while singing along to our favorite Christmas carols. It's just fun!
The black and white version can come in handy when you are printing multiple copies for your Christmas party or your classroom holiday play.
Just pick the design that suits you the best, and start crafting with your kids!
They are not only super easy to make but also fun to play with. I'm sure your little ones will enjoy them very much.
Ready to make these Christmas paper puppets?
Scroll down to read the assembling instructions and to download your templates!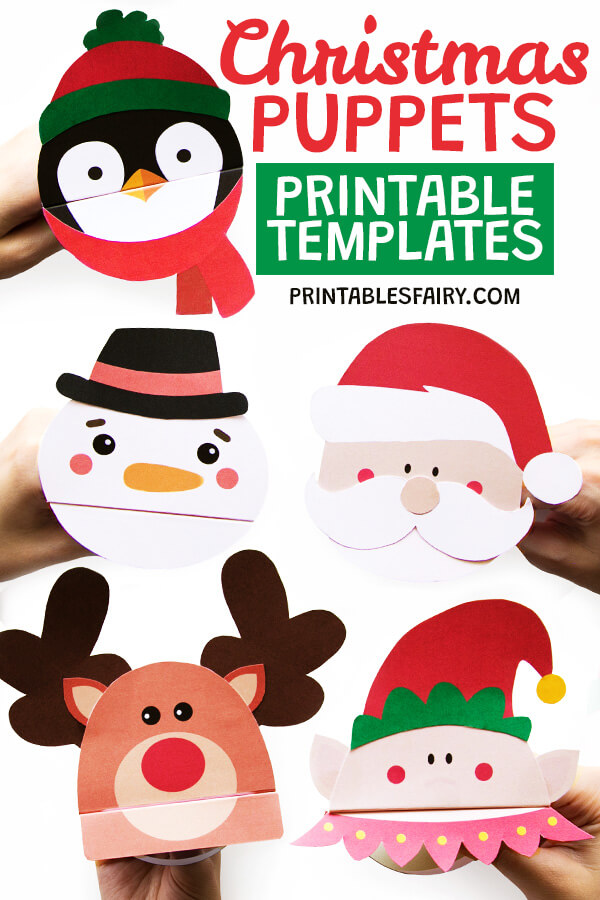 How to Make Christmas Puppets
As I've already told you, making these puppets is super simple.
You basically have to follow the same steps on each one of them. The only thing that changes is the design (and where you put the accessories).
We like that because it makes it easier to work with young kids and grown-ups.
Working on these Christmas toys is also fantastic to practice scissor skills, strengthen the hands' muscles, and develop hand-eye coordination.
All that while being creative and having fun!
Ready to make your own Christmas puppets?
Below you can find a detailed written tutorial that teaches you exactly how to fold these puppets.
And if you learn better by watching, scroll even further to find a video with the exact steps I followed.
Let's get crafty!
Materials
To create these fun puppets, you will need:
Printable Christmas Puppet Templates (grab them here or at the end of the post)
White cardstock
Printer
Scissors
Glue Stick
Coloring pencils, markers, or crayons (just if you are using the black and white templates)
Instructions
Download and print the Christmas puppet templates on white cardstock.
If you are using the black & white version, let your kids color in their puppets. You can use markers, crayons, or colored pencils.
Cut the template to separate the puppet from the accessories.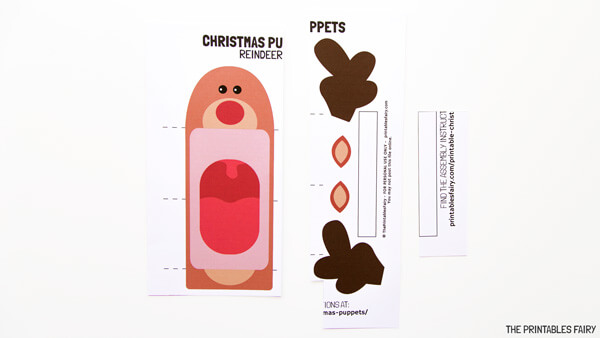 Take the puppet and fold it in three parts along the dotted lines. We like to use a ruler to fold straight lines easily.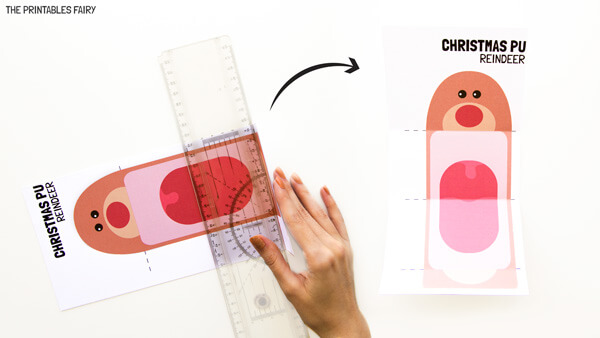 Cut out all the pieces.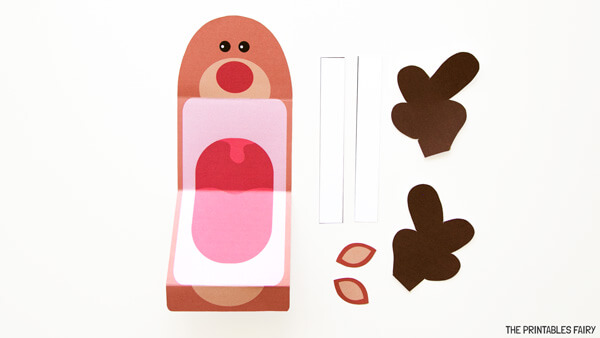 Glue the accessories on each puppet.
Reindeer: ears and antlers behind the face.
Penguin: hat on its head, and scarf at the bottom.
Elf: hat on his head and ears behind it.
Santa: mustache and nose on the face.
Snowman: hat on the head.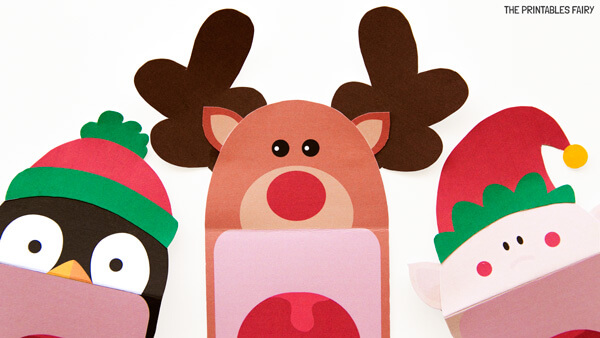 It's time to crease and reverse the folds made in step 4.
Fold the puppet in half and bring the face part up again.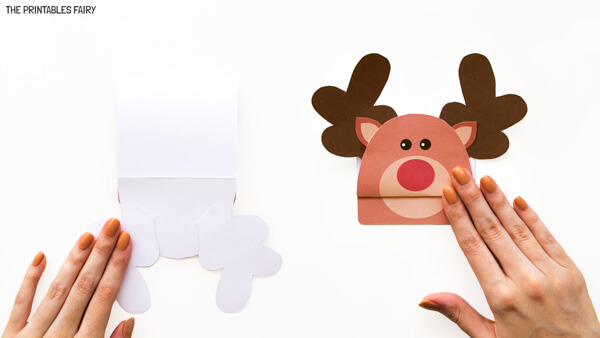 Flip over the puppet and fold down the bottom part.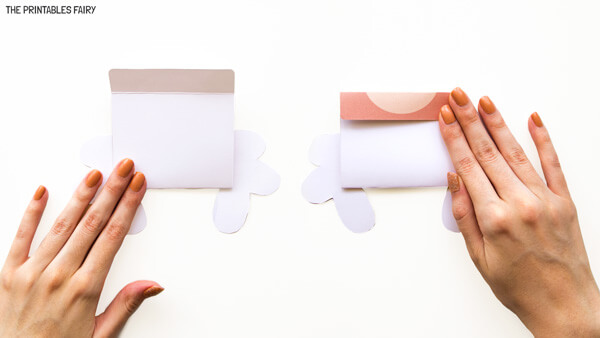 Take the straps and fold in the edges.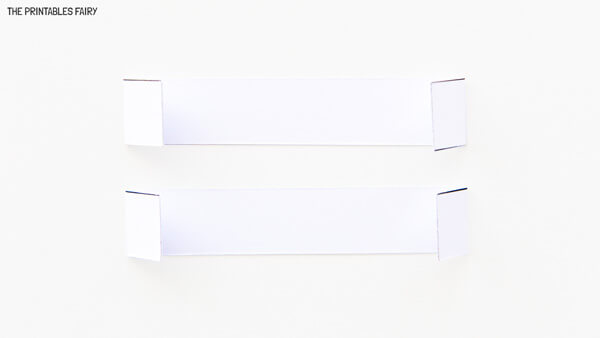 Glue the straps arched behind the puppets, as shown below.
Make sure to leave enough room to put your hand and thumb into the loops to move your puppet.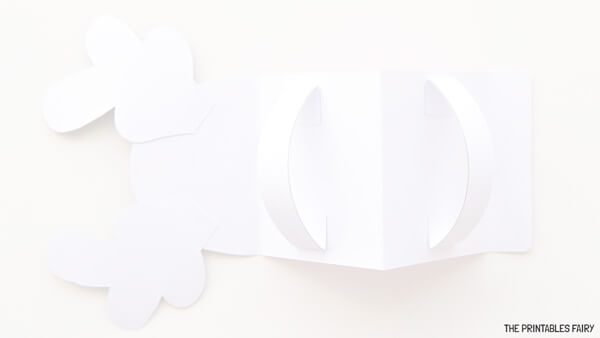 It was simple, right?
Now you can make an entire puppet collection by following these simple steps.

Which one is your favorite? Let us know in the comments.
Christmas Paper Puppets Video Tutorial
Ready to make your Christmas paper toy, but got stuck on a step?
Take a look at this video tutorial where I show you exactly how I made these Christmas hand puppets using our printables.
Printable Christmas Puppets
You can find these 5 designs in our Christmas Puppets Printable Set.
As I mentioned before, there are full-color and black & white versions included.
They are in PDF format. And you can print them on A4 cardstock (210 x 297 mm).
If you are printing on a different size, select "Fit Page" in your printer settings to make sure that the templates fit the page correctly.
Time to make your puppets!
Click the link below to get them.
GET THE CHRISTMAS PUPPET TEMPLATES
More Christmas Crafts for Kids
If you enjoyed these cute puppets, then you'll also like: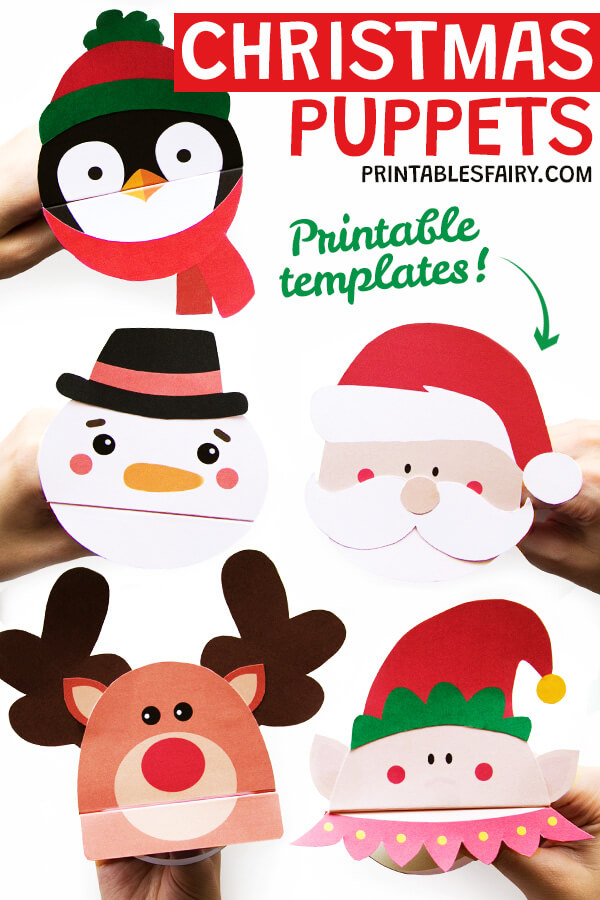 Christmas Hand Puppets