Surprise your friends and family with this explosive Christmas Pop Up Card!
Our Christmas Advent Calendar features a daily idea for getting into the holiday spirit. One of those ideas is making Christmas cards for friends and teachers.
It has actually become a fun family tradition to express our appreciation for those whom we love.
This year, we wanted to create a special card that would surprise anyone who receives it.
And this explosive card will amaze everyone!
Nobody expects the inside to pop up bigger than the card.
It also looks like a gift, which makes it the perfect companion to a gift card for teachers.
Download the free printable "Beary Christmas" template at the end of the post.
And make this fun Christmas pop-up card following the step-by-step tutorial below (pictures and video included).
Let's get started!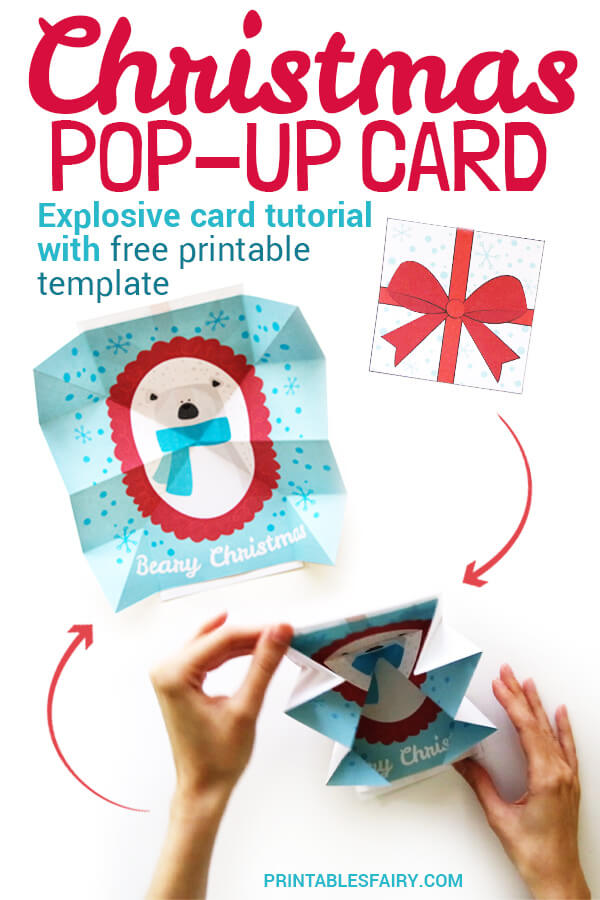 How to make a Christmas pop-up card
1. Print and cut both pages included in your free printable template to get the bear and the gift box pieces.
If you'd like to have a sturdy card, print on cardstock as I did. Just keep in mind that it'll be a little harder to fold than if printed on regular paper.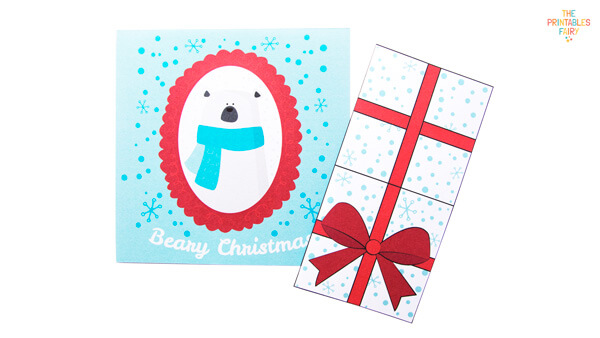 2. With the help of a ruler, fold the bear card along one diagonal.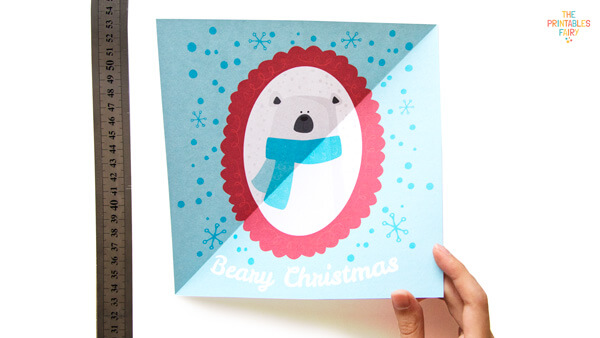 3. Open your card and fold along the other diagonal.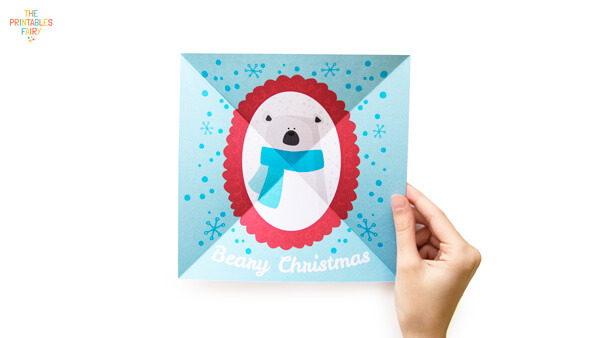 4. Open the card again and fold it in half, bringing the top to the bottom.
Reverse this fold to make the next step easier.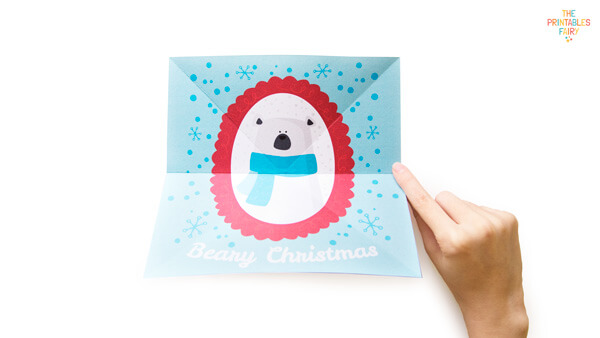 5. Open the card and push in the left and right sides to make a triangle.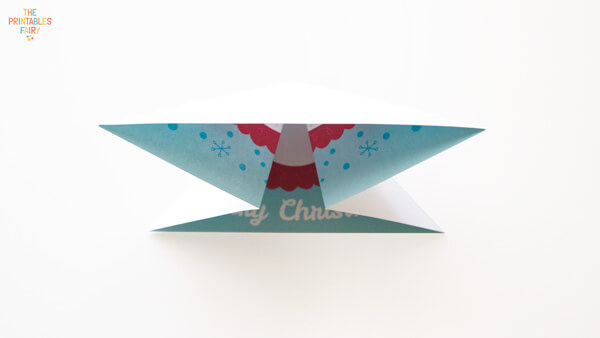 6. Fold the right and left edges to the middle on both sides of the triangle.
To help yourself, you can lightly mark the center of the triangle with a pencil before folding.
7. Unfold the corners from step 6 and push them inwards as shown below (reverse the step 6 foldings).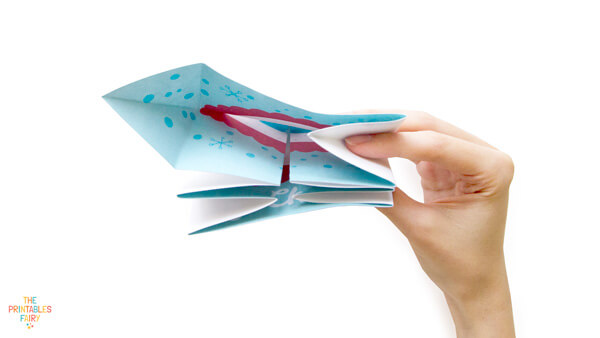 8. Fold the gift piece in half and glue the folded bear piece inside.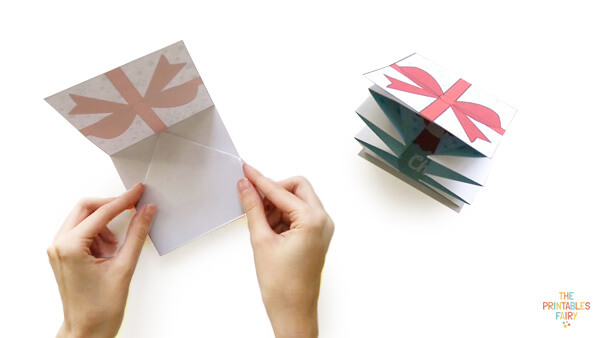 9. Enjoy your gift pop-up card!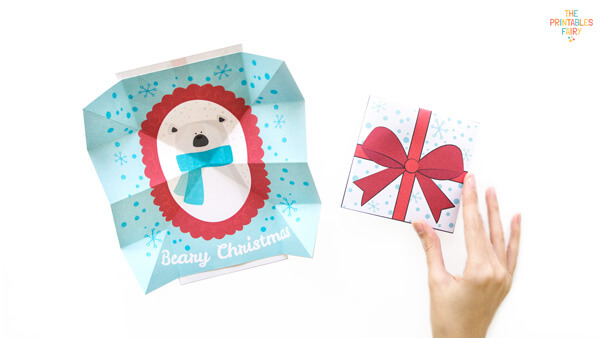 Explosive Card Video Tutorial
Need extra help with the folding?
Watch the video below to see how I made this Beary Christmas Card.
Tips to make your Christmas pop-up card
If you want to decorate this Christmas card on your own, print the b&w version that is also included with your download. Make sure to color it before folding.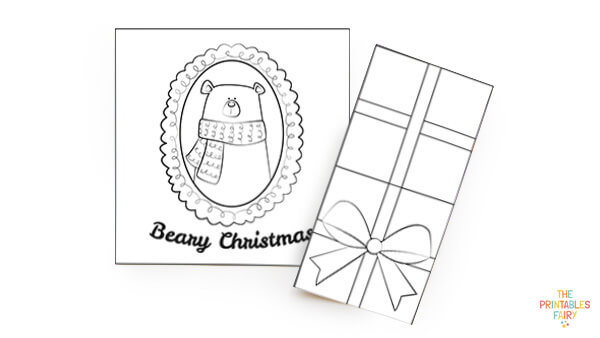 Print on regular paper or regular cardstock, but avoid too thick materials as it may be too hard to fold them.
I recommend trying this craft with kids with developed fine motor skills (3rd graders or older). If you want to try an origami craft with your younger children, check these reindeer bookmarks.
If you want to create your own explosion card, make sure that your folding piece is slightly smaller than the cover. To replicate this folding method, you will need a square piece with your message (ours is 7.5×7.5in) and a rectangular piece to make the cover (ours is 4x8in).
Remember that this printable card is for personal use only, but feel free to use this folding technique to create your own designs.
You can also print the gift cover only and make the inside card on your own.
Download your Christmas Pop Up Card Template
Want to make your own Explosion Card?
Click the link below to download the free printable template!
Two versions included: full color and color-your-own.
Download Your Christmas Explosion Card Templates
*Please remember that these printables are for personal use only. You may not sell or distribute the files. If you want to share them, please link to this post and not directly to the PDF files.
More Christmas Crafts: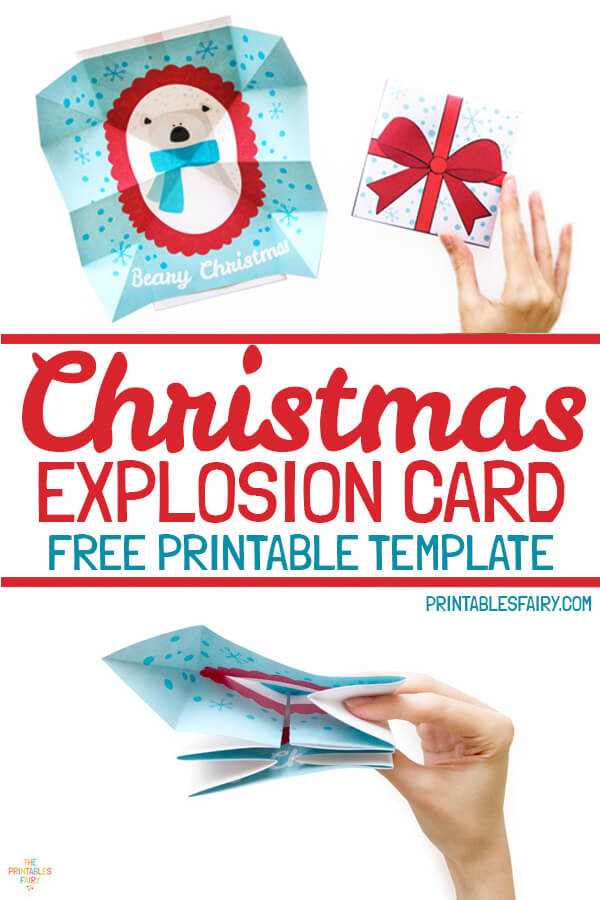 How to Create an Explosion Card for Christmas