Looking for a zero prep time holiday activity for your kids? Here I have this free printable Christmas I Spy.
Playing I Spy has to be one of our favorite games. In fact, I created a Halloween I Spy and a Thanksgiving I Spy too!
It is so easy to set up and helps your kids develop visual discrimination and counting skills.
And who doesn't like kids doing math while having fun with this Christmas I Spy game?
The best part is that you can use it everywhere!
Play it at home on a snowy day, bring it to your church celebration, play it in your classroom, or hand it to the kids after Thanksgiving dinner.
Personally, we like to use it at our Christmas party, while waiting for everyone to arrive.
It is also perfect for bringing on long car rides, busy restaurants, and waiting rooms.
Can you think of other ways to use this I Spy Ornaments game? Maybe as a stocking stuffer? Let us know in the comments!
And keep reading to learn how to play and to download your free printable!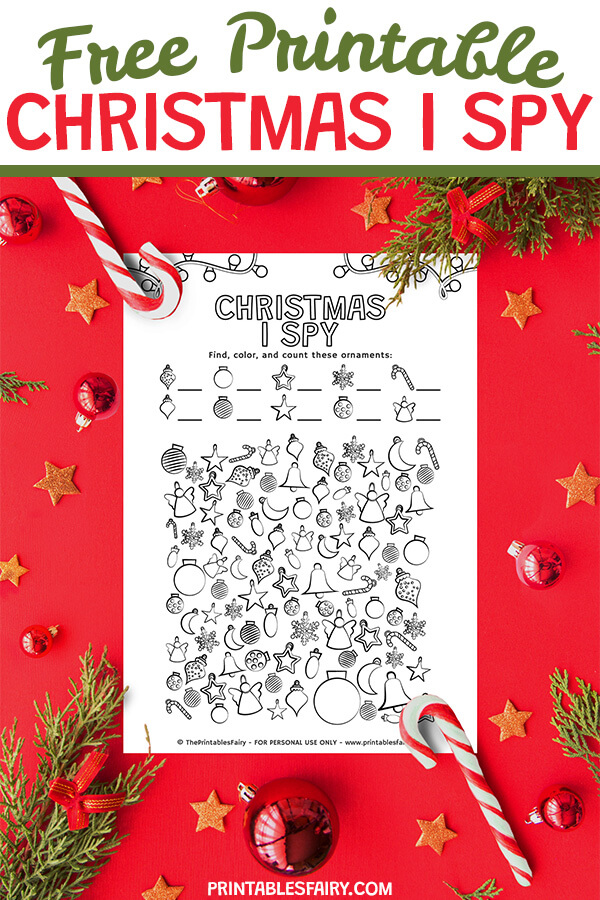 Christmas I Spy Game
As I told you before, setting up this game is super simple.
Start by downloading it at the end of this post and print it on regular white paper.
That's it! Yep…I told you it was easy. You can start playing now!
Give your children their Christmas I Spy printable along with some colored pencils, markers or crayons, and a pencil.
Now it's time to invite them to find, color, and count the items at the top of the page.
I've listed 10 different ornaments for you to search.
But there are a couple more decorations hidden through the page. Invite your child to identify and count them too!
You can also turn this game into a competition by offering a prize to those who find the items first.
And remind your kids that while being first is important, counting all the items correctly is a must to win.
Alternatively, you can set up a timer to see who can find most of the items.
It doesn't matter how you decide to play, I'm sure your kids will still have fun looking for these ornaments.
Ready to spy?
Click the link below to download your free printable Christmas I Spy and print it on an A4-sized paper.
You can also print it on a different size, but make sure to select Fit Page on your printer settings.
*Please remember that these printables are for personal use only. You may not sell or distribute the files. If you want to share them, please link to this post and not directly to the PDF files.
DIY Christmas Ornaments for Kids
If your kids enjoyed searching for these festive ornaments, then they will also enjoy making their own! Take a look at these simple ideas: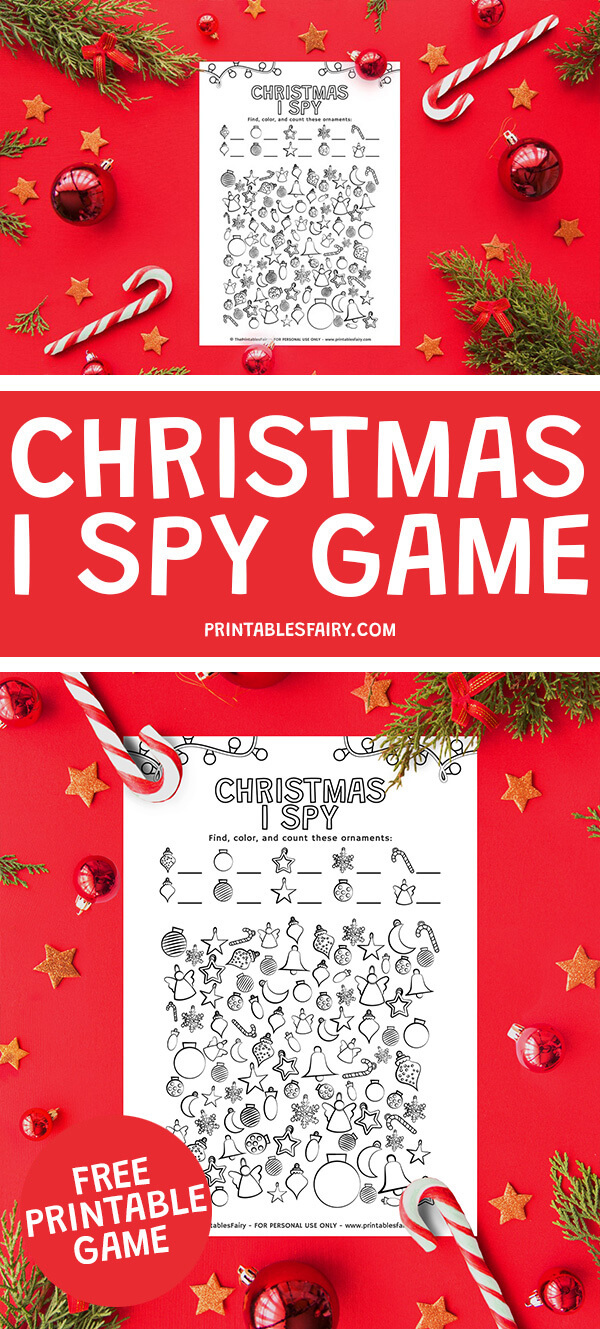 Printable I Spy Christmas