Since the spookiest month of the year is here, so is the fear of monsters! And when the little ones are afraid of monsters coming to their room every night, mom doesn't get much sleep, right?
In this post, you will discover what to do when your kids are afraid of monsters at night, and how to kick out those creatures from your home using a simple Monster Spray.
When October arrives, it does so with a bunch of spooky Halloween decorations that can unleash all sorts of fears in your children.
Don't worry. It's pretty common for kids to have fears, and Halloween can be a pretty scary holiday, so scary that your kids may even forget about the free candy.
The first thing you must do when your kids are scared is to acknowledge their fears, don't minimize them. Let them tell you what is scaring them and remind them that you will be there whenever they need you.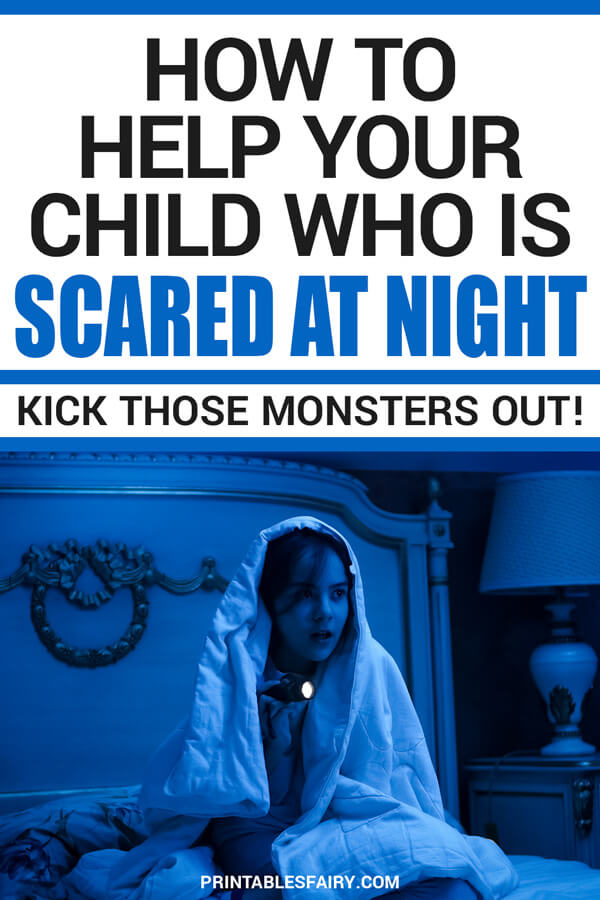 How can I help my child who is scared of monsters at night?
Parents can help kids who are scared at night by explaining what is real and what is not. According to Kids Health, "the best way to get over a fear is to get more information about it".
So, if your child is scared of monsters at night, explain that these creatures only exist in books and movies, but not in real life.
That fear of monsters can be triggered during Halloween, what you can do in preparation for it is to show your kids that all the costumes and props are fake. Let them touch and explore the decorations and even help set them up. Take them costume shopping and show them that all the scary monsters you will see are just fun attires.
Avoid watching scary movies with monsters, you can pick kid-friendly options such as Monsters Inc, Hotel Transylvania, or Onward.
In the same way, avoid reading frightening books. You can take a look at these not-scary monster books that feature very friendly monsters that I'm sure your kids will love rather than be scared of.
Plan your trick-or-treat route to avoid houses that may look too scary for your kids, or avoid trick-and-treating if it's too much for them. Instead, find a family-friendly community event.
During bedtime, establish a routine. It can take out the uncertainty of nighttime and reassure your children that they will be safe in bed. You can also check the closet and under the bed in front of them.
If they still wake up afraid of monsters in the middle of the night, always repeat that they are safe and that you are there. Make sure to keep them in bed to show that their bed is a safe place.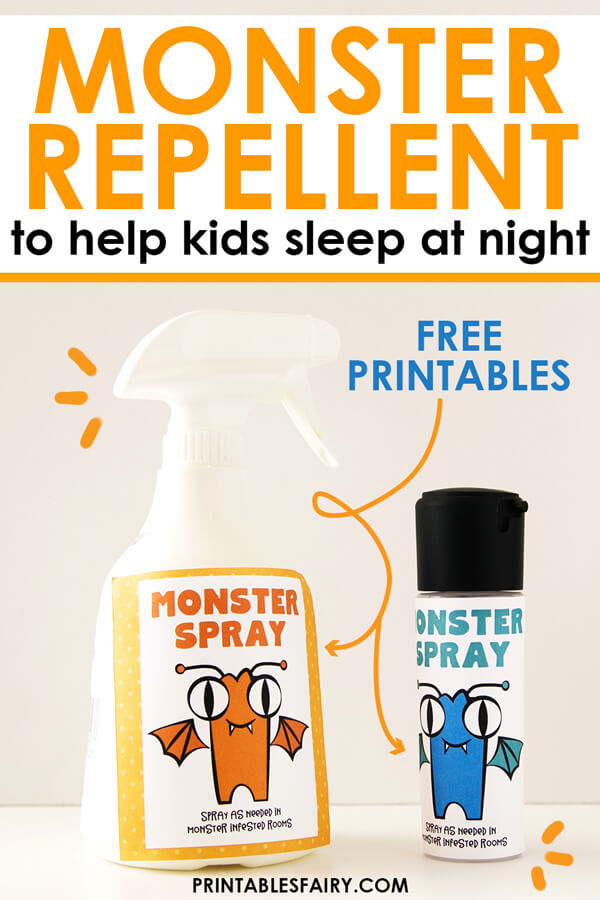 How do you scare monsters away?
For some kids, talking about how monsters do not exist in real life doesn't work. They may feel even more anxious and upset that nobody believes them. Monsters are very real to them and as a parent, you should help them conquer those fears instead of diminishing them.
A simple way to get rid of bedtime monsters for good is to make a monster repellent with your kids!
But some parents may ask, wouldn't making a monster spray confirm that monsters are real?
Look at it just as a tool to let your kids conquer their fears of monsters and the dark. It helps validate their emotions and take control of abstract concepts like monsters.
Letting your kids participate in making their monster remedy will make them feel like they have more control over the situation. It's a very useful and creative way to manage that fear.
To make this monster spray, all you need is our free printable label (get it at the end of this post), scissors, tape (we like double-sided tape for this project), and room spray.
If you don't want to use room spray because of all the chemicals in it, below, I share with you a simple monster-be-gone recipe that only uses water and essential oils.
How do you make Monster Spray?
Get a spray bottle. You can re-use one from a cleaning product or makeup (make sure to wash it well), or you can get one from the dollar store.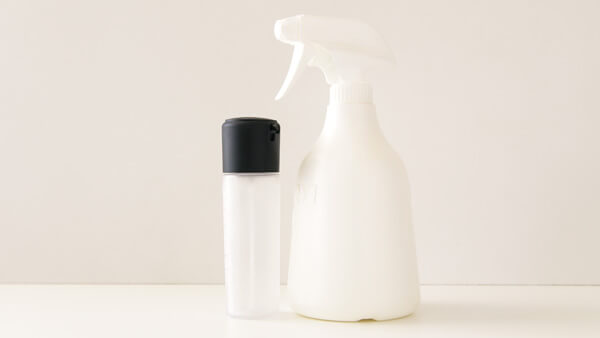 Fill up the bottle with water.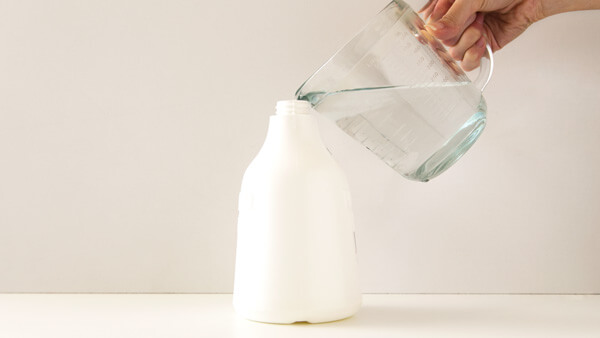 Add 6-8 drops of essential oil. We recommend lavender or roman chamomile as monsters hate them, and they can also help kids calm and sleep.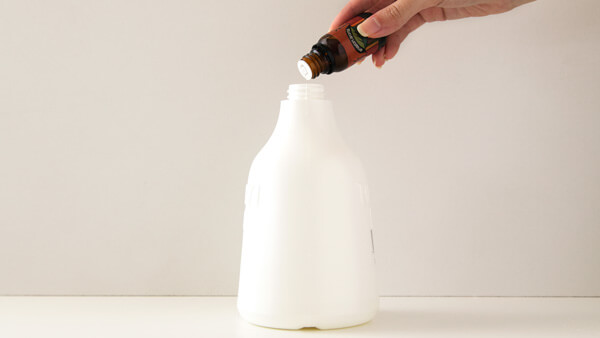 Close your spray bottle and give it a shake.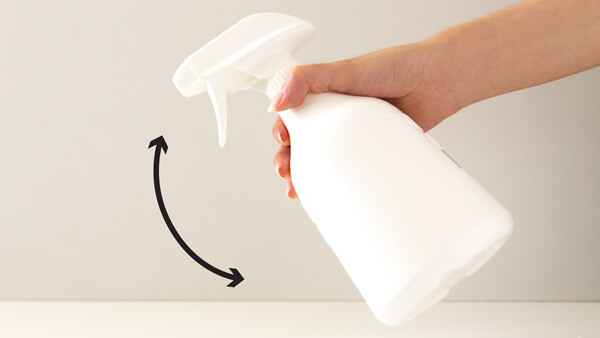 Print and cut the Monster Spray labels available below (for free!).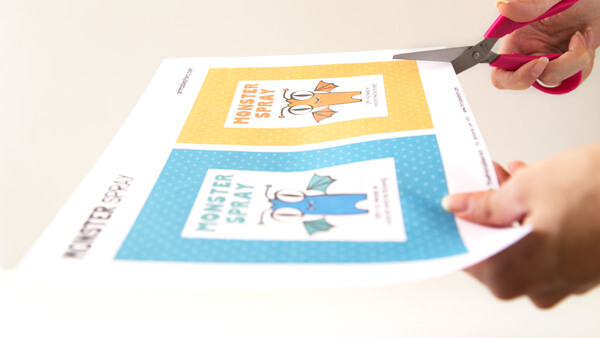 Attach the label using double-sided tape.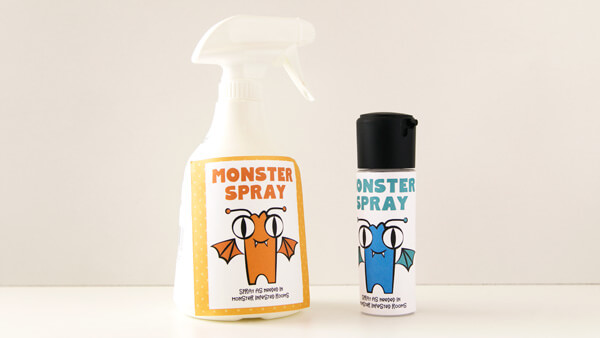 Place the bottle on your child's nightstand and shake it before each use.
Spray where monsters appear: under the bed, in the closet, next to a window, etc.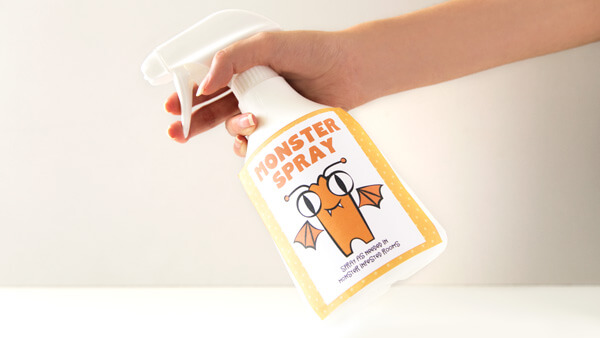 Monster Spray Label Printable
With this little trick, monsters will soon be a thing of the past!
These labels come in two different colors: yellow and blue. Let your kids pick the one they like the most and save the other one for an emergency Monster Spray bottle.
I designed these labels so that you can use them on bottles of different sizes. If your bottle is big, you can cut around the frame. And if you have a small bottle, cut around the white part.
You can also let your kids decorate these labels with drawings and stickers.
Download our free printable Monster Spray Label by clicking the link below, and start making your own Anti-monster potion.
Monster Spray Printable Labels
*Please remember that these printables are for personal use only. You may not sell or distribute the files. If you want to share them, please link to this post and not directly to the PDF files.
More things to enjoy this Halloween: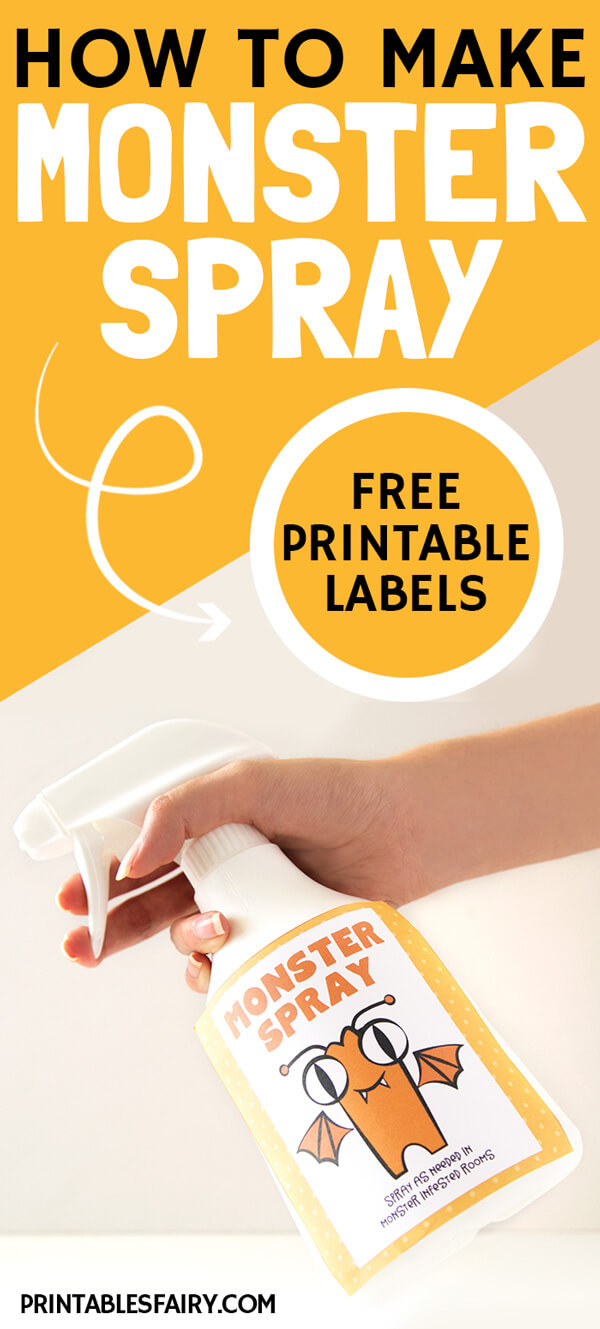 Monster Spray to Scare Monsters Away