Halloween is the perfect time of the year to make monster crafts, and this year couldn't be the exception.
These printable Monster Puppets are an easy and fun craft that will entertain your little kids during this spooky month.
You can also use them to help your preschoolers overcome their fear of monsters. Playing with them and making up a non-scary puppet show can help the little ones see how fun these creatures can be!
And they can actually come in handy at any time of the year. They are so cute that any celebration can be an excuse to make them. 💖 
On this occasion, I designed 5 different and colorful monsters that you can print and craft at home or in the classroom.
They are also perfect for making on Halloween parties and Monster parties. Not only do they make a low-prep activity, but also kids can take them home as a gift.
And I also created 2 versions of each puppet, one full-color and another black-and-white. So, you can print the ones that fit your group and printing-budget better.
I recommend making them with third graders and older, but just keep in mind that kids might still need adult supervision or help with the cutting.
I can guarantee that these puppets will be a big hit with your young crowd, so let me show you all the details!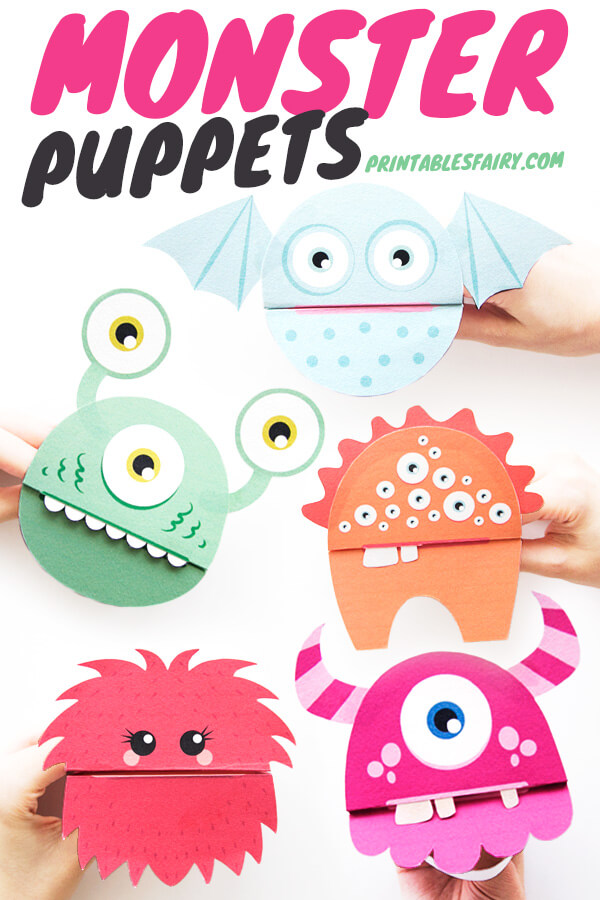 How To Make Monster Puppets
To make these cute monsters, all you have to do is print them, cut them out, and assemble them.
There are five different designs included in our printable set. You can let your kids pick the one they like the most, or why not make them all!
In this post, I will teach you everything you need to know to make your own monster puppets.
First, I'll show you all the supplies you will need.
Then, you can find the step-by-step instructions you can follow to put together your monster. And if that is not enough, you can find a video tutorial right under them (just scroll down if you want to watch it first).
To finish it all, if you are ready to get started with this project, you can find a link to get the printable templates at the end of this post.
Ready to ROAR? Let's make these monsters!
Materials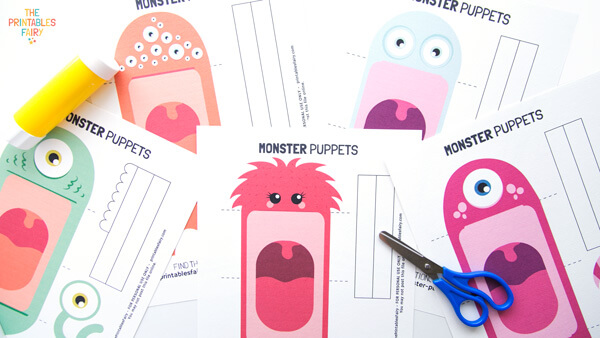 The materials you need to create these puppets are:
Printable Monster Puppet Templates (get them here or at the end of the post)
White cardstock
Printer
Scissors
Glue Stick
Crafting Knife
Ruler (optional)
Coloring pencils, markers, or crayons (if you are using the black and white version)
Instructions
Download and print the monster puppet templates on white cardstock. I recommend using cardstock as regular paper is too thin for this.
If you are using the black and white templates, color them in.
Cut each page vertically to separate the monsters from the accessories. Don't cut over the dotted lines because they will be helpful in the future.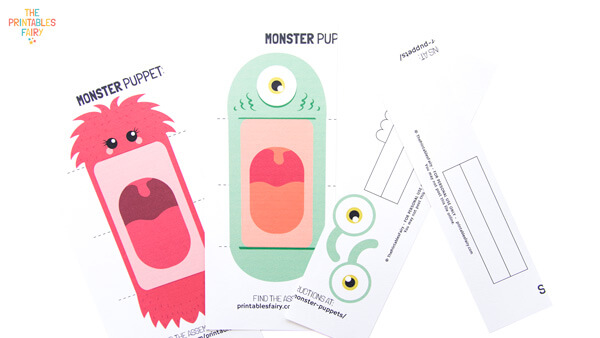 Use a craft knife to cut the upper lip of all the monsters except the red one.
This step is for adults or older kids with adult supervision. If you are working with young kids, you can pre-cut all the templates for them.
Fold each puppet along the 3 dotted lines. You can use a ruler to make perfectly straight lines.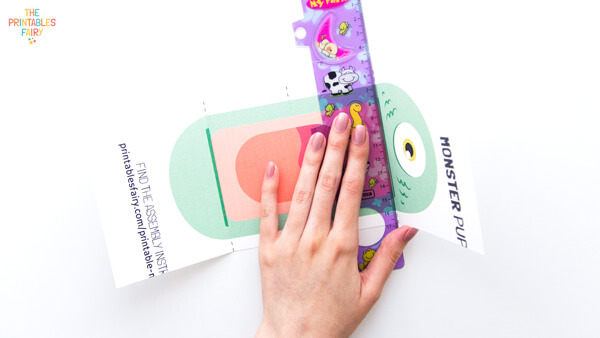 Cut out the puppets and the accessories.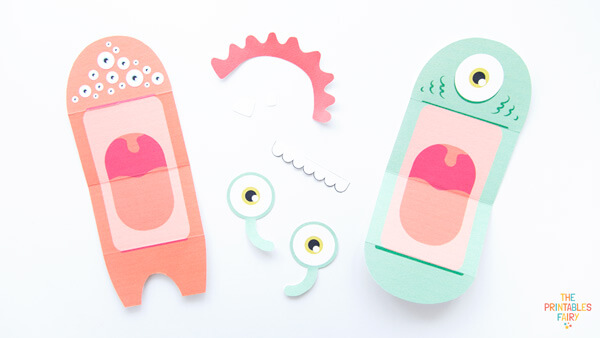 Glue all the accessories.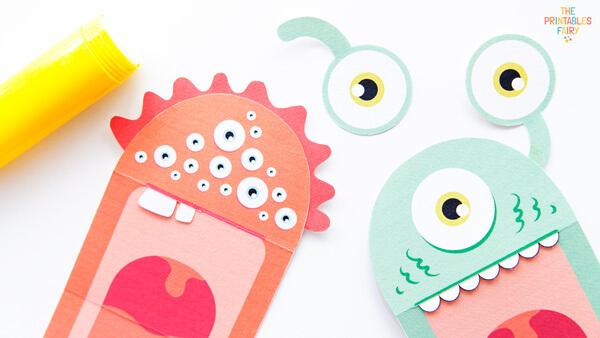 Pink Monster: Horns behind the head and teeth under the lips.
Green Monster: Eyes behind the head and teeth under the lips.
Orange Monster: Hair under the head and teeth under the lips.
Mint Monster: Wings under the head.
TIP: to paste the teeth, apply glue to the top and insert them under the lip slit.
Now it's time to reverse the folds:
Start by folding your puppet in half.
Then, bring the bottom to the top (the part with the eyes).
Flip over your puppet.
Fold the bottom up.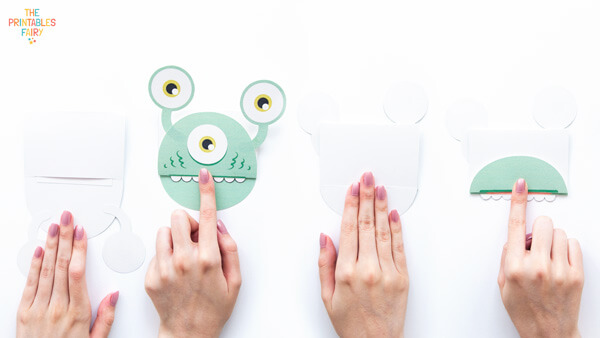 Bring out the straps and fold the edges.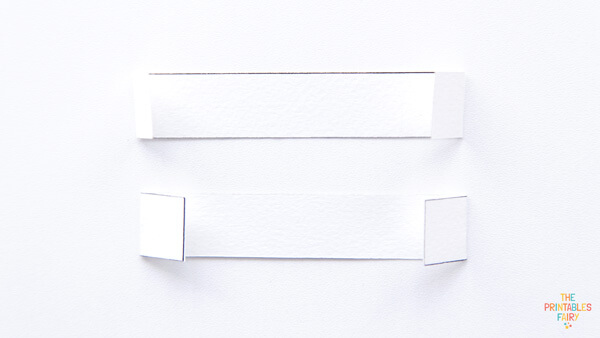 Glue the straps arched behind the puppets.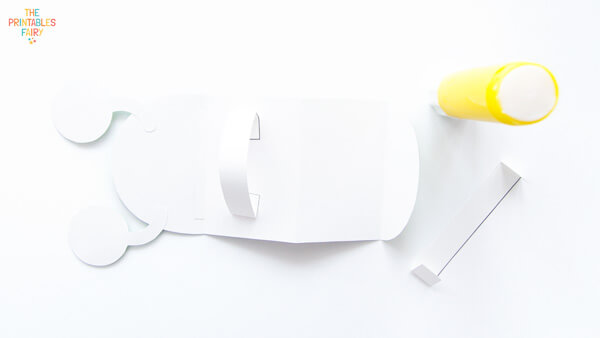 To use your puppets, just place your hand and thumb into the loops.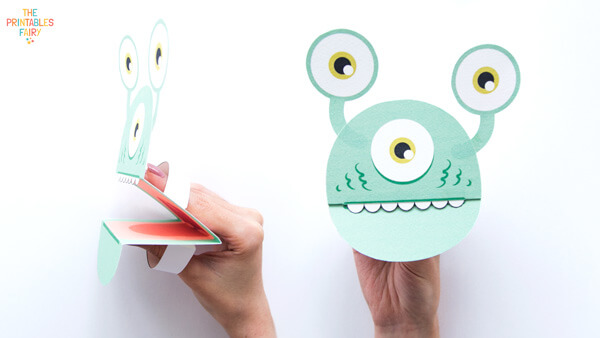 Monster Paper Puppets Video Tutorial
If you rather watch me assemble one of these monsters, I show you exactly how I made the pink monster puppet in this video. Take a look!
And subscribe to my Youtube channel for more paper crafts for kids.
Printable Monster Puppets

Did you like these cute monsters?
You can find the 5 designs in our Monster Puppets Printable Set.
As I mentioned before, there are Full color & black and white versions included in PDF format.
You can print them on A4 cardstock (210 x 297 mm) or on a different size, making sure "Fit Page" is selected in your printer settings.
Ready to make your own puppets?
Click the link below to get the templates!
GET THE MONSTER PUPPET TEMPLATES
*Please remember that these printables are for personal use only. You may not sell, share, or distribute the files.
Other Monster Crafts & Activities for Kids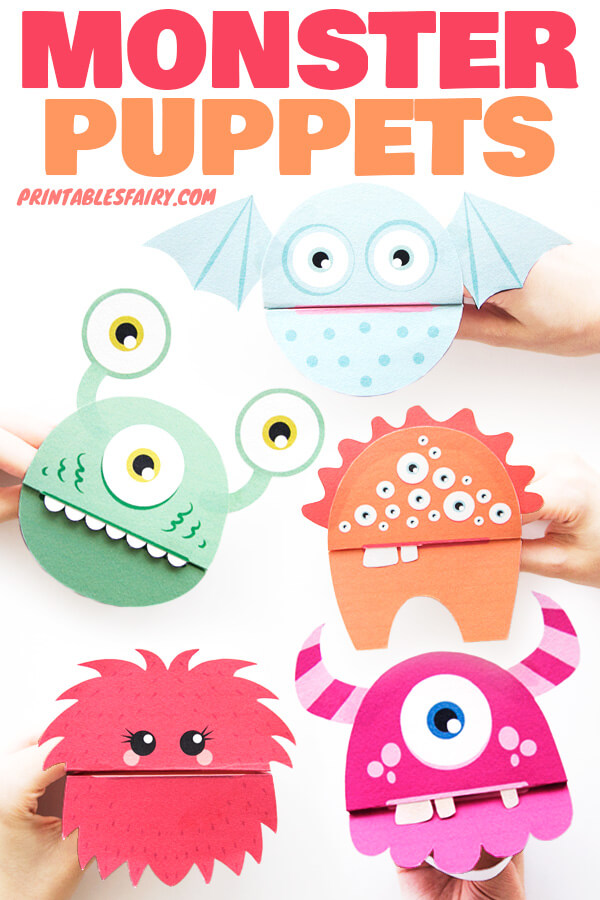 Monster Hand Puppets