Mother's Day is drawing near, and if you haven't planned anything for mom yet, why not surprise her with a cute breakfast in bed!
And since moms deserve extra love, I designed these Mother's Day Breakfast Printables to make this surprise even more special.
If you're a mom reading this, leave it up on your computer for your kids or husband to find. All they have to do is print the kit and plan on a menu.
Let them spoil the World's Best Mom on her special day with our adorable Mother's day breakfast kit!
What do you need to set up this Mother's Day Breakfast Printables
To use this breakfast kit, you will need:
White paper
White cardstock
Printer
Scissors
Pens & markers
Glue Stick
A piece of thread
Washi tape
Toothpicks or straws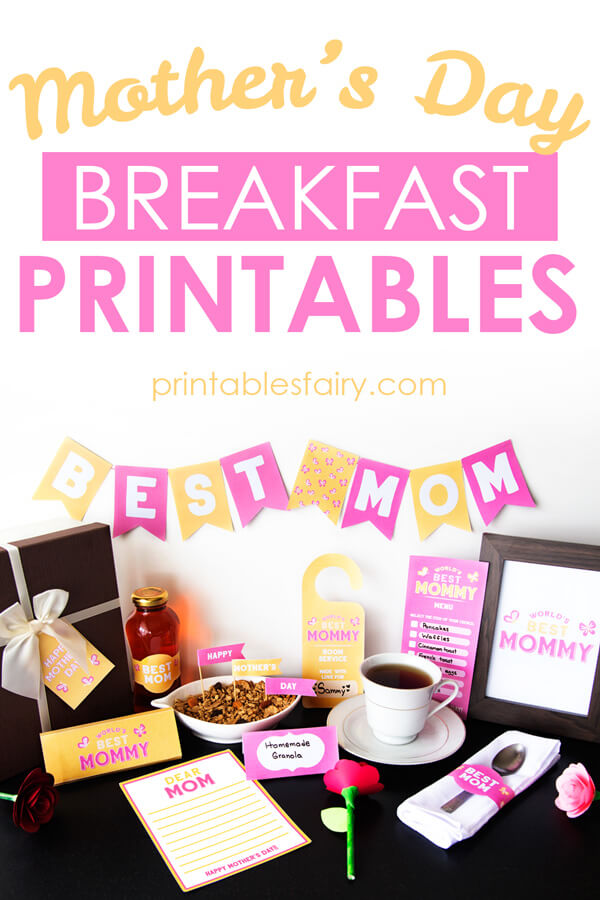 What's inside this Mother's Day Breakfast Kit
The Best Mom mini banner
Best Mom Napkin/Bottle Wrappers
World's Best Mommy Candy Bar Wrappers
Mother's Day Food Toppers
Butterfly Tent Cards
Room Service Door Hanger
DIY Mother's Day Menu
Mother's Day Frameable Arts
"Dear Mom" Letter
Mother's Day Gift Tags
That's it! 10 different items that you can put together and create an unforgettable Mother's Day breakfast.
Be warned, moms will love it!
CLICK HERE TO GET THE MOTHER'S DAY BREAKFAST KIT NOW!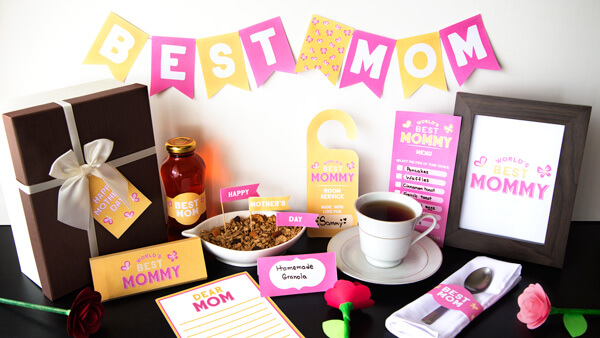 How to Use the Mother's Day Breakfast Kit
Dad, are you ready to start setting up this breakfast? Here is how.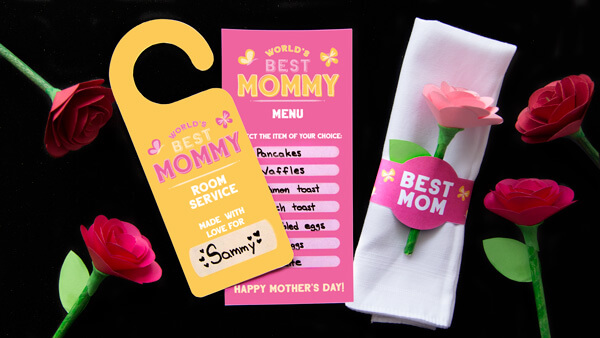 DIY Mother's Day Menu
Look up to different breakfast options a couple of days before Mother's day and make your kids fill in the menu. They definitely enjoy this part the most and will be looking forward to what mom picks.
Take a look at these super simple breakfast in bed recipes, or think of what mom likes to have for breakfast the most.
Besides the items on your menu, you can always have fresh fruit, bread, granola, yogurt, tea, or coffee.
Room Service Door Hanger
Start the morning with your kids telling mom about this fun surprise. They can bring her flowers or any craft they made.
Bring the Room Service Door Hanger and put it outside the door. It's just a little reminder that mom is getting pampered on her special day. Don't forget to make your kids write her name!
Then, have mom select her breakfast in bed order and get comfy.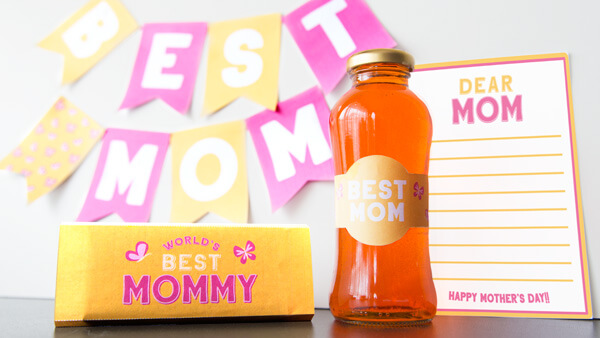 Best Mom Mini Banner
Now it's time for you to prepare her special meal meanwhile your kids decorate her tray with all these beautiful printables.
They can start with the mini banner. Print it on cardstock and cut it out. Then, stick a thread to the back with washi tape.
You can secure the banner to paper straws to make it stand.
Candy Bar Wrappers
To make mom's morning even sweeter, you can gift her a cute candy bar with our printable wrappers.
They come in 2 sizes Regular (pink) and Large (yellow).
Mother's Day Letter Stationery
Let your kids tell how much they love mom with this printable letter stationery.
This will quickly turn into mom's favorite gift, she will treasure it forever.
And if your kids want to show their appreciation even further, you can use our free printable All About My Mom that includes fun prompts and space for drawings. It also matches this kit perfectly!
Bottle/Napkin Wrappers
Now it's time to bring mom her favorite drink, what better way to decorate it than with these bottle wrappers.
You can also use them as napkin wrappers or to decorate any other gift.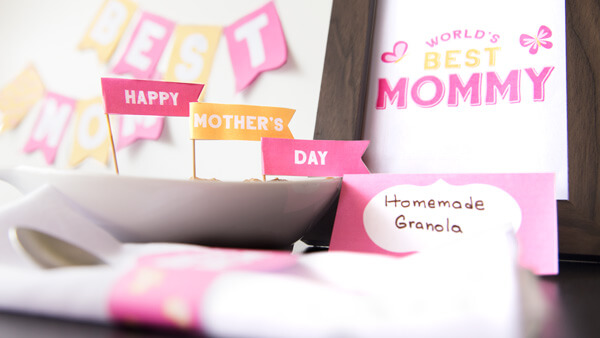 Mother's Day Printable Art
I included 2 different wall art printables. One says World's best mommy and the other one says, Who needs a superhero when you have mom. Select the one you like the most, print it on white cardstock and cut it out.
You can frame it on a 7×11 in portrait or use it as a card and let your kids decorate it if they want.
Mother's Day Food Toppers
To decorate your food, you can use the food toppers that come in 2 different colors (pink and yellow) and 5 different designs.
Print and cut them out. Fold them in half, secure a toothpick in the middle with tape, and glue it all together.
You can also use them on straws!
Mother's Day Tent Cards
You can also decorate your tray with the printable tent cards. They also come in yellow & pink and have cute butterflies on the back.
All you have to do is print and cut them out, fold them in half, and write down the name of your food.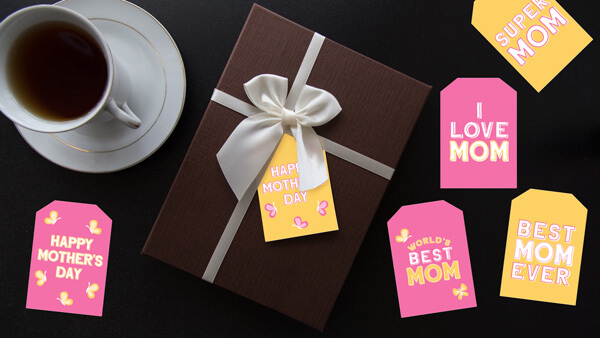 Mother's Day Gift Tags
If you have an extra gift, you can wrap it quickly with these cute printable Mother's Day gift tags.
They come in 6 different designs, as you can see in the picture above.
Get the Mother's Day Breakfast Printables
Create the perfect breakfast in bed experience for mom with this Mother's Day breakfast printables. It includes everything you need to make this morning extra special.
Don't wait any longer. Get it now by clicking the link below.
GET THE MOTHER'S DAY PRINTABLE BREAKFAST KIT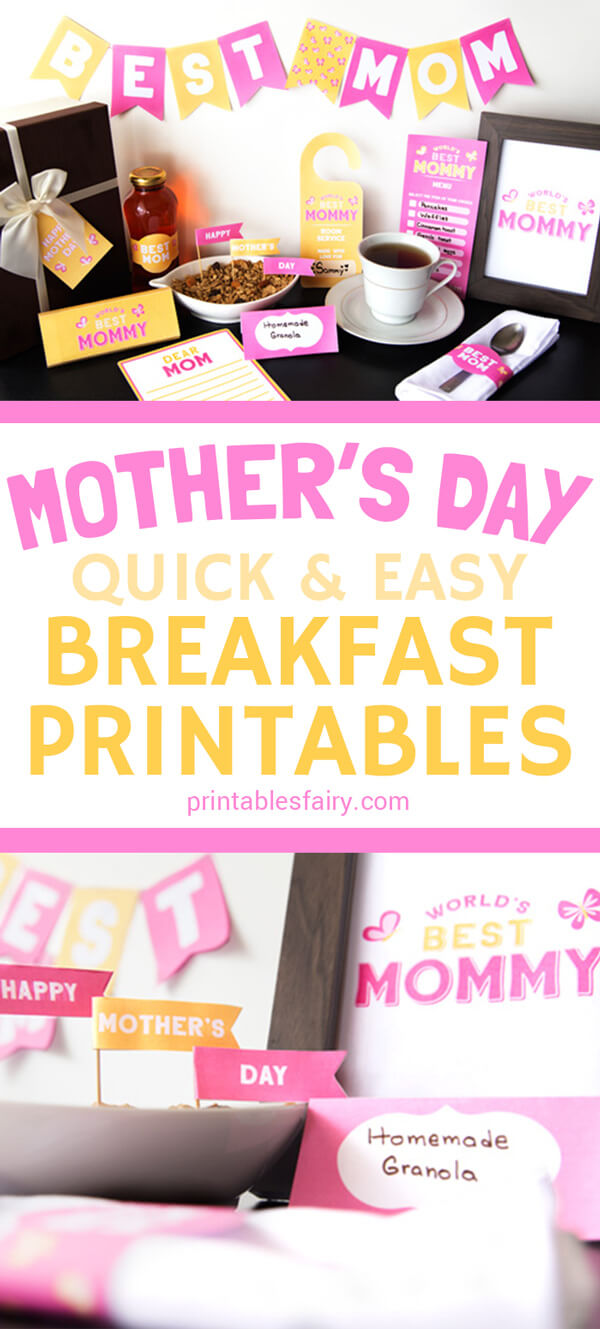 More Special Gifts for Mom
Looking for more meaningful Mother's Day ideas that you can put together quickly and easily? Check these out:
Mother's Day Breakfast Printables