Father's Day is sneaking upon us, and it's been really hard to find fun cards to make with toddlers and preschoolers.
That's why I designed these father's day finger painting activities for the youngest kids at home.
Of course, older kids can make them too, and join the fun! 😉
We love finger painting. I know it can be messy, but it is great to develop fine motor skills because it strengthens the finger and hand muscles. It also teaches kids about colors and fosters creative growth.
So, why not make a craft for dad while learning with your toddler!
We also like this craft because all you need is paper, paint, and (of course) fingers. Very easy, inexpensive, and can be done in no time at all!
Ready to make this Father's Day Fingerprint activities?
Keep reading to learn how (and to get our cute printable template designs).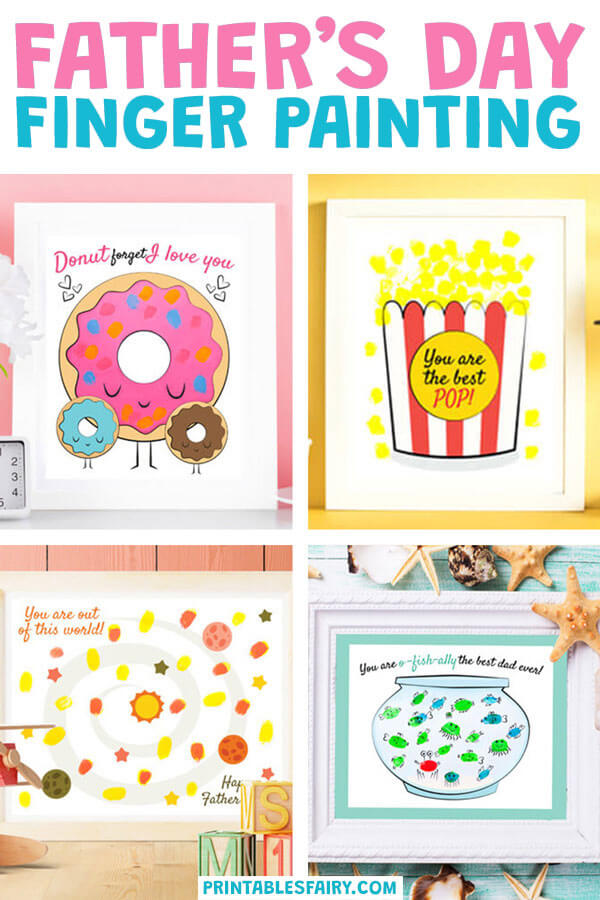 Father's Day Fingerprint Art Tutorial
We all want to make something special for dad on Father's Day, and what is more special for a father than a craft made by his children.
Perfect for sentimental dads!
Below, I share how we made this craft and show you the cute printable templates so you can pick your favorite and get it!.
Materials
First of all, you will need something to protect your working area from the colorful mess. A plastic tray, old newspapers, or paper towels will do the job.
I recommend having wet wipes handy to clean your kids' fingers when changing colors. Also, paper towels can be useful to wipe brushes and tables.
To make these cards, you will need to get the printable templates (keep scrolling to find them) and print them on white cardstock.
You will also need finger paint and a brush or ink pads in different colors.
Depending on the design you go for, you may also need a black sharpie marker to add some details.
And let's not forget about scissors for the final step.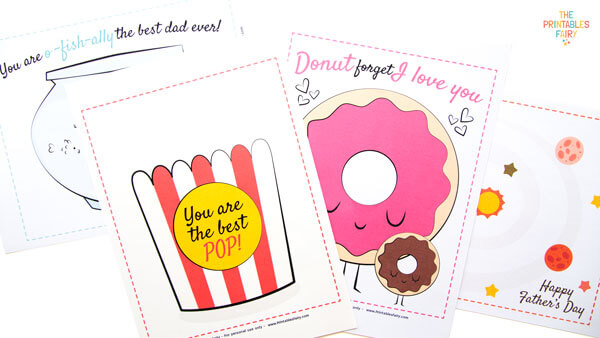 Instructions
Start by prepping your area and printing the templates.
Get your toddler ready to finger paint. Use a brush to apply a light layer of paint to your kid's finger and start stamping onto the cards.
It's that simple!
Then, once the paint has dried, add some details with a black marker if you want. You can draw eyes, mouths, stars, hearts, or whatever you want. Just let your kids complete their artwork before trimming it so that they can go all the way up to the edges.
Finally, all you have to do is cut out the card along the dotted lines to complete this art project.
You can gift them on their own or place them on portraits. They look so cute!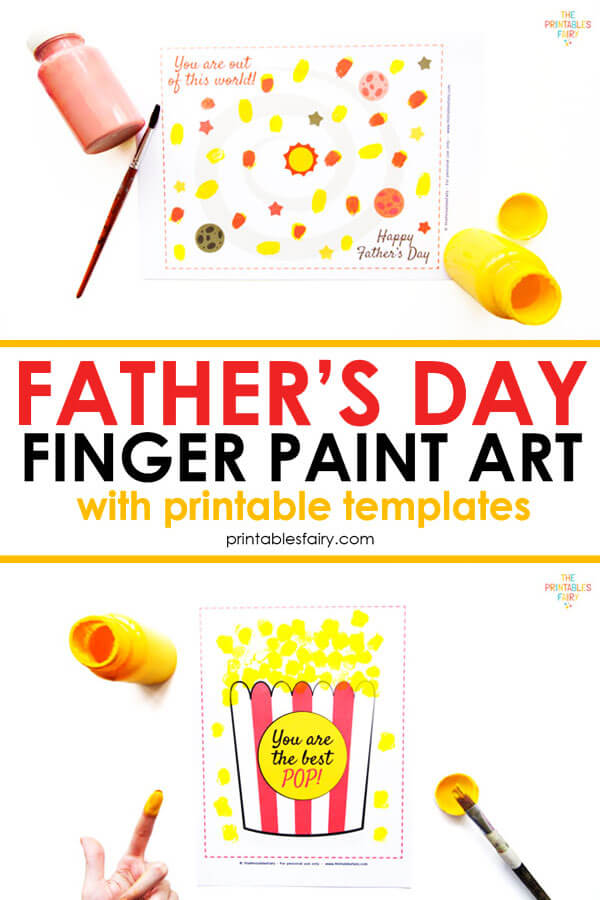 Father's Day Finger Paint Templates
To create these Father's Day masterpieces, I designed 4 different printables.
They all come in a PDF file set up on a US letter-sized sheet (8.5 x 11 in) with trim marks to cut down to an 8×10 in. card.
You can also print them on different paper sizes by hitting Fit on Page on your printer settings, but keep in mind that the size of the final card will change slightly.
There is also a black and white version included with each design, in case you need to print multiple copies for an entire classroom.
Pick the Father's Day Art Template you like the most by clicking on the links or get them all at the end of the post!
Donut forget I love you
The first design I created was this Donut card.
Kids should use their fingerprints to add sprinkles to the donuts. We used yellow, pink, and blue shades, but you can use any color you want.
This card is perfect for granddads too!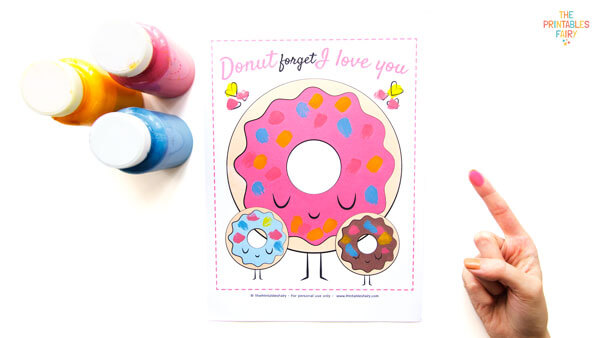 You are o-fish-ally the best dad ever!
We had so much fun filling this fishbowl with fingerprints!
If you are using finger paint, you may want to go over the fish drawings with a black sharpie marker.
There is also enough space to let your kids add their own animals, just like we did below. Once the paint has dried, draw the cute faces with markers.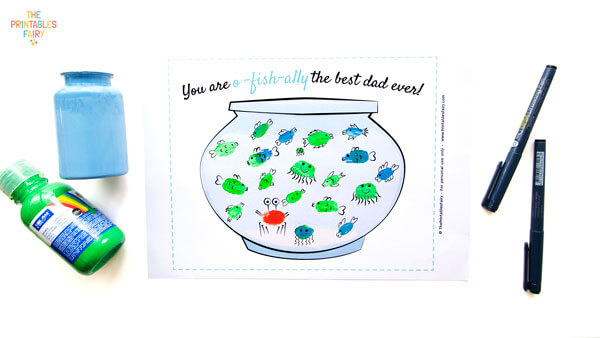 You are the best pop!
If you are looking for something simple, then you should get this design. All you need is yellow finger paint to fill the bucket with popcorn.
After trying different techniques, we found out that making crosses was the best one to make the fingerprints look like real popcorn.
Kids loved working on it despite its simplicity, and the final result was beautiful!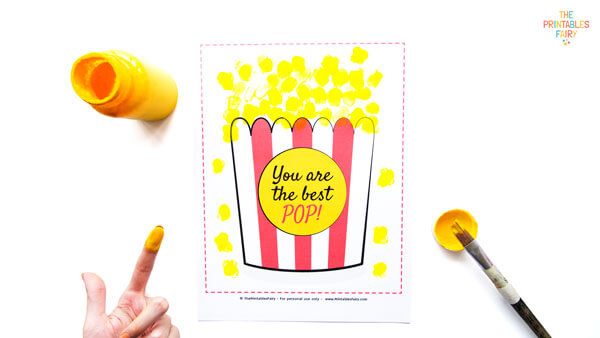 You are out of this world!
This space-themed card includes the phrase: Happy Father's Day. Perfect for the occasion!
Your kids have to add their fingerprints as if they were stars or planets. You can also add drawings of stars once the paint dries. It will look fantastic either way!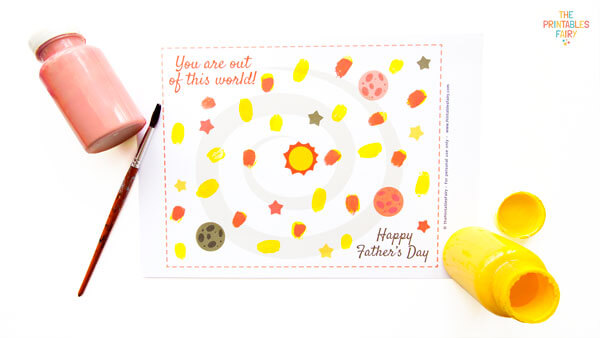 Father's Day Finger Paint Art Bundle
Do you like all the templates and can't pick just one?
Get them all at a super discounted price by purchasing the bundle.
Click the link below to grab yours now and start working on this craft for dad!
GET THE FATHER'S DAY FINGER PAINT ART BUNDLE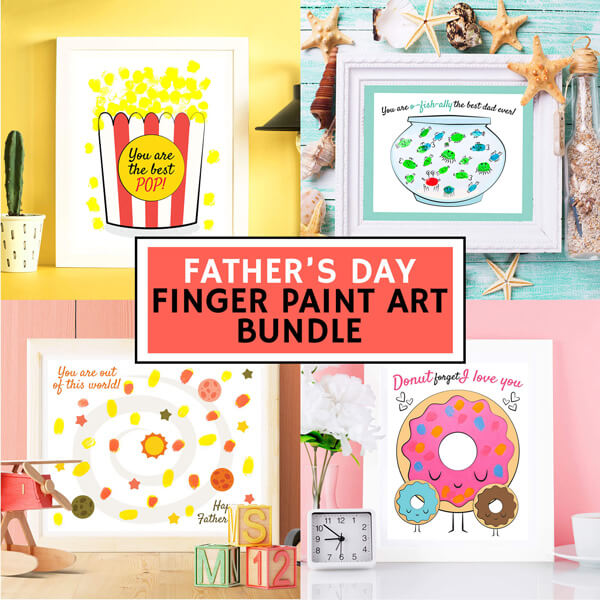 *Please remember that these printables are for personal use only. You may not sell, share, or distribute the files.
More Father's Day Cards To Make With Your Kids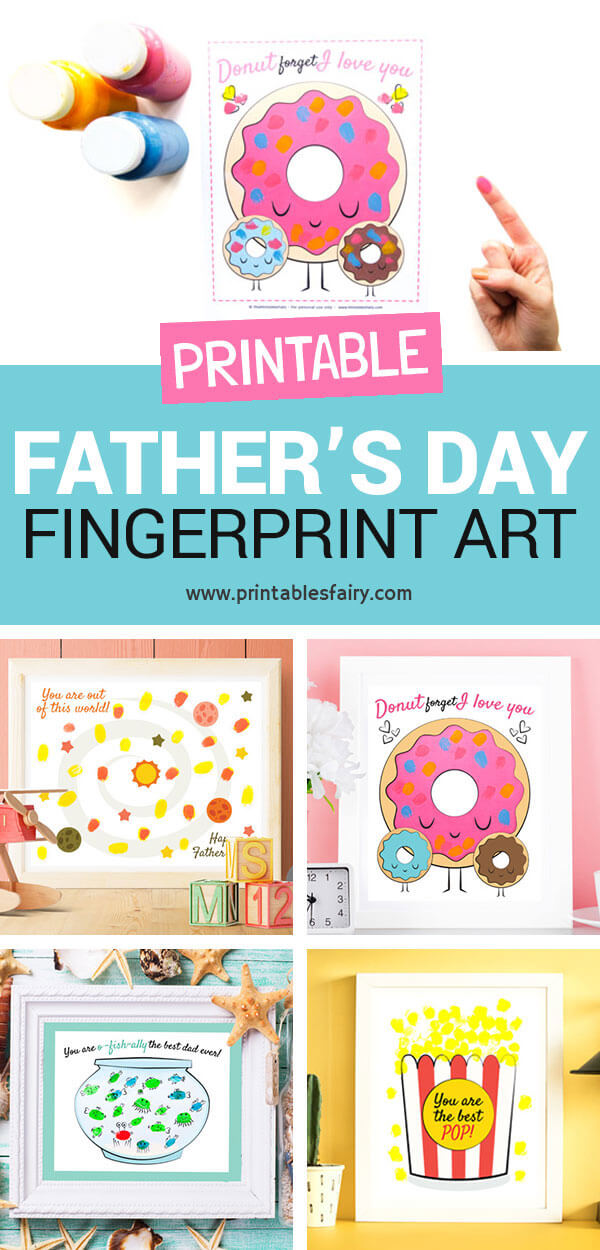 Father's Day Toddler Finger Painting Activity