If you want to teach your kids what gratitude is, but are not sure how to go around it, here I have a super simple activity for you!
This Printable Gratitude Jar is a fun way to help kids understand this tricky concept and teach them how to express gratitude.
You can also make this Gratitude Jar with your whole family. It will help you get closer and remember little things to be thankful for.
Or, use this jar as a fun Thanksgiving countdown! We like it because, every day, kids will have to reflect on why they feel thankful and think of how they can show it.
Now, you might be asking, why should you start this Thankful Jar?
Well, the answer is pretty simple.
Sometimes, with all the things happening around the world, we forget that we already have the most important at home.
And not only that, but gratitude has other great benefits to your family, such as increased happiness, better sleep, and a stronger immune system. It's just fantastic to improve our lives!
Ready to focus on showing gratitude?
In this post, I will show you the many different ways you can use these printables and how you can start your own Thankful Jar in 4 simple steps.
Scroll down to get started!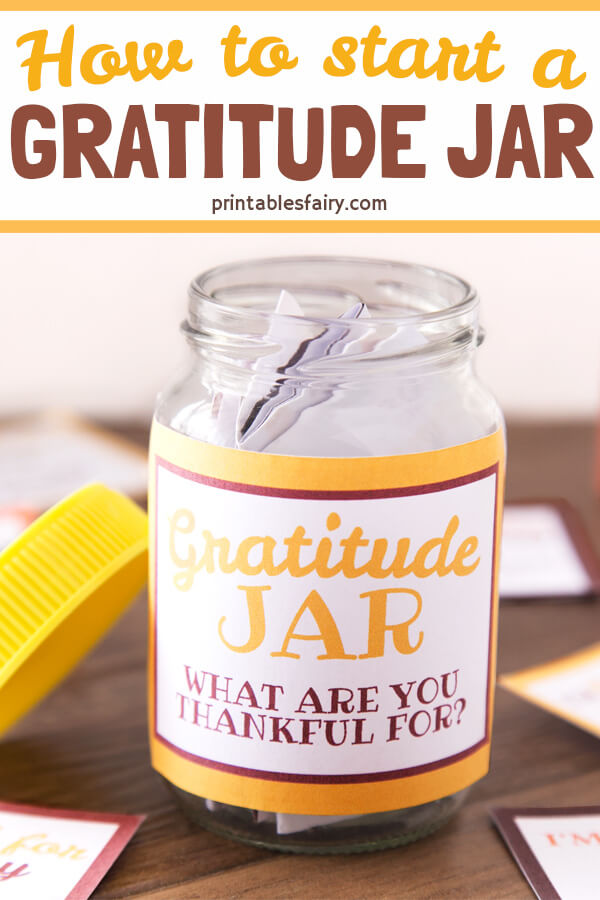 What Do You Need?
To set up your own Thankful Jar, you will need:
A jar (you can reuse one like us, or you can buy one at the dollar store)
Gratitude Jar Printables (Get them here or at the end of this post)
White Paper
Printer
Scissors
Tape (Washi tape, clear tape, or double-sided tape will work)
Markers
How to Make a Gratitude Jar?
Setting up your jar using our printables is actually pretty simple, just follow these 4 easy steps:
Get the Gratitude Jar printables and print them on white paper. Scroll to the end of this post to read what is included in this fantastic set.
Cut out each of the cards and the label.
Use tape to attach the label to the front of the jar.
Fold the cards and use them!
Below I'm sharing 3 different ways you can use your thankful jar printables with your family.
Using a Thankful Jar
There are many ways you can use our printables to start your gratitude jar.
Regardless of which one you choose, you'll need to set aside a few minutes each day to complete the activity and reflect with your kids.
Full Gratitude Jar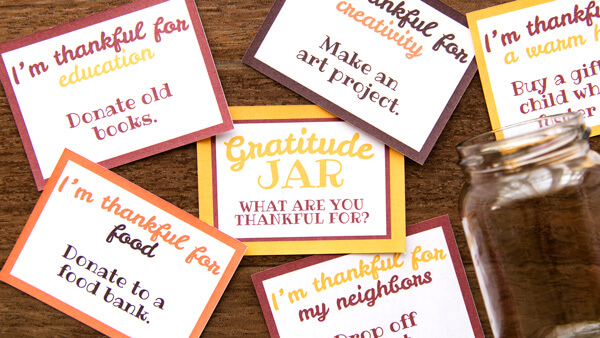 To start with a Full Gratitude Jar, you'll have to print the already filled-in notes, fold them, and place them inside the jar.
Every day, your kids have to pull out a card, read it, and reflect on it. There is also an activity idea for your family to complete.
Each of these cards includes one thing to be grateful for and one thing your kids can do to show it. For example, we have:
I'm thankful for my family. Have a family game night.
I'm thankful for food. Donate to a food bank.
I'm thankful for my grandparents. Call and tell them you love them.
And many more! In total, there are 15 different notes to fill in your jar.
Empty Gratitude Jar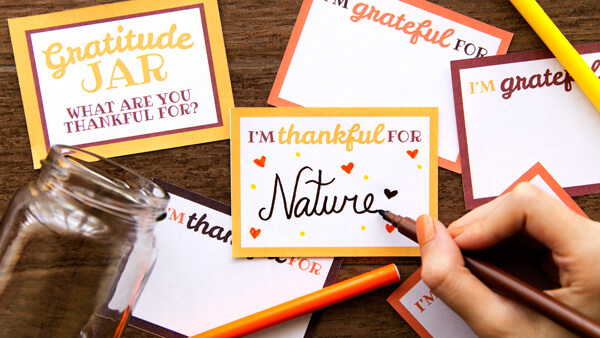 You can start with an empty jar and the empty cards: "I'm thankful for" and "I'm grateful for" included with the printable set.
Every day, you and your kids have to write a thing you are thankful for onto one of these cards and put it in the jar. If you have young kids, you can let them draw instead.
Take this moment to talk about why you feel grateful, and let your kids write it down if they want to.
I know that coming up with the answers can be a little tricky for kids. You can help them by asking questions and reflecting on your day-to-day life, the people you know, the places you have been to, and the things you have and others may not.
Once your jar is filled up, you can sit with your family and read all the notes.
Mixed Gratitude Jar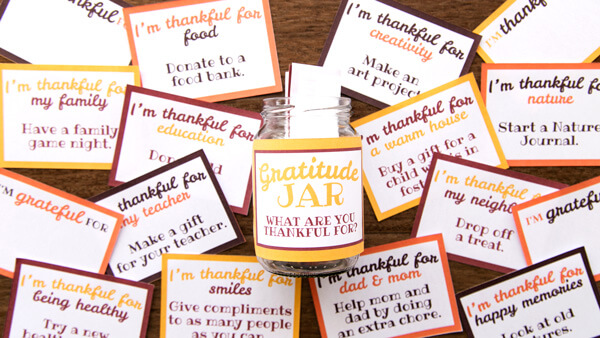 This is my personal favorite way to fill our Gratitude Jar!
Start by printing all the filled-in notes and the second page of the empty notes. This way, you'll have 23 different notes combined.
If you want more notes for more days, just print more copies of the 2nd page of the empty ones.
Fold each note, mix them all together, and put them into the jar.
Then, take out a paper every day. Some days you'll get a filled paper with a gratitude prompt, and other days you'll get an empty paper for your kids to draw or write down what they are grateful for.
No matter which note you get, don't forget to take this time to talk about what and why you are thankful for, and how can you show it to the world.
Printable Gratitude Jar For Kids
The printable Gratitude Jar set includes 2 different files:
The Filled-in Gratitude notes (15 filled notes + jar label)
The Empty Gratitude notes (15 empty notes + jar label)
Each note and the label are 3.6 x 2.6 inches approximately.
You can print them on both A4 paper (21 x 29.7 cm) and US Letter paper (8.5 x 11 in).
Mix and match the printables to create your perfect set and complete this gratitude activity with your family now!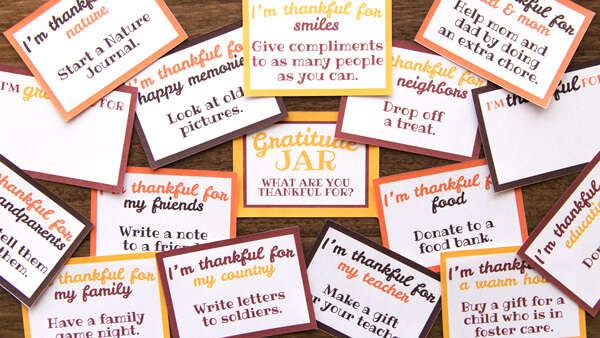 Ready to start a new family tradition and help your family grow strong?
Click the link below to get your printables and start your own Thankful Jar!
GET THE GRATITUDE JAR PRINTABLES
*Please remember that these printables are for personal use only. You may not sell, share, or distribute the files.
More Gratitude Activities for Kids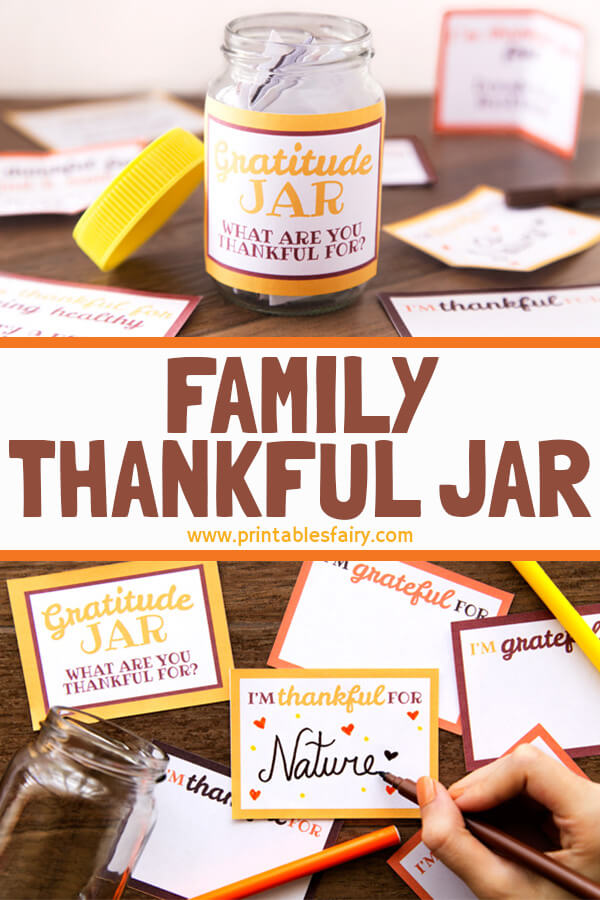 DIY Thankful Jar