This paper turkey craft is the latest addition to our Thanksgiving crafts collection!
We were missing an activity aimed towards older kids, and this one is just perfect for grade-schoolers.
I designed a free printable turkey template to make this craft even more simple. All your kids have to do is cut it and follow this simple tutorial!
Oh! And the template can be printed in full-color or black and white, just pick the one your kids want.
To download them, just scroll down to the end of this post.
These turkeys are perfect to craft on a cold rainy day, whether it is with your students or at home with your kids. You can use these turkeys as cute centerpieces, place settings, or just to decorate your house.
If you're hosting a Thanksgiving party, it would also be nice to set up a crafting table for the kids and print many copies of this template, so everyone can make their own paper turkey.
I can guarantee that your children will love making these turkeys.
Keep reading this post to learn how to make them and get the printable templates.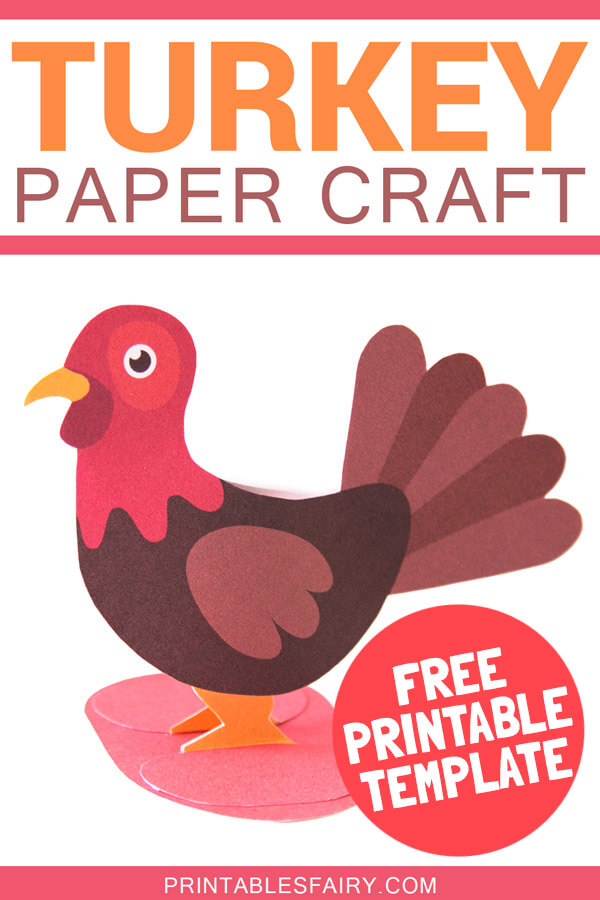 3D Paper Turkey Craft
Do you know what kids love the most about this project?
It's that this 3D turkey can stand on its own feet! Who wouldn't like that?
It's super easy to make. We used just a couple of simple supplies that I'm sure you already have at home and followed a 6-steps tutorial.
I also included video instructions right under the written tutorial, in case you prefer to watch.
Scroll down to learn how to make this easy paper turkey, and download the template at the end of the post.
Materials
3D Turkey template (get it for free at the end of this post)
White cardstock (it's very important to use cardstock; otherwise the turkey won't stand up on its own)
Printer
Scissors
Glue Stick
Coloring supplies (if you use the Coloring Version)
How do you make a paper turkey?
Print the template on white cardstock and cut it out.
If you are using the B&W version, now it's time to let your kids color their turkeys.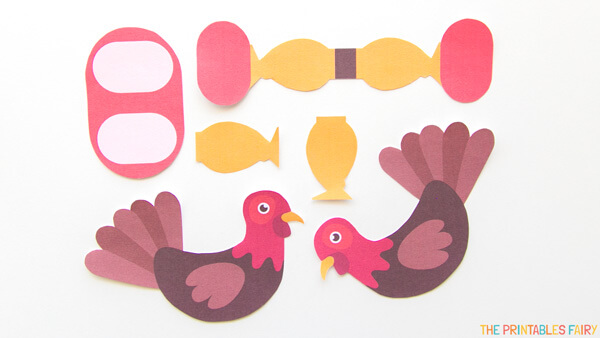 Take the legs piece and fold it across the lines shown in the picture below.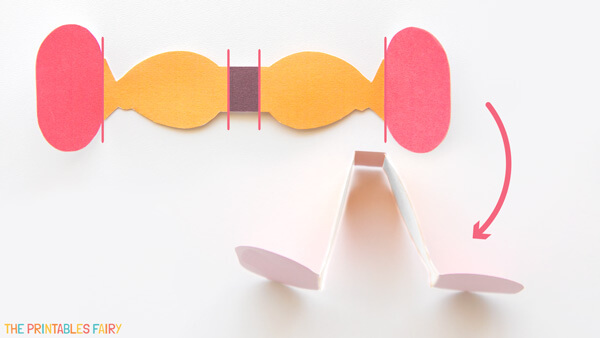 Flip over the legs and place them on a flat surface. Then, glue the individual leg pieces, as shown below, to make them double thick.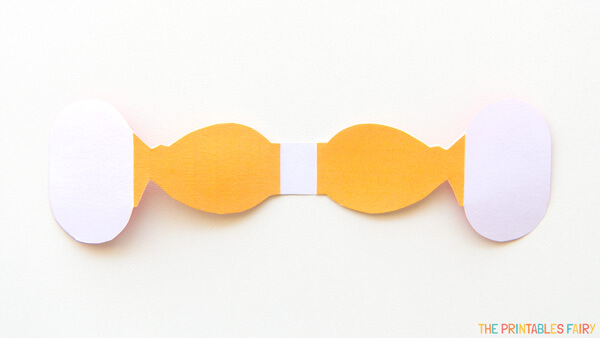 Fold the legs again and glue them on the base.
Make sure to put the red ovals (legs) on top of the white ones (base).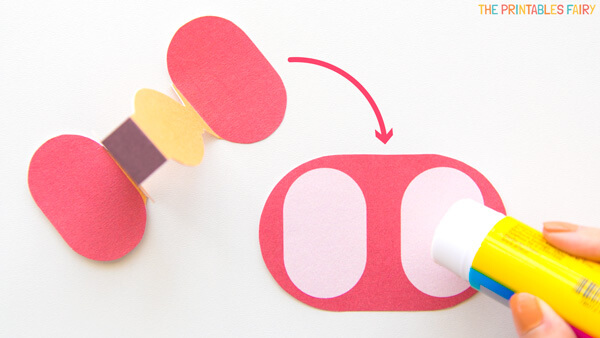 You'll end up with a piece that looks like this and stands on its own.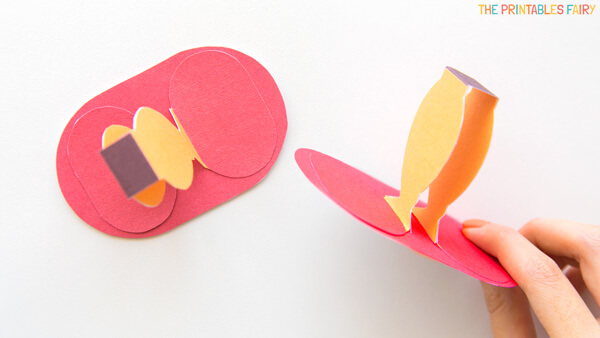 Now, take one turkey piece, put the colored side down, and add some glue on the head and the tail (the red areas marked below).
Glue the two turkey pieces together and let dry. Once they are dried, you'll be able to lightly push the sides to the center and open a pocket in the middle.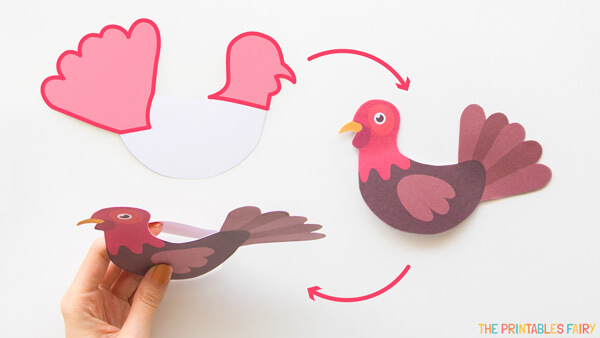 Finally, insert the turkey into the legs to complete your turkey craft.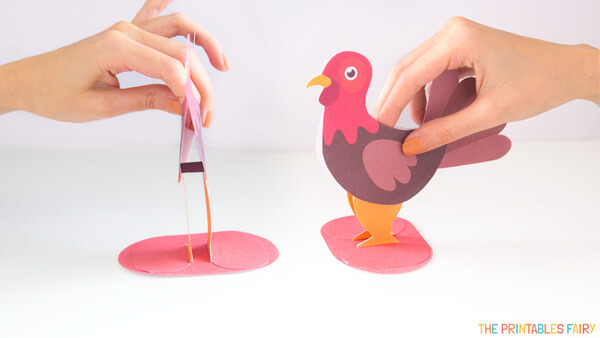 Now that your 3D paper turkey is completed, you can use it as a centerpiece to decorate your home on Thanksgiving.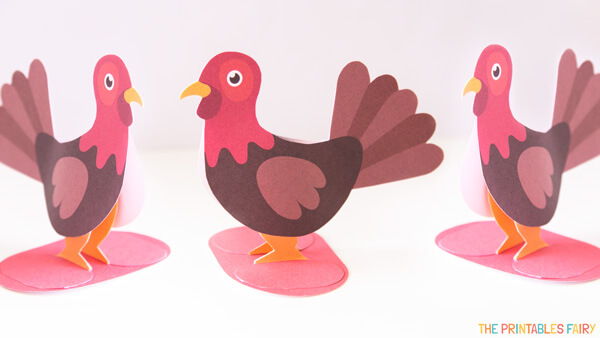 Video Tutorial: How to Make a Paper Turkey
If you need extra help with any of the steps above, watch this video for a step-by-step guide on how to make this paper turkey with our free printable template.
And don't forget to subscribe to my YouTube Channel for more easy paper crafts and holiday ideas.
Printable Paper Turkey Template
Ready to make this fun turkey craft?
This template includes 3 versions of this turkey craft. A black-and-white version, an orange version, and a red version, which is the one I used in this tutorial.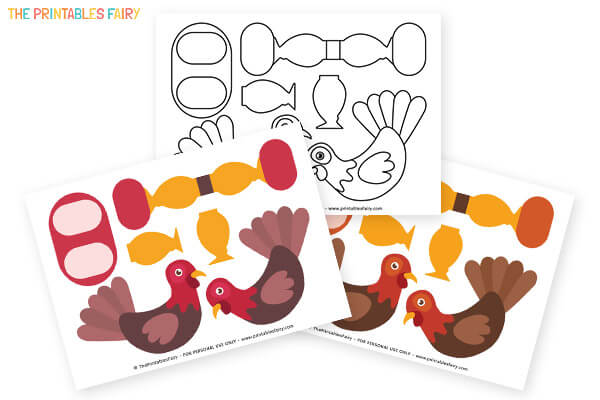 You can print as many copies of the one you like the most on A4-sized cardstock. If you want to print on a different size, make sure to select "Fit Size" in your printer settings.
Click the link below to download your free printable turkey template.
*Please remember that these printables are for personal use only. You may not sell or distribute the files. If you want to share them, please link to this post and not directly to the PDF files.
More Turkey Crafts & Games for Kids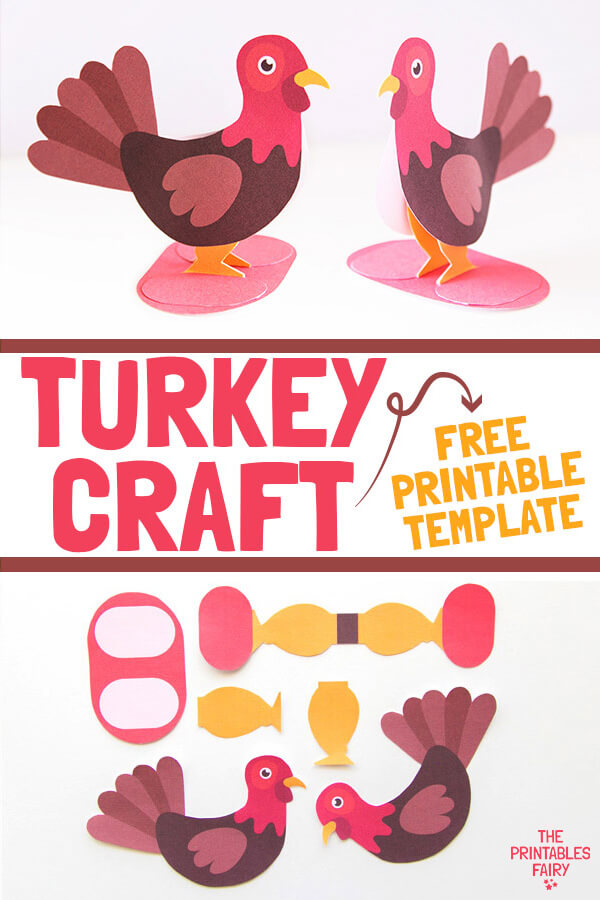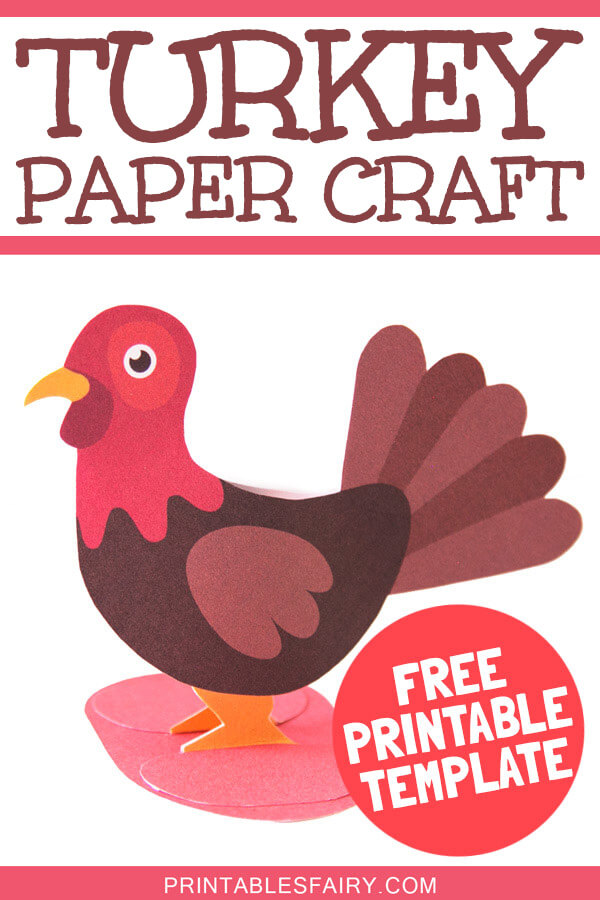 How to Make a 3D Turkey Out Of Paper