There is no manual for teaching gratitude. In fact, there are many ways to raise grateful kids, and one of those ways is journaling.
I designed this printable gratitude journal for kids to make it easy for children to express thankfulness for what they have in life.
I came up with this idea after having so much success with our nature journal. It seems like kids enjoy and learn things better when they have creative prompts and writing ideas.
A gratitude journal is a small notebook that encourages your kids to write, paint, draw, and reflect on the people and things they appreciate the most.
Basically, it is a space where your kids can express their feelings, experiences, findings, and ideas, all to establish the habit of gratitude.
This simple guide will teach you how to start a gratitude journal with your kids.
First, you will find the reasons why starting this journal is fantastic for your family.
Then, I'll share what to write in your gratitude journal. Including some prompt ideas and free printables to get you and your family started.
And finally, I will show you some journaling alternatives that you can also use at home to teach gratitude.
Keep reading this post to find it all!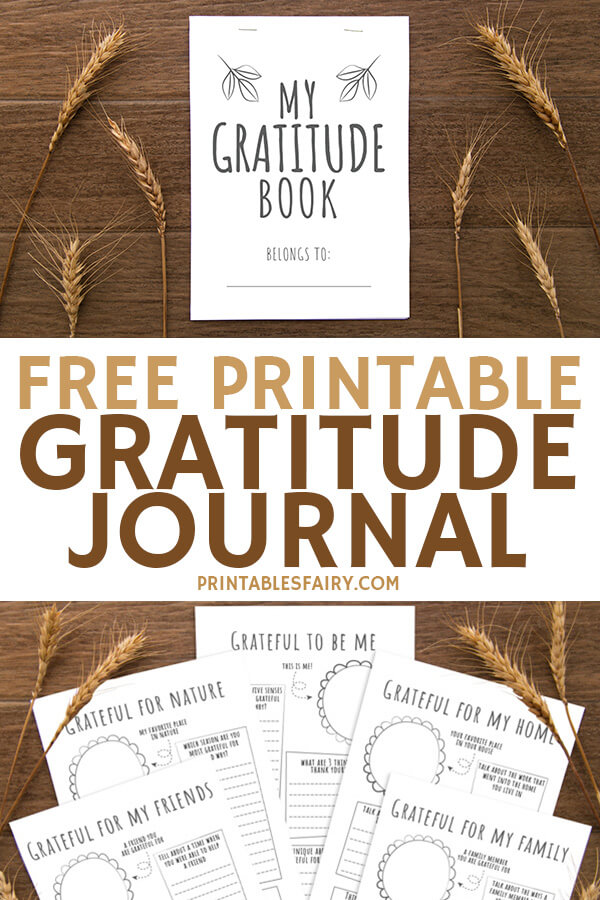 Why You Should Keep a Gratitude Journal with Your Kids
Studies show that gratitude is strongly connected with happiness. And those who write about what they are thankful for are more optimistic, improve their health, and have higher life satisfaction and better relationships.
Journaling can also benefit our kids. It will help them improve their writing and communication skills and help them deal with their emotions.
Personally, we have found that keeping a gratitude journal has helped us:
Be happier and lower our stress levels
Get perspective on what really matters in life
Learn more about ourselves
Be mindful of how we express our gratitude
Be more generous and kind with others
As you can see, gratitude journaling seems to have a great impact on our lives. Let me show you how to start your own!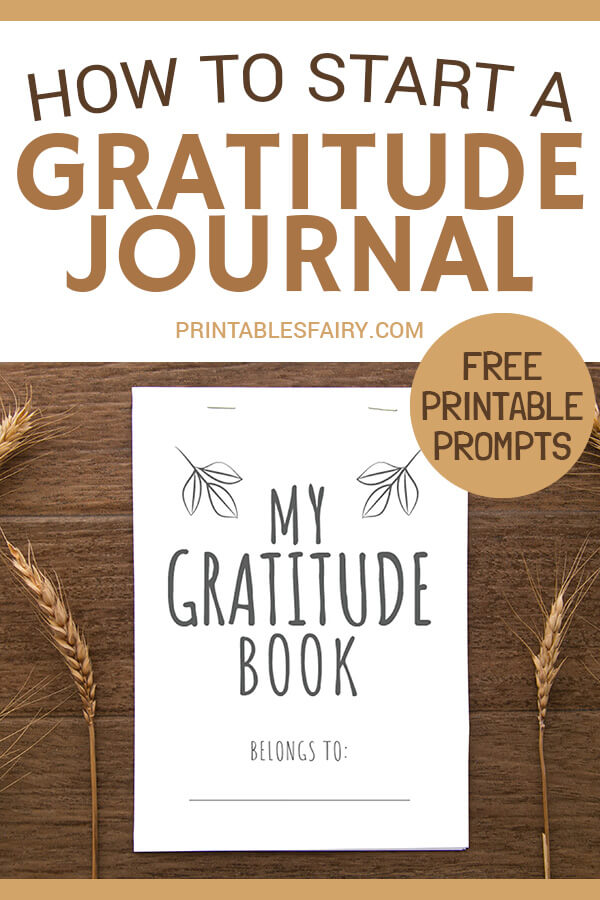 How to Start a Gratitude Journal with Children
There are no rules on how to start a gratitude journal.
You won't need a particular book or diary to get started. Any empty notebook will work just fine. But if your kids feel extra craftsy, let them make their own journal with our printables.
You'll also need basic supplies such as pens, pencils, markers, and colors.
All you have to do is sit with your kids for a couple of minutes every day to write about their feelings and thoughts.
I know that writing can get a little boring for some kids, so feel free to also include creative prompts like making a collage, composing a song, or drawing.
Just have fun and remember that the only important thing here is focusing on being grateful. Help your kids become aware of the people and things they have and reflect on why they appreciate them.
If you are not sure what to write in your journal, down below, you can find a free printable template that includes fun activities and questions to get you started!
Printable Gratitude Journal for Kids
This printable journal includes many different writing prompts and fill-in-the-blanks designed to make gratitude a fun practice for your kids.
You can download it for free at the end of this post and print it.
Print the pages double-sided on regular white paper, fold them in half and staple them in the middle.
Or, print single-sided pages, cut them along the dotted lines, and staple to the top.
Start by making your kids decorate the cover of their journal, write their names, and complete one activity each day.
The first page included is People I Am Grateful For.
Here, your kids have to list ten people they are grateful for. They can be family, friends, or strangers.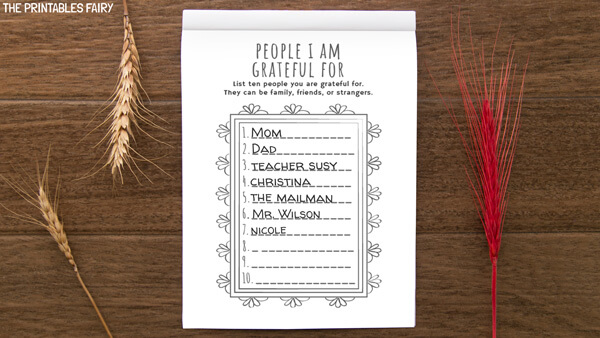 The next activity is My Gratitude List. Here, kids have to fill in the blanks with things they are thankful for, such as places, food, games, movies, etc.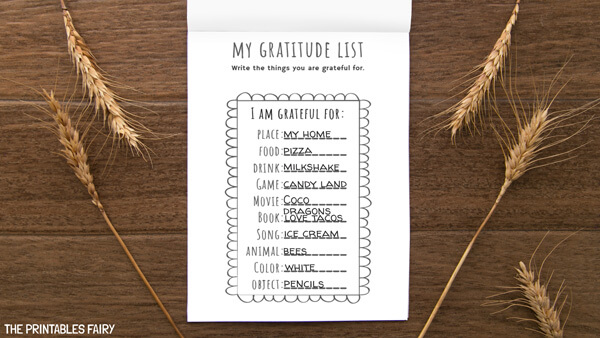 Then we have a Morning Gratitude Jar.
You'll have to set up some minutes in the morning to make a list of things you are grateful for.
I recommend you do this activity on the weekend, so you have time to talk about the reasons why your kids appreciate these things.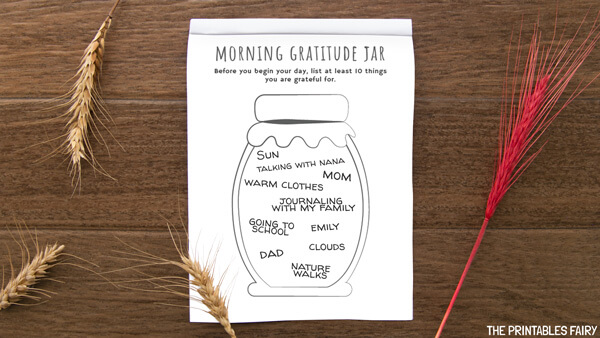 After that, you can find The ABCs of Gratitude.
In this activity, kids have to pick a letter of the alphabet and think of things they are grateful for that begin with it.
They can draw one or multiple items, write them down, or make lists.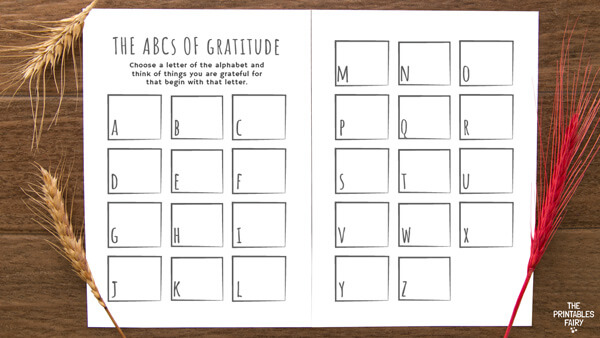 I also included a writing and drawing prompt called Grateful for My Day.
In this activity, kids are required to draw a happy moment of their day and answer What is their biggest obstacle right now and what are they learning from it?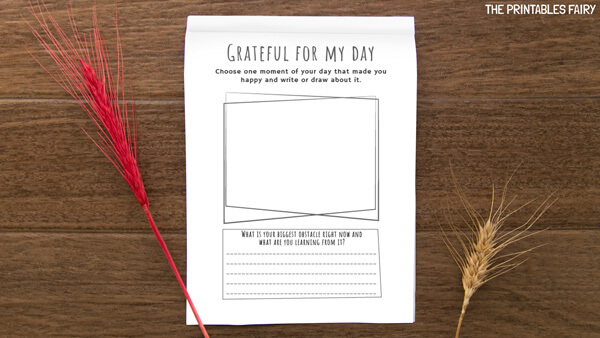 Finally, you have 5 different gratitude activities that include 1 drawing prompt and 3 writing prompts each. We have: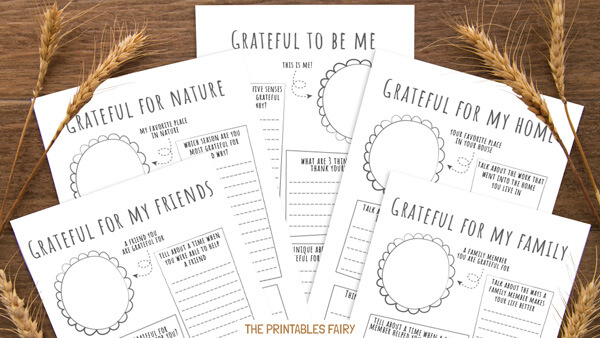 Grateful to Be Me
Draw yourself.
Which of your five senses are you most grateful for and why?
What are 3 things you can thank yourself for?
What is something unique about yourself that you are grateful for and why?
Grateful for Nature
Draw your favorite place in nature.
Which season are you most grateful for and why?
What is your favorite activity to do outdoors?
What animal and plant in nature are you most grateful for and why?
Grateful for my Family
Draw a family member you are grateful for.
Talk about the ways a family member makes your life better.
Tell about a time when a family member helped you with a problem.
What is something unique about your family that you are thankful for?
Grateful for my Friends
Draw a friend you are grateful for.
Tell about a time when you were able to help a friend
When were you grateful for something a friend did for you?
Tell about a time you got to play with a toy that belongs to one of your friends.
Grateful for my Home
Draw your favorite place in your house
Talk about the work that went into the home you live in.
Talk about the people who work in your community.
Think about all the things that you own at home and what do they allow you to do.
Ready to try these activities?
Scroll to the end of this post to get them all!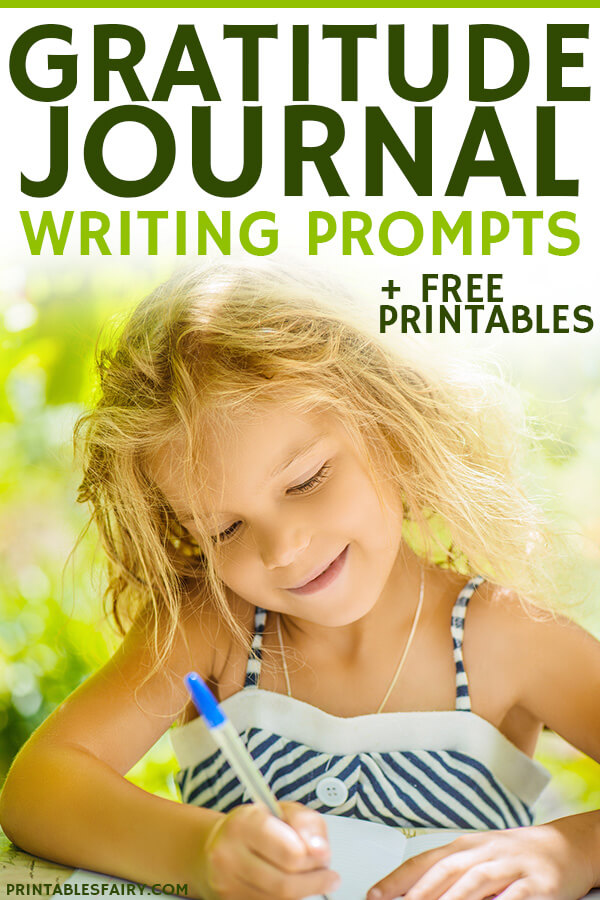 Gratitude Journal Ideas
If you liked our printable activities, but still want more ideas to cultivate an attitude of gratitude, add the following prompts to your journal.
Creative Prompts to practice gratitude:
Write a letter to someone who has positively impacted your life
Make a collage of things you are grateful for
Write a poem for someone you are thankful for
Write down quotes about gratitude
Make an acrostic using the word THANKFUL
Make a list of books about gratitude that you want to read
Write a song about gratitude
Make a list of ways you can help others
Draw how you look when you feel grateful
Make your own Gratitude Word Search and let someone in your family resolve it
Find photos of moments you are grateful for.
And if you want Gratitude Writing Prompts for your kids, you can try these questions:
Do you ever find it difficult to be grateful?
Think of something good you did for yourself recently and write yourself a thank you letter.
What abilities are you thankful to have and why?
What activities and hobbies would you miss if you were unable to do them?
Who has done something to help you this week? How can you thank them?
List 10 ways you shared your gratitude with other people today.
What is something you are grateful to have learned this week?
How do you feel when someone shares their gratitude for something you have done?
Write about a time when someone expected you to be grateful, but you weren't. What would you change?
Name and write about someone you have never met, but has helped you in some way.
Alternatives to a Gratitude Journal
If you feel like writing a journal can be a little too much for your kids, here are other fantastic ideas you can try instead:
Gratitude Tree: this easy activity helps children recognize the things they can be grateful for. Your kids have to write these things on the leaves of a tree to complete a wall art.
Gratitude Jar: this is another fun way to practice gratitude every day. Your kids have to pull a note from a jar to remember people and things to be thankful for. They will also discover ideas on how to show their gratitude.
Gratitude Scavenger Hunt: this fun activity is fantastic for active children as they have to find 20 things to be thankful for.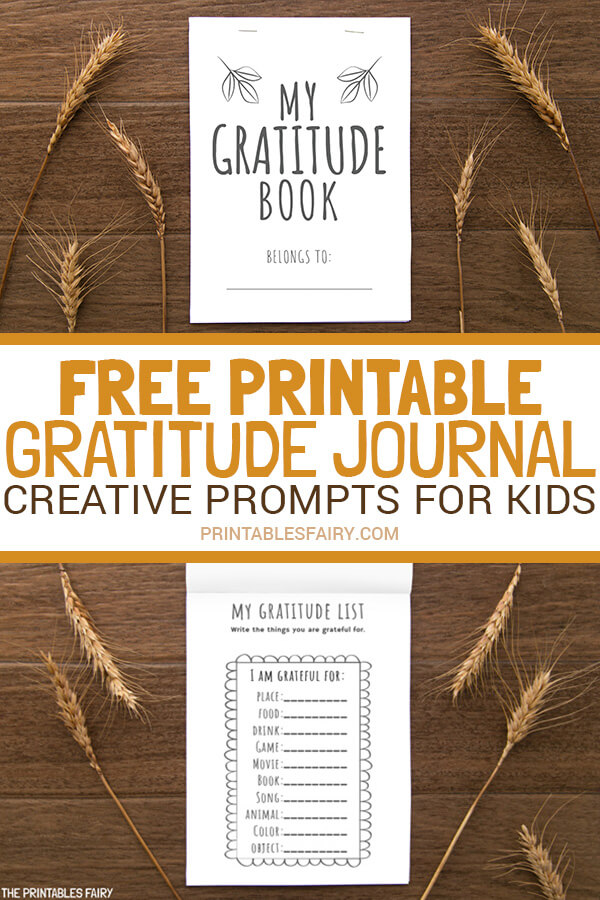 Download The Printable Gratitude Journal Template!
You'll receive a PDF file with all the activities mentioned above (print 2 per page).
Preferably, print on US Letter sized paper, or make sure to select Fit Page on your printer setting when printing on a different size.
Make as many journals as you want for your kids!
You can even try this activity every year to see how their answers change through the years and to remember how important it is to be grateful.
Ready to start your gratitude journal in 5-minutes or less?
Click the link below to download our free printable Gratitude Book!
DOWNLOAD THE GRATITUDE JOURNAL FOR KIDS
*Please remember that these printables are for personal use only. You may not sell or distribute the files. If you want to share them, please link to this post and not directly to the PDF files.
More Gratitude Ideas to Try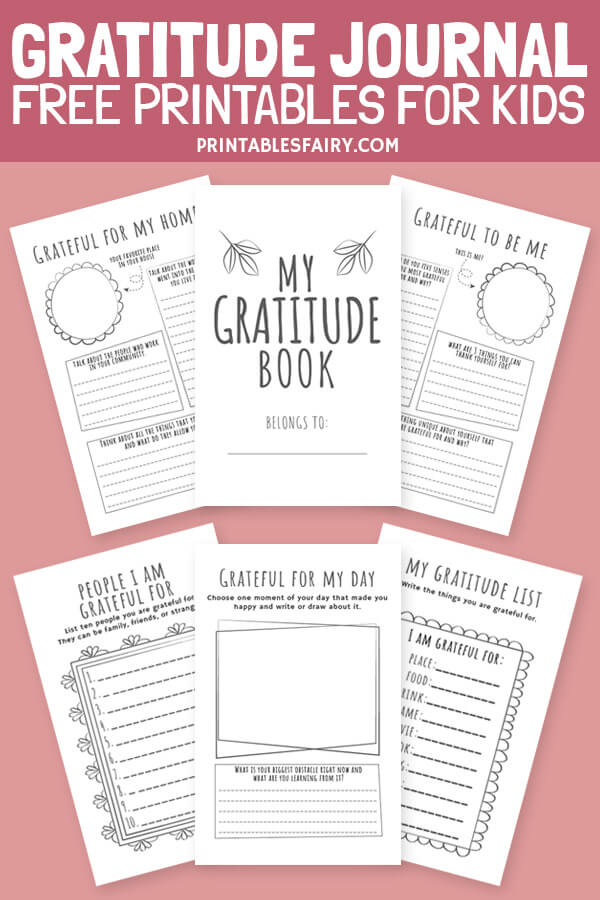 How To Start A Gratitude Journal For Kids