Are your kids excited to build their own haunted house but too young to do it on their own?
Then, these haunted house coloring pages are your answer!
With them, your kids will be able to DIY a haunted house in a simple and easy way.
Yes! You read that right. These are not your average coloring sheets. 😉
I designed them to work kind of like a puzzle where you can mix and match all the pieces and create as many different haunted houses as you can imagine.
These printables are perfect for kids of all ages. Though, the younger ones might require help from an adult to cut out all the parts of the houses.
They are perfect if you are looking for some Halloween coloring pages for kids who don't really like to color, as they can decorate their haunted houses, draw some spooky creatures inside, and, most importantly, play with them.
You can use them at home or in the classroom. Just print a copy of both pages for each child, or make small groups and make them share the pieces. You can also print each page more than once to have more options available to create your ghostly houses.
There are so many ways to use these printables creatively! I will show you some of them in this post, and you can download your haunted house coloring pages at the end.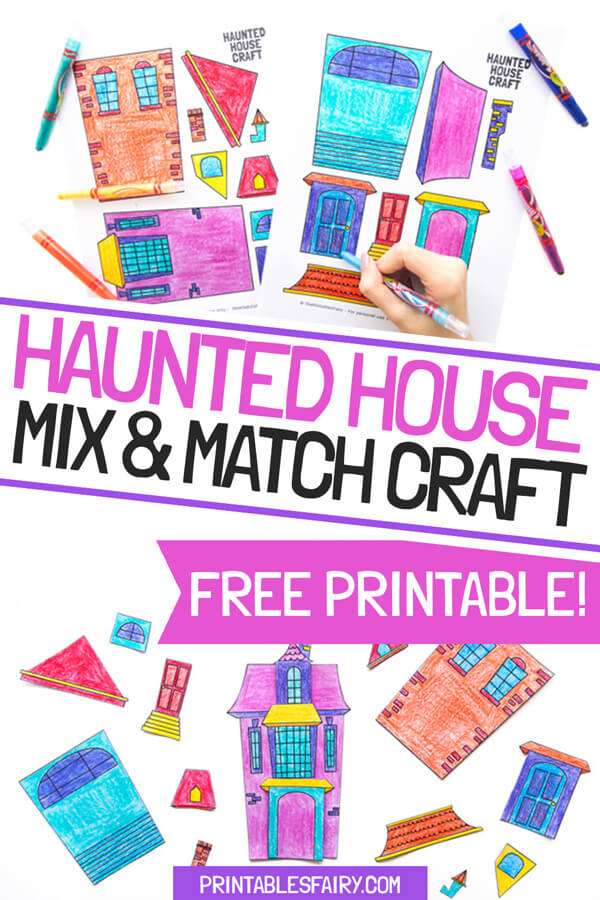 Materials For Your DIY Haunted House
To make your own haunted houses, you will need these basic supplies:
Free Printable Haunted House Template (Get it at the end of this post)
White cardstock or heavy paper
Printer
Coloring pencils, crayons, or markers
Scissors
Depending on the way you decide to use these coloring pages, you might also need these optional supplies:
Glue
Black Cardstock
Laminator and laminating pouches
Free Printable Haunted House Coloring Pages For Kids
These haunted house coloring pages are a fun way to let kids get creative while working on their fine motor skills and concentration.
To get started with this craftivity, all you have to do is print the coloring sheets on white cardstock or paper (I recommend cardstock, especially for younger kids, as it's sturdier).
Then, let your children color and decorate all the haunted house parts. As I told you above, let your little artists get as inventive as they want and encourage them to draw some small details like spiderwebs or mice holes, and add some spooky creatures on the windows, such as ghosts, witches, or even monsters.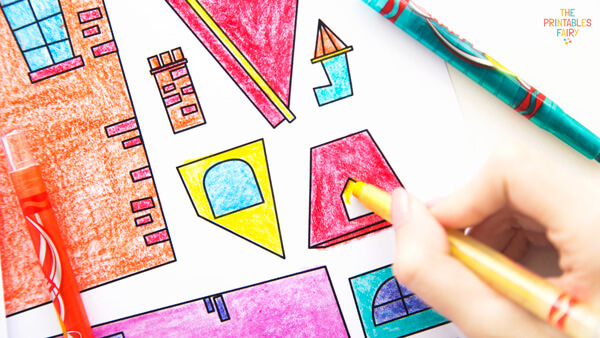 Once the coloring is done, use scissors to cut along each outline.
TIP: Color the pages before cutting, as it will make things way easier.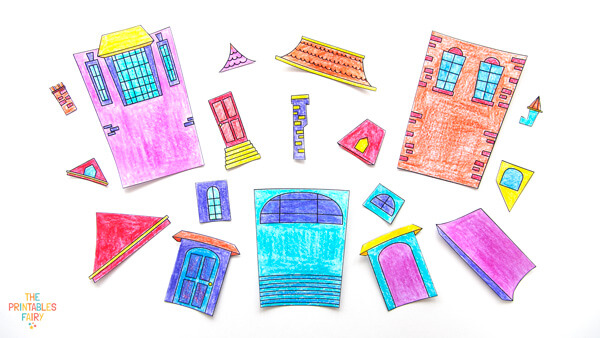 Now that you have all the 18 different haunted house pieces ready, it's time to mix and match some spooky buildings.
Just let your kids design their house however they want. Maybe they want to use all the pieces to create a big mansion, or perhaps just a couple to build a tiny home.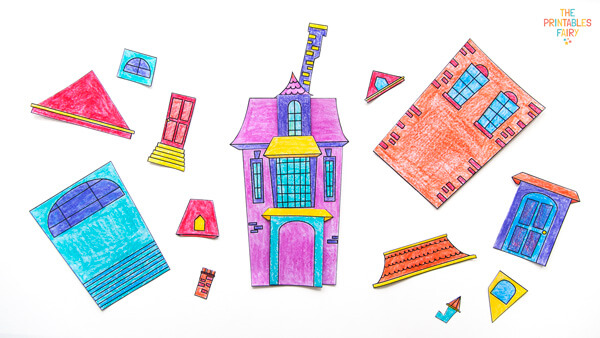 There are no rights or wrongs in this game! So, if they build something they don't like, just remind them that they can always re-arrange the pieces into a brand new haunted house.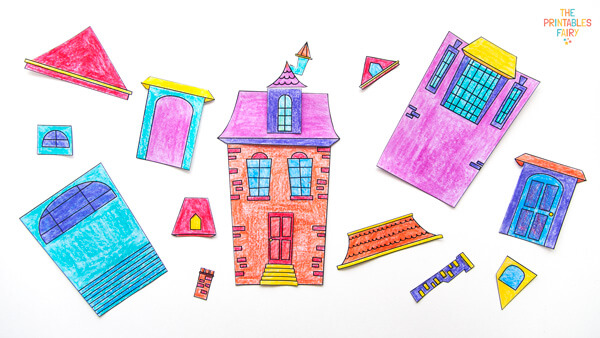 Now, if you are planning to use this game more than once, I recommend laminating all the parts. This can also come in handy if you are using them in the classroom or library. And kids can use dry-erase markers to draw even more Halloweenesque details.
If you are working with preschoolers, I also recommend adding some velcro dots on the back of each piece and using them with a felt board to keep each part in place easily.
Another way to use these coloring printables is to create a Halloween card. To do so, use black cardstock as the background and glue your haunted houses on top.
We made three, as you can see.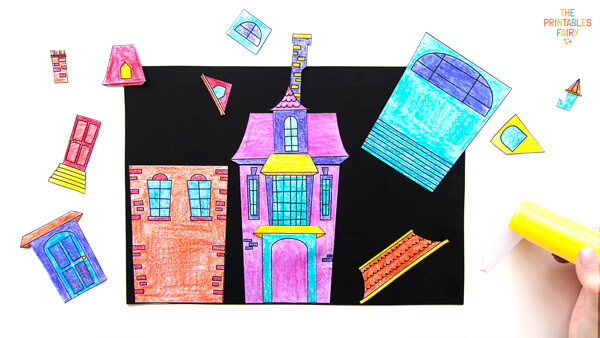 Then, you can add some decorations with crayons or markers and even write a message on the back.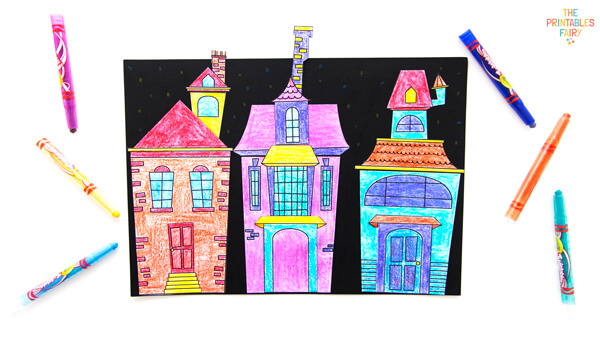 Your kids can also use these haunted houses to set up their own puppet show. They make a wonderful background for our clothespin Halloween puppets!
Haunted House Coloring Sheets – Video
As you can see, these coloring pages can be used in so many different ways.
In this video, you can see how I put them to the test and made many different haunted houses with them.
And don't forget to subscribe to my Youtube Channel for more spooky-cute craftivities for kids!
Halloween Haunted House Printable
Ready to build your own haunted houses with your kids?
Click the link below to download your printable coloring templates!
Then, print them on US Letter cardstock (8.5 x 11 inches), and start having fun.
Oh! And don't forget to share pictures of your houses with us on Instagram by tagging @theprintablesfairy.
GET THE HAUNTED HOUSE PRINTABLE COLORING PAGES
*Please remember that these printables are for personal use only. You may not sell or distribute the files. If you want to share them, please link to this post and not directly to the PDF files.
More Halloween Activities for Kids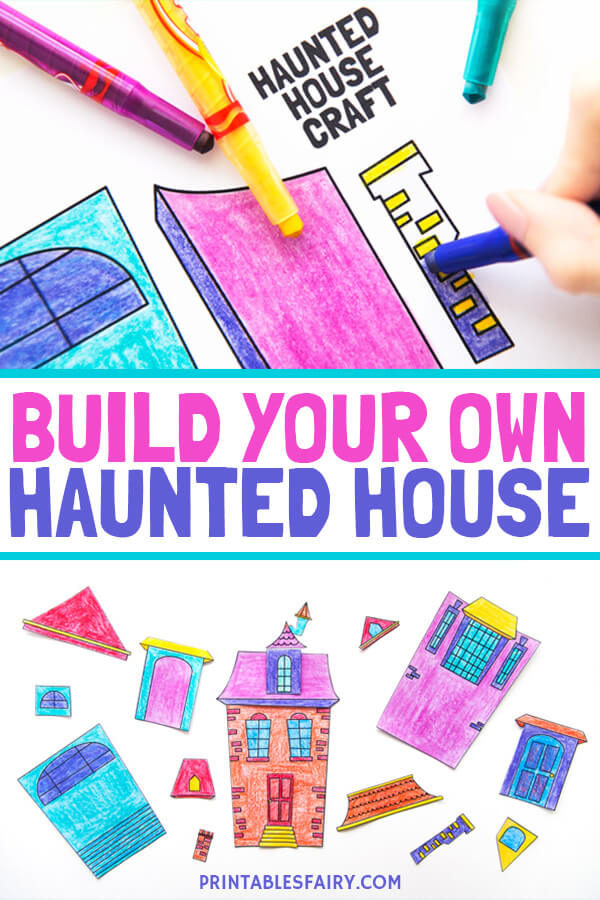 Haunted House Craft For Kids