We recently purchased some popsicle sticks to make some rice Krispie treats for Halloween and ended up with a bunch of them unused. So we did what everyone else would do, get crafty!
These Halloween Popsicle Stick Crafts are a fun activity for kids of all ages.
And, if you don't have popsicle sticks at home, you can always get them at your local craft supplies shop. They are super inexpensive and can also be used in other crafts.
Of course, I also had to design some printables to make this activity even easier (and cuter 😉). If you want to get them for free, you can do so at the end of this post.
You can make these cute Halloween crafts either at home or in the classroom. But since you have to wait for the paint to dry, I recommend doing it when time is not an issue.
If you are hosting a small Halloween party or playdate, these popsicle stick ornaments may come in handy. And when your kids have completed them, you can use them in many different ways, such as:
To decorate your home or classroom by hanging them from the ceiling or taping them to the windows.
To hang them on the wall by adding a string on the back.
To add things on your fridge by sticking a magnet on the back.
So now that you have read about all the wonders of these crafts, why not make your own?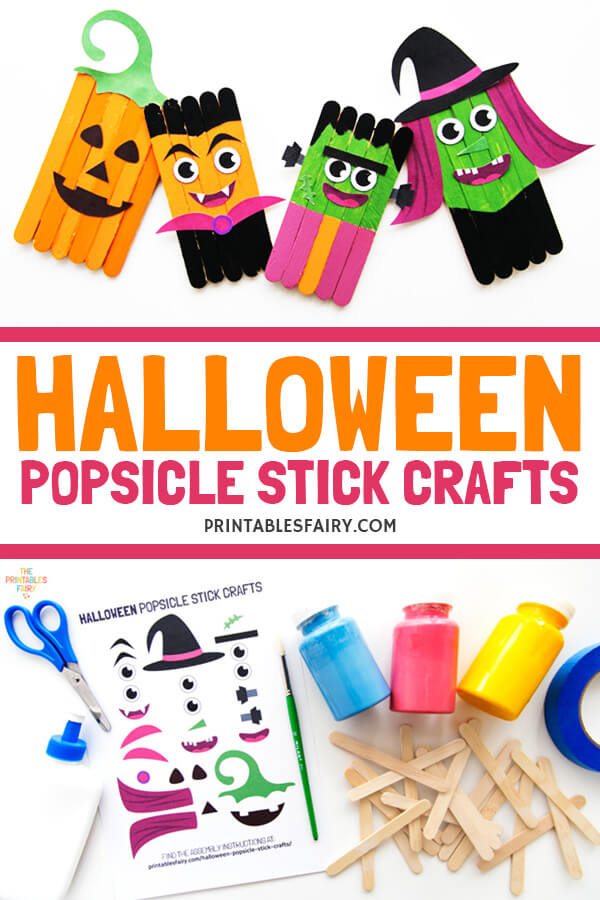 What Can You Make Out Of Popsicle Sticks For Halloween?
Possibilities are endless when it comes to crafting with popsicle sticks. But this time, we decided to make a pumpkin, a vampire, a witch, and Frankenstein.
Your kids can pick the character they want to make and do it with just a few supplies.
In this post, I'll show you all the materials we used to make our four spooky friends. And then, I'll teach you how to make them step-by-step.
If that's not enough, you can also find a video tutorial where I make these crafts from scratch.
And to put the cherry on top, you can download the free printable decorations at the end of this post.
Let's make these fa-boo-lous crafts!
Materials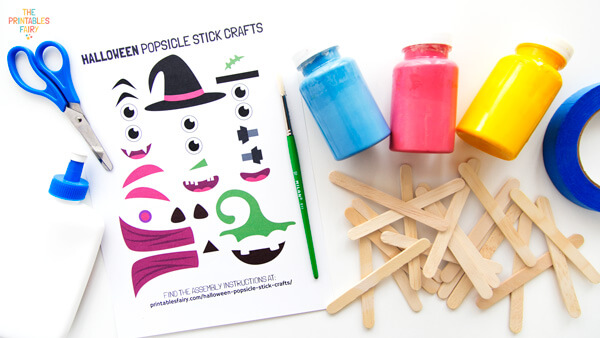 To make these Halloween crafts with popsicle sticks, you will need:
Free printable template available at the end of this post
Regular popsicle sticks
Tape
Glue
Scissors
Printer & White Cardstock
Paint (we used acrylic paint)
Paint Brush
How to Make Halloween Popsicle Stick Crafts for Kids
Start by protecting your crafting area with some used paper or paper towels. Remember that we are going to use paint and it can get a bit messy.
Line up 6 popsicle sticks in a row for the pumpkin and 5 sticks for each of the other characters. Secure them with tape to prevent them from moving all over the place in the next step.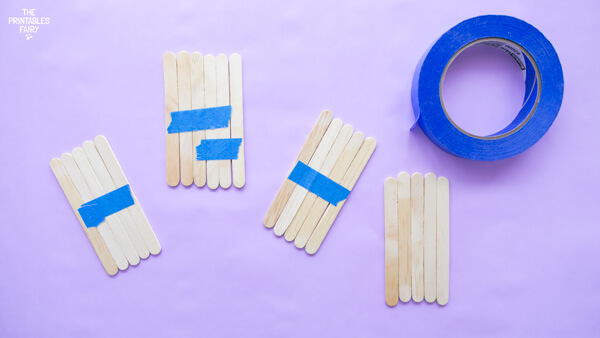 Glue a craft stick diagonally across each group of sticks.
We used regular white glue and waited for it to dry. But if you don't want to wait, you can use Tacky Glue, hot glue, or double-sided tape.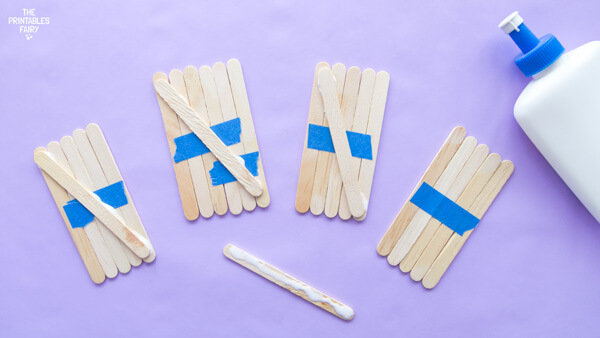 Print the Halloween Popsicle Stick Crafts Template on white cardstock and cut out all the pieces.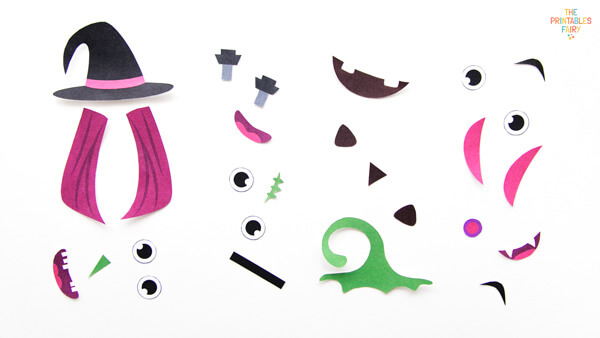 Here comes the fun part! Paint your sticks and decorate them. You can follow our steps below.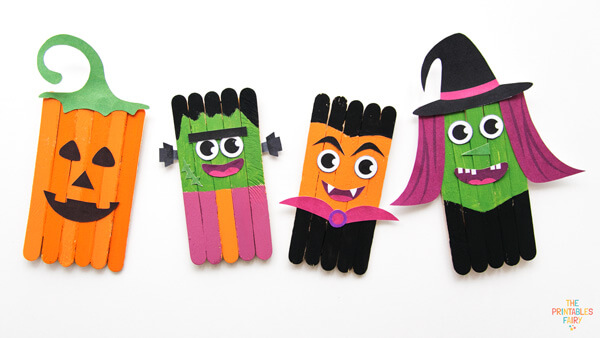 Pumpkin Popsicle Stick Craft
The popsicle stick pumpkin is the easier one to make from this group. To make your own, you have to:
Paint the sticks orange and let them dry completely.
For this step, you can mix two versions of orange (one lighter and one darker) and paint each stick with a different tone.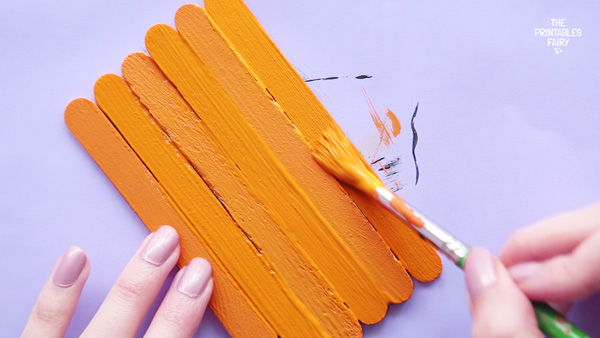 Glue the pumpkin eyes, nose, and mouth in the middle of your sticks, and add the green stem to the top.
For this step, we used a glue stick without a problem.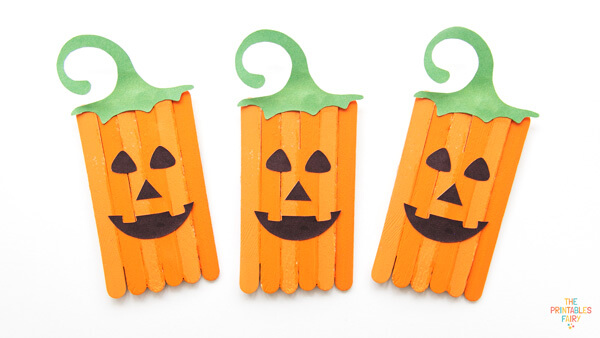 Frankenstein Popsicle Stick Craft
We love making Frankenstein crafts, and this was no exception. All you have to do is:
With a pencil, divide your popsicles in half.
Paint the top of Frankenstein green and the bottom purple.
Once dry, paint orange the stick in the middle of the purple and paint some black hair at the top.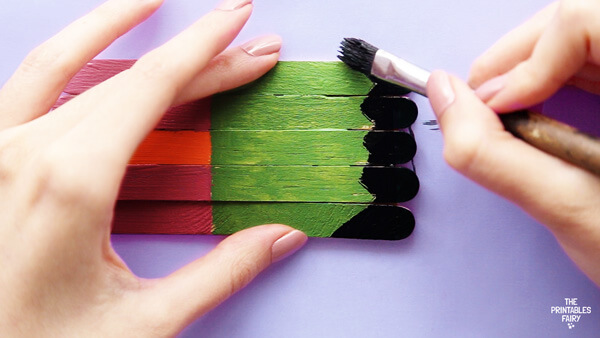 Glue the face. Start with the eyes and add the eyebrow on top. Then add the mouth and the scar. And finish Frank by gluing the bolts behind the sticks.
Vampire Popsicle Stick Craft
Our vampire turned out very cute. To make yours, you'll have to:
Using a pencil, divide your sticks into three parts making the middle one the biggest.
Paint the top and bottom parts black to make the hair and clothes.
Paint the middle section flesh tone (we just mixed orange and white). You can also leave this part unpainted.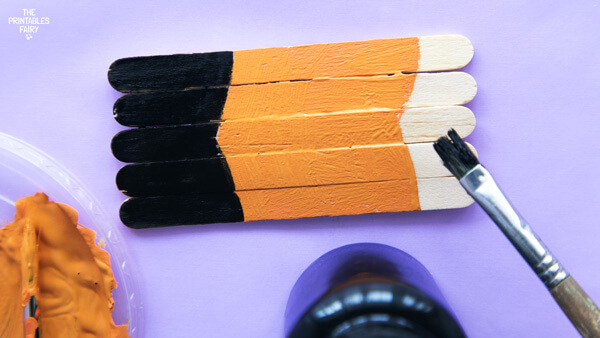 Next, glue the eyes, eyebrows, and mouth to make the face of your vampire.
Finally, glue the cape on top of the bottom black area and complete it by adding the circle in the middle.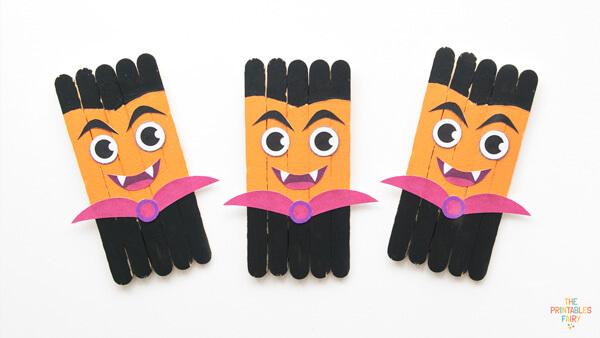 Witch Popsicle Stick Craft
Lastly, to make your popsicle stick witch you will have to:
Paint the top of the witch green and the bottom black.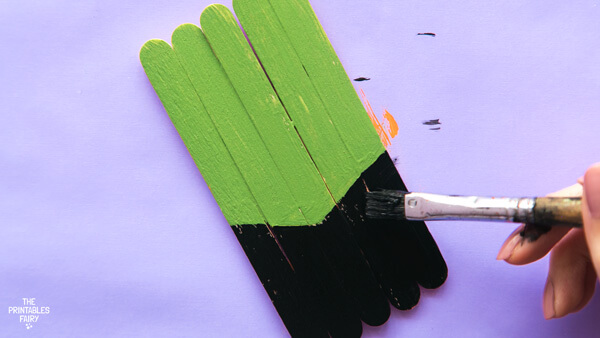 Glue the hair on the sides of the green area and stick the hat on top. Then, glue the eyes, nose, and mouth to complete your witch's face.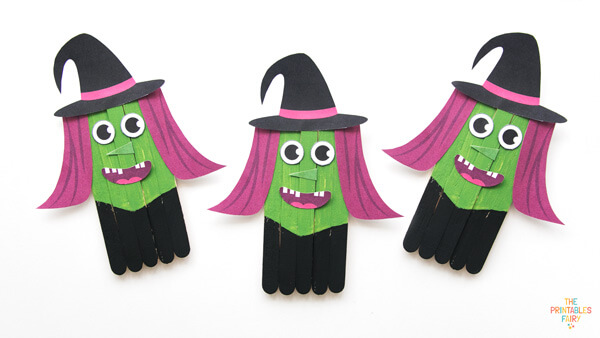 Video Tutorial – How to Make Halloween Popsicle Stick Crafts
As you can see, making these spooky-cute friends is easy for kids of all ages.
But if you got stuck on any of the steps, you can always watch this video tutorial where show you how to make your own crafts with our printable templates.
And don't forget to subscribe to my Youtube Channel for more Halloween content!
Halloween Craft Sticks Craft Printables
Isn't it fun and simple to make these crafts?
Grab some craft sticks and create all these different Halloween characters!
You can draw all the parts on your own or click the link below to download our printable template and get the exact pieces we used.
Let us know in the comments if you have other ideas to make for this season. And don't forget to share your pictures with us on Instagram by tagging @theprintablesfairy.
GET THE PRINTABLE HALLOWEEN CRAFT STICK TEMPLATES
*Please remember that these printables are for personal use only. You may not sell or distribute the files. If you want to share them, please link to this post and not directly to the PDF files.
More Halloween Craft Ideas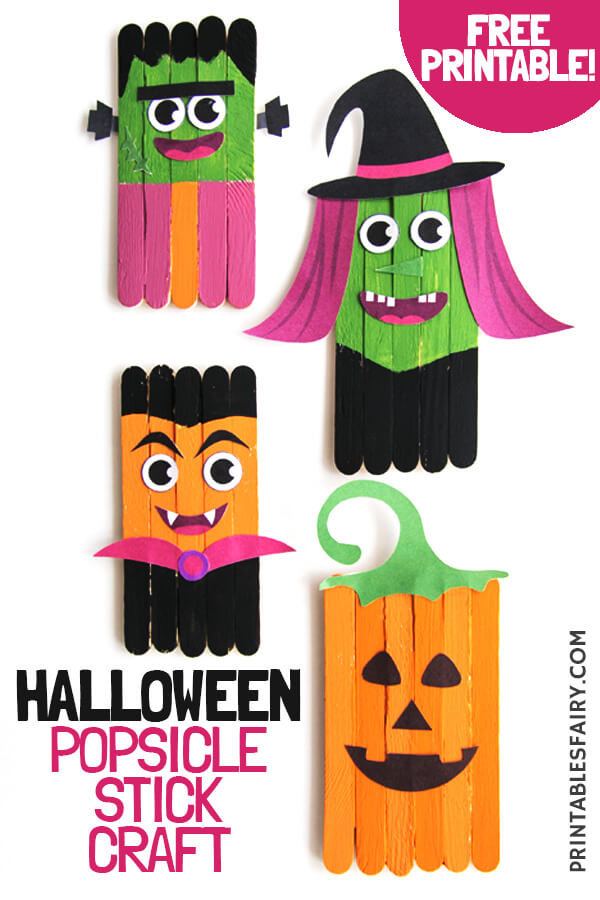 Halloween Popsicle Stick Crafts