If you want to try an easy Halloween craft with your kids, you have to make these Halloween toilet paper roll crafts!
Toilet paper rolls are the most inexpensive craft items you may already have at home, so why not turn them into some fun Halloween crafts.
From a bat and a vampire to a witch and her cat, there are uncountable creations you can make with these versatile materials.
On this occasion, your kids will love turning their toilet paper rolls into 8 different spooky-cute characters perfect for Halloween, including a pumpkin, a mummy, a bat, a vampire, a witch, a cat, Frankenstein, and a zombie.
Of course, we made them effortlessly with our printable templates, which you can get here or at the end of this post! We love using printables because it just makes everything easier for the little ones, and they can also practice their cutting skills and improve their fine motor skills in the process.
In this post, you'll find a list of the few supplies you need to put together these crafts. Then, I'll show you the step-by-step instructions to make them. And you can find a video tutorial right after them where I show you how to assemble your Halloween rolls.
It's super simple, so there is no reason why you wouldn't want to make them!
Just grab our printables at the end of this post and your empty toilet paper rolls to have a great time crafting these Halloween friends!
P.S. In the materials section, I share a tip you can use if you don't have enough toilet paper rolls at the moment 😉.
Materials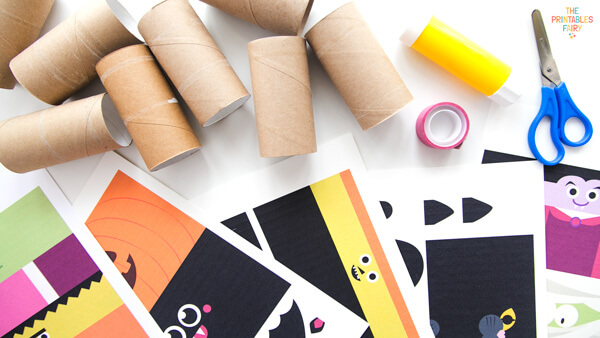 These are the supplies you need for these crafts:
Halloween Toilet Paper Roll Templates (get them here or at the end of this post)
8 Toilet Paper Rolls
White Paper or Cardstock
Printer
Scissors
Tape
Glue Stick
TIP: If you don't have enough toilet paper rolls around, just print your templates on cardstock and roll them into cylinders.
How to Make Halloween Toilet Paper Roll Crafts
To assemble all of your characters, you will have to start the same way:
First, get the templates and print them on white cardstock or paper. We prefer cardstock for sturdiness and durability.
Cut out all the pieces.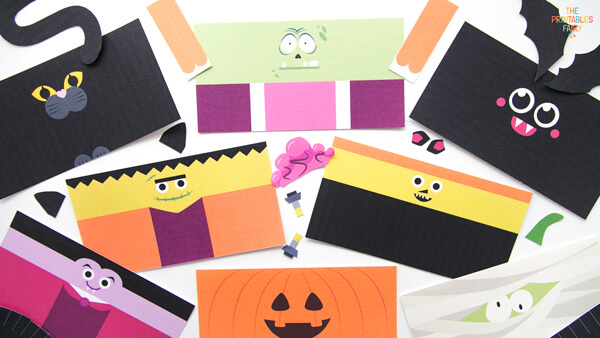 Align a toilet paper roll with a rectangle and secure it on one side with tape.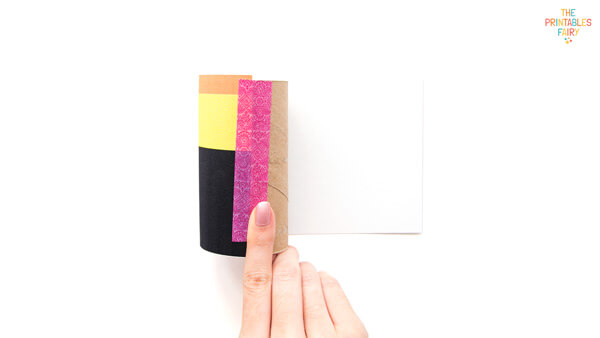 Add glue to the other side of the rectangle.
Tape it on the back to cover the tp roll.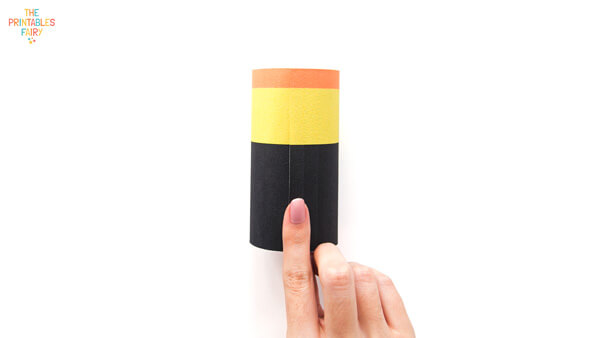 This is how your tubes should be looking by now. Let them dry and start adding all the extra details.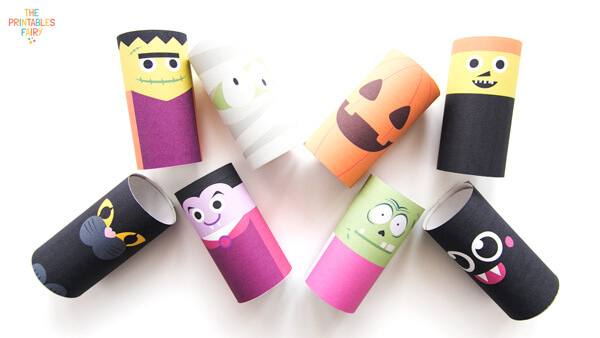 Vampire Toilet Paper Roll
Believe it or not, you don't have to add anything extra to your vampire. It's ready to be used!
Mummy Toilet Paper Roll
Just like our friend above, the mummy will be completed by now. These two are the easiest to put up from this printable set.
Bat Toilet Paper Roll
To make your bat, glue the wings behind the toilet paper roll and add the ears on top.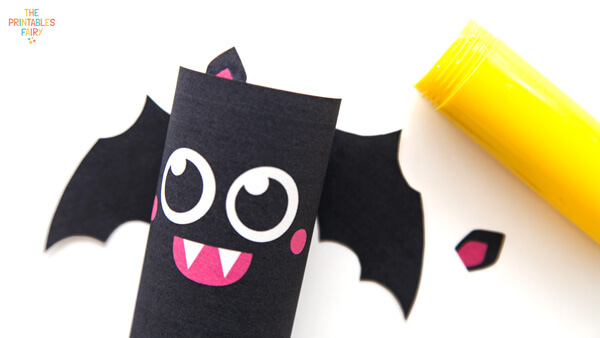 Cat Toilet Paper Roll
The cat is equally easy. Just glue the ears on top of the toilet paper roll and the tail behind it.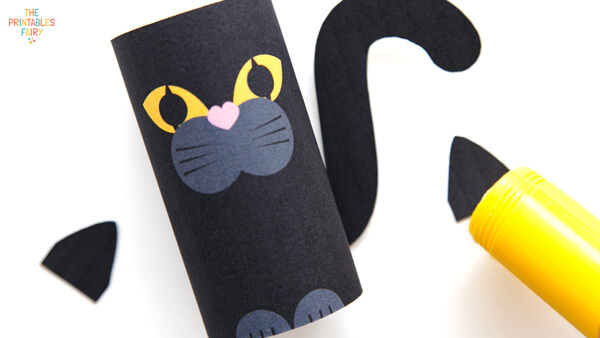 Frankenstein Toilet Paper Roll
To finish off your Frankenstein, simply fold the bolts along the green square, apply glue to that square, and paste it on your tp roll.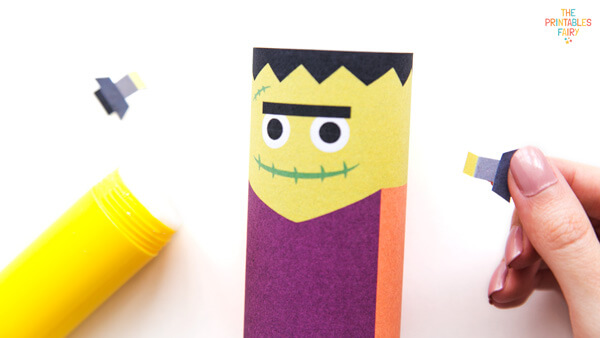 Pumpkin Toilet Paper Roll
Glue the stem to the top of your tp roll to complete your pumpkin.
Zombie Toilet Paper Roll
Just like the one above, to complete the zombie you only need to glue the brain to the top of your roll.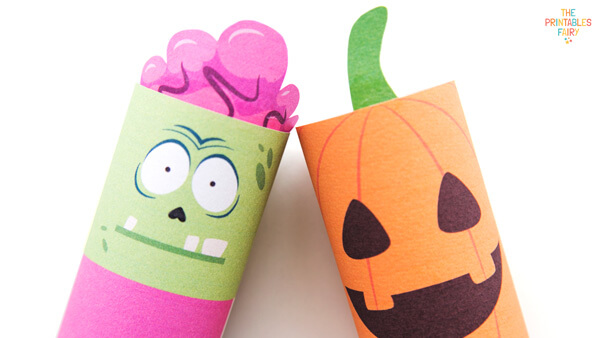 Witch Toilet Paper Roll
To make the witch's hair, you have to cut each orange piece and fold it in half through the line. Glue it in the middle and once it's dry, cut the circular border.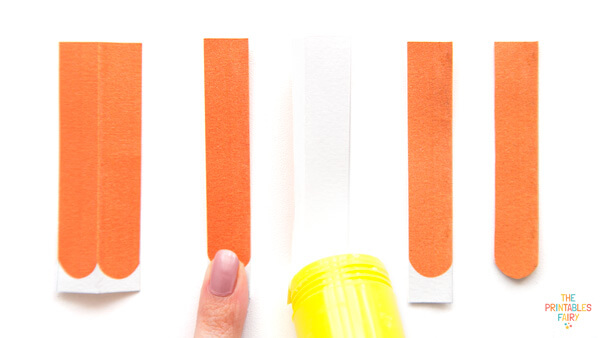 To make the hat, fold the template into a cone and use glue to secure it in place. Then, cut and fold the short strips outwards.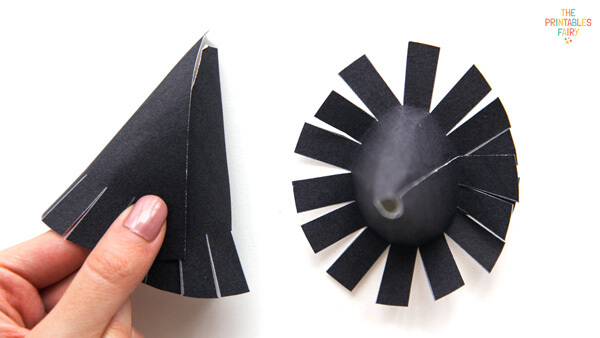 For the dress, cut the two black rectangles and their strips. Using a pencil, curl the strips.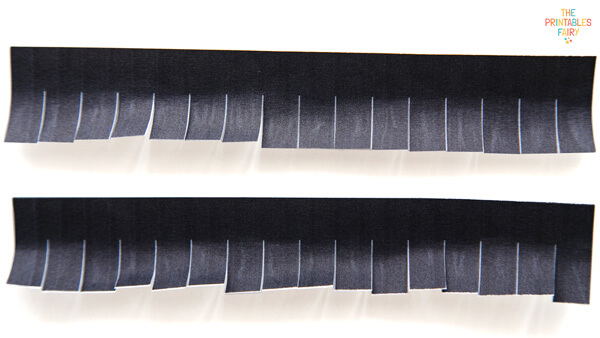 Wrap the dress around the toilet paper roll. Start with the bottom one and align it with the end of the roll. Then, add the second layer and align it with the top of the black area.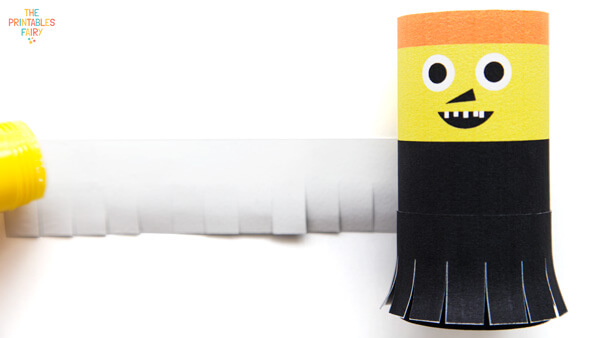 Finally, curl the hair, glue one at each side of the face, and top it off with the hat.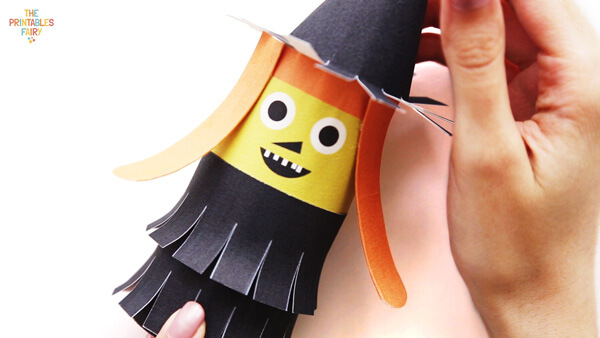 Here are all the finished Halloween Toilet Paper Roll Crafts!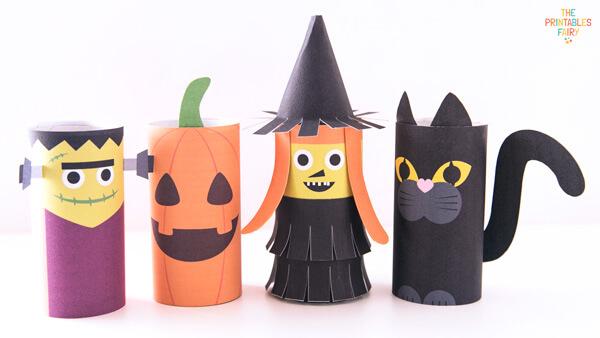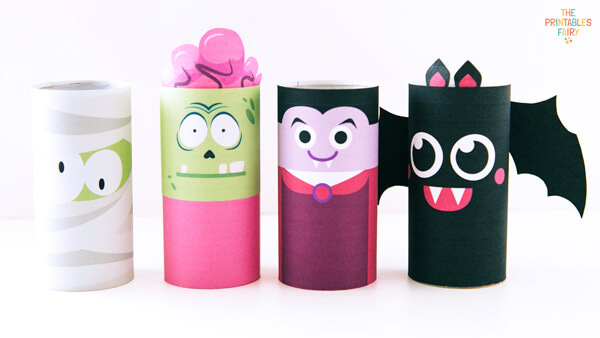 Aren't they super easy and adorable?
Which one would you like to make first?
Halloween Toilet Paper Roll Crafts – Video Tutorial
If you are still not sure how to get started, just watch the video tutorial below. Here, I show you how to make all these fun characters easy peasy:
And don't forget to subscribe to my Youtube Channel for more easy crafts for kids!
Halloween TP Roll Printables
Are you ready to use all those toilet paper rolls you have laying around?
Click the link below to download the template and start crafting with your kids!
And don't forget to share pictures with us and let us know which one is your favorite puppet in the comments or on Instagram by tagging @theprintablesfairy.
GET THE HALLOWEEN TOILET PAPER ROLL PRINTABLES
*Please remember that these printables are for personal use only. You may not sell, share, or distribute the files.
More Halloween Crafts & Ideas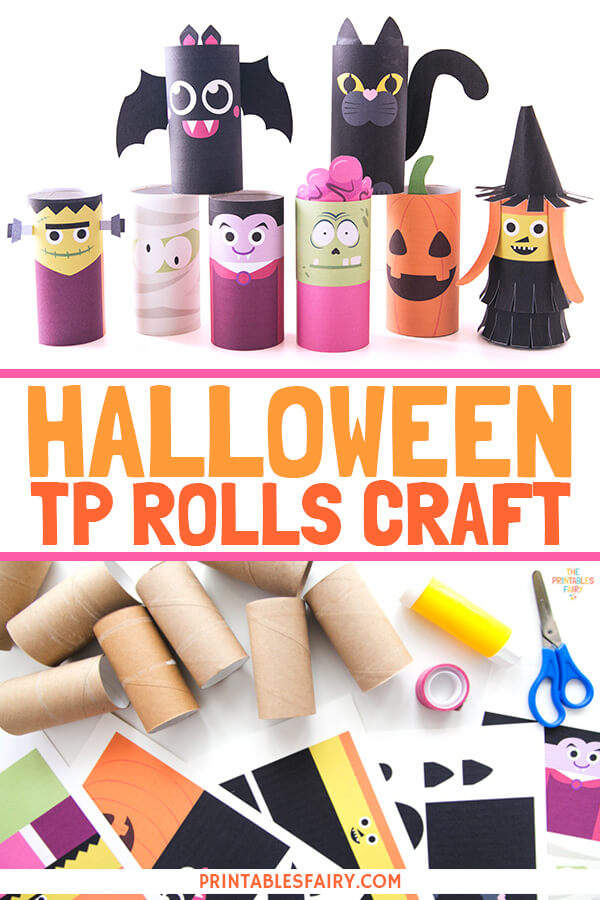 Toilet Paper Roll Halloween Crafts For Kids