After talking with several Muslim moms, I realized how important it's for you to teach your kids about Ramadan while making it exciting for them. So, of course, I had to design a resource that can help you during this holy month!
This printable Ramadan Advent Calendar is a great way to help your little kids experience Ramadan while creating a new family tradition that will last forever.
The best part is that you can easily assemble it at home. So, if you have been eyeing some advent calendars but have run out of time to get them, this is a simple DIY alternative.
It's also super cute, which will make your kids want to open all the windows at once, but don't worry! The activities inside will keep them happy, busy, and looking forward to the next day.
In fact, this calendar features 30 different good deeds for every day of the month of Ramadan. Including a mix of religious activities and simple acts of kindness. You can read the complete list (in order) down below.
In this post, I will show you what you need and how to assemble your own Ramadan advent calendar to get your family together and fill your home with love.
So, what are you waiting for?
Let's get into the Ramadan spirit and get your kids involved in such a meaningful celebration!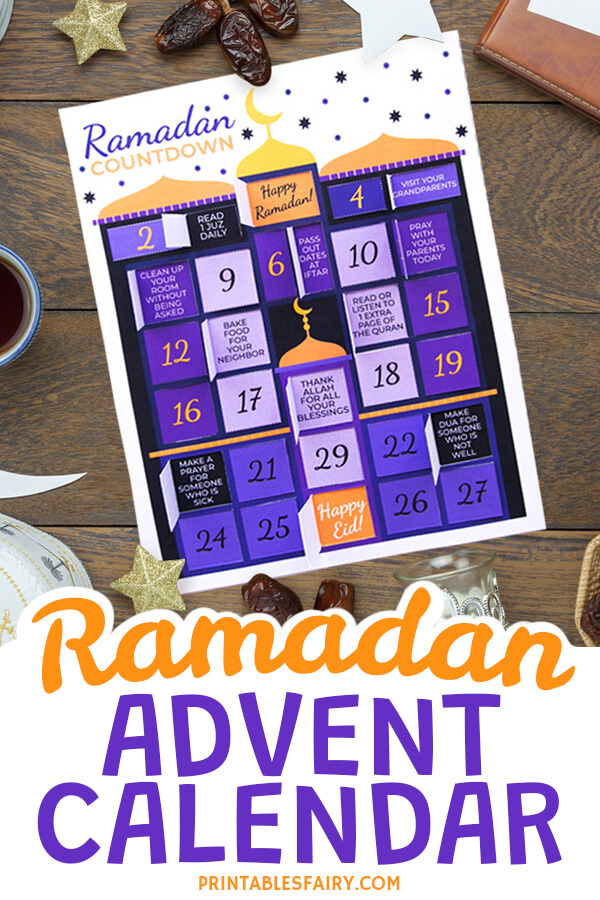 Materials
To assemble your Ramadan advent calendar, you'll need:
Printable Ramadan Advent Calendar (get it here or at the end of this post)
White cardstock
Printer
Scissors
Cutter or X-acto knife
Ruler
Glue Stick
How To Make Your Ramadan Advent Calendar
This calendar is meant to be assembled exactly like our Christmas advent calendar. Just follow these 6 simple steps, and your calendar will look exactly like ours!
Download and print your advent calendar printables on white cardstock.
Cut out the rectangles along the purple dashed lines.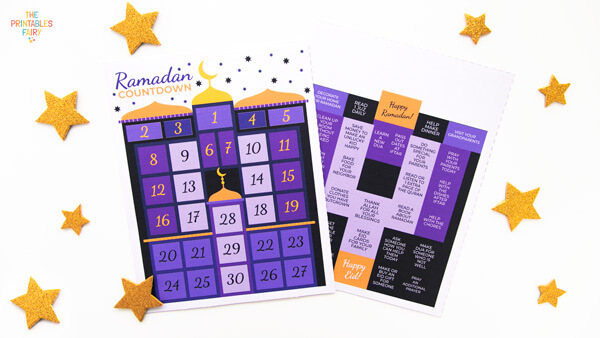 Take the numbered page and use a ruler and a cutter to cut out 3 sides of each window along the dashed lines.
Please keep in mind that this step is intended for adults only.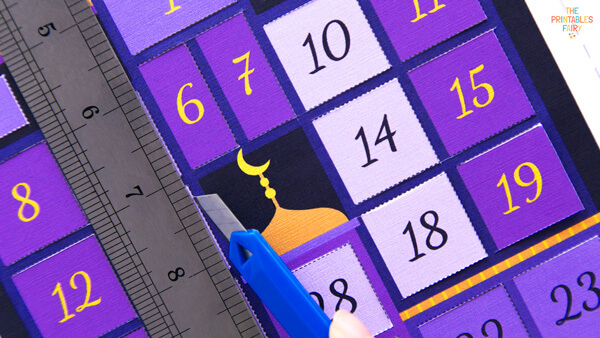 Take the page with the activities and apply glue to all the white borders.
Alternatively, you can use double-sided tape for this step.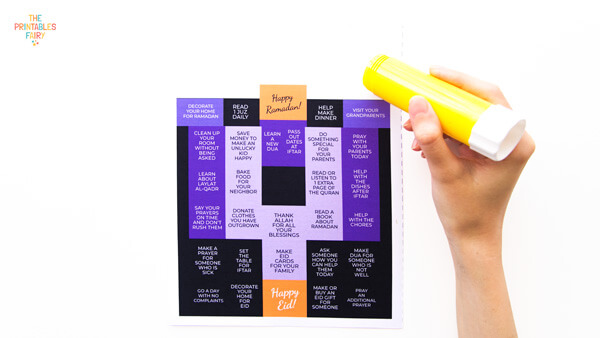 Stick the numbered page on top of the activities page. Make sure they are very well aligned.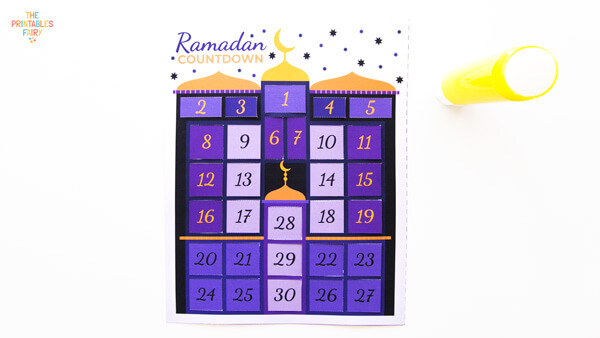 Each day of Ramadan, your kids have to open a window and do what it says.
I highly suggest using a ruler for opening the windows every day because it helps fold straight lines easily.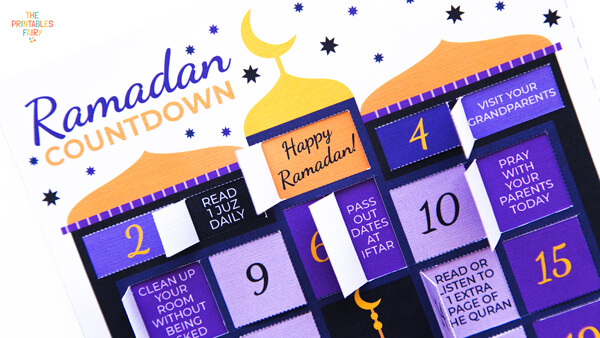 Ramadan Advent Calendar Activities For Kids
Here is a list of what is behind the 30 windows included in this advent calendar:
Happy Ramadan!
Decorate your home for Ramadan
Read 1 Juz daily
Help make dinner
Visit your grandparents
Learn a new dua
Pass out dates at Iftar
Clean up your room without being asked
Save money to make an unlucky kid happy
Do something special for your parents
Pray with your parents today
Learn about Laylat Al-Qadr
Bake food for your neighbor
Read or listen to 1 extra page of the Quran
Help with the dishes after Iftar
Say your prayers on time, and don't rush them
Donate clothes you have outgrown
Read a book about Ramadan
Help with the chores
Make a prayer for someone who is sick
Set the table for Iftar
Ask someone how you can help them today
Make dua for someone who is not well
Go a day with no complaints
Decorate your home for Eid
Make or buy an Eid gift for someone
Pray an additional prayer
Thank Allah for all your blessings
Make Eid cards for your family
Happy Eid!
Advent Calendar Printable
As you can see, our Ramadan Advent Calendar is a great way to motivate and teach your kids about this holy month and Islam.
It is also super easy to put up with very few materials you might already have at home.
And it can be printed on both US Letter and A4 paper sizes.
Just click the link below to get it and bring the Ramadan Spirit to your home!
GET THE PRINTABLE RAMADAN ADVENT CALENDAR
*Please remember that these printables are for personal use only. You may not sell, share, or distribute the files.
Other Ramadan Activities For Kids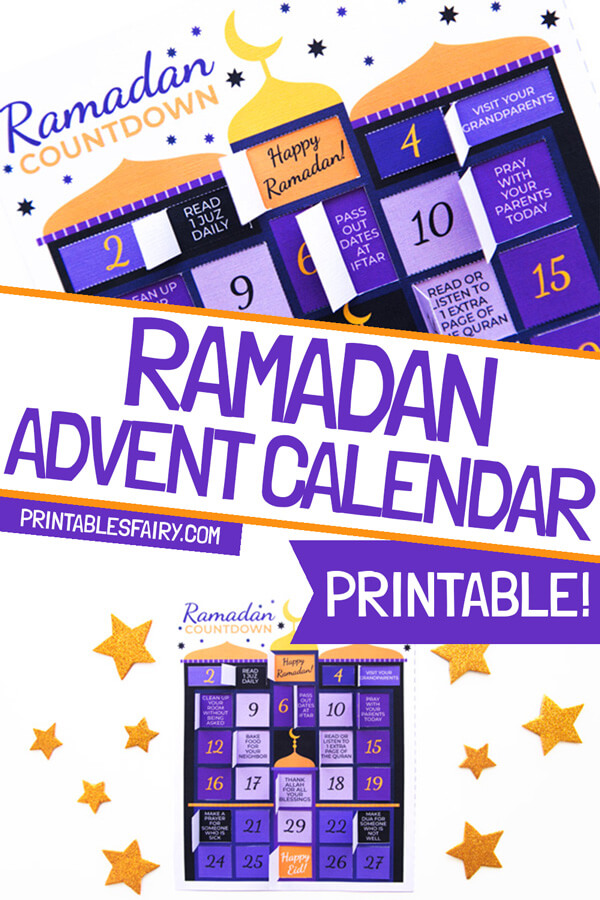 DIY Ramadan Advent Calendar