If you are looking for a fun Ramadan activity to make your kids excited about this month, this free Ramadan word search puzzle is perfect for you!
All you have to do is go to the bottom of this post to download and print it.
This game is a fantastic way to help children understand the Islamic religion and the importance of Ramadan.
It is also an entertaining way for your kids to learn new vocabulary words that they can further research to better understand this special holiday.
I actually recommend that you talk about the meaning of each word once your kids have found all of them.
And that's not all!
As you might already know (if you have used one of our other word searches), these puzzles are great for developing concentration, memory, and analytical skills.
That's why we have one for every occasion. 😉
You can use it with grade-schoolers, older kids, and even grown-ups. Everyone can have a good time discovering all the hidden words.
Feel free to print as many copies of this game as you need.
And if you want to share it online, please link to this post and not directly to the PDF files.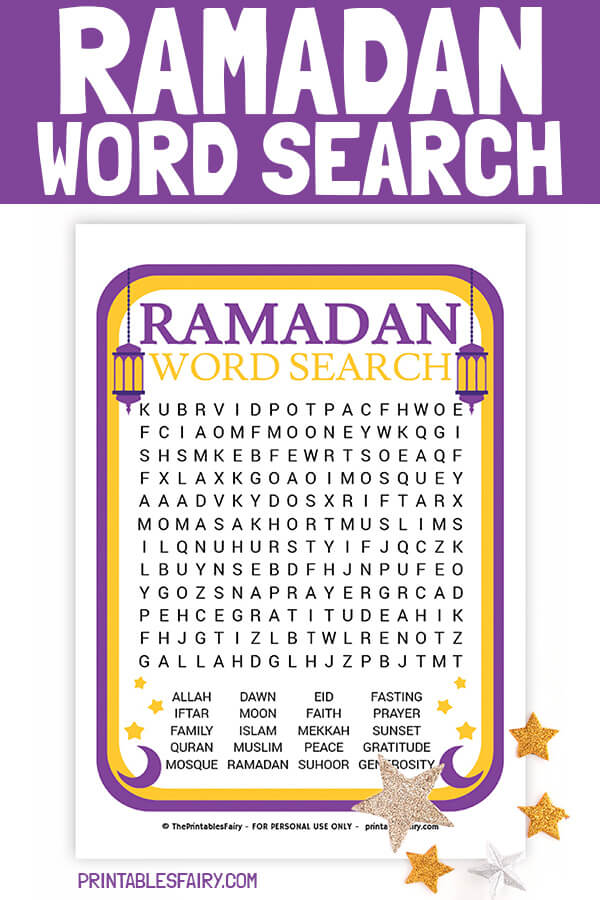 Printable Ramadan Word Search
This Ramadan word search includes many words that are key to explain children about this holiday and Islam.
The 20 words to find are:
Allah
Iftar
Family
Quran
Mosque
Dawn
Moon
Islam
Muslim
Ramadan
Eid
Faith
Mekkah
Peace
Suhoor
Fasting
Prayer
Sunset
Gratitude
Generosity
They are hidden in every direction: horizontal, vertical, diagonal, forward, and backward (just a few).
It can be a bit challenging, but just enough to keep your kids entertained.
If you are working with younger children, I have written the word list is in upper case to make it easier for them to identify the letters, as they look identical to the search puzzle.
And if someone gets stuck on a word, you can always take a peek at the answer key. Just click here to see it.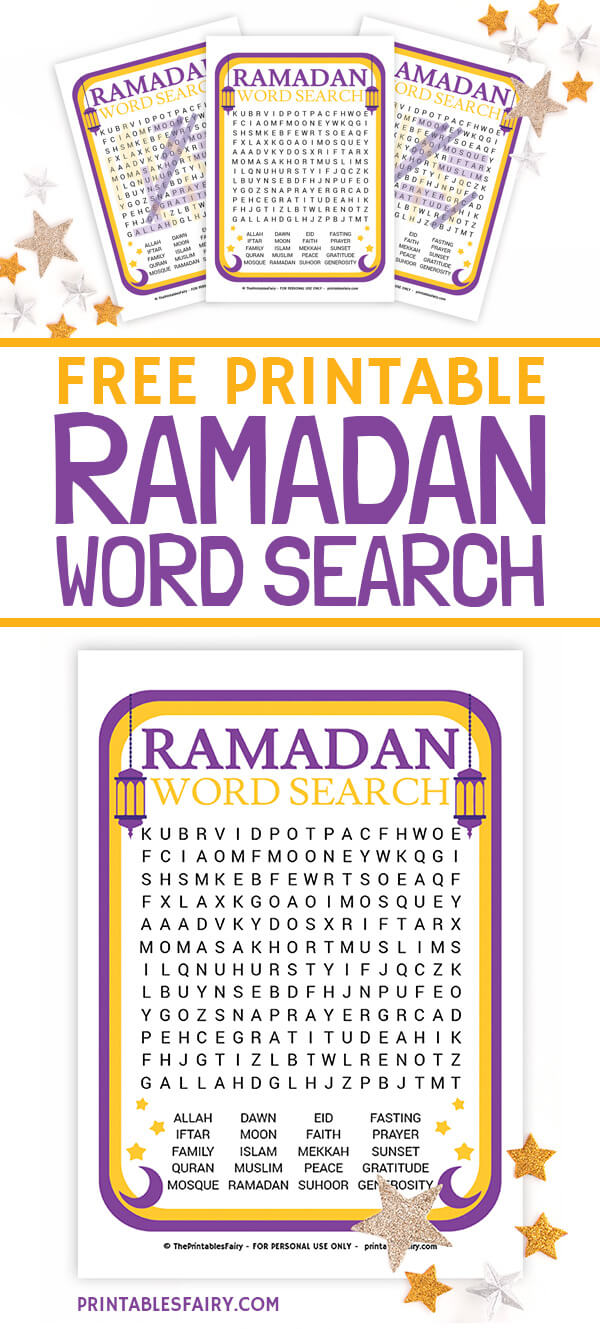 As I told you above, to get this Ramadan game, all you have to do is click the red link below to download it.
Print it on white paper or cardstock. And laminate it if you are planning to reuse it every year.
To play, just let your little ones find and mark each Ramadan word with crayons, highlighters, coloring pencils, or dry erase markers (if you laminated the game).
Super simple, right?
Get your Ramadan Word Search by clicking the link below!
P.S. If you use this printable, don't forget to share your pictures with us on Instagram by tagging @theprintablesfairy.
GET THE PRINTABLE RAMADAN WORD SEARCH
*Please remember that these printables are for personal use only. You may not sell or distribute the files. If you want to share them, please link to this post and not directly to the PDF files.
More Ramadan Printables
Ramadan Word Search Puzzle