Don't you ever feel like when the holiday season arrives, the time literally flies?
Sometimes we get so caught up with the planning and the last-minute gift shopping that we forget to actually enjoy our favorite Christmas activities.
That's why this year, we decided to put up a Christmas Bucket List.
If you are struggling to make the most out of this season, you'll definitely want to make a list of your own too.
To make everything easier for you, I designed a printable that you can put on your fridge and check it off as you complete the activities.
There are 2 versions of the free printable Christmas bucket list.
The first one is empty. Perfect for you to customize with your own activity choices.
And the other one is already filled in. It includes 26 of our favorite Christmas activities for kids and families.
Ready to turn every day of December into Winter Wonderland?
Keep reading this post to find out what activities are included on our list.
And, of course, to download your printables!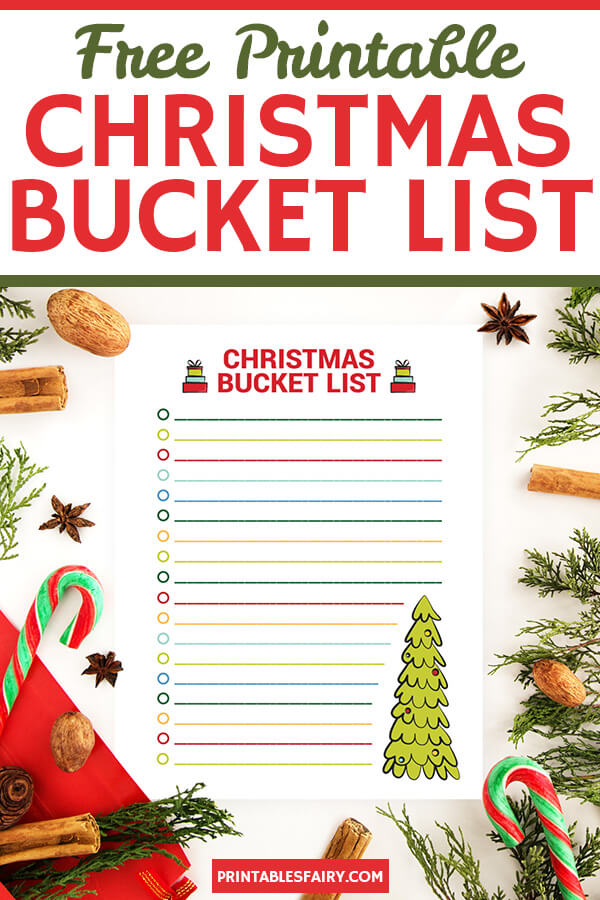 Christmas Bucket List
As I told you before, there is an empty version of this bucket list.
You can fill it in with your favorite holiday activities and traditions.
And if you are not really sure what to do to make these festivities feel special, take a look at these easy Christmas family traditions that include simple and fun ideas. Such as having a Christmas baking day, hosting an ugly sweater party, making a family time capsule, and more!
You can also steal some of these exciting Christmas Eve traditions. There, I share a couple of simple ideas like interviewing your family, playing secret Santa, or opening a gift early.
And if you are looking to save money this year, I also got you covered with these ridiculously simple Christmas traditions on a tight budget.
As you can tell, there are many ideas you can include on your holiday bucket list.
We decided to keep it super simple this year and included these:
Make hot cocoa. Take it to the next level by making a Hot Cocoa Bar 😉
Take a walk in the snow.
Build a fort.
Write a letter to Santa. Use our free printable Letter to Santa template to use the "official" North Pole stationery.
Make snow ice cream.
Go ice skating.
Read holiday books.
Build a snowman. If it does not snow where you live, why not Roll a Snowman?
Decorate the Christmas tree
Donate.
Have a Christmas breakfast.
Decorate your home.
Make a card for someone special. Take a look at this fun Christmas Pop-Up Card. It's so easy to make!
Sit by the fire
Go sledding.
Sing Christmas carols.
Bake cookies.
Watch a holiday movie. Set a Christmas family movie night for an activity that your kids will never forget!
Paint the snow.
Have a holiday family coloring night.
Deliver treats to the neighbors.
Create your own nativity set. We made a Nativity with toilet paper rolls. It's easy and very inexpensive.
Decorate gingerbread houses.
Start a Christmas giving jar.
Have a cookie exchange party.
Go for a drive to see Christmas lights. And bring this fun Christmas Lights Scavenger Hunt to make it even more exciting.
Remember that you can also print this already made Christmas bucket list!
Whether you choose to make your own bucket list from scratch or to download our version, don't forget that it is all about having fun and building memories ❤️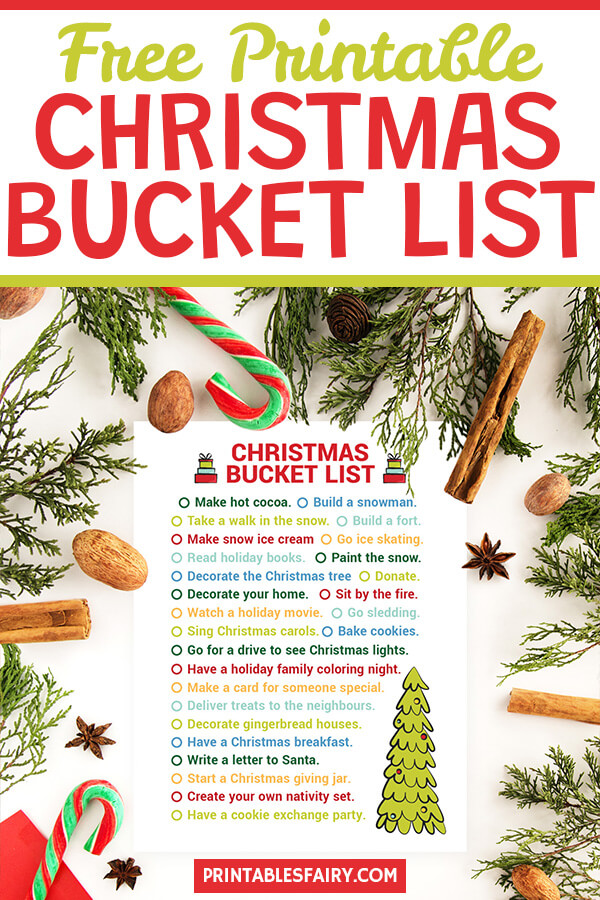 Free Printable Christmas Bucket List
Ready to start your own holiday bucket list?
Click the link below to download our designs and print your favorite version.
Remember that as long as you have fun and keep the Christmas spirit in your heart, you'll be able to create a memorable Christmas this year.
DOWNLOAD THE CHRISTMAS BUCKET LIST
*Please remember that these printables are for personal use only. You may not sell or distribute the files. If you want to share them, please link to this post and not directly to the PDF files.
Other Fun Christmas Printables
Printable Holiday Bucket List