It's monster season, and what a better way to celebrate it than by playing Build a Monster.
I designed a printable set that includes many monster parts so you can easily create the most unique and fun monsters with your kids. I'm sure they will love it!
This easy activity is perfect for Halloween parties and monster-themed birthday parties. Kids can get busy for a while and take a monster home once the party is over.
Teachers also like this game for their classroom parties. We have a Build a Turkey and a Build a Snowman games available too, and they have been big hits!
Using these printables to make a Create a Monster Kit is another fantastic idea. It makes an easy, inexpensive, and non-candy gift for friends, neighbors, grandkids, and trick-or-treaters.
You can also play with your kids at home on a regular day. It's a fantastic game to boost your child's creative thinking while having tons of fun.
In this post, I'll show you what you need to play and how to do it, so your kids never get bored.
If you just want to grab the game, scroll down to the end of this post to get the Printable Build a Monster Set.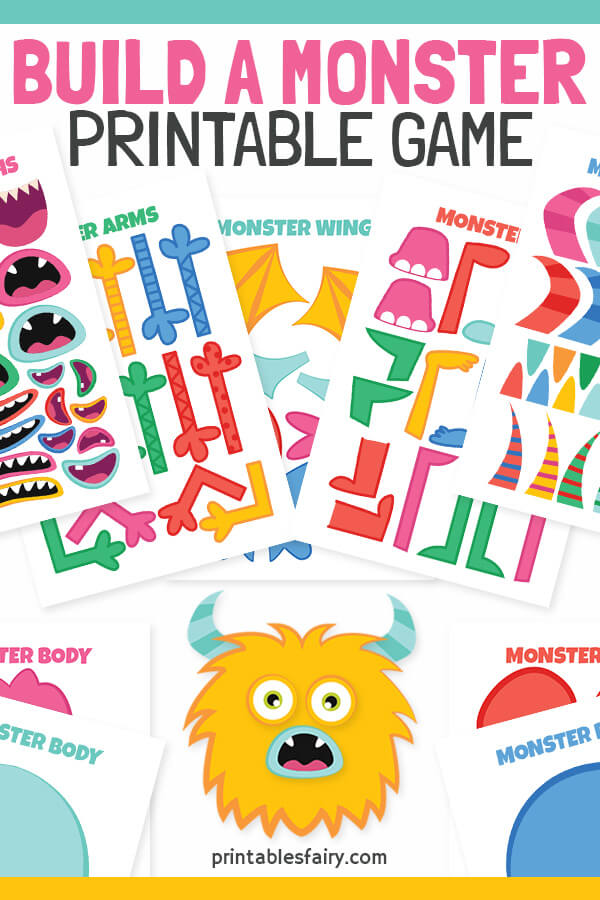 Build a Monster Game
This Roll a Monster Printable Set includes 12 pages with 6 different bodies, 46 eyes, 26 mouths, 32 horns, 18 legs, 16 arms, and 10 wings.
There are also 2 dice included that you can use to play in different ways.
Additionally, you can have some colored cardstock handy, in case your kids get inspired by all these pieces and want to create their own monster body parts.
Keep reading to find out how to set up this game and the many ways you can play it with your kids!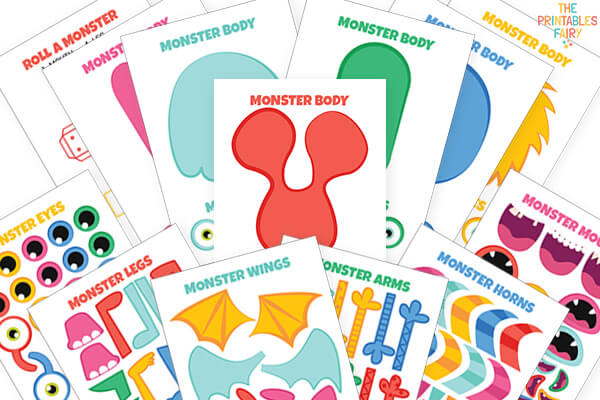 Materials
All you need to start playing is:
Printable Build a Monster Set (Get it here or at the end of this post)
Paper
Scissors
Laminator (optional)
Glue (for the dice)
I recommend laminating the pieces for durability. This way, you'll be able to carry them on a road trip or reuse them next year without worrying about damaging them.
If your kids prefer to just make monsters once, then you can skip the laminating part and use some glue and cardstocks. Let them paste all their monster parts where they want and then hang your monstrous wall art.
You can also adhere the laminated pieces to a laminated cardstock using tape if your kids want to hang their monsters for a while.
Instructions
Download and print the Build a Monster game.
Laminate all the pages with monster parts. (Remember that this is optional)
Cut out all the body parts.
If your kids are old enough to cut, let them take their time. This will help them practice their cutting skills.
If your kids are too young to cut all the pieces on their own, let them take the bigger and easiest pieces and help them with the rest.
Cut and assemble the dice on the last page. You can also cut out the Roll a Monster Guide.
Set up your playing area and start creating monsters!
Lay down all the pieces by body parts (you can cut the names on the pages too) and start playing. Separating the pieces on small trays can be an excellent idea so that young children don't get confused.
There are multiple ways to use this set, keep reading to find a few alternatives.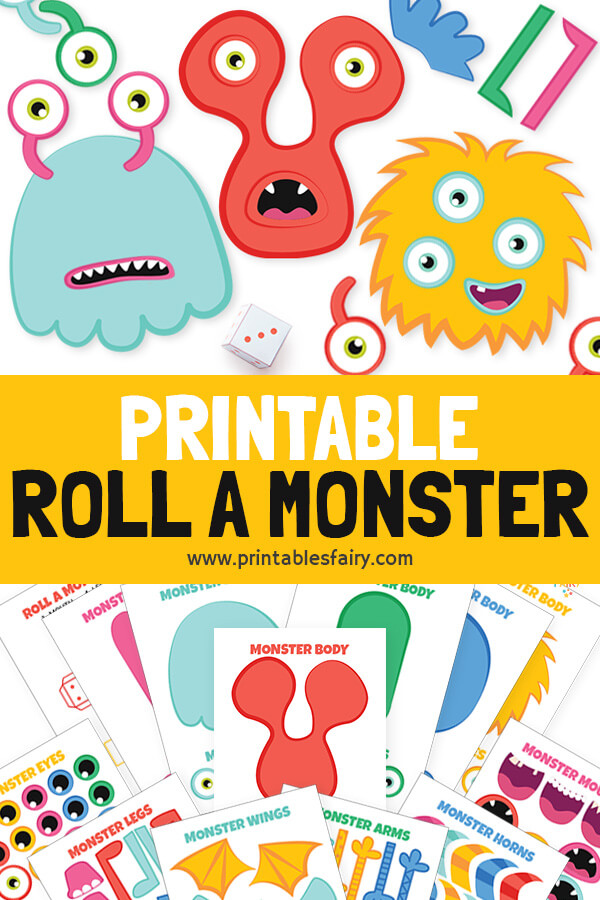 How to Play Build a Monster
As I mentioned earlier, the dice included in these files can let you play this monster game in multiple ways, but you can play without them as well.
Take a look at these simple ideas on how to play it.
Make A Monster Game
The easiest way to play is by letting your kids create monsters freely. No rules.
This is especially recommended for younger kids.
While they are creating their monsters, you can ask them simple things like:
What color is this?
Which one is bigger?
Which one is smaller?
How many eyes does this monster have?
Is this monster happy or sad? Why?
What does this monster do? Where does it live? Does it have a family?
Making all these questions will improve their language development and critical thinking. It will also help their color, size, and number recognition, all while playing!
Roll A Monster Game (with words)
This is another way you can play with young children using the Words Die included in your set.
To start, let your kid pick a monster body. Then, make them roll the die and place that monster part on the body.
Your kids can keep adding monster parts until they are happy with the monster or stop when they have at least one of each of the parts.
Playing this way will guarantee your kids will make some very unique creatures!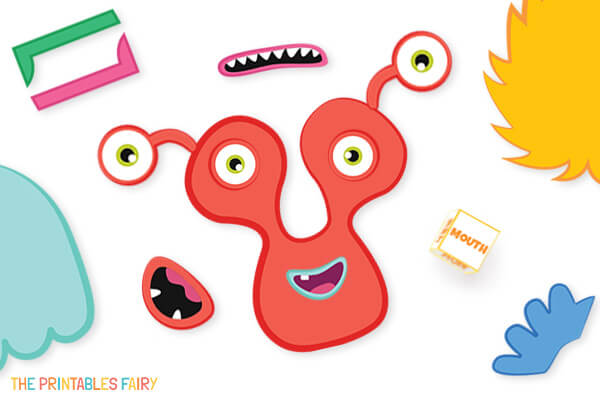 Roll A Monster Game (with numbers)
If your kids are older, then they can use the Numbers Die.
There are two ways they can play:
1. Similar to the game above, kids have to pick a body and roll the die.
Then, they have to check the Roll A Monster Guide, to identify which part of the monster they have to add.
Just like the previous version of the game, it is over when they have added at least one of each of the monster parts. It doesn't matter if the monster has 5 eyes and 1 mouth.
2. Kids have to pick a monster body to start. Then, they have to select an item from the Roll A Monster Guide.
Once the body part is selected, they have to roll the die and add that number of parts to the monster.
For example, if they pick Horns, roll the die and get 3, they will have to add 3 horns.
In the end, they have to roll the die 6 times to complete their unique monster.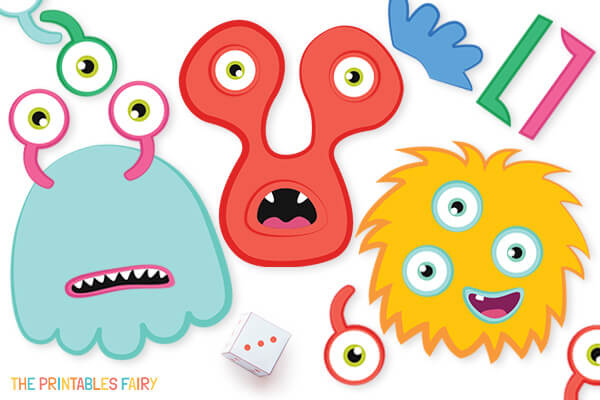 Hey, It's a Monster
This game should be played with 2 or more players.
Each player has to pick a body for their monster and decide who will go first. We like to roll the die, and the one that gets the higher number goes first.
Players should take turns to roll the die once. Then, compare the number that they get with the Roll A Monster Guide to identify which part they have to add.
The first person to complete a monster with the 6 body parts available has to scream: "Hey, it's a monster" and wins.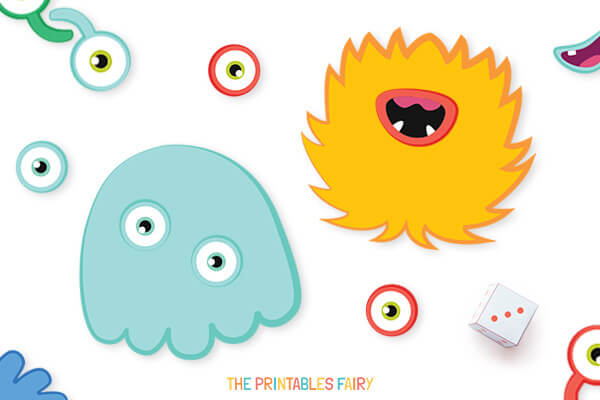 Printable Build a Monster Game
As you can see, there are many ways to play this game.
Of course, you can follow our instructions or tweak it a little bit to play in a different way. But, don't forget to share with us in the comments or on Instagram by tagging @theprintablesfairy.
We love to see the different ways people play with our printables!
Get this fun game by clicking the link below and start having fun building monsters!
CLICK HERE TO GET THE BUILD A MONSTER GAME
*Please remember that these printables are for personal use only. You may not sell, share, or distribute the files.
More Monster Fun!
If your kids love playing with monsters, then they are going to love these activities too: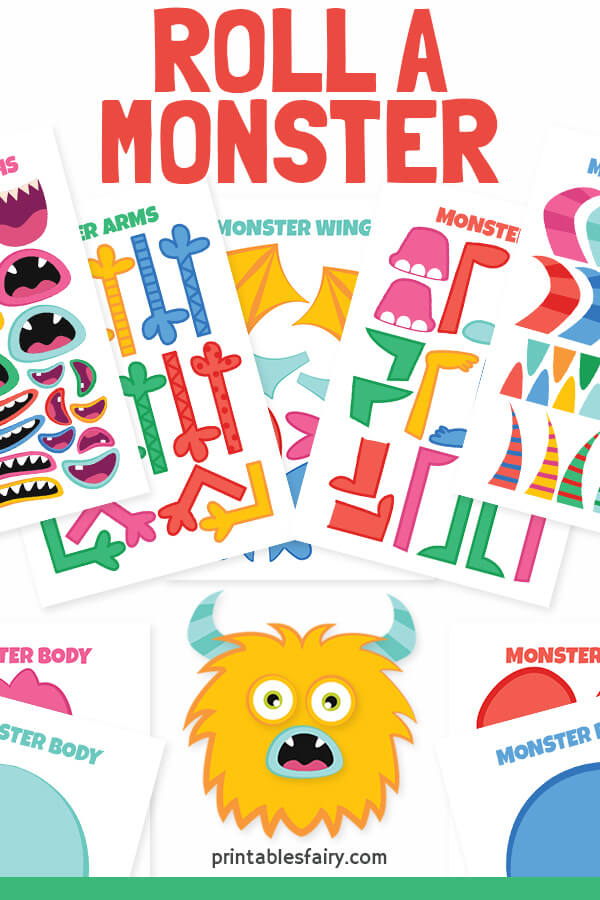 Create a Monster Printable Craft