Looking for the perfect addition to your Thanksgiving kids table?
This Printable Thanksgiving Word Search is a fun game to keep the little ones busy and happy while waiting for their meal.
I included words related to gratitude in this word search, which make it perfect for Thanksgiving. But, you can also use it with your kids to start a conversation about how to be grateful and why it is important.
It can be used in your classroom too. It's a great holiday resource to explore new vocabulary words and improve language learning and spelling.
The best part of this printable game is that most kids can have fun with it.
Young kids who are just learning to read will be able to find most of the words on their own, while older kids will still find this game engaging and take some time to find a couple of words.
If you enjoy this kind of activity, check out this Thanksgiving Game Pack. It also includes other fun printables for your dinner, such as a Crossword, Word Scramble, I Spy, and more!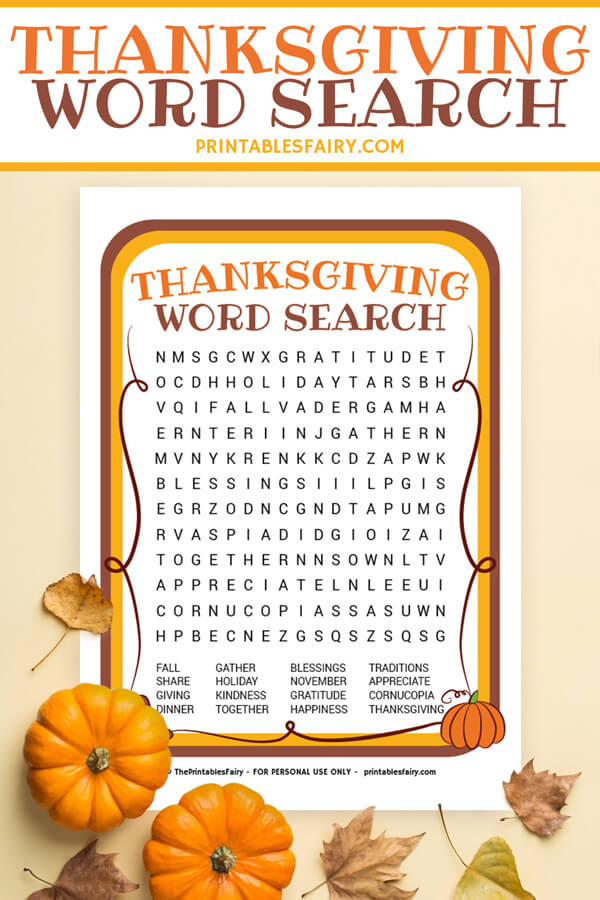 Printable Thanksgiving Word Search
All you need to play this game is a printer, paper, and coloring pencils or markers.
You can download this Thanksgiving word search at the end of his post by just clicking the link.
After getting your word search, print it, laminate it (optional step), and let your kids have fun discovering the words.
I suggest laminating this game only if you are planning to reuse it next year.
I am looking at you, teachers! You can print multiple copies of this game now, laminate them, and keep reusing them for the years to come without wasting more resources. Who doesn't like that, right?
There are 16 gratitude words hidden in this word puzzle:
Fall
Share
Giving
Dinner
Gather
Holiday
Kindness
Together
Blessings
November
Gratitude
Happiness
Traditions
Appreciate
Cornucopia
Thanksgiving
These words can be found mostly horizontally and vertically, with just a couple hidden diagonally. There are also no words hidden backward. This is specially made so that younger kids can find all the words on their own without getting frustrated.
But, if you are still struggling to locate a word, you can take a look at this answer key.
Click the link below to get this Thanksgiving printable game and start having fun with your kids!
DOWNLOAD THE THANKSGIVING WORD SEARCH
More Thanksgiving Printable Activities
If you liked this Thanksgiving game, check out these other printable activities.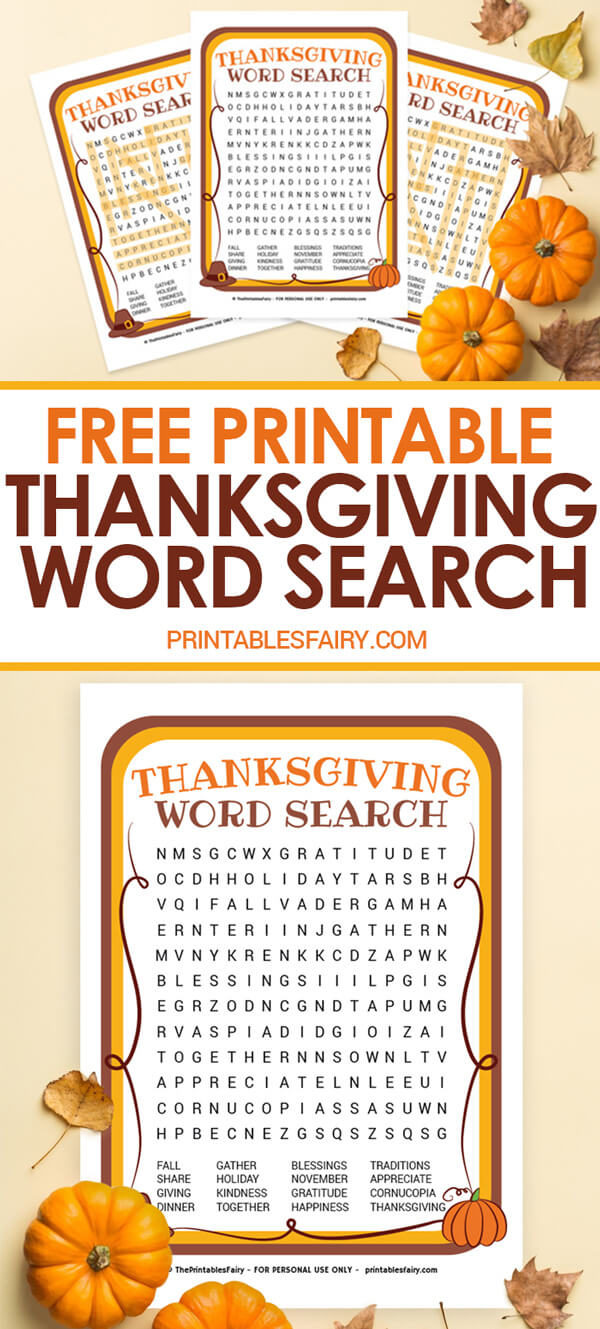 Thanksgiving Word Search Puzzle