I'm happy to share with you our new set of free printable Christmas Playdough Mats for a perfect holiday game night with your toddlers.
Here are 6 fun activity prompts featuring popular holiday elements such as a Christmas tree, a wreath, a snowman, a gingerbread man, a gingerbread house, and some ornaments.
They are perfect for kids of all ages and can be a simple gift for classmates or students when paired with a little playdough container.
To make your own Christmas playdough mats, download them at the end of the post and print them on white paper or cardstock.
Then, laminate the playmats or put them inside sheet protectors to let your kids play with them over and over again and be able to reuse them in future Christmas.
Set up your playing area with different colored playdough, sequins, gems, pompoms, and beads.
You can use this chance to make your own holiday-inspired play dough like this Gingerbread one.
You can also give your children dry erase markers to complement the use of dough, or simply use these mats as drawing prompts.
If you enjoy seasonal playdough mats, take a look at our other designs: Thanksgiving Playdough Mats, Valentine's Day Playdough Mats, and Easter Playdough Mats.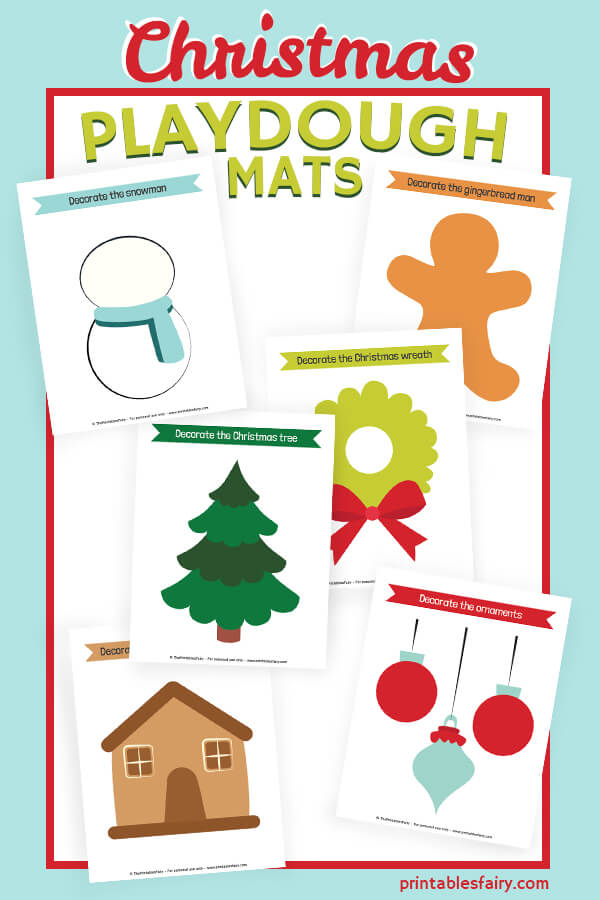 Free Printable Christmas Playdough Mats
We're big fans of playdough activities because they provide tons of learning opportunities for the youngest at home.
Your kids can practice counting, sorting, patterning, color recognition, shape identification, size comparison, symmetry, and a little bit of adding and substracting; which are basic math concepts.
As you can see, with these fun printables you can help reinforce your children's learning while squashing and smooshing fun playdough figures.
Christmas Tree Playdough Mat
Use the Christmas Tree playdough mat to practice counting how many ornaments you can put on.
You could also make your children sort them out by colors and count them again to practice adding and subtracting.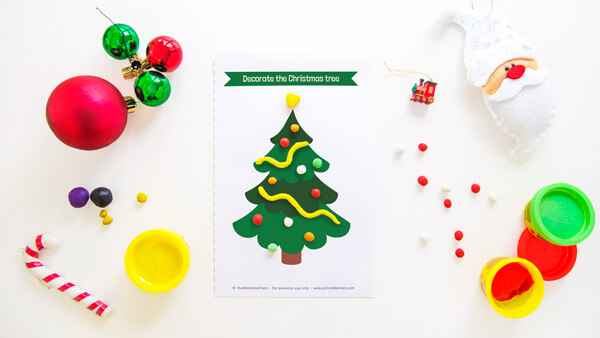 Christmas Wreath Playdough Mat
With the wreath mat, you can practice color and size recognition by making decorations of different shapes, sizes, and colors.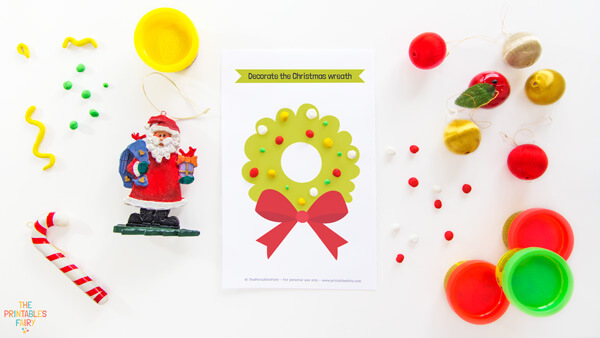 Christmas Ornaments Playdough Mat
The ornaments playdough mat allows your kids to practice patterning by creating unique pattern designs for each bauble.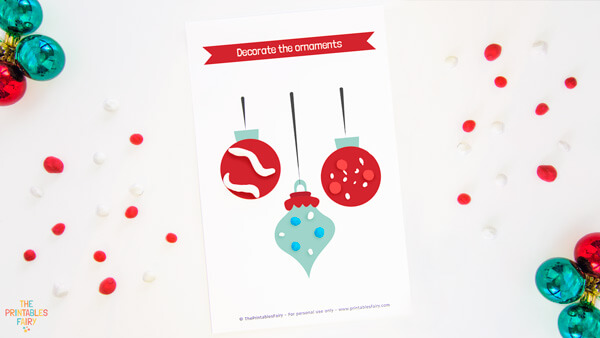 Snowman Playdough Mat
Practice counting with the Snowman playdough mat. Add one nose, two eyes, three buttons, four snowballs, and so on.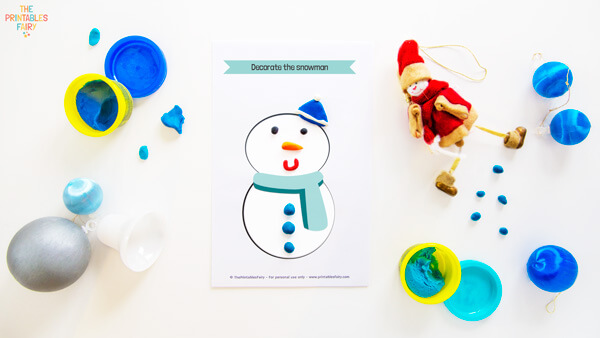 Gingerbread Man Playdough Mat
The gingerbread man can help your children practice symmetry by making them create two identical sides.
They can also compare the sizes of the decorations and identify their colors.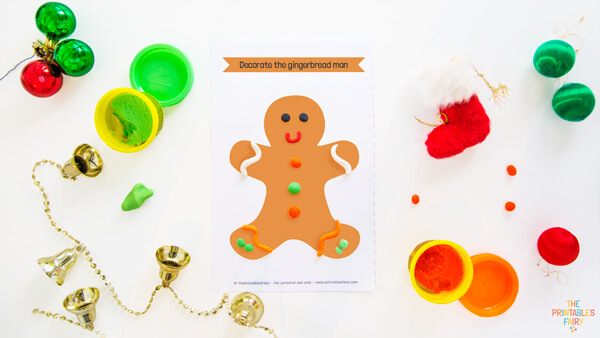 Gingerbread House Playdough Mat
You can use the gingerbread house mat to learn shape identification.
Prompt your kids to make a rectangular chimney, square windows, or a circular doorknob.
Printable Christmas Playdough Mats
You can get these Christmas-themed playdough mats by clicking the link below.
Keep in mind that each of these playmats is meant to be printed on a US Letter sized paper (8.5x11in). If you print on a different size, make sure to hit Fit from your printer settings.
Ready to start learning while playing with these fun Christmas printables?
↓↓Download your free Christmas playdough mats↓↓
*Please remember that these printables are for personal use only. You may not sell or distribute the files. If you want to share them, please link to this post and not directly to the PDF files.
More Christmas Printables: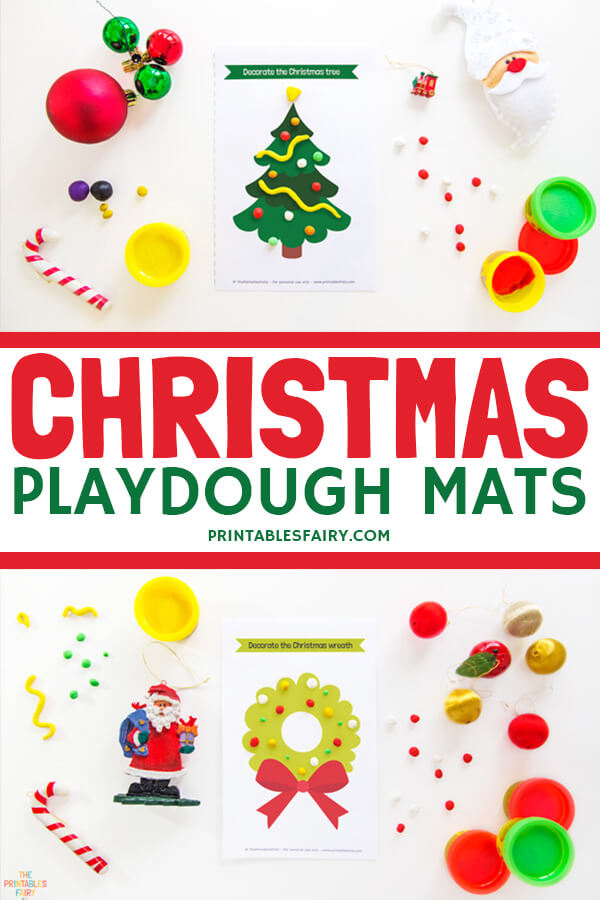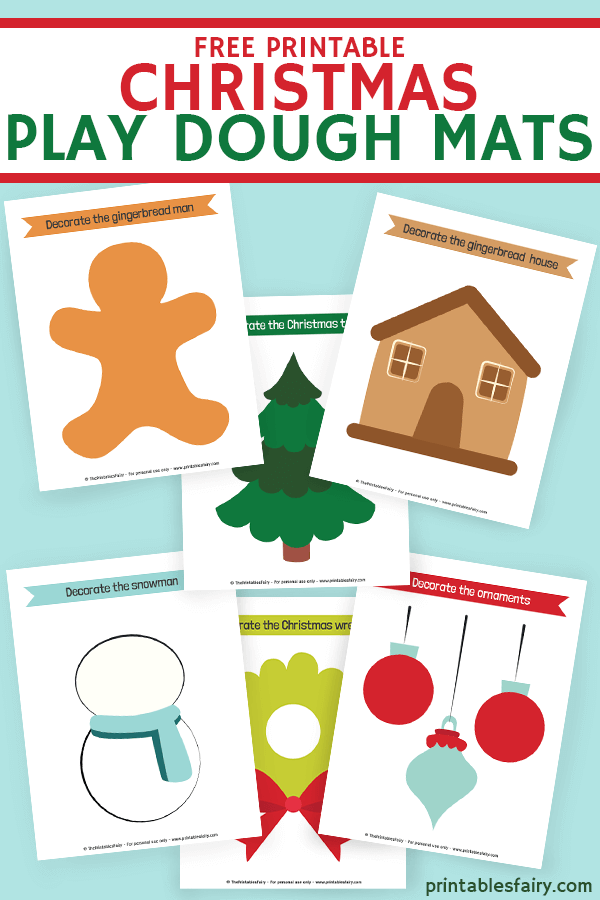 Free Printable Christmas Play Dough Mats